If you follow me on Instagram or Facebook, or indeed read yesterdays post then you'll know our 10 year wedding anniversary was last week.
To celebrate we booked an overnight stay in the same local hotel where we had our wedding reception, the Maids Head Hotel.
It's funny staying overnight somewhere you can walk to from your house, but it's really nice to do sometimes. If you're going out for a special night it's nice not to have to think about the washing up when you get home!
The Maids Head is one of the hotels that claims the honour of being the oldest in England, and dates back to around 1100. Queen Elizabeth I spent the night in the Maids Head Hotel (which is when it's name was changed from the Myrtle Fish) and the building is excitingly higgledy piggledy with winding corridors and stair cases that don't come out where you expect.
We declined the polite offers of maps of Norwich at check in, figuring we probably know our way around by now, and checked into our fancy four poster room for the night, complete with swans made out of towels. I've never had swans made of towels before so I found this more exciting than I maybe should have!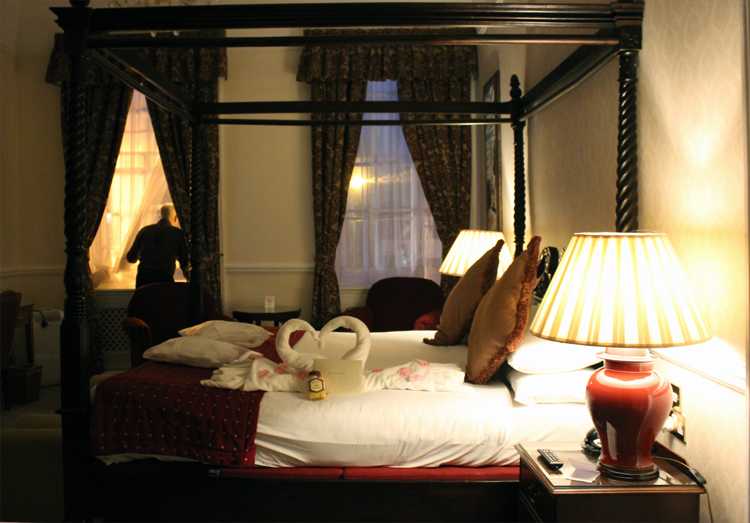 I tried to take some outfit photos before dinner, but I'm not very good at figuring out orange evening lighting (I'm sure my camera has a special setting, I must look for it), but seeing as I seem to have started a tradition of wearing Charity Shop vintage dresses out for dinner in very posh places on our Anniversary I thought I'd document this one too!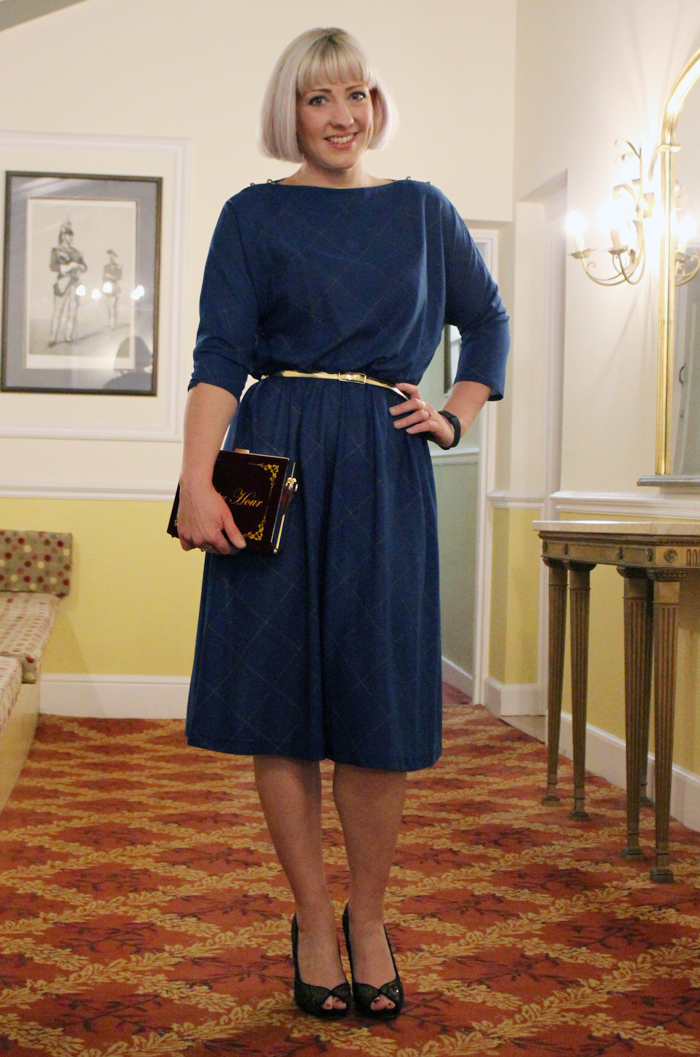 It was the first outing this dress has had. I bought it for under £5 well over a year ago, and I kept thinking about getting rid of it, but I'm really glad I didn't! It's a gorgeous turquoise blue with a gold check, gold piping and buttons at the shoulders and a gold plastic skinny belt. I wore it with the most gorgeous burgundy velvet clutch from Vendula and gold sequin Jean Michel Cazabat shoes.
I had also planned to make one of my rare attempts at curling my hair, seeing as I had a few days without having to stuff it under a helmet, but I ran out of time. I like my bob when it's blow dried properly though. I feel all sleek and sophisticated. Till I open my mouth and the effect is ruined!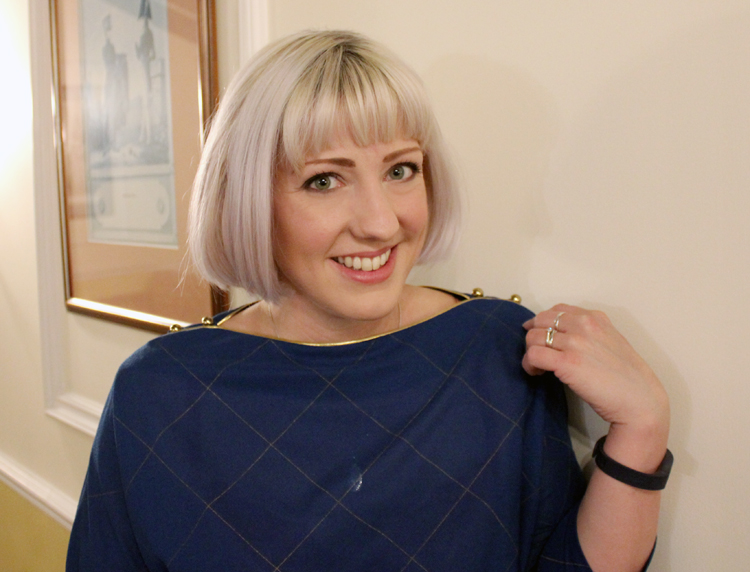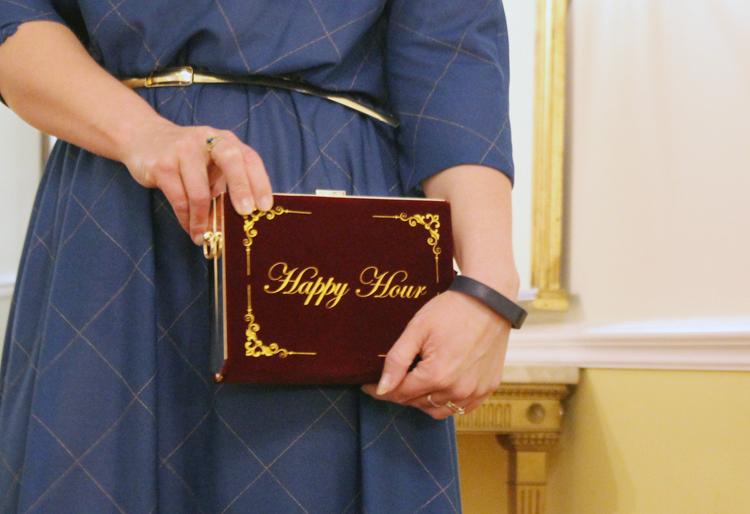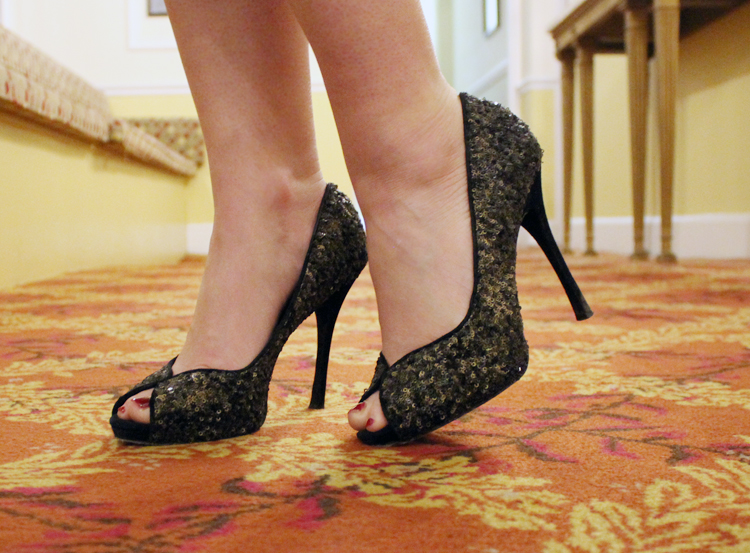 The place we stopped to take photos was the corridor just outside the Minstrel Suite where our reception took place. I remember sitting on that bench to one side with a drink to get my breath back after some particularly energetic dancing, which, when you are wearing a corset, definitely requires a sit down afterwards, and possibly a bottle of smelling salts.
The room itself wasn't in use, but there were staff hovering around with helpful looks on their faces, so we just peered through the door and didn't go in so as to avoid being offered the sort of help that really means "what are you doing in here?"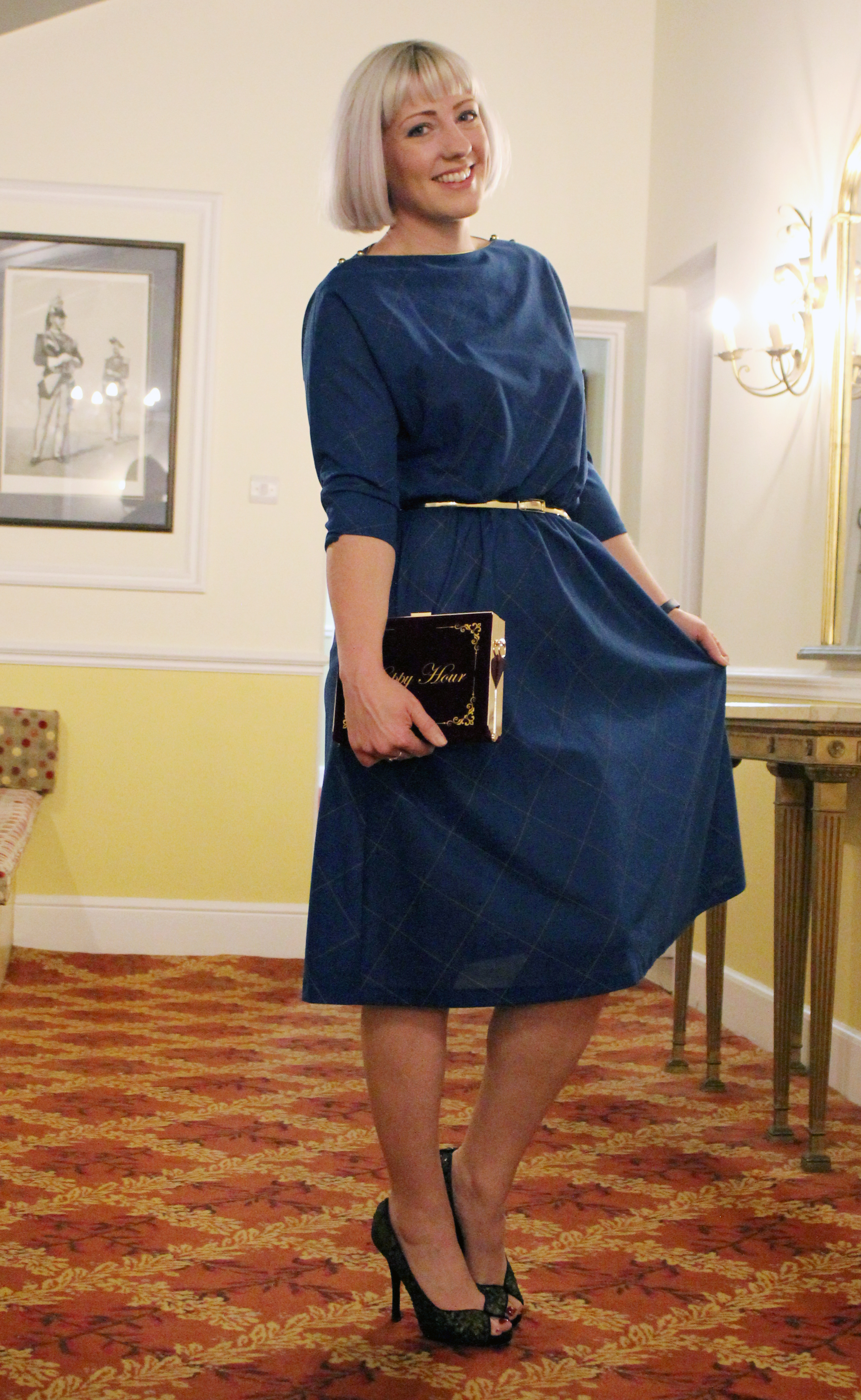 It's worth a closer look at my handbag too as the colour came out terribly on the photos of me carrying it!
It's the second bag I have had from Vendula, the first being that funky one that looks like a lingerie shop, and it's beautiful quality with gorgeous lining and a satisfactory click when you close it. I chose to use it as a clutch, but it also comes with a chain shoulder strap.
I really wish I'd had this bag for Cocktail Week.
By the time we took these photos we'd already drunk a bottle of Champagne (well, it was £9 in Tesco), and our 5 course tasting menu came with a different glass of wine with each course. We may have got a little tipsy, but I'm pretty sure that's what Anniversaries are for.
See, ruining the sleek and sophisticated illusion with one mirror selfie.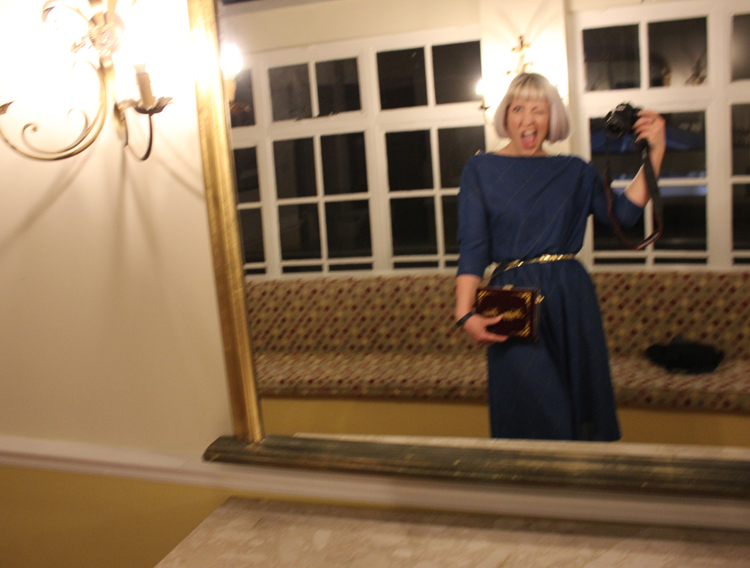 It was, of course, all far too posh for us. I bet some of the wines didn't even have screw tops OR plastic corks.
The food was delicious, though, so if you're ever in Norwich and fancy a really nice dinner, The Courtyard restaurant at the Maids Head is a good choice, and their bar is lovely too with good cocktails. I did consider writing a proper review, but frankly I'm not really a food reviewer and apart from "It's really nice" I don't have much more to add!
♦ Dress – Vintage via a Charity Shop ♦ Clutch c/o Vendula ♦ Shoes – Jean-Michel Cazabat ♦