Ever since I started blogging I've been a "Vintage" blogger.
It doesn't seem to matter how my style or the content of my blog has changed over the 8 years I've been blogging, I've always managed to fall enough under that banner to be considered "Vintage".
The term "vintage" used to refer to vintage clothing, or people that dressed in period style. Over the years I've started to let go of my irritation about it being applied to everything from paint to jeans (mostly, I still feel the occasional flash) and begun to accept that vintage has become a fashion term used to refer to items that are slightly quirky, unusual, or sometimes with a touch of old school glamour and to people with a more unique take on fashion that sits outside the mainstream.
That quirkiness can mean vintage is hard to pin down as a look. Everyone has their own unique take on it, and that's part of the appeal. There are definitely some broad vintage stereotypes out there that I've spotted, though.  In fact, I think I've been most of them myself at some time or another! So today  this is a light hearted round up of some of the different vintage tribes that I've spotted.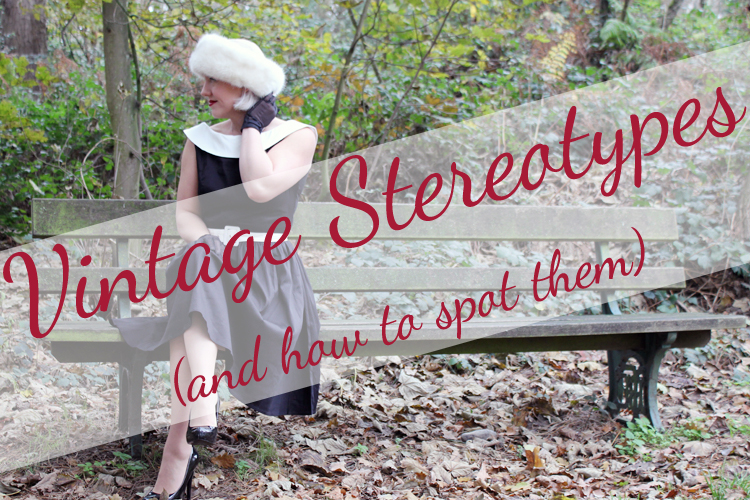 A quick note: The Instagram photos I have embedded to represent these stereotypes were all found by random instagram hashtag searches. I think they are all beautiful pictures and beautiful people, in fact some of them are my favourite people to follow on Instagram, or turned out to be from blogs I read regularly. I have no idea if the person behind them fits into these stereotypes or not! This is designed to entertain, not offend, but I had to illustrate it somehow! I did consider dressing up as each of the stereotypes, but frankly I can't pull some of them off.
Pin-Up Patty
Pin-Up Patty (or more likely Miss Pin-Up Patty) is unbearably perfect at all times. Her hair is probably black, red, or white blonde and you'll never see her without glossy waves, red lips and cats eye flicks.
Pin-Up Patty seems to live in a permanent 1950s technicolour dream world, eating in 50s roadside diners that you didn't know existed and posing in front of atomic patterned wallpaper.
Wears: Vintage repro pencil skirts and swing skirts that show off her tiny waist. Cats Eye glasses. Tight sweaters. Anything that hugs her amazing curves.
Eats and Drinks: Milkshakes garnished with a cherry, burgers and fries.
Least likely to: Post a photo in her running kit.
Brands: Pin Up Girl Clothing, Stop Staring Clothing
Period Perfect Priscilla
Period Perfect Priscillla can be found loving any decade from the 20s-60s, but is most commonly a fan of the 30s to early 50s. Her wardrobe is entirely made of authentic vintage clothing from a 5 year period and with her encyclopedic knowledge she can accurately date any piece of vintage clothing with single glance.
Period Perfect Priscilla knows that in the past Women didn't dress like pin-ups every day. She wears warm wool stockings and sensible shoes and spends her Sundays rummaging at car boot sales for authentic bargains. She has a knack for tracking down the most perfect vintage at a reasonable price, and probably knits and sews as well so her wardrobe is perfectly fitted and to die for.
Wears: Authentic vintage or really good vintage repro, every day.
Eats & Drinks: Tea, made in a tea pot and served in a cup and saucer with an unpretentious digestive biscuit.
Least Likely to: Have ASOS on her bookmarks.
Brands: Heyday! Vintage Style, House of Foxy
Cute & Quirky Cate
Cute & quirky Cate mixes high street and vintage for a look that's all her own. She loves prints, coloured tights, quirky handbags and brightly coloured hair. She probably has a beautiful and carefully colour co-ordinated Instagram feed in which everything matches whatever hair colour she's sporting this week.
Cute & Quirky Cate is optimistic and excitable. Everything she does is her most favourite thing ever and she has an amazing knack for tracking down the perfect accessories for her outfit and her home. She is a design guru with a fondness for mid-century furniture.
Wears: Vintage dresses that have been taken up to above the knee, coloured tights and flat buckle up shoes.
Eats & Drinks: Brightly coloured iced doughnuts, with sprinkles.
Least Likely To: Wet set her hair with setting lotion
Brands: Tara Starlet, Collectif
Ethereal Emily
Ethereal Emily is like Cute & Quirky Cates more thoughtful sister. Her wardrobe of shortened vintage dresses and coloured tights comes in more muted tones of brown and cream and her hair is probably in a top knot or braids wrapped around her head.
Ethereal Emily appears to live in a cabin in the woods and everything in her life has a rustic, thrift shopped, charm. She probably does crochet and doesn't have a TV.
Wears: Brown lace up ankle boots, lace collars and braids
Eats & Drinks: Lattes (photographed from above in a white cup) and home made dinners featuring kale.
Least Likely to: Dye her hair pink
Brands: Freddies of Pinewood, Modcloth
High Street Hannah
High Street Hannah is super chuffed that vintage is so popular these days as it means that if she keeps her beady eyes peeled she can create vintage inspired looks without worrying about the fact that nothing in the vintage shops ever fits her. Her style can be eclectic, ranging from almost period perfect to more pin up styles, depending on what she's spotted online.
She spends her evenings trawling ASOS and adding prom dresses to her wishlist and knows the value of good accessories in making a look a bit different.
Wears: Midi Skirts and bardot tops, fitted cardigans and t-bar shoes.
Eats & Drinks: Starbucks lattes and fancy burgers in brioche buns.
Least Likely to: Knit her own sweater
Brands: ASOS, Chi Chi London, Boden
Are there any vintage tribes I've missed?
Related