When I see the words "Midi Dress" I expect that on my 5'4″ frame it will come to at least below my knees.
I own 3 lovely body con midi dresses from New Look, in a Pow Print as well as plain Black and Green, and they're all about that length. So when I ordered that striped bardot body con midi dress from this post I didn't even bother to try it on. Then someone saw I had ordered it, and told me they did the same and that it was SHORT. Like above the knee short.
I immediately panicked and tried it on. Fortunately they are 5'9″, so I have a good bit of extra space that means this hits my knee, but it's really not a midi dress.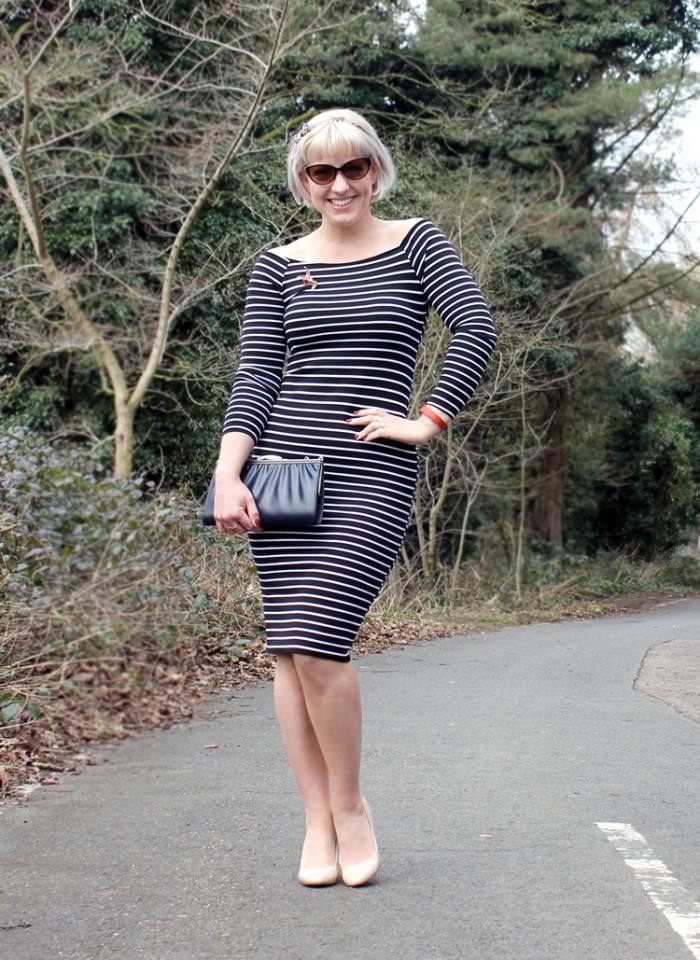 Allegedly the model in the pictures on the New Look website is 5'8″, but all I can say is that she's either got HELLA short legs, or she's not wearing the same dress. As a dress it is gorgeous, the fabric is really thick and non lump and bump showing, but I ummed and ahhed for ages over the length. There's something about knee length that just feels really grown up, and I'm not entirely sure I'm ready to be a grown up just yet.
It got the thumbs up from Mr Chick, and in the end I decided I kinda liked pretending to be a grown up occasionally, so I kept it. I'd originally planned to wear it with some super bright colours. I was thinking pink lipstick, maybe a pink ribbon hair band, or some splashes of bright green, but it didn't feel right now I had decided it was a grown up dress.
After much trying on of every pair of shoes and accessory in my wardrobe I decided it felt like it had a bit of a bardot 60s sex kitten vibe, so I went with tousled, slightly bouffant hair, a vintage brooch, shades and grown up nude courts.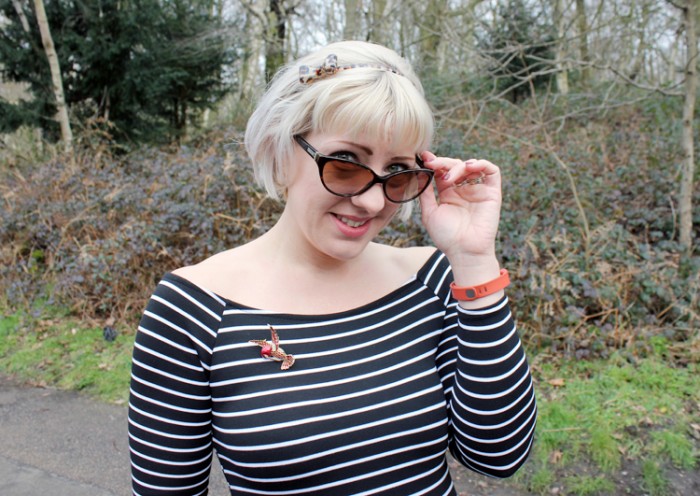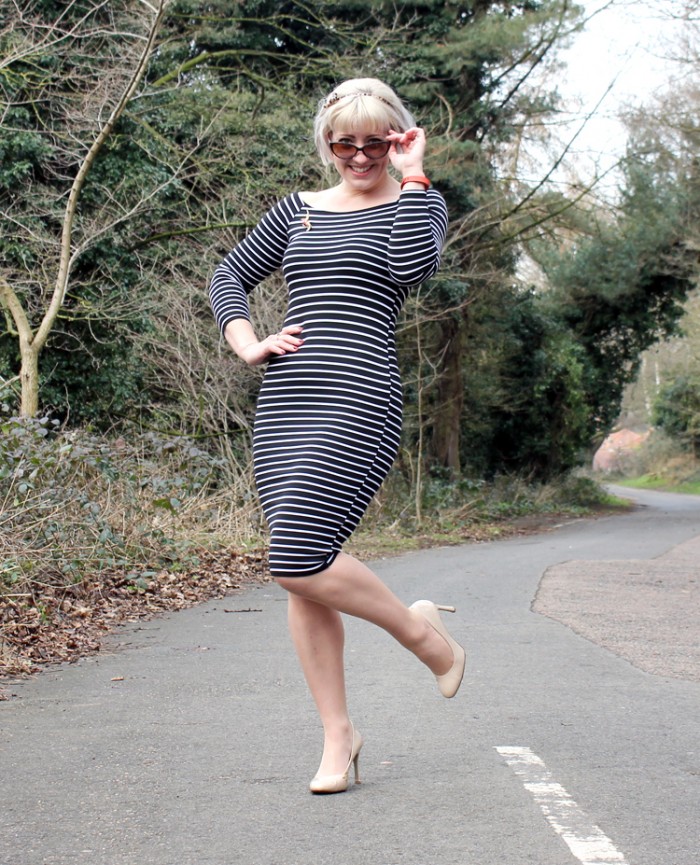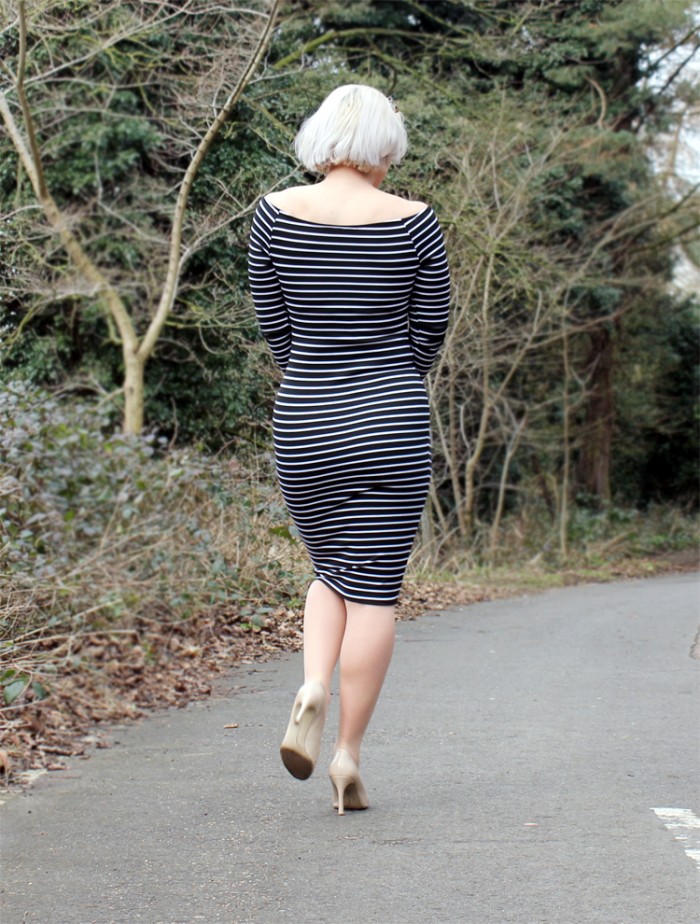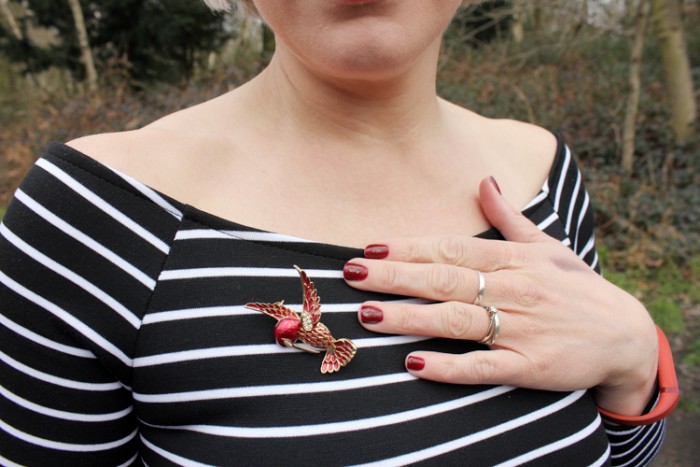 By the time I'd spent a few hours swanning round town drinking wine the length had really grown on me. Maybe not enough that I will actively seek out dresses in this length, but certainly enough that I am now christening this my grown up dress and I will wear it on all occasions when I want to feel like a grown up, but also just a little bit sexy with bare shoulders and body con styling.
This one might have won me over, but I still, reserve the right to be irritated by Midi dresses that are really knee length dresses as it's becoming disturbingly common. Get it together retailers, at 5'4″ a Midi dress shouldn't show my knees!
♥ Dress – New Look ♥ Shoes – Nine West ♥
♥ Hair Band – Probably Primark! ♥ Sunglasses – Ralph Lauren* ♥
Linking up with Turning Heads, Style Swap Tuesdays, Dallas Style
Related