HAPPY HALLOWEEN!
I hope you're all feeling suitably spooky? I'm wearing an awful lot of green eyeshadow today, to bring out my inner witchyness. Do you like my special Halloween header? Seeing as I don't have a party to go to this year I decided Mini Chick ought to dress up for the occasion.
<<Giveaway is now over!>> I'm running a little giveaway over on my Facebook page in honour of the day. Upload a photo of your pumpkin on my Facebook page before midnight tonight and tomorrow I'll pick my favourite to win a little Halloween goodie bag containing a copy of The Nightmare before Christmas (<3 Tim Burton) , a set of black and white nail foils and a little charm bracelet. <<Giveaway is now over!>>
To start you off, here are our pumpkins.  Mine is the lady pumpkin, I carved her last night, isn't she purty? Mr Chick actually grew the pumpkins, so I'm particularly proud of this year, and I've made Pumpkin Cheesecake from the insides. Yummy.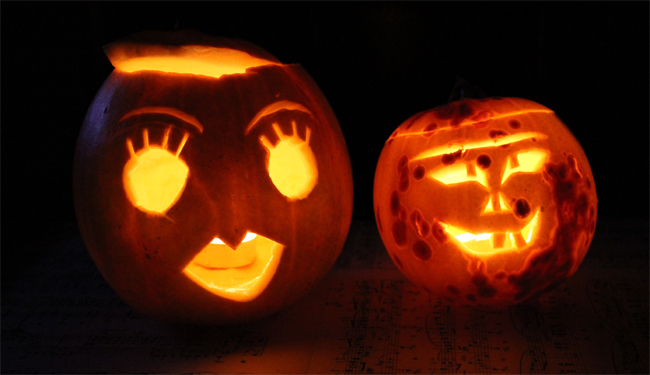 Ok, if you're still here after such excitingness I have other news to share! One day I'll post some useful things again I promise, but so many exciting things keep happening that I want to tell you all about!
This weekend I launched an exciting new venture with Lucy from Glamourologist and Kerry from Missy Vintage.
I'd like to introduce….
THE HISTORICAL SAUCES
The Historical Sauces aim to educate and entertain, so this weekend we took our Pop Up Vintage Library along to The Little Vintage Lover Fair at Dragon Hall. People could pop in and browse our collection of vintage fashion and history books, as well as pick our brains about such cerebral topics as how to set your hair.
It was a huge success and we even made it onto the local papers website, which is frankly a miracle, it took me a very long time to get Retro Chick featured on someone elses blog, let alone an actual newspaper!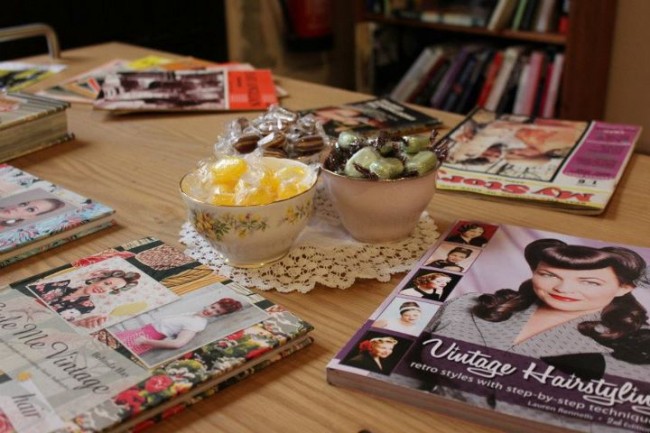 I spent all last week working on the Historical Sauces website, and you can follow us on Facebook and Twitter.
I am really excited about this new venture, and the pop up library will be at the next Little Vintage Lover Fair at Sussex Barns on the 27th November. We've also got lots of exciting plans for the New Year!
We can do talks and practical sessions on various aspects of vintage, as well as having our amazing library and dressing up box, so if you'd like to work with us on anything please do drop us a line!
Anyway, if you made it this far without heading off to win stuff/make a cup of tea/read the paper then well done you! Tell me what you think of the Historical Sauces.
Related