Well hello! Happy Friday!
I'm back from my little jaunt to the Cosmo Awards (plus a very enjoyable day at a beer festival yesterday) and I shall tell you all about it as promised!
As you may know already I didn't win, but then, I wasn't expecting to. The runner up in my category was last years winner Wish Wish Wish and the winner was Cupcake's Clothes.
I got the train down, so spent much of the day feeling very over dressed for the middle of the afternoon. I arrived about half an hour early and found that the venue was just down the road from a pub called The Clachan which I'd been to before, so I settled in with half a pint of coffee porter to wait for a reasonable time to head off. By the power of Twitter I was also saved from arriving on my own by meeting up with fellow nominee Ritzi from Climbing Ritzi's Ladder. We wandered along to 24 Kingly, which was very shiny and posh, and oddly I *hadn't* been to before! It seems I'm definitely a pint of ale in a pub girl rather than a cocktails in a shiny club girl!
Unfortunately there was no one available to take proper photos of my outfit before I left so I did my best with the bathroom mirror and a camera phone. I was, of course, too stupid to actually use my proper camera to take photos in the bathroom mirror. Duh!
These are just hilariously bad. See, people who post such hideous photographs don't deserve blog awards. Especially when they have a DSLR slung over their shoulder. Note the look of intense concentration on my face….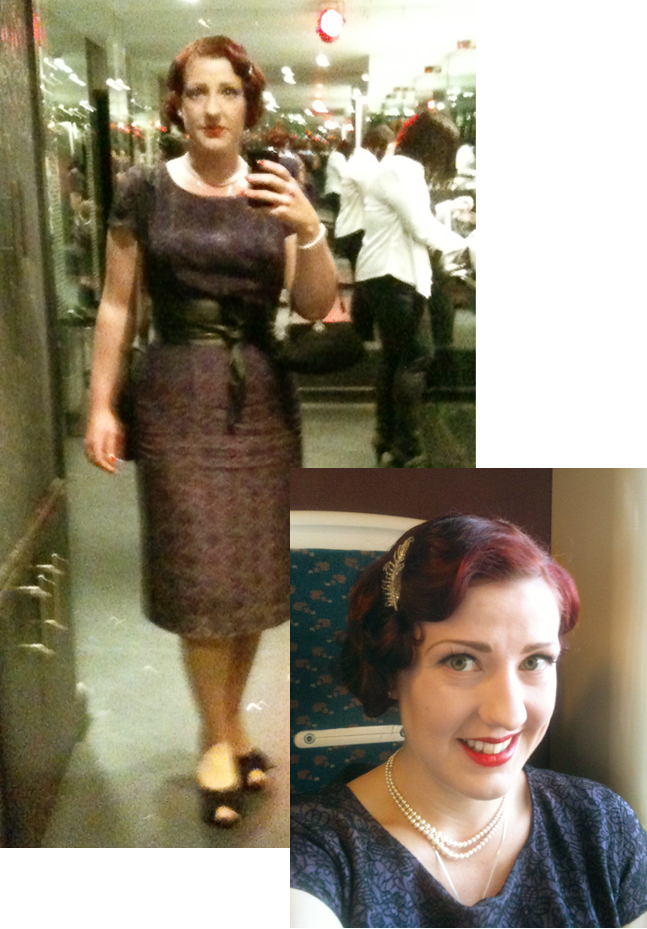 ❤ Dress - Vintage Kitty Copeland ❤ Leather Obi Belt - ASOS ❤
❤Shoes - Salvador Sapena ❤ Pearls - Vintage Lotus Pearls ❤ Bracelet - A gift ❤
❤ Handbag - Vintage ❤ Hair Clip - Babyliss ❤
I've worn this dress several times before, so apologies for the boring repetition! If you believe twitter I'm just about the only person nominated who didn't get someone to dress her for free and I couldn't afford new frocks, so my trusty Kitty Copeland vintage dress it was!
When I arrived I duly snaffled a Cosmo from the bar.
Then I was almost immediately grabbed by Stylist Pick who wanted to interview me on camera about shoes. I stuffed it up a bit as they asked me who my celebrity style icon was and frankly I couldn't think of a single one! (P.S. Just spotted a tiiiny photo of me with weird glowing eyes next to very tall Stylist Pick trends editor on their website here) Hopefully I shall find out whether I get my 5 seconds of fame in the finished video soon or whether I am just too awful to even grab a sound bite from!
The awards were announced at 7pm, and it was all over by 7:15! I'll be honest, I'd envisaged it being a little more like a proper awards ceremony, with the winners allowed the chance to do speeches. I thought it'd take a little longer than 15 minutes! All the winners have now been published on the Cosmo website, so you can find them here!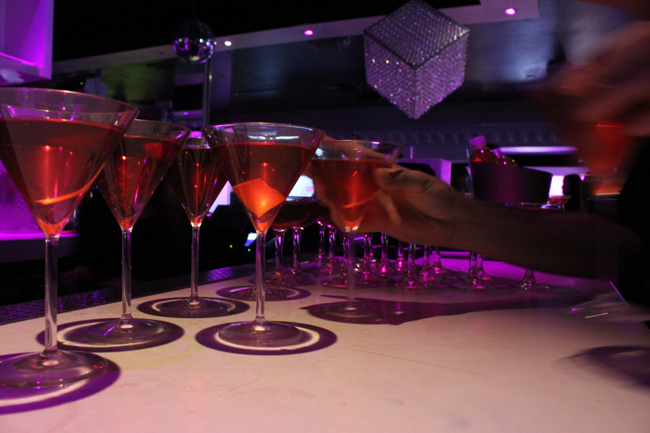 By this point I'd drunk about 6 free Cosmos, and weirdly was feeling no ill effects whatsoever. They certainly weren't as strong as *I* make them, they were being poured from a jug, so if they contained any alcohol at all I'd estimate it at about 1 unit of alcohol per jug. We could have ordered any vodka based drink we liked from the bar courtesy of sponsors Stoli, but frankly it was easier just to grab the very nearly alcohol free ready made ones from the bar. On the plus side, I at least was prevented from getting too drunk and embarrassing!
I did meet some lovely bloggers during the evening. The aforementioned Ritzi, Big Fashionista, Adore by Chloe, Emily's Nail Files, Body of a Geek Goddess and Judy's Vintage Fair were all kind enough to keep me company at various points, but to be honest I felt a little out of place. Whoever the DJ was after the awards played horrendously loud and thumping music that made me feel very, very old and a little bit cross. So at about 8pm I was all ready to call it a day and head off home, when I bumped into the very, very brilliant Alice from th'ink , Bethany from Arched Eyebrow and Jazzy Elizabeth from Hivenn.
We played in the photobooth….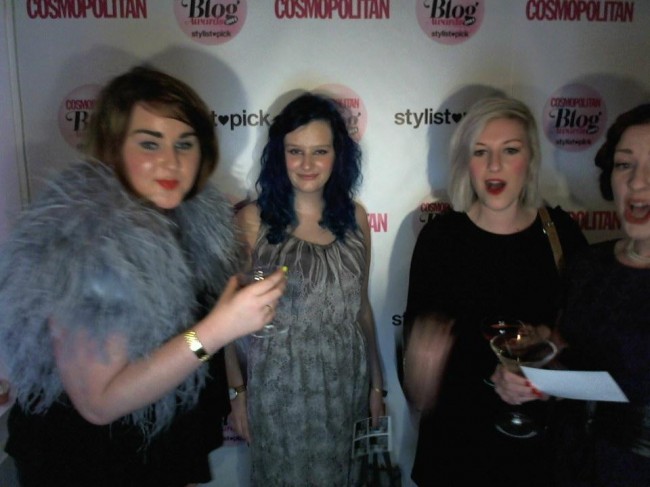 We drank some more alcohol free cocktails.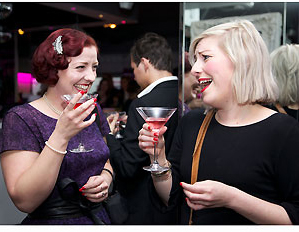 Then me, Alice and Bethany went to the pub for a proper drink and to trawl through our goodie bags. I'm quite excited to try out some of the products in the goodie bag, and I'm sure eventually I'll review some. There's a dainty doll blusher I'm keen to try, and some Moroccan Oil which is apparently great for dry hair.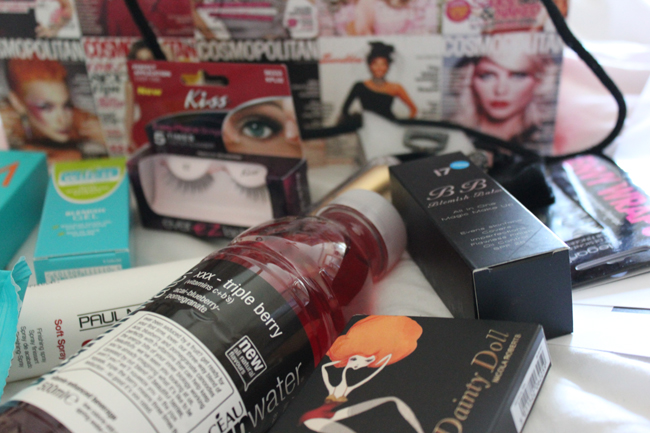 So, as promised, that was my Cosmo Blog Awards experience! I've popped all my photos on my Facebook page if you'd like a nosy!
I want to send massive snogs to you all for nominating me, although I am definitely not all "fashiony" it IS exciting to be nominated for an award hosted by such a huge brand as Cosmo. It's lovely to know that some people enjoy reading my random witterings. If there is anything specific you would like to read me witter about then do let me know!
I shall attempt to come up with a way to say thank you properly. Sadly I can't afford to take you all to the pub for a drink, but next time you're in one buy yourself a drink and pretend it's from me.
Have a marvellous weekend!