Well, Good Morning!
Today I am off to London to visit Cosmo, for today is the day of the Cosmo Blog Awards ceremony. I didn't want to leave it until after the event to say a massive THANK YOU for all your votes and nominations coming up to the awards. I really do appreciate it!
My outfits all laid out, I'm taking a little train picnic and I have Jeeves and Wooster on my iBooks, so I'm all set to go!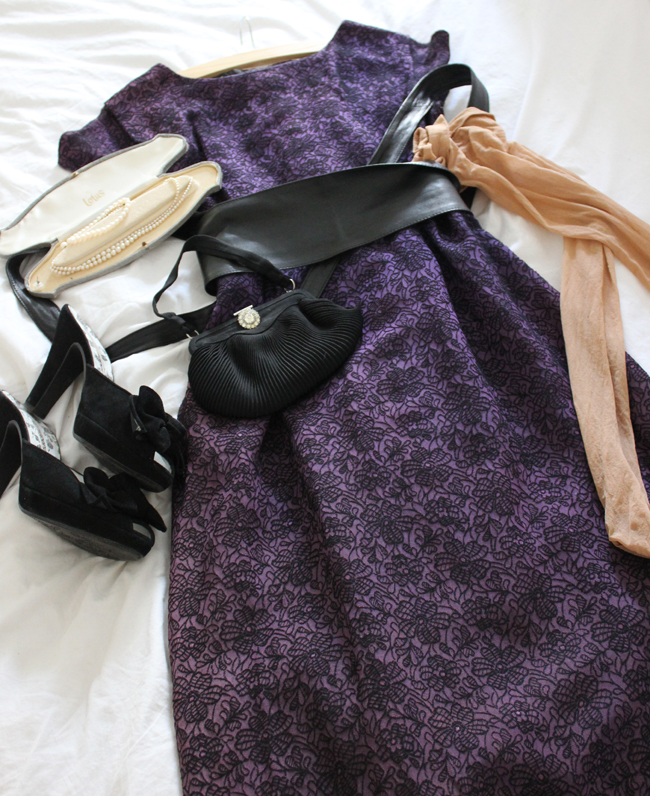 I am under no illusions about the potential of me winning anything! I believe the final decision is 50% reader vote and 50% a panel from Cosmo. In my category I'm up against blogs with literally THOUSANDS of readers, people with 10,000 followers on Twitter and who get over 100 comments on every blog post. In comparison to some of them my photos look like they were taken by a 5 year old (and not one of those child prodigies either). They also appear to know about things like designers and trends, like proper fashion bloggers. I tried that and wasn't very good at it, I like frocks, and shoes, and if I like them today I probably still like them next week.
When I was about 11 I used to go to dance classes, I turned up at a competition once in a decorated costume, which wasn't allowed in my age category. So instead they moved me up to the older group, and then I was so bad they invented a 7th prize for me and gave me a little plastic trophy. I'll be honest, today I feel a little bit like that.
Anyway, enough of that self depreciating nonsense. I am hoping to be able to drink enough to cover the cost of my train fare, meet some nice new people and then I'll be back to tell you all about it on Friday, how does that sound?
In the absence of actual content today I shall use this space to update you on some nice things! I have opened an Etsy shop to run alongside my eBay Shop
. My intention is that vintage will go on Etsy and non vintage and reproduction stuff will go on eBay. As Etsy lets you set up discount codes I have decided to treat you all to 20% off to celebrate, all you need to do is use the discount code BRRRR which I chose because I am cold.
These are a few of my favourite bits from each shop….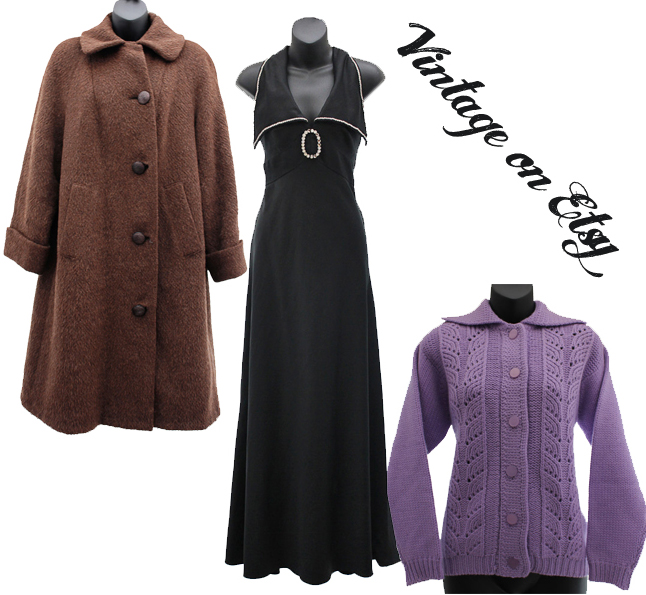 The coat on the left is a 1960s coat by a company called Ormdale, and, brilliantly, it's made of Llama. A great talking point for a coat! The centre dress is too small for me or I'd absolutely be wearing it to A Marvellous Cocktail Party, it's a 1970s Frank Usher dress and looks amazing on, it has a few diamantes missing from the large centre piece, they could maybe be replaced, or the brooch removed and replaced if necessary, but the dress is otherwise amazing and immaculate. The cardigan on the right is absolutely my favourite find ever. It's 1950s deadstock, absolutely pristine and never worn. It's plastic wrap was too dusty and damaged to save, but the cardigan itself is immaculate and super warm.
I also almost hate to mention it, but I've started listing some hand-made Christmas decorations on Etsy as well!
On eBay my favourites at the moment are….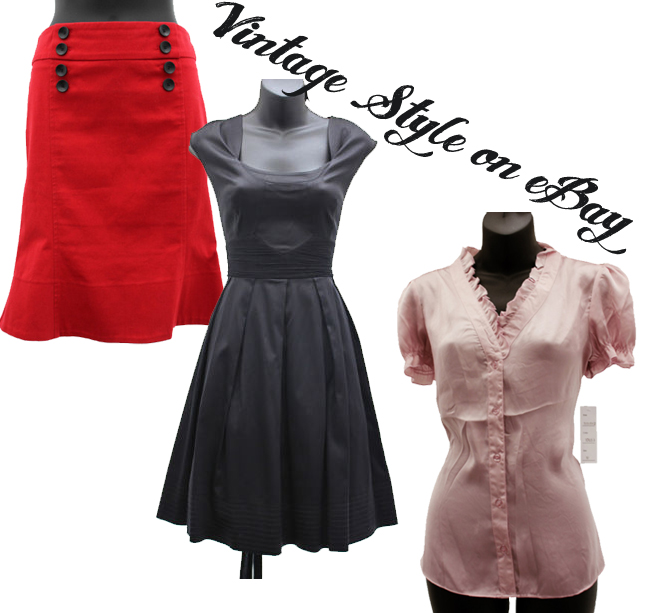 The red skirt is just fantastic! About 3 sizes too small for me, sadly, being a tiny size 6. But I absolutely love it, it's so perfectly pin-up. The black dress is from Warehouse and is perfect for the party season. It's a prom dress style, about knee-length, with layers of netting underneath to give it volume. The blouse is another sad sale that doesn't fit me. It's actually brand new with the tags still on and would look gorgeous with a pencil skirt or high-waisted trousers.
Anyway, my last little bit of news for the day is about this weekend. Should you happen to be in the vicinity of Norwich this weekend then make sure you pop down to the Little Vintage Lover Fair at Dragon Hall. It's always an amazing fair with excellent sellers a DJ and tea room, but this time it's EVEN BETTER as I will be there with the Glamour_ologist and Missy Vintage and we will have a very special Vintage Reading Room. We are taking our pop up library of books on vintage fashion and history and setting up in a lovely space where you can bring your tea and cake and come and have a browse to get some inspiration, or just rest your weary legs. We'll also be on hand to answer questions. We're pretty good at our fashion history so if you want help dating something, advice on how to wear something or just want to pick our brains about how to stop red lipstick smearing all over your teeth then do pop along for a chat!
If my stupid iPhone battery holds out then I expect I shall be tweeting about the Cosmo Blog Awards, you can follow me here.
See you Friday!