I LOVE Berets.
I think they're the best hat in the world and I'll have one in every colour please. Thanks.
They're essentially about 8 hats in one. A slight change in the tilt, how you tuck the brim and how poufy you make it creates a whole new hat. They also don't blow off as easily in high winds as a brimmed hat, are easy and cheap to find and come in a whole variety of colours to go with every outfit. Most of mine come from eBay, but Village Hats also has a nice basic wool beret, as well as a few more fancy ones with flowers and the like.
I also cheat a lot and use them to cover up undone hair. They'll cover roots, you can tuck some hair up inside to make it look shorter or neater, or just hide the whole lot. They're also perfectly portable, so you can roll one up and shove it in your pocket in case an unexpected rain shower or gust of wind makes a drama out of your perfect coiffeur.
Most people wear a beret slightly back on their head so their fringe shows and tilted to one side, so today I thought I'd start you off with 3 different ways to wear a beret to create a whole different look.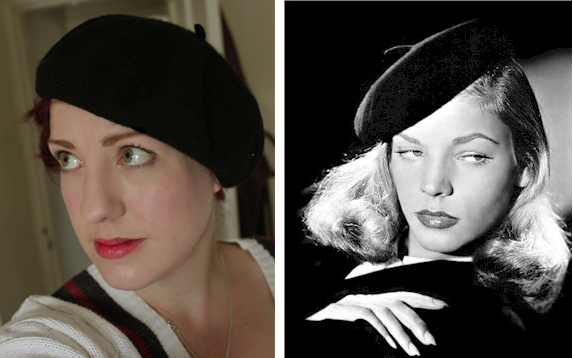 Tuck the brim under and  wear it tilted to one side and pulled right over your forehead. I wear it tilted to the smaller side of my parting and on the larger side pin in a few curls for a 30s look. As you can see, with long waves it's the perfect 1940s Femme Fatale look.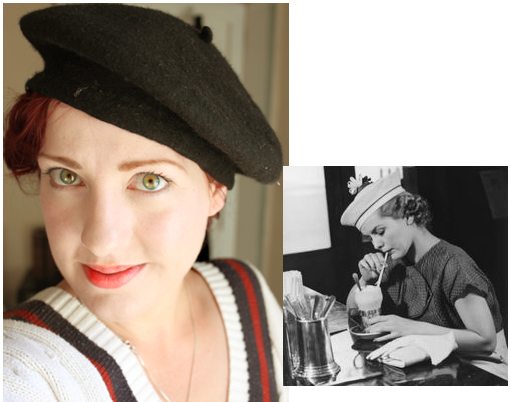 Untuck the brim and wear it mushroom style! I always think of this as quite a 50s look. You can smooth the side down right over your ear for a slightly different variation.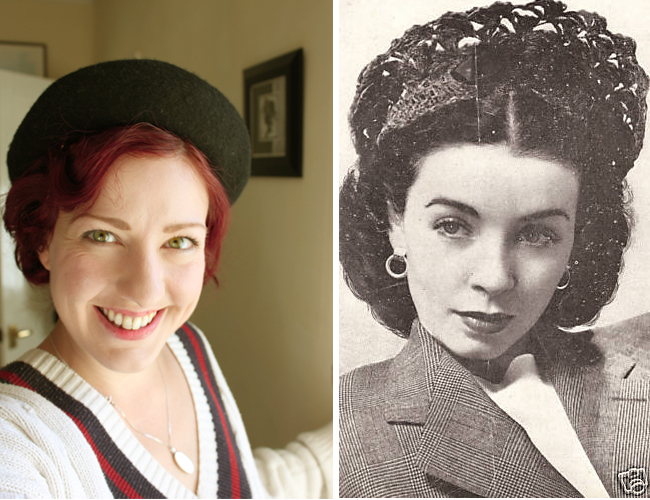 Pad out the front to add some height (I used a silk scarf) and wear the beret towards the back of your head for a style that very popular in the 1940s. My Nana talks about padding out the front of her WRENs beret with cotton wool to add height.
I've used a basic wool felt beret for these looks. As a bonus I'm going to give you a 4th style that can also be achieved with those floppy knitted berets you find a lot is to use it a little like you would a snood. Tuck all your back hair up inside the hat and wear it pushed back towards the back of your head. A front wave or small fringe roll gives a nice vintage look without having to do too much to your hair. Not very exciting looking, but a life saver when you're running late or it's windy.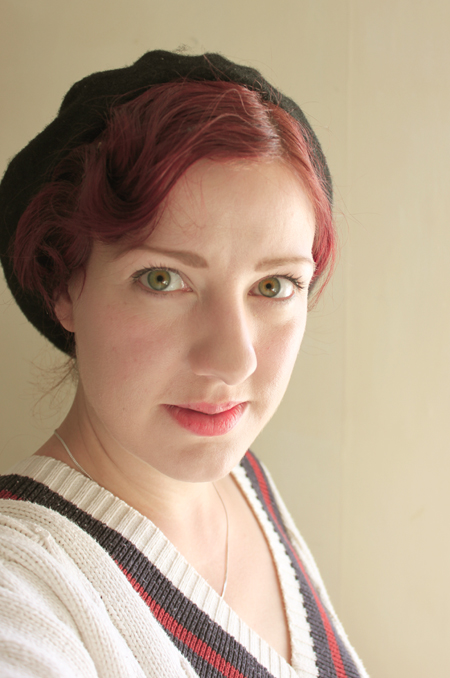 Happy Hat Wearing!