I hope you're all enjoying a lazy Bank Holiday?
Alternatively I hope you're busy doing all that DIY you've been putting off for ages. The weather is pretty grotty here today, and I hear some areas of the country have had what passes for a hurricane in the UK, which means some fences have blown down.
It's somewhat predictable for Bank Holiday weather to be nasty, but yesterday, despite dire weather forecasts, was actually pretty nice for most of the day. We ran the Trowse 10k in gorgeous sunshine, then headed out to a local pub for a roast dinner.
I had eyed up some of the nice Summer frocks hanging unworn on the back of my bedroom door, but actually despite the sunshine it was still pretty chilly, so I did something I certainly haven't done in a while and wore JEANS. Not just jeans, but SKINNY JEANS.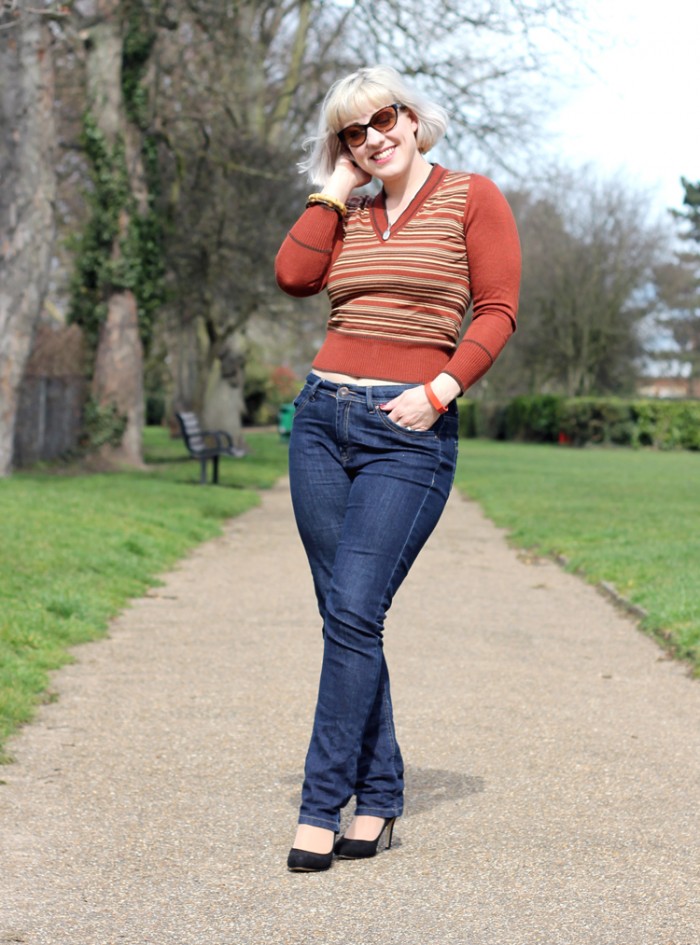 I do not wear jeans. I have a pair of denim high-waisted capris that don't really count, but otherwise I don't think I've actually bought jeans for about 10 years. I think jeans may have featured in outfit posts on here a couple of times a very long time ago, they were either boot cut or rolled up to capri length. I have a long body and short legs with curvy hips and thighs, so I've certainly never considered myself a contender for skinny jeans.
In February I read an article about how Skinny jeans are like, so over, and I think the contrary part of my brain must have taken that on board and decided now they are completely out of fashion it was probably time for me to get a pair. I was in TK Maxx and had a strange impulse to try some on. I tried 3 pairs. One wouldn't go over my thighs, one was just weird, but I thought these ones were kind of OK, so I bought them. Much to my surprise, I have actually worn them several times now.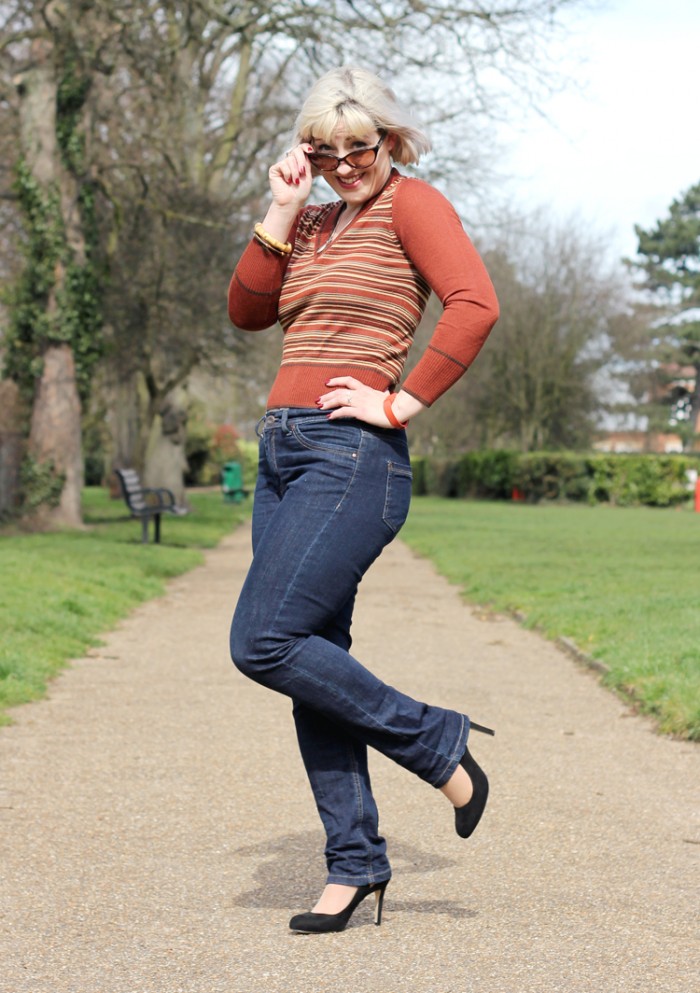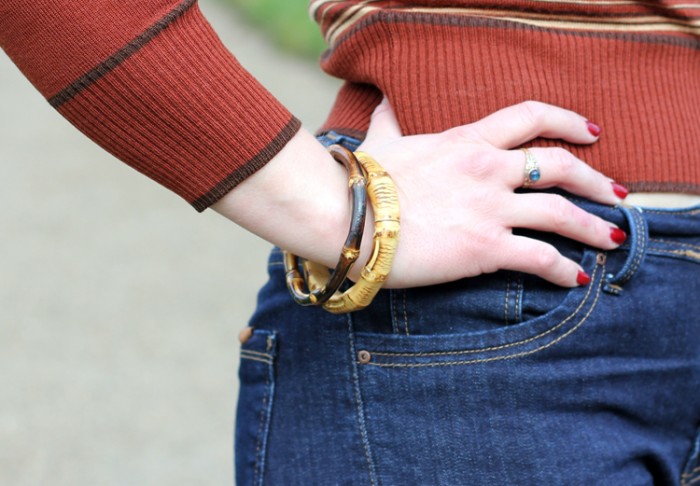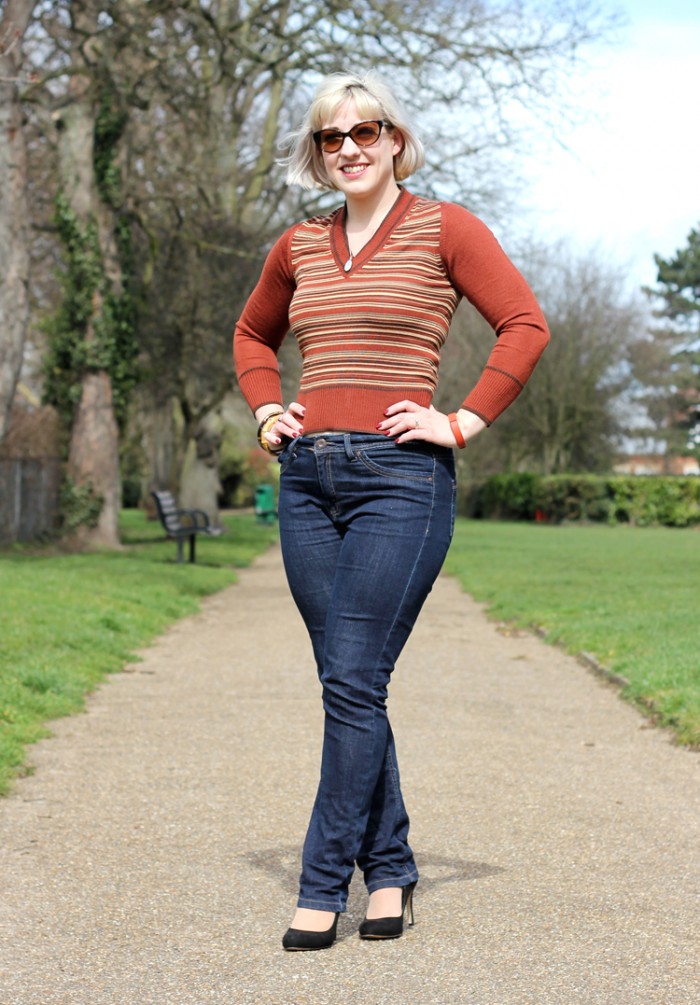 Yesterday I wore them a little bit 70s style with heels and a vintage 70s Marks & Spencer v neck.
The shoes are the Miss KG courts that I "accidentally" bought to wear out a few weeks ago, and I'm pretty glad I did as they're a really good basic court shoe, with a nice cut out detail. I'm still not sure I'm convinced that jeans, skinny or not, are actually comfortable or flattering on me, but it's nice to have the option!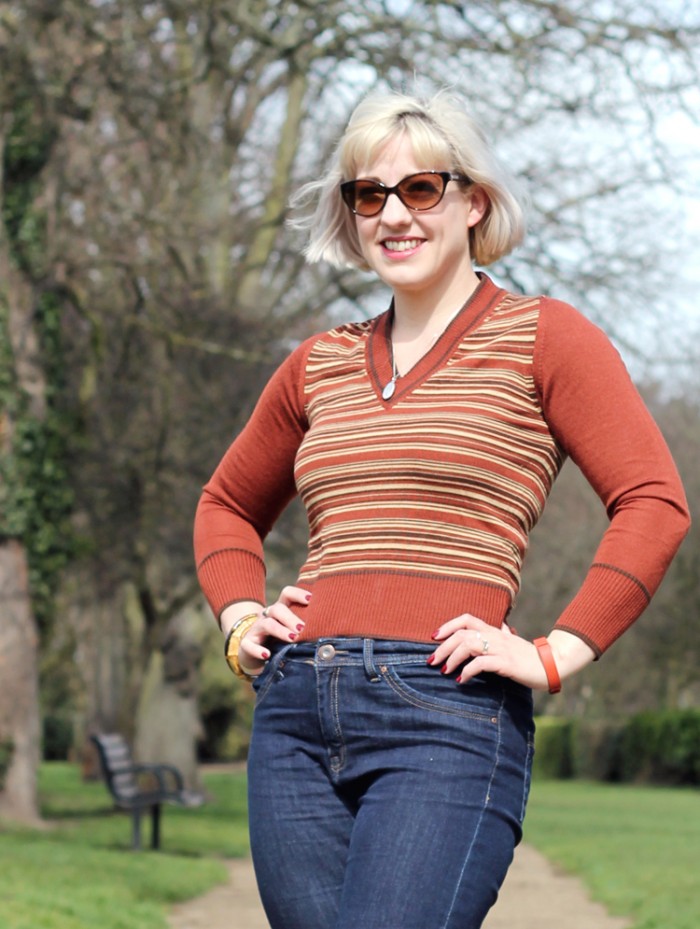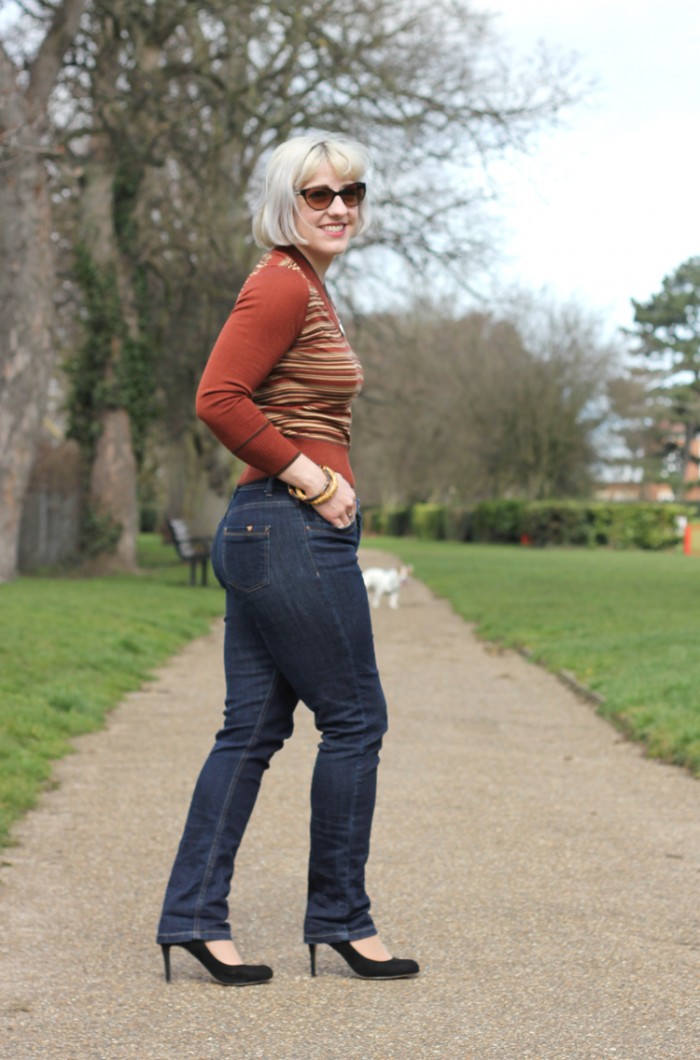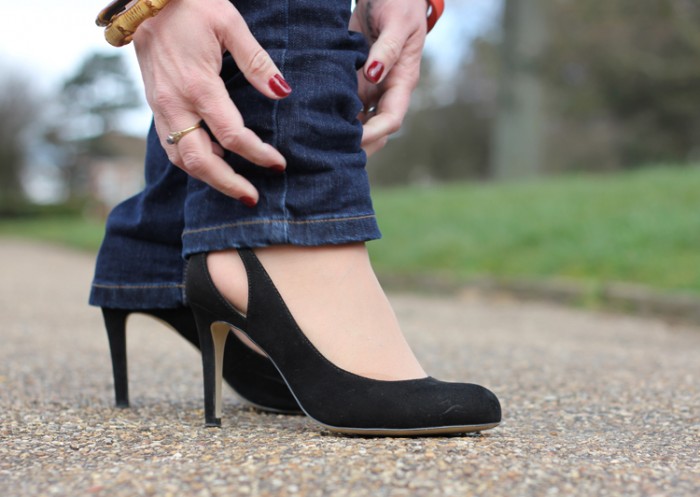 Minutes after these photos were taken the rain started hammering on the windows of the pub, then conveniently burst into bright sunshine again just as we left for home, before raining again for much of the evening. I am pleased to say that yesterday the weather seemed to be very much on our side.
Easter Sunday was also Oxford and Cambridge boat race day, so we finished the day with our traditional boat race drinking game. Each of you picks a team, and you have to take a drink every time one of the commentators mentions their name. Which, frankly, is far too often.
That probably explains why I'm feeling a little groggy today, but thankfully I have no plans other than finishing up the chocolate and watching rubbish on TV from under a blanket, so it was totally worth it.
How was your Easter?
♥ Jumper – 70s Vintage ♥ Skinny Jeans – TK Maxx ♥
♥ Black Court Shoes – Miss KG ♥ Bamboo Bracelets – Lady Lucks Boutique ♥
Related