Working from home isn't always as much fun as it sounds.
You can't leave the washing-up and forget about it while you head off to an office with a cleaner, sometimes you don't speak to anyone for days and then as soon as you see another human being you find yourself being inappropriately chatty with the delivery guy or the woman in the corner shop.
You also have to find somewhere in your house to actually work from.
You'd think this wouldn't be too hard for me as I live in a 2 bed terrace and only use one of the bedrooms for sleeping in. The other bedroom however, rather than being a small home office, has inevitably become the home of drying washing, washing we haven't put away yet (and far too often will never put away. It gets worn from the pile, washed, dried, and then ends up back on the pile), and all those other things, like the suitcase you haven't completely unpacked, or the mail that you need to sort out, or the big bag of mysterious cables for long forgotten electrical items that you are too scared to throw out in case you need them (is this just me?).
For a long time I ended up working from my sofa. Sat cross legged with my laptop either on my knees, or leaning forward over a coffee table. Then I realised just how bad that was for my back, and also my sanity as I had nowhere to escape to at the end of the day.
So a small folding dining table and an office chair were squeezed into the spare room and in there I would work surrounded by drying washing and bags of cables. My little table also ended up the place to dump the unanswered mail, and I didn't really have anywhere to store paperwork, so press releases and things started to pile up around me. I was basically working in a store room, and it's hard to make yourself feel creative and inspired and go-getting while working in a store room.
So, mission "create a lovely small home office that you'll look forward to getting up and working in" was a go.
Yes, I know it's not a snappy title.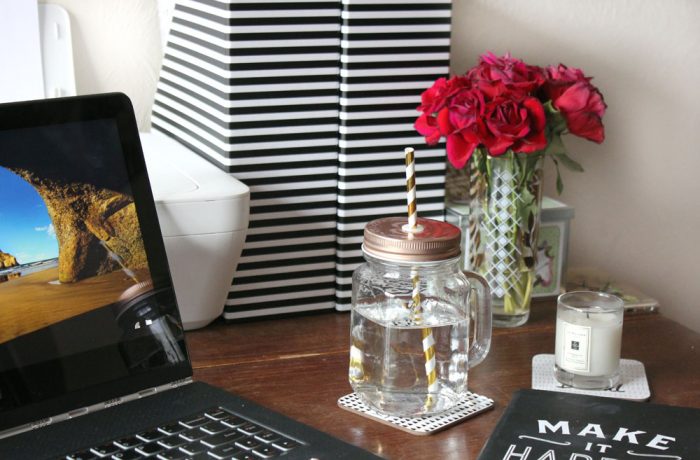 The first thing I needed was some storage for paperwork. I headed out to the shops without an idea of what sort of colours or style I was looking for and wandered around pretty much every shop in Norwich before I spotted black and white striped magazine files in WH Smiths. Decision made, 2 black and white magazine files purchased.
This also settled my colour scheme. I'm having a bit of a Kate Spade moment, so black and white with red and gold accents became the plan.
I also bought a few of these folders from Paperchase so each of my projects could have its paperwork stored separately. They came in black, and a conveniently colour scheme friendly gold spot design.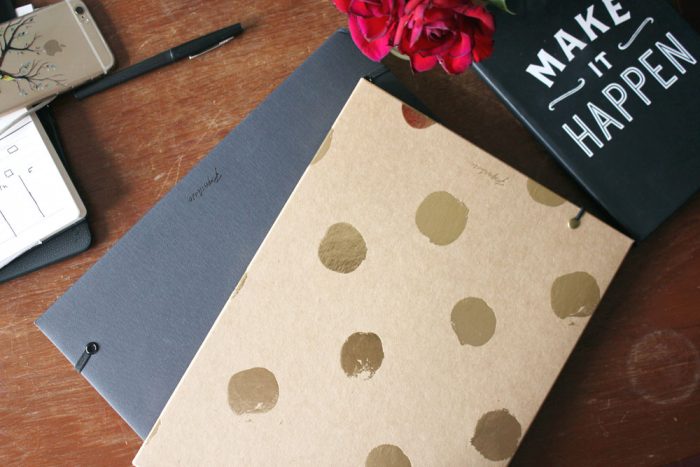 You can also spot in the back there a little tin. It was the tin that the exciting biscuits that Royal Albert sent me as part of their 100 years of tea campaign came in and it makes a handy resting place for a selection of pens, inks and other little odds and ends that I might need one day but don't need to be immediately to hand.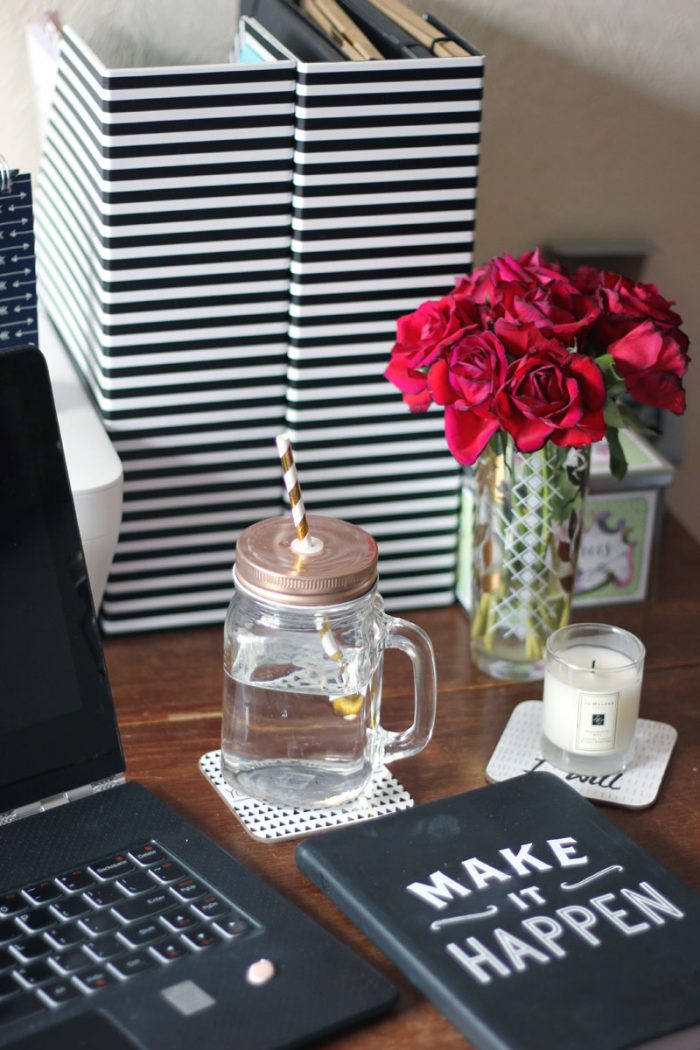 Once I'd sorted the mess, I also wanted my space to be pretty. Creating a space to work from home isn't just about being organised, it's about feeling inspired, and wanting to spend time in that space.
My splash of colour comes from red roses which were £3 from Tesco. They were 3 weeks old when this photo was taken and just starting to go crispy at the edges, so investing under £1 a week in flowers for my desk is definitely doable.
When buying flowers for a small home office you don't want a huge bouquet and vase that's going to overwhelm your desk and leave you brushing foliage aside to get to your notebook. Snipped down short these roses fit perfectly in a vintage drinking glass that I bought as a set of 4 from a Boot Fair for about 50p. The glass also conveniently has a gold rose and white hatching on the sides. It's like it was meant to be.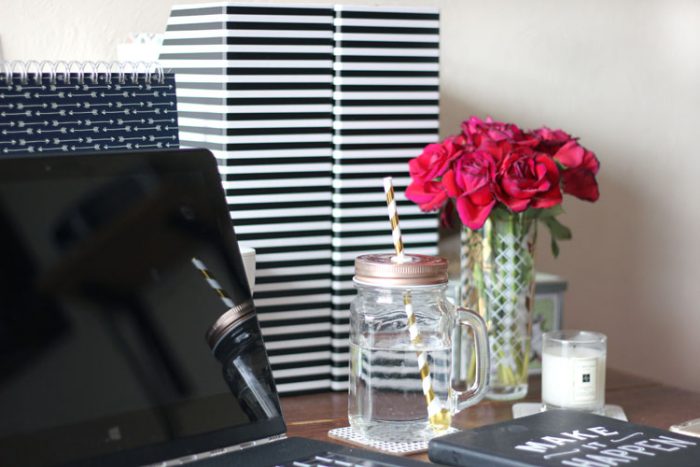 Around the time I was organising I also got an email from Lisa Angel, who are a local company to Norwich. They offered me a £20 voucher to spend on their site. Which was awesome as their homeware section seems pretty much tailor made to finish off the prettying up of my desk!
I'd looked around the shops for one of those jam jars with a lid to drink out of as the lid stops dust from getting in when it's sitting on your desk, but the only ones I could find were either coloured glass or had a red gingham lid, which wasn't really what I wanted. Fortunately Lisa Angel had exactly what I was after, and with a choice of lid colours. (Argh! While looking for the link I have also spotted OMBRE OWL DRINKING GLASS JARS! They definitely weren't there before or the colour scheme would have been straight out the window!)
I also got a couple of black and white coasters with little inspirational messages, to go with my inspirational notebook I got from TK Maxx, because when you're working from home alone sometimes you need a pep talk from inanimate objects.
Bonus: You can get 15% off at Lisa Angel with the code RETRO15 till 1st September.
On the coasters lives my jam jar, and a Jo Malone candle that I only light occasionally because they're damned expensive and I'll probably never have another one so this one has to last me for the rest of my life.
And finally I picked up some gold and white striped straws from Tiger, because they were a pound and they were gold and white striped, it's like they were MADE for bloggers.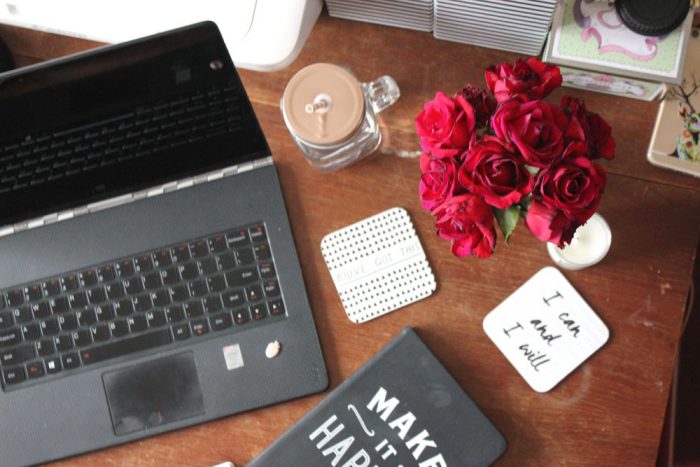 Now my small home office is organised and beautiful (though to call it a home office seems a bit grand, it's more a work space!) I need to keep it that way, and as my desk is in the spare "lets dump it in here" room that takes a little discipline!
Each night I make sure I re-tidy the desk top and line everything up neatly so the space is nice to come back to the next day.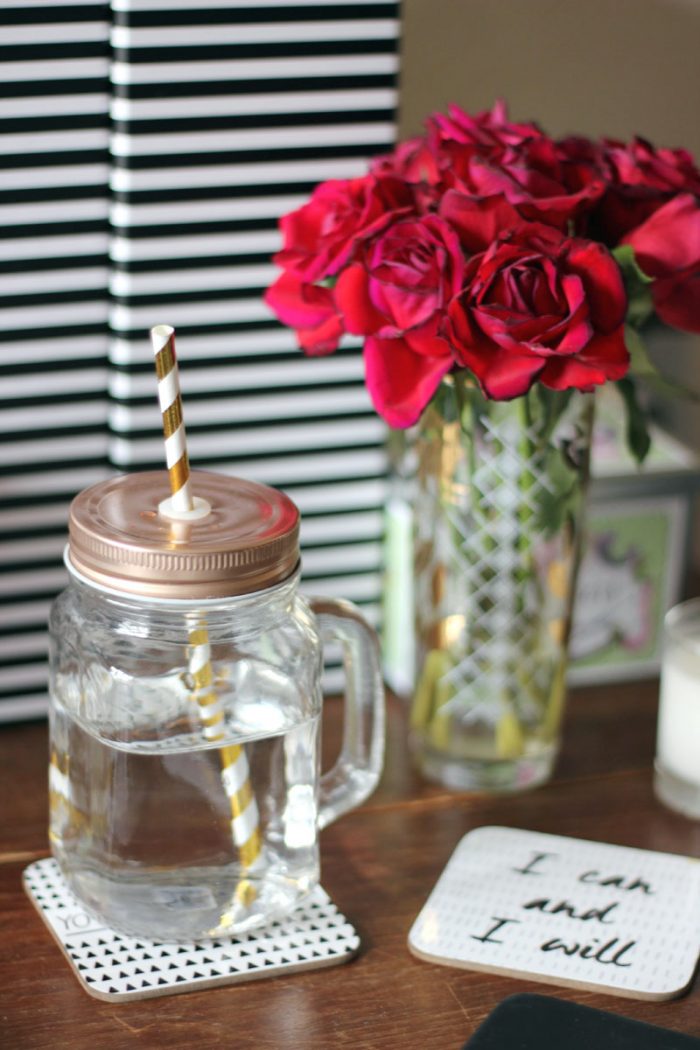 My washing still needs somewhere to dry when It's raining, but I make sure I don't surround my desk space with airers, but rather keep them behind me so I can't see them while I work!
My next project is to put some art work, and possibly a pin board on the wall above the desk so that when I look up from all that serious blogging business, what I see is beautiful things that make me feel motivated and inspired.
♥ Black & White Magazine Files – WH Smiths ♥ Black & Gold Folders – Paperchase ♥
♥ Vase – Vintage glass ♥ Make it Happen Notebook – TK Maxx ♥
♥ Jam Jar glass, "You've Got This" and "I Can and I Will" coasters C/O Lisa Angel ♥