Todays outfit is one I "rediscovered" almost a year ago.
Which also makes it relevant to today's #GlamorousJuly challenge to wear something "new" from the depths of your wardrobe.
Back at the end of July last year I had a dig around in the bottom of my wardrobe and, among other things, found this pink chiffon silk dress.
It was my favourite dress in around 2007. Then I machine washed it accidentally and thought it was ruined completely. For 8 years I still couldn't bear to part with it, even though it looked like an old rag. Then I ironed it and discovered it wasn't ruined, just crinkled. I know, right. I hate ironing that much that it took me 8 years to even try that as an option.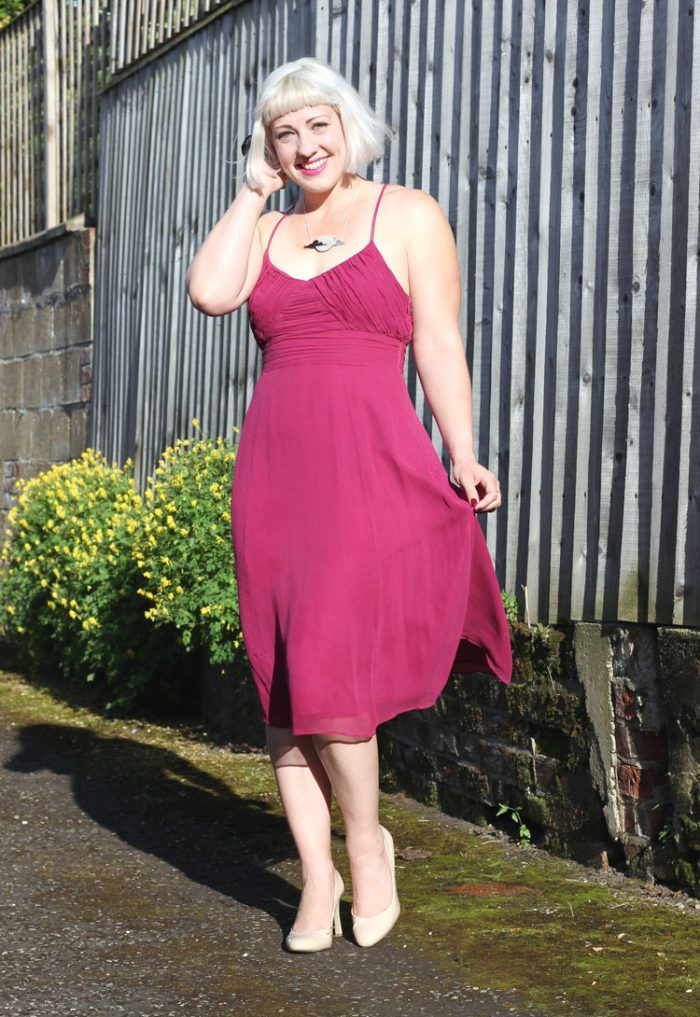 Saturday night was actually the first time I've worn it in the last year. I tried a couple of weeks ago but was too hot and bothered to deal with the zip, which sticks if you're not careful. This time, however, I was calm and relaxed, and got myself glammed up to enjoy the glorious evening sunshine.
This really is a wonderful dress for warm summer evenings. It's made of a magenta pink silk chiffon that is cool and moves beautifully. It has a pleated bodice that is really well fitted so I don't need a bra, which would be really tricky with this style. The back is low and the straps are knotted in the centre rather than just crossed.
It always used to make me feel really elegant, and it still does.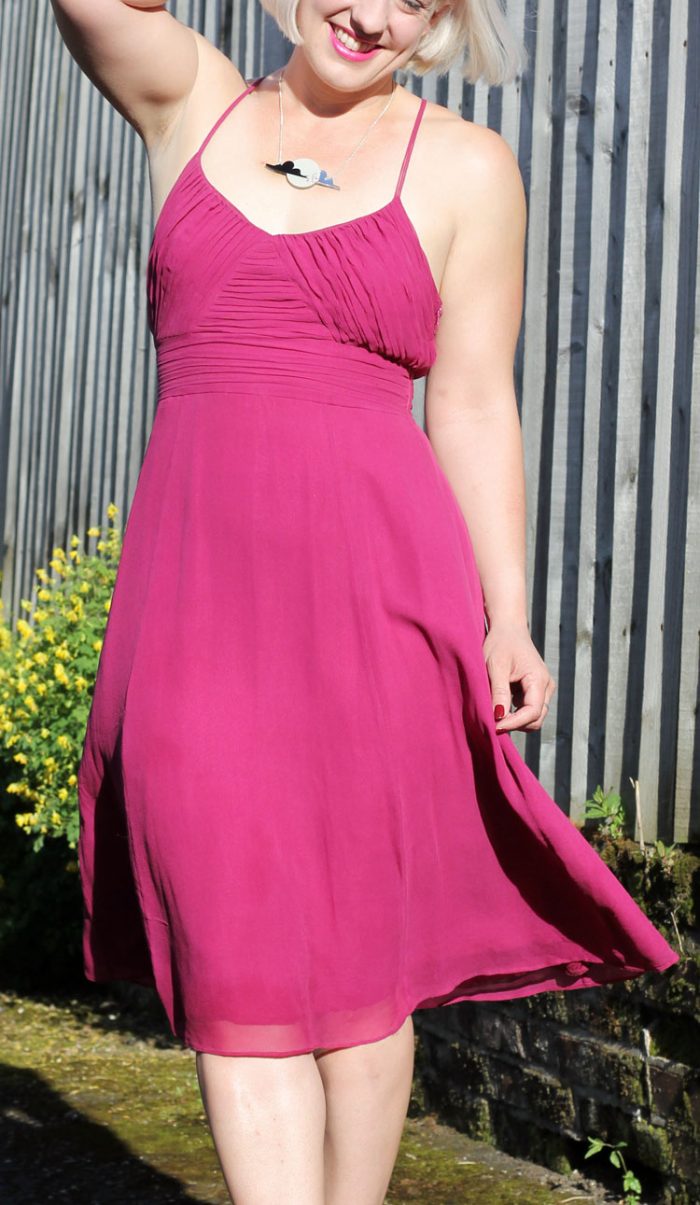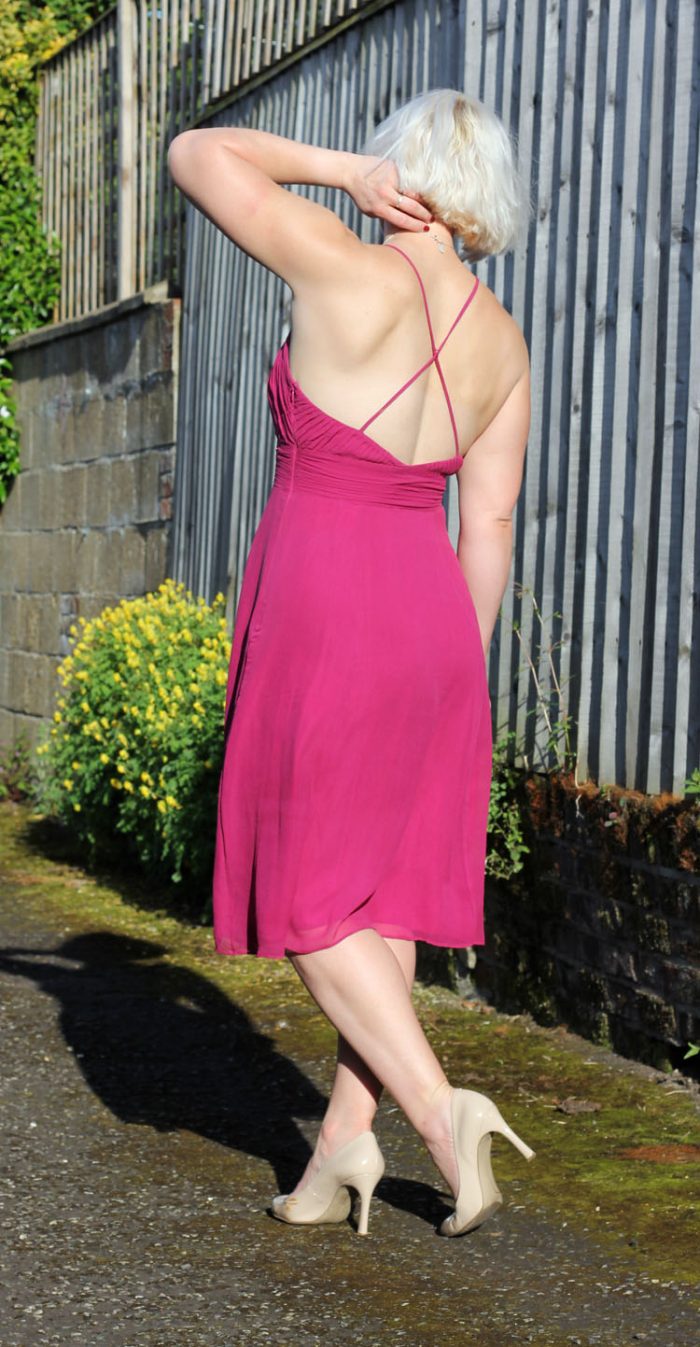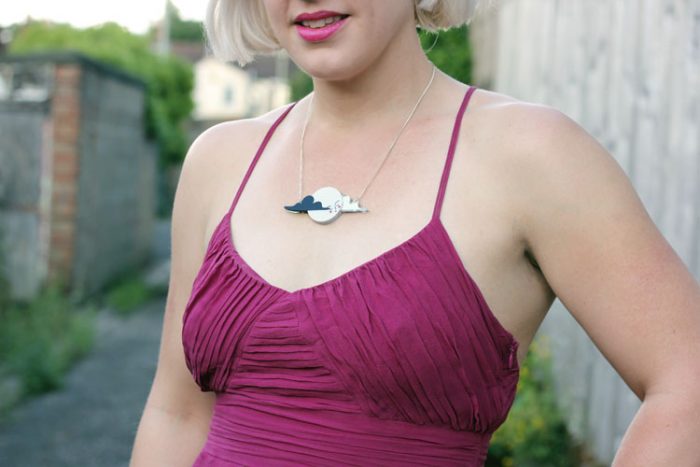 The acrylic moon and clouds necklace was a birthday present from Mr Chick from Ella Goodwin. She had a stall at one of our Roller Derby games and he bought it in secret after I'd admired it. There are also matching earrings and a brooch to go with it, so they're obviously on my wish list!
I also wore pink lipstick that is an almost perfect match for the dress. I told you I was matchy matchy!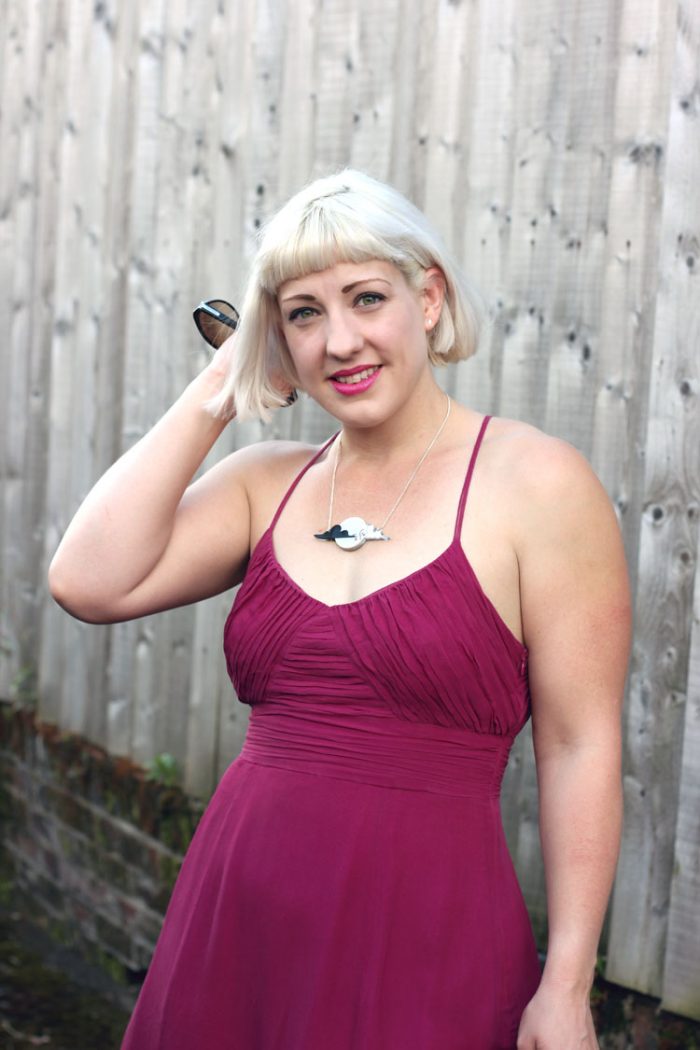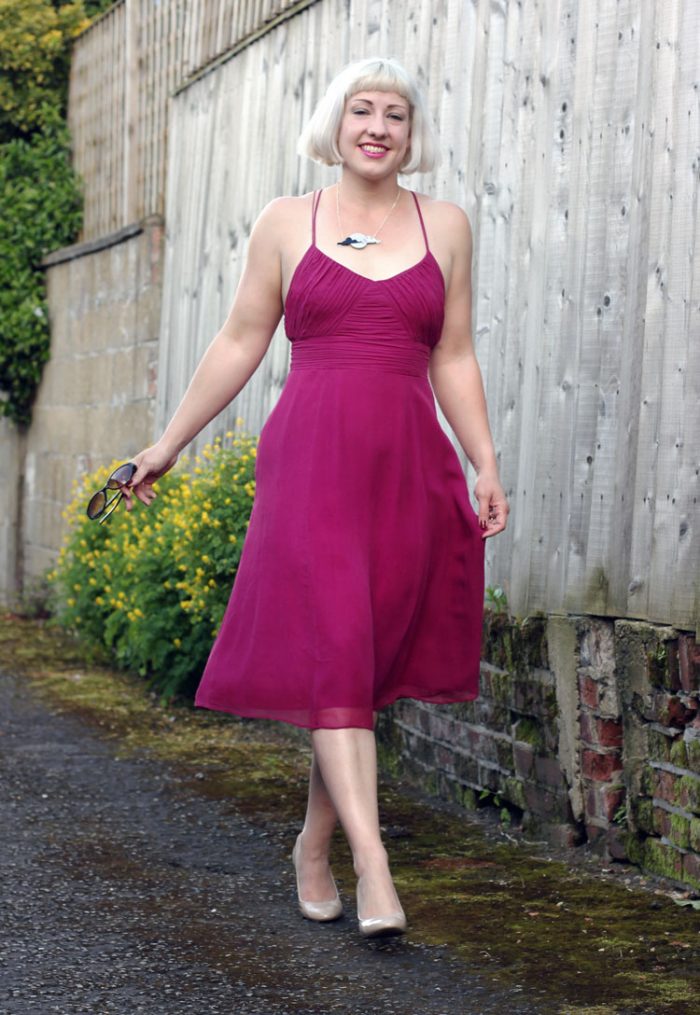 Of course, this is the UK, so mere minutes after these photos it started to rain.
Mr Chick suggested we make a run for our final destination. I met this suggestion with a withering look. Silk dresses and freshly washed and styled hair do not "make a run" for it. So we popped into the nearest pub to assess the weather situation.
This was a spectacular idea. Flashes of lightning, huge rumbles of thunder and torrential downpours of the sort that would completely ruin a nice silk dress and mean that we had to go home and get changed started moments later.
Still, at least we can enjoy the sunshine in these pictures.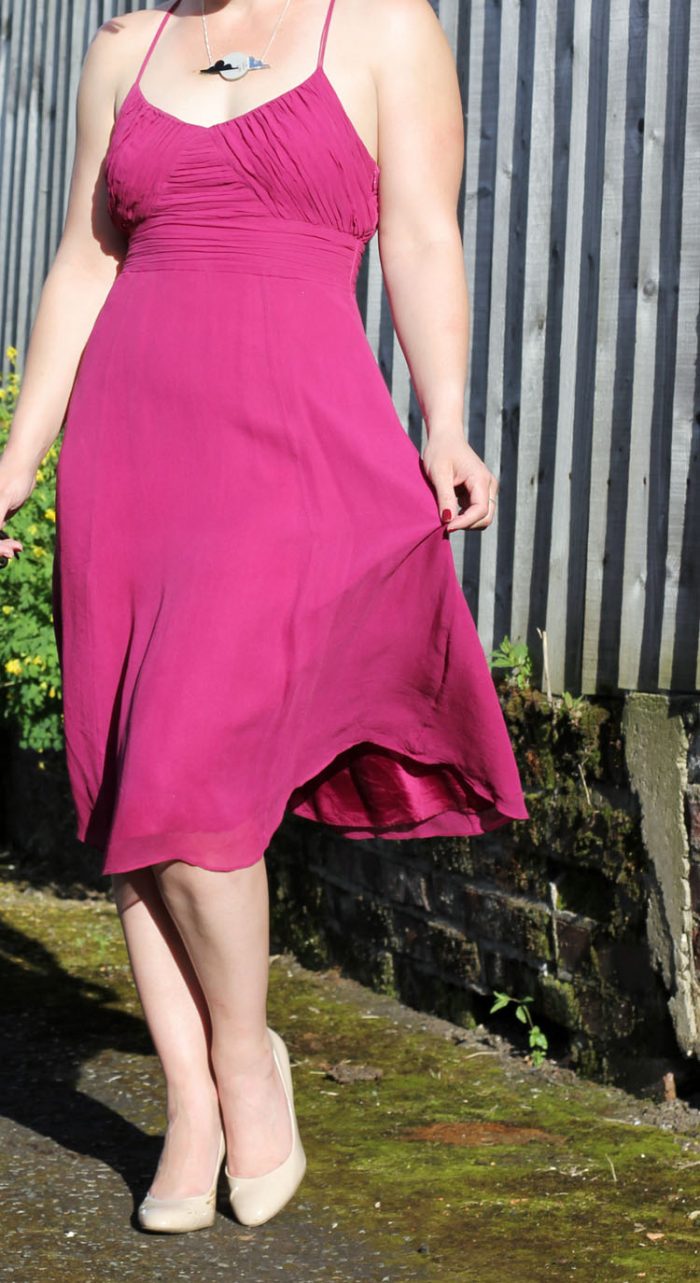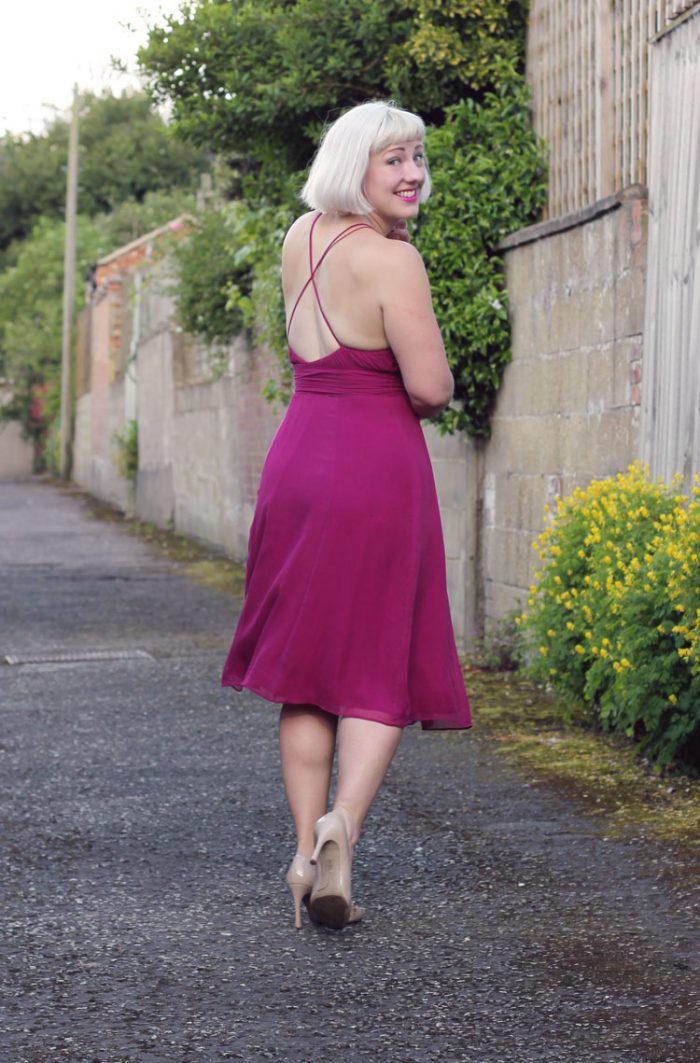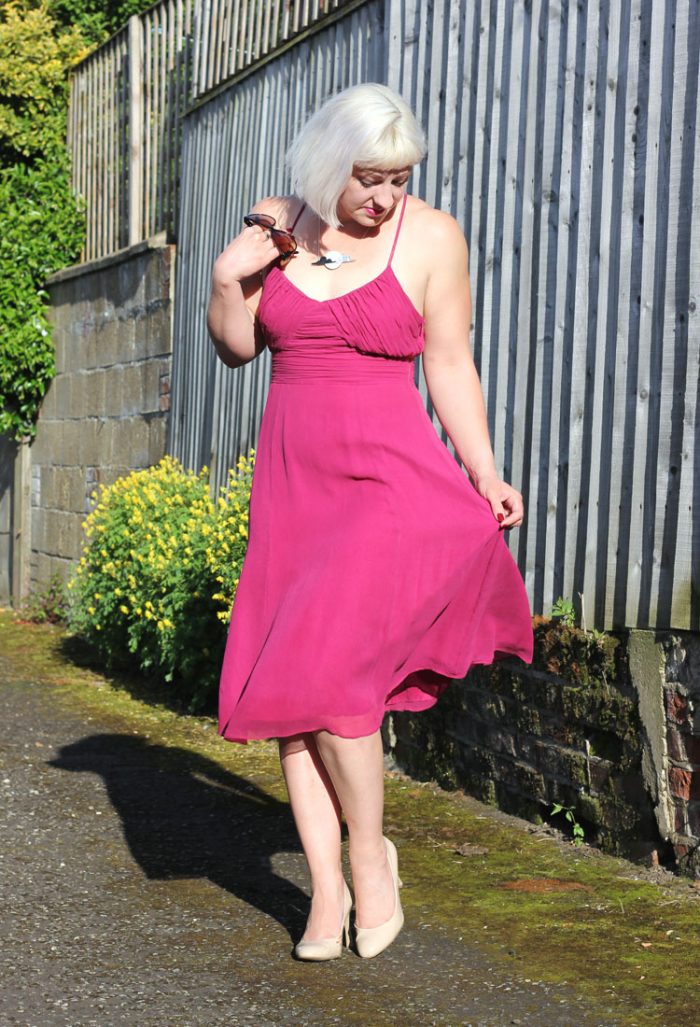 ♥ Pink Chiffon Dress – Oasis (Similar styles here and here) ♥
♥ Nude Courts – Nine West (Similar) ♥ Necklace – Ella Goodwin ♥