Brrr, it's a bit chilly!
I remember vividly back at the end of September thinking I would NEVER be cold again. I was so hot, I was sick of it and found myself thinking fondly of crisp winter days.
Well, frankly I'm sick of crisp winter days already. Especially as we don't get that many crisp winter days, what we mostly get is drizzly grey, miserable, damp days.
Today, IS a crisp winter day. It's even actually sunny. This fooled me into thinking it might also be warm. It wasn't, and I really wish I'd taken a coat out with me when I took these pictures. Fortunately my chattering teeth didn't cause too much blurring.
This midi skirt is in an amazing novelty print fabric with a beautiful scene of a lush garden printed on it. It was made to measure for me by the very kind Memento Amare who I met at a craft fair in Norwich recently. Being custom-made it fits like a dream and I even got to pick how wide I wanted the pleats and the exact length. The waist band is nice and wide, and it's been stiffened which means it keeps its shape beautifully and doesn't roll over when you sit down. If you're looking for the perfect skirt (or top or dress!) it's worth getting in touch with Gemma (she also has the BEST name. Obviously)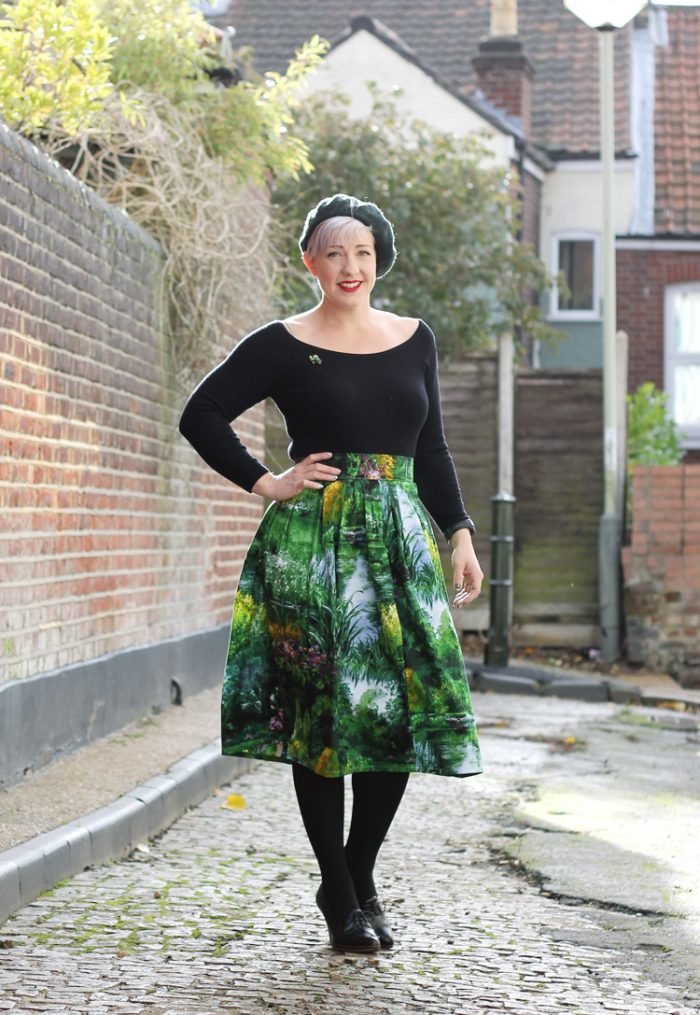 In Summer I would totally be wearing this with wedges and a crop top. Styling a summer skirt in winter meant I had to think a little harder. My normal way to get more wear out of summery skirts and dresses is with coloured tights. I tried burgundy, brown, and even green with this skirt, all of which looked, well, just ok. In this instance, it turned out black was actually the perfect partner, hurrah! It makes that amazing print the centre of attention.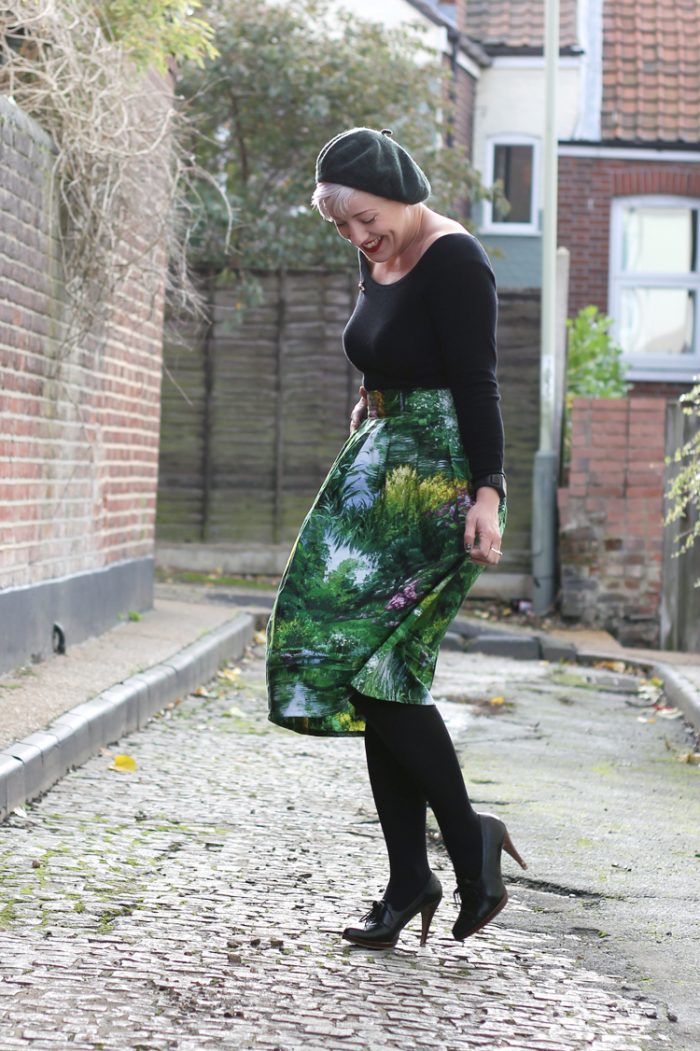 The top I'm wearing it with is also a new find. I love bardot necklines, I find the shape very flattering, which is why I chop the necks out of t-shirts. I hadn't, however, been able to find a decent black bardot top with long sleeves that I could wear in winter, and trust me, I had been looking. I'd got quite a bee in my bonnet about it.
Last week I got an email from Octer, who describe themself as an online shopping mall. They asked if I would like to try them out. They're basically a fashion search engine, which meant I got to search through pages and pages of black bardot tops with sleeves, from retailers I might never have found myself, till I found the absolute perfect one.
Which then turned out to be from New Look, a brand I actually shop at ALL THE TIME. So obviously I hadn't been looking that hard at all.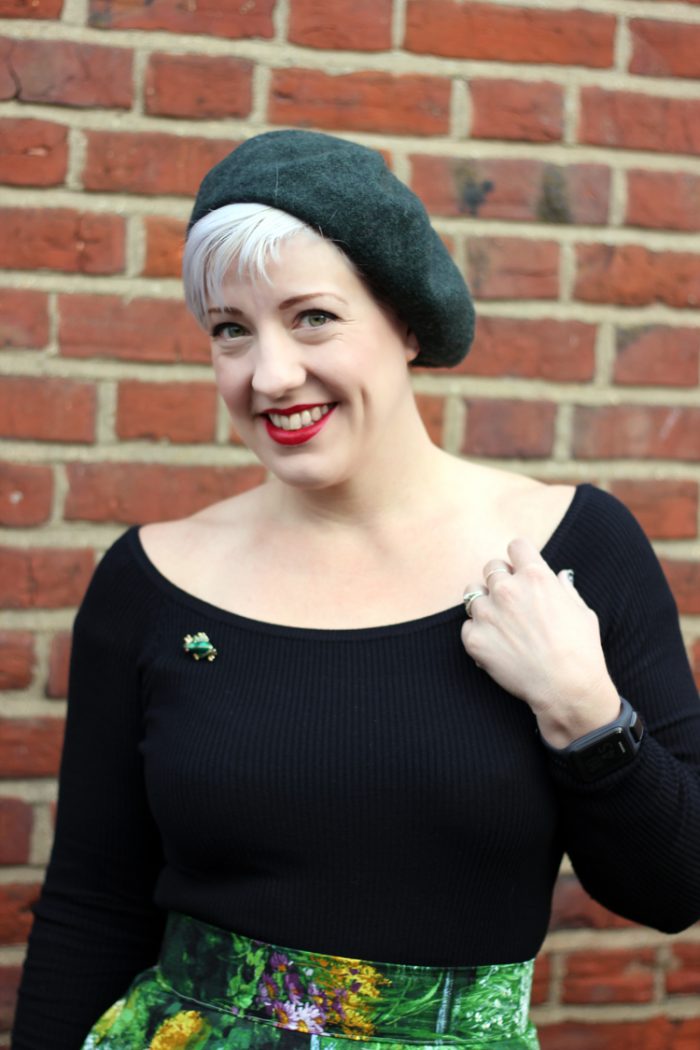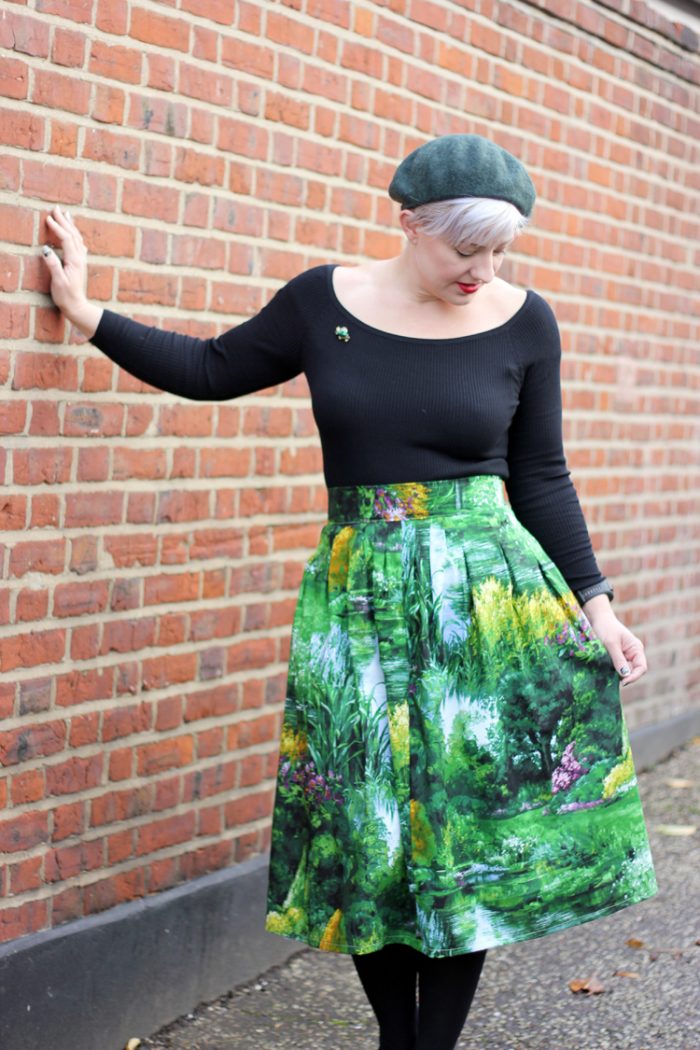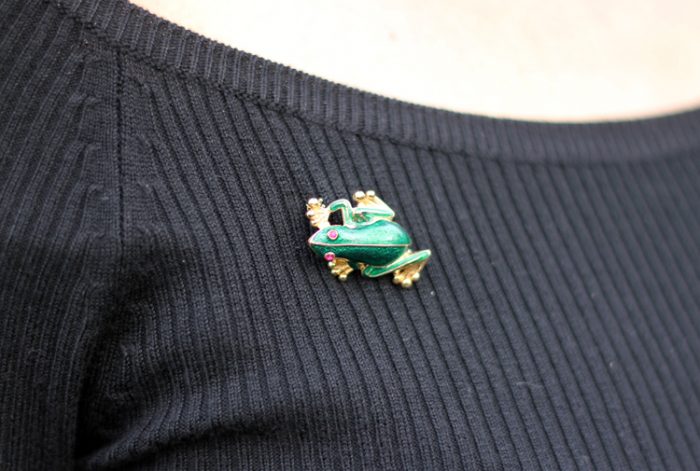 To tie it all together I added a couple more splashes of green, with a vintage frog brooch and a dark green beret.
When I say things like "tie it all together" I think it sounds like I put way more effort into planning my outfits than I really do. I swear I don't spend hours standing in front of the mirror thinking "Hmm, how will I tie this black top and black tights together with this green skirt?". Rather it's a case of putting on a black top and tights with a green skirt, then thinking "Hey, I could wear my frog brooch with this, that would look awesome!". Of course, sometimes it involves me then piling on every green accessory I own, realising I've over done it, and then taking some of them off. Turns out you can over theme an outfit.
Just a little insight into my outfit planning process for you there.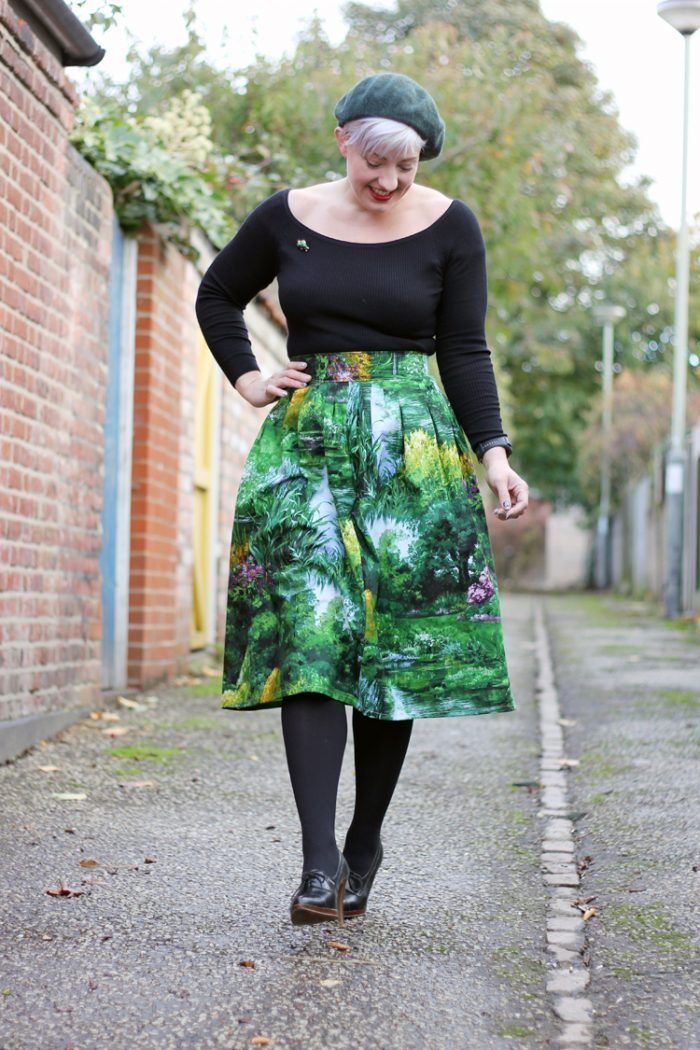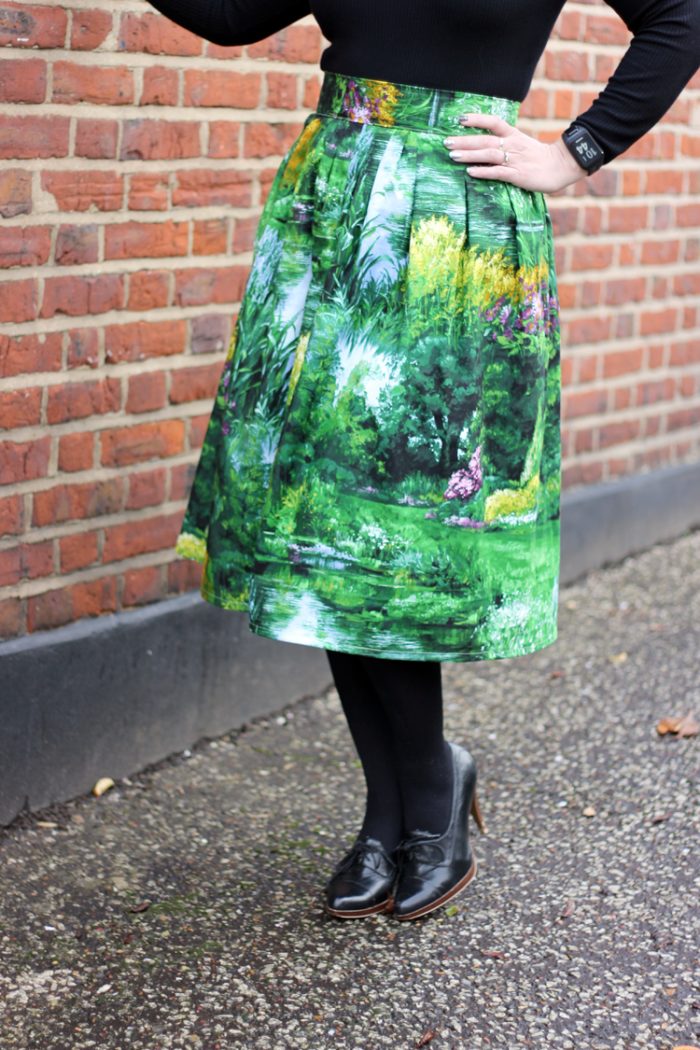 ♥ Black Bardot Top  – New Look ♥ Novelty Print Midi Skirt c/o Memento Amare ♥
♥ Frog Brooch – Vintage ♥ Beret – eBay ♥ Heeled Brogues – New Look (very old!) ♥
This post was produced in collaboration with Octer who financed my purchase through the site. All opinions are my own.
Related