Last week I spent a few days in Edinburgh.
Mr Chicks Mum & Dad live in Aberdeen. In fact they don't even live in Aberdeen, they live about an hour even further away than Aberdeen. Since that is an absurd distance for anyone except Americans who have nice big roads to consider travelling for a short break, we agreed to split the difference and meet up for a few nights in Edinburgh instead.
While we were there we had to do some sightseeing. Edinburgh is a city that I last visited for any length of time about 20 years ago. Since then I've been as a stop off while travelling and longed to go back for a proper visit, so I was very excited!
There is a lot to see in Edinburgh, and we did a lot of walking. If you're planning to visit, the city is easy to get around on foot, but do take flat shoes, and be prepared to walk up some steep hills!
We did a lot of sight-seeing, and there are places we went that I loved, such as Holyrood Palace and the amazing underground buried 16th Century Streets of Mary Kings Close. But, seeing as photography is forbidden in both of those places, today I'm going to focus on some Harry Potter themed sight seeing!
Edinburgh is deliciously spooky and full of towering buildings and dark alleys. It's easy to imagine all things magical as you walk around, and Autumn is a great time to visit and soak up the atmosphere.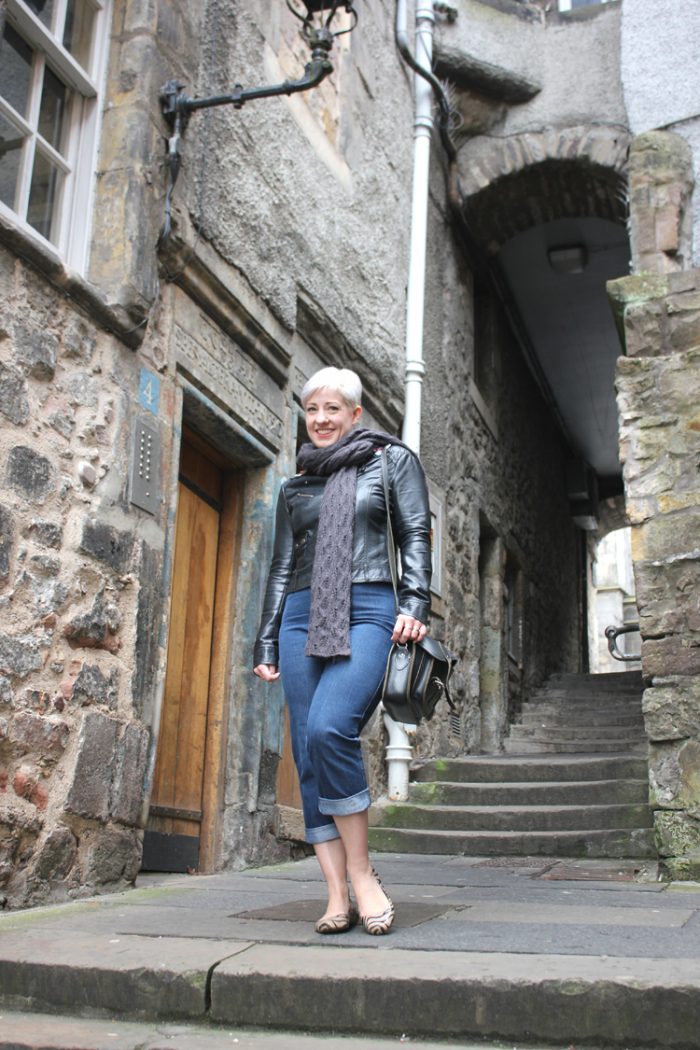 I love to wander round strange cities, find hidden corners and just generally take in the feel of a place. Without a little direction it's easy to find yourself accidentally wandering round an industrial estate, or only actually finding the main shopping street and eating at a McDonalds. As I'm a big Harry Potter fan, and Edinburgh is the home of JK Rowling, and the birth place of Harry Potter, we used that as a bit of a framework on which to base our wanderings. So here are 5 places in Edinburgh that are a must for any Harry Potter fan.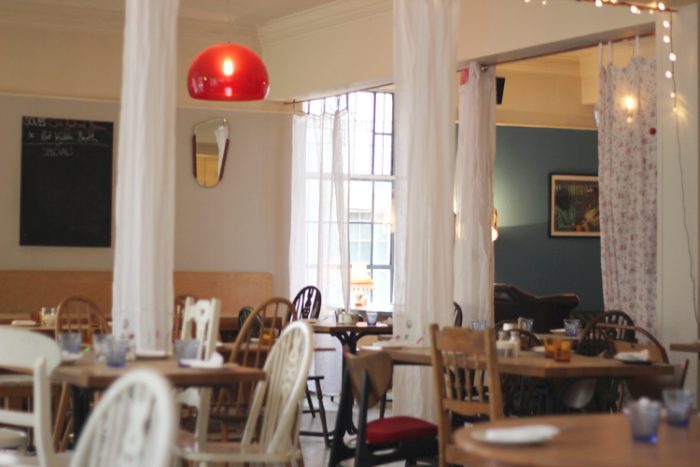 When JK Rowling wrote the first Harry Potter book it was in a small cafe in the Old Town of Edinburgh called Nicholsons at 6a Nicholson Street. In the intervening years the cafe became a Chinese buffet restaurant, but is now back to being a cafe called Spoon.
I had to pay it a visit, and eventually (after being confused by the name being on a wall above an entirely different cafe!) went in for breakfast. It's a beautiful big space, and being up some stairs on the second floor means you get a great view of the street below for a bit of people watching.
I could easily imagine spending the whole day there drinking coffee and writing my masterpiece, but unfortunately I haven't thought of an idea for my masterpiece yet. So instead I ate haggis and egg in a roll for breakfast. I love haggis and when I visit Scotland I make a point of eating as much as possible.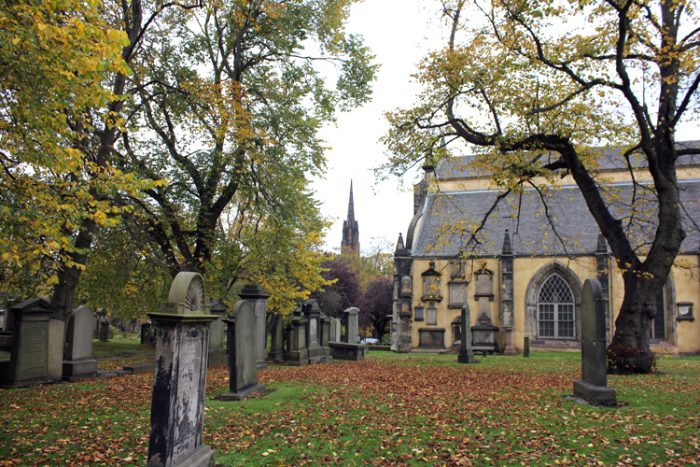 Now, if I was anyone else I might have visited Greyfriars to see the tomb of Greyfriars Bobby. That famous dog that stood watch over his masters grave.
I'm not anyone else though, so, much like hundreds of other people, I went to see Voldemorts Tomb.
Obviously it's not actually Voldemorts tomb, but it is a tomb belonging to a Thomas Riddel, and his son, also called Thomas Riddel, who died in the early years of the 17th Century. The names on the tomb are alleged to be the inspiration for Voldemort.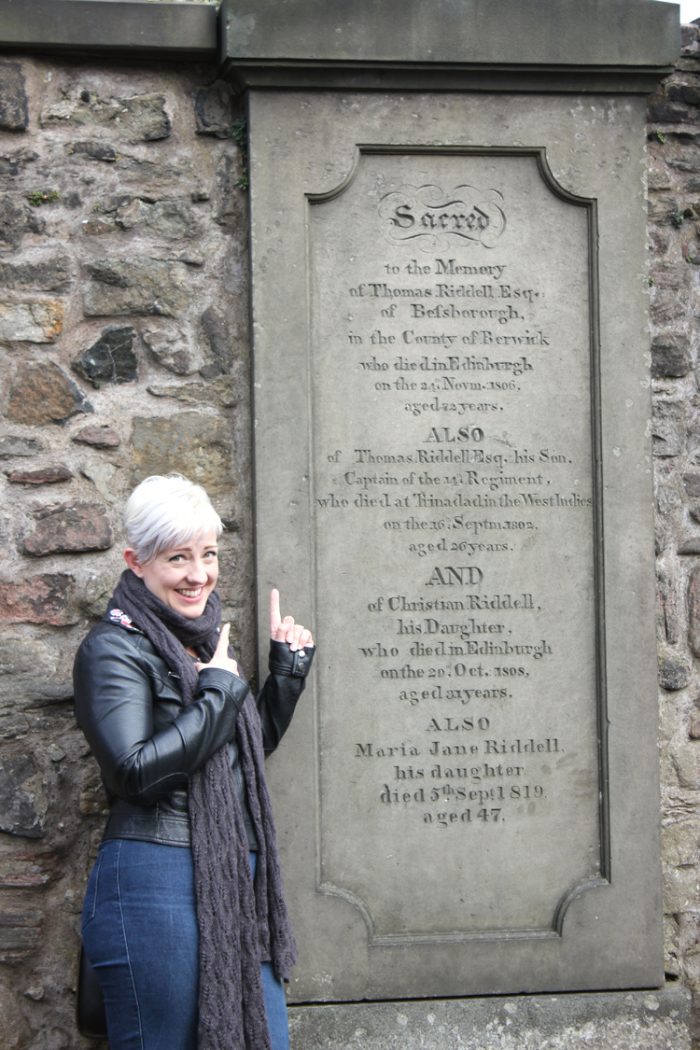 Many other graves in the cemetery contain names you'll recognise from Harry Potter books. McGonagall and Moody are there, among others. On the walls of other tombs is also a lot of information about the lives of the people interred there, which makes it a really interesting place to spend some time.
To find the Riddel grave you'll need to go out the back of the Churchyard, behind the Flodden Wall.
From there you can also see another Harry Potter inspiration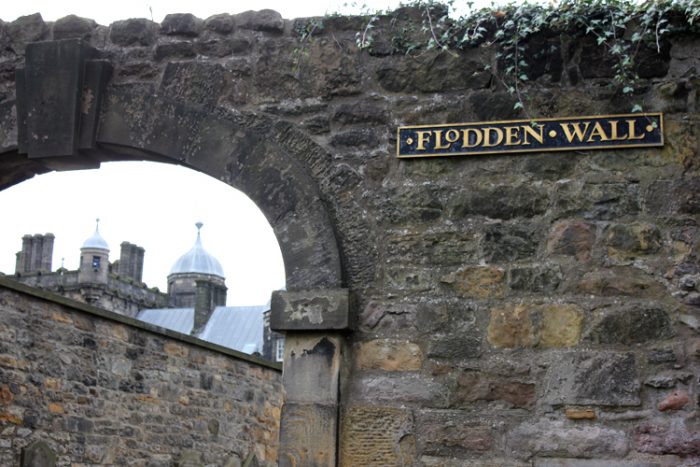 Built in 1659 George Heriot's school has 4 school houses, and 4 towers and is the inspiration for Hogwarts.
Being an actual functioning school it's not so much a tourist attraction you can walk around. But if you're a Harry Potter fan its worth a peek at through the gates from the Churchyard!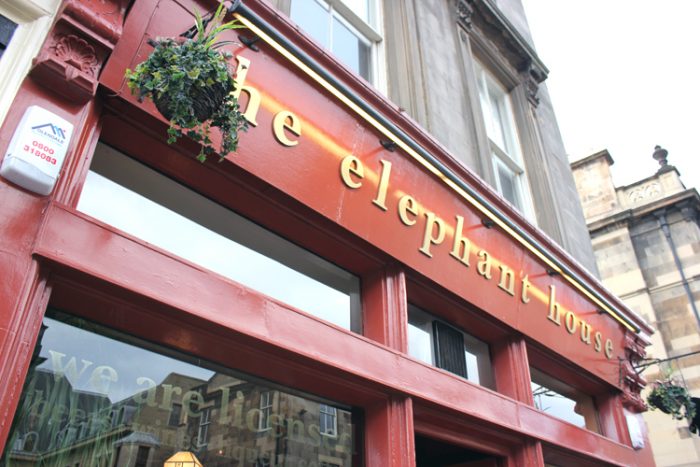 The Elephant House is the cafe JK Rowling moved onto to write some of the earlier novels. It is very proud of its Potter connections and has a huge sign in the front window announcing itself as the birthplace of Harry Potter.
It might be a nice place to stop for a spot of lunch after visiting Greyfriars as it is just up the road. When we stopped by, however, it looked far too busy. We contented ourself with a quick photo of the outside, and instead went and ate Stovies (corned beef and potatos) in a tiny pub called the Halfway House, they didn't sell Haggis, otherwise I would obviously have had Haggis.
When I fail to write my masterpiece I expect it will be because I never absorbed any of JK Rowlings magic by eating lunch in The Elephant House
Victoria Street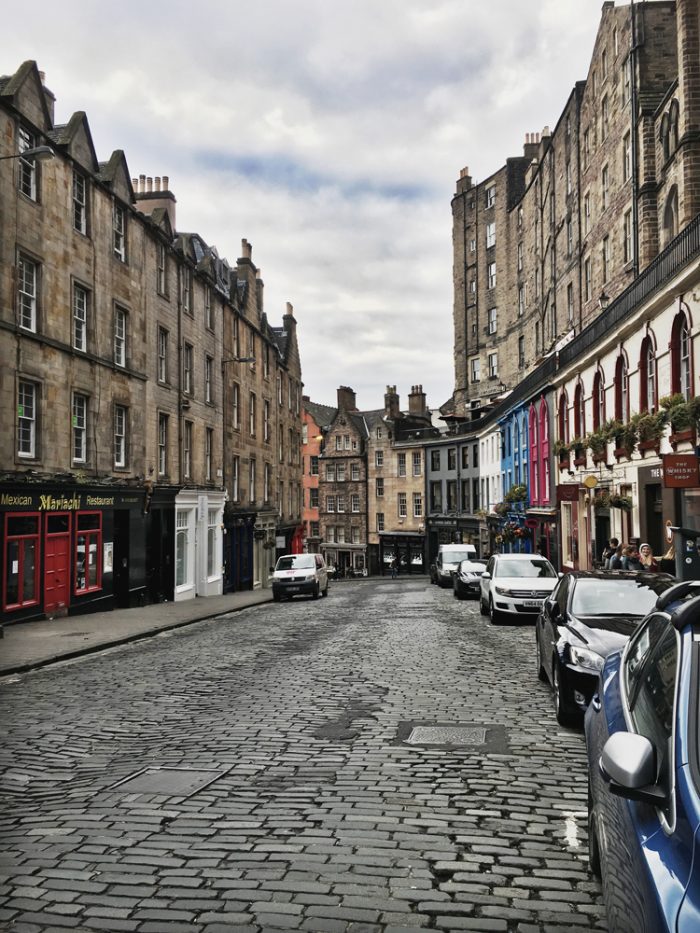 Victoria Street is a curving road on a hill, just up from The Elephant House. It is the inspiration for Diagon Alley with brightly coloured fronts and stony high-rise buildings with pointy roofs.
At the bottom of the hill is a joke shop that warns customers not to mistake it for Weasleys Wizard Wheezes (though obviously they wish they would, as I suspect you can charge more for whoopee cushions with a Harry Potter connection.) I am also reliably informed that back in the 1990s there was an RBS Bank in the corresponding location to Gringotts and a stationery store where Flourish & Blotts is.
Diagon Alley has a fewer cars on it though. Probably.