Today's actual outfit is really boring.
Well, not REALLY boring. It's a leopard print dress and a bright yellow cardigan. You have seen everything in it before though. The dress has appeared at least twice, in 2014 and 2016, the cardigan has appeared at least as often and the shoes, well, you must be sick of those shoes by now?
Today's post isn't about that though, it's about my brand new bag. Because I am REALLY excited by it!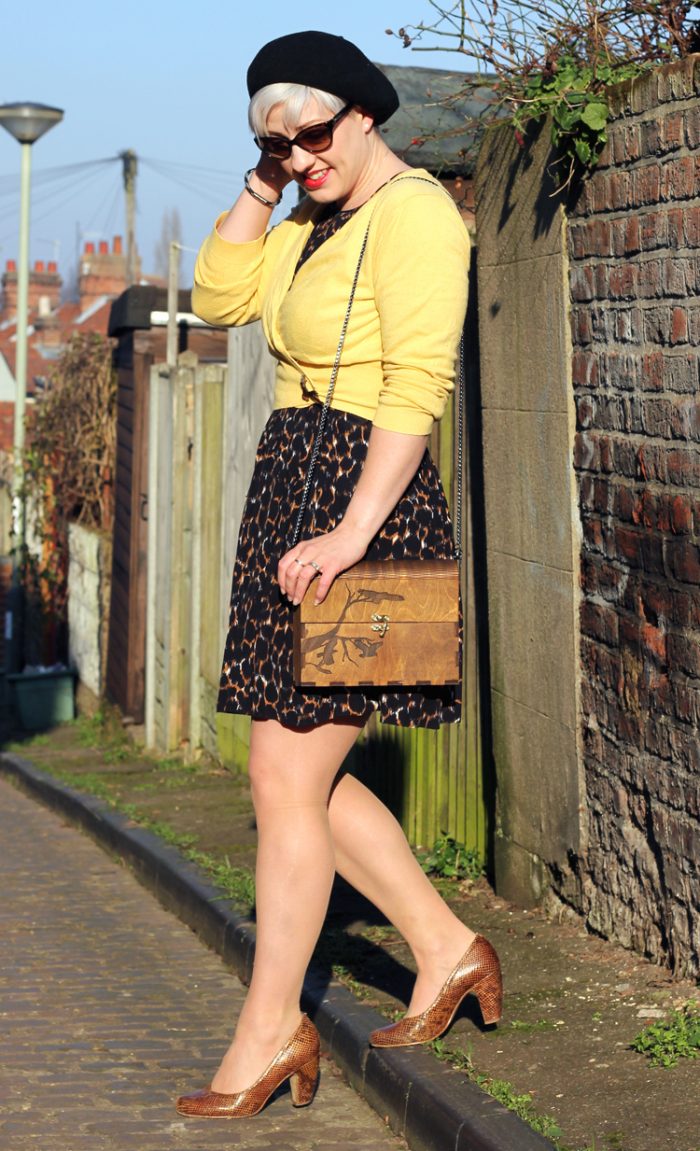 I mentioned these bags in a "This Week I…." a couple of weeks back. I even used the word prototype. They are finally finished and ready to go in Mr Chicks Etsy shop, and I love them so much!
If you're a regular reader you are no doubt aware that back in September last year Mr Chick was made redundant. His previous job was decently paid, but did not make him happy. He spent most of each week away from home driving hundreds of miles and living out of a suitcase. We'd talked a lot about him quitting and trying to go self-employed, but it's one of those things you never do unless you're pushed. My push was nearly getting fired by the Bitch Queen from Hell (if you're reading, not even sorry). His was redundancy. He has a real talent for handmade and creative things that is totally not shared by me. Reginald Spleen's Curiosity Emporium was born and at Christmas he was doing a roaring trade in little gift bits.
This bag is the latest addition to the shop.
Mostly I'm excited that Mr Chick is using his creative talents to make stuff that I can wear. The bags are made entirely of wood, cleverly cut so that the fold over top bit bends and fits together.
This bag is mine and it has a laser engraved crow design on the front. But the bags can be personalised with any design your little heart desires, or you could just get the crow of course! This is the larger version and there's also a smaller version, shown here with a Sugar Skull design. It comes with a choice of black, gold or silver chain (this is the black).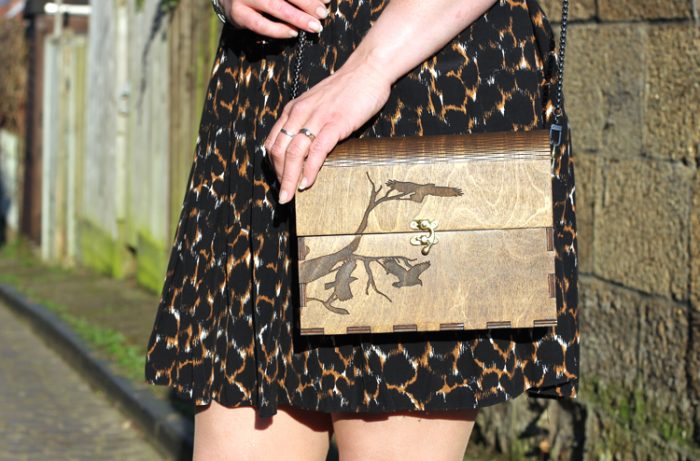 People have mentioned to me before that I don't seem to carry bags a lot in my outfit photos. This is true, and it is because most of the time I carry the same black leather Zatchel and having it slung over my shoulder in every single outfit photo wouldn't really add much. So I leave it out of shot, unless it has a purpose.
On the occasions when I've made an effort to match my bag to my outfit, or my bag is particularly awesome, then I'll keep them in shot. So you might see the occasional clutch bag, but really, even on quite fancy nights out you'll see that black Zatchel stuffed under a table. The reason for that is that I seem to have 2 types of handbag. The functional leather "stuff everything in it" type, or the tiny "I can just about fit my phone in it at the right angle" type. The second type of bag also often comes with only a wrist strap so you have to dangle it over your arm all night and it gets in the way.
This bag, however, is not like that. It's the perfect in between bag. It's not a boring every day bag. In fact I definitely wouldn't want to carry it every day as I couldn't stuff my whole life in it. But it's not quite a fancy evening bag. I'm calling this my "I made a bit of an effort and I'm going to the pub" bag.
The bags literally went up in the shop today and Mr Chick has offered you a 15% discount code, valid till 14th February. Seriously, I didn't have to prompt him or anything, I was quite impressed. Just enter RC20171402 at checkout and you'll get 15% off everything.
♥ Dress & Cardigan – Boden* ♥ Shoes – Office ♥
♥ Beret- eBay ♥ Bag – Reginald Spleen's Curiosity Emporium ♥