Do you think there's a point where I'll own enough clothing with Cocktails on?
At the moment I'm thinking not. Especially when my latest piece of clothing with cocktails on also features cats and poodles.
Novelty print skirts are not just for fancy wear, which I proved by wearing this one to walk into town on a slightly hungover Sunday. The aim of the walk was just to "get some fresh air" as apparently dealing with a hangover by sitting under a blanket in your pyjamas drinking tea all day isn't healthy.
Apparently.
I'm not sure who made that rule up, but it was a very pleasant walk anyway.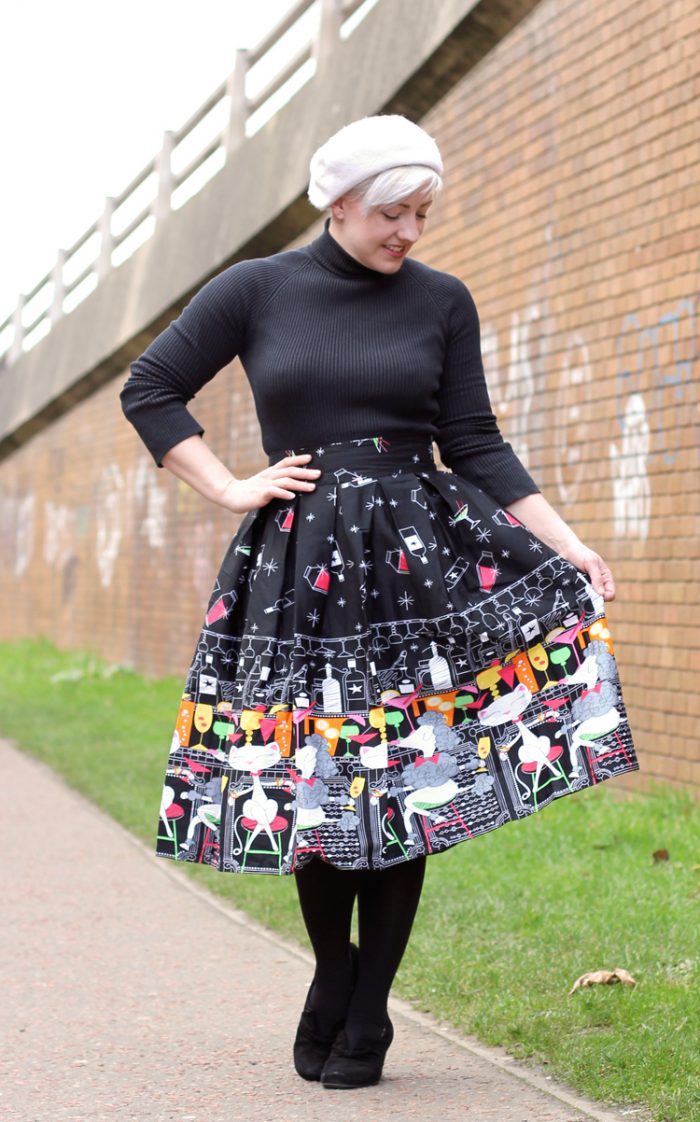 This particular "cats and poodles drinking cocktails" skirt is a new design from my novelty print favourites Lindy Bop. They got in touch last week and pointed out that they had some new cocktail prints and would I like to try one of them. Even my favourite brands are enabling my print obsessions now.
For my 5'4″ height it is the perfect length, and perfect fullness. It has a good, wide, high waistband to balance out the pouffiness.
Also, it has pockets.
Who doesn't love a skirt with pockets. Look how happy I am about the pockets.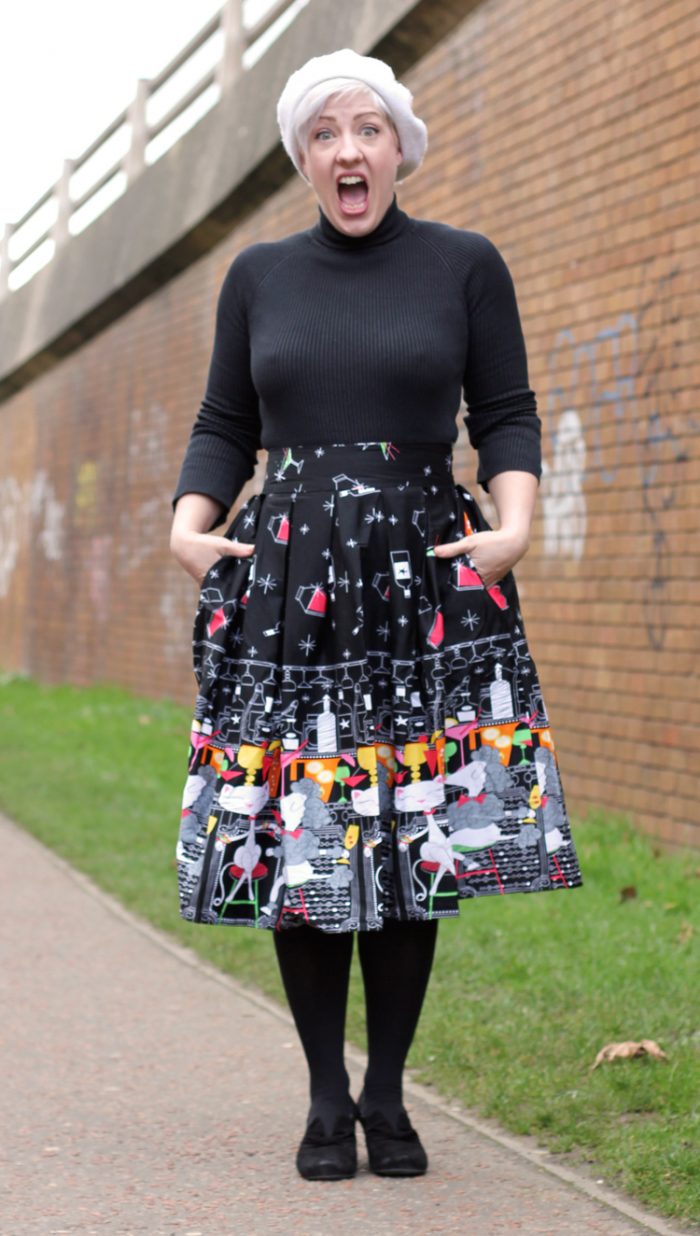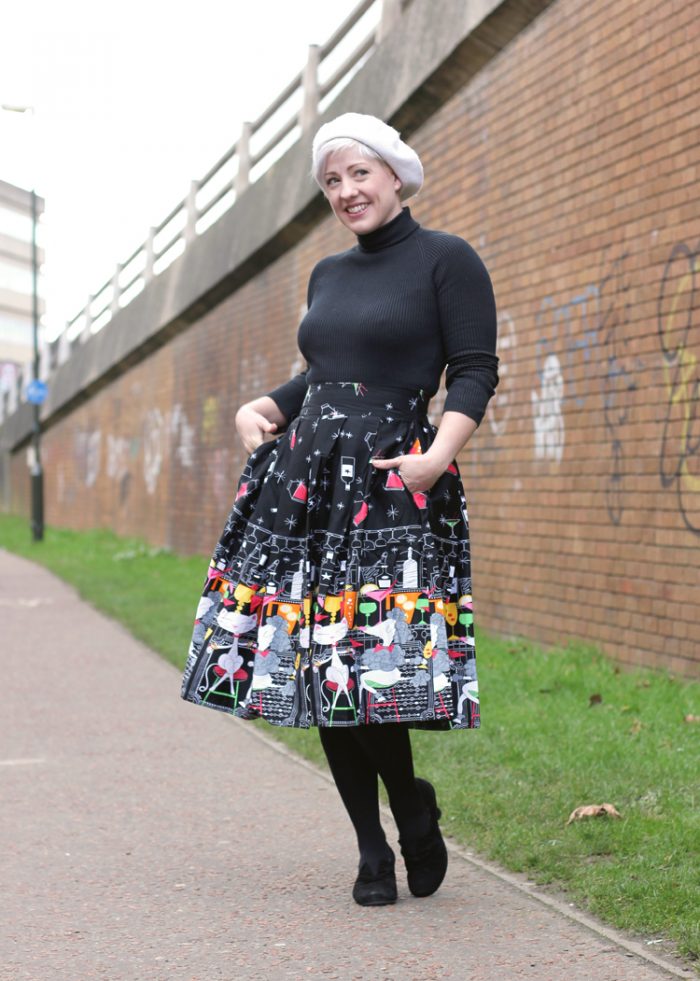 Some prints can be tricky to wear in the winter. I'm getting better at pairing colours to make them work, but still, sometimes they require a bit of effort. This skirt, however, is a no brainer.
It's mostly black so easy to wear with black opaques and a roll neck. It also has some fun brights in the print that might be nice to match with if you were looking to add a bit more colour. I'm thinking it's also going to be perfect with a crop top and cork wedges come Summer.
Ah, Summer, it can't be far off now.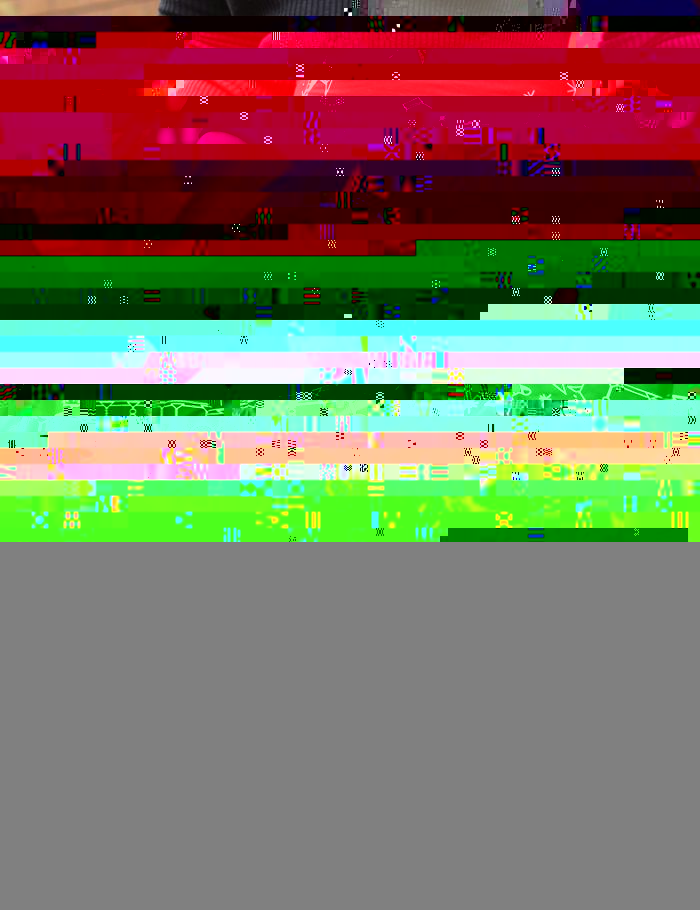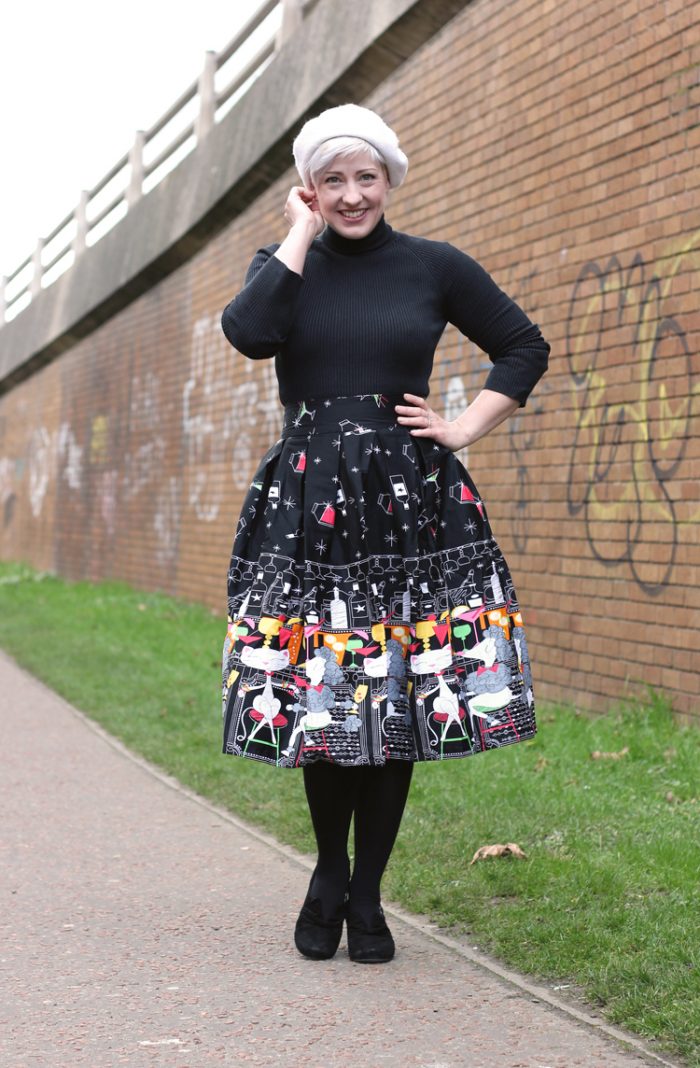 This outfit also seems to be very much a uniform I have settled into lately. I've never really felt like I've had a "uniform" before, but this winter has very much been dominated by full print skirts, slim fit jumpers, opaque tights and berets.
I even found myself worrying that this outfit was too boring to post, seeing as I've done full skirts and jumpers here, here, here, here and here and that's just since November.
Then I remembered that this particular full skirt had cats and poodles drinking cocktails on it, and any outfit featuring cats and poodles drinking cocktails probably doesn't fall under the category of boring.
♣ Marnie Skirt C/O Lindy Bop ♣ Roll Neck – Next (similar) ♣
♣ Beret – eBay ♣  Donna Shoes – Hotter ♣