If you follow me on Instagram, Twitter or Facebook then you may have seen that I've been given the chance to trial a brand new beauty product that works to support your skin from the inside out.
The product in question is by Seven Seas, who most people will probably know for producing Cod Liver Oil, they've been around since the 1930s, so have plenty of experience in producing quality supplements.
The latest product to hit their list is 'Perfect7 Renewal Advanced', containing ceramosides™, which in an independent trial found that taking the ceramoside supplement helped improve skin appearance and reduced the appearance of wrinkles in 60 days.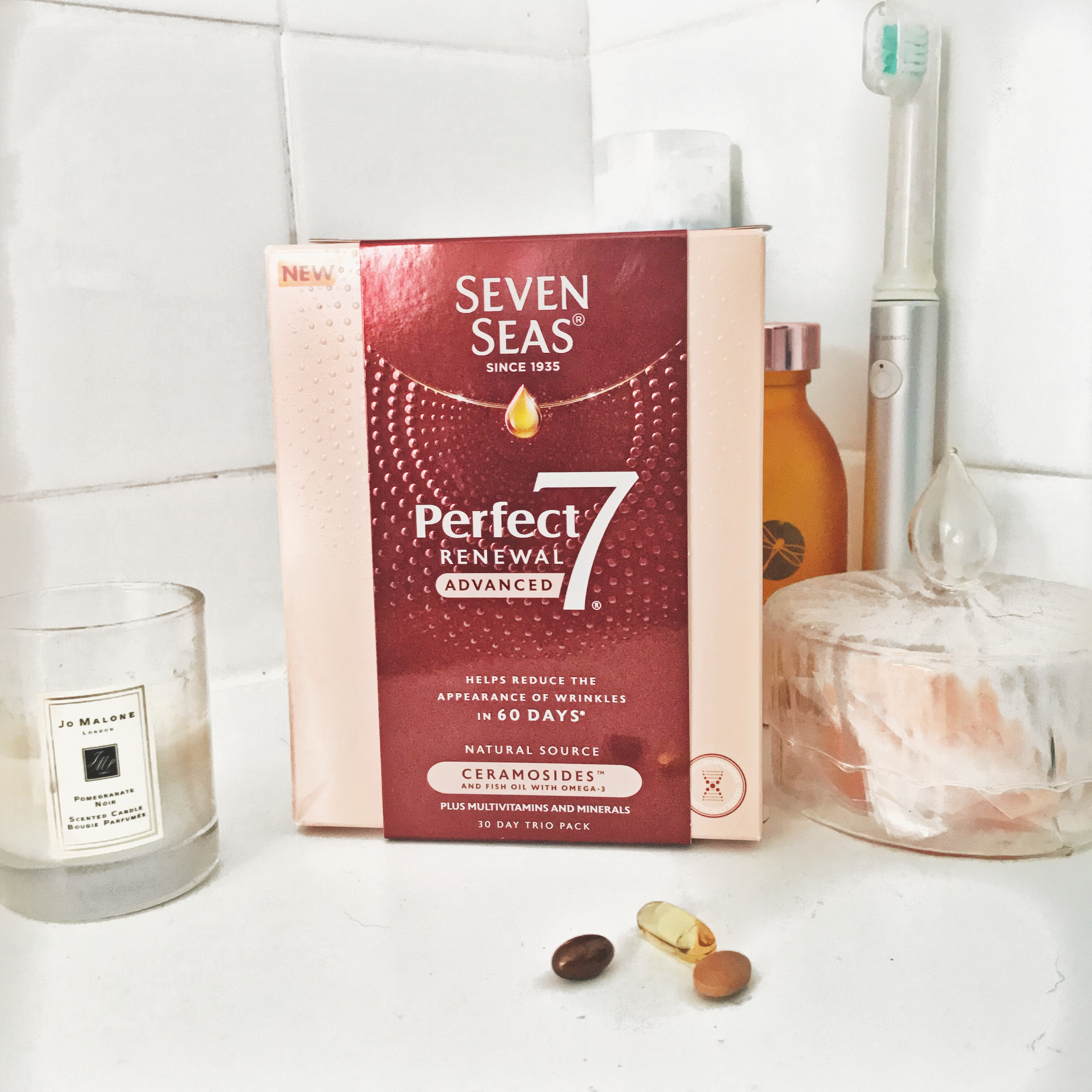 In light of this, Seven Seas have given me 60 days to trial this latest product and see if it makes any difference to my poor, dehydrated 39-year-old skin.
What Are Ceramides?
The key part of the product is Ceramosides, which are a natural source of Ceramides. Ceramides are naturally present in the top layers of the skin and help your skin to retain moisture, making it appear smooth. As we get older the amount of ceramide levels drop in our skin which can contribute to one of the reasons our skin starts to appear rougher and fine lines more visible.
Ceramides have been included in topical skin care products for a long time. They help make it appear smoother, more hydrated and reduce the appearance of fine lines. The only problem is, obviously, with a product applied to the skin, it predominantly only works where you rub it in!
Perfect 7 Renewal contains a Ceramosides capsule, which has been scientifically proven to reduce the appearance of wrinkles in 60 days and because it's taken orally, it's basically the ultimate full body beauty product, working from within to make the skin all over your body look smooth and hydrated. It's the first product of its kind in the UK so I was really excited to try it out!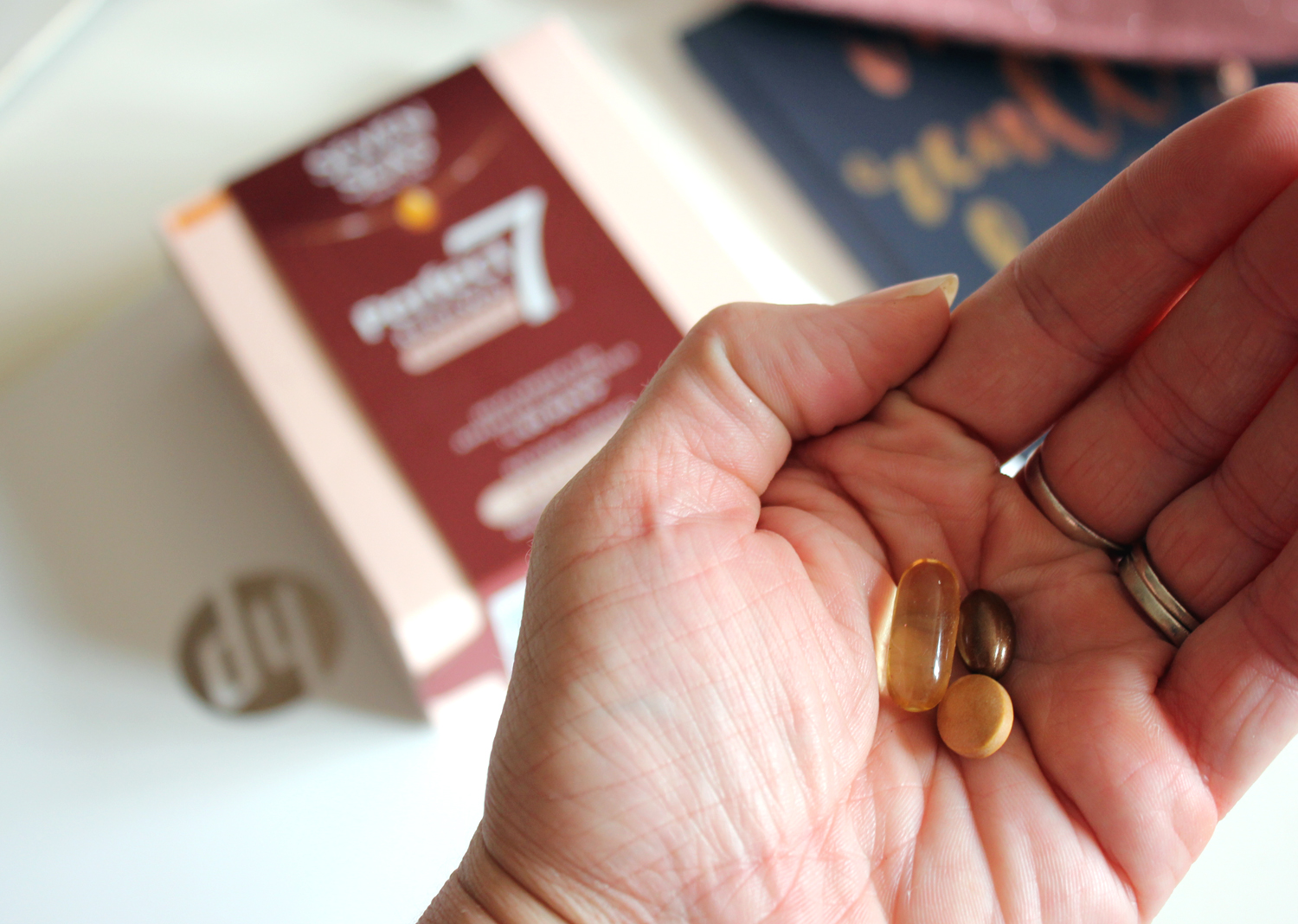 Now, I don't really care hugely about looking older. I'm nearly 40 and I don't necessarily want to look 25 (for starters I'd have to remember to take ID to the pub). I do, however, like to take care of my skin and I want it to be as healthy, clear, smooth and hydrated as possible.
How to Use Ceramides for Better Skin
Perfect7 Renewal actually contains 3 supplements to take each day. One Ceramoside capsule (the product's hero ingredient), one Omega-3 capsule and one Multivitamin and Mineral tablet that you take with a cold drink.
Omega-3 is a supplement with DHA for additional health benefits.
The Multivitamin and Mineral tablet also has additional beauty benefits too, Zinc for healthy nails, Biotin for healthy hair and Vitamin C to support collagen formation.
I've just been keeping the capsules next to my workspace so that I remember to take them when I sit down to work in the morning. I did this rather than just taking them when I wake up because I normally have a coffee in the morning, whereas when I sit down to work it's with a glass of water and I didn't want to ignore the cold drink instructions!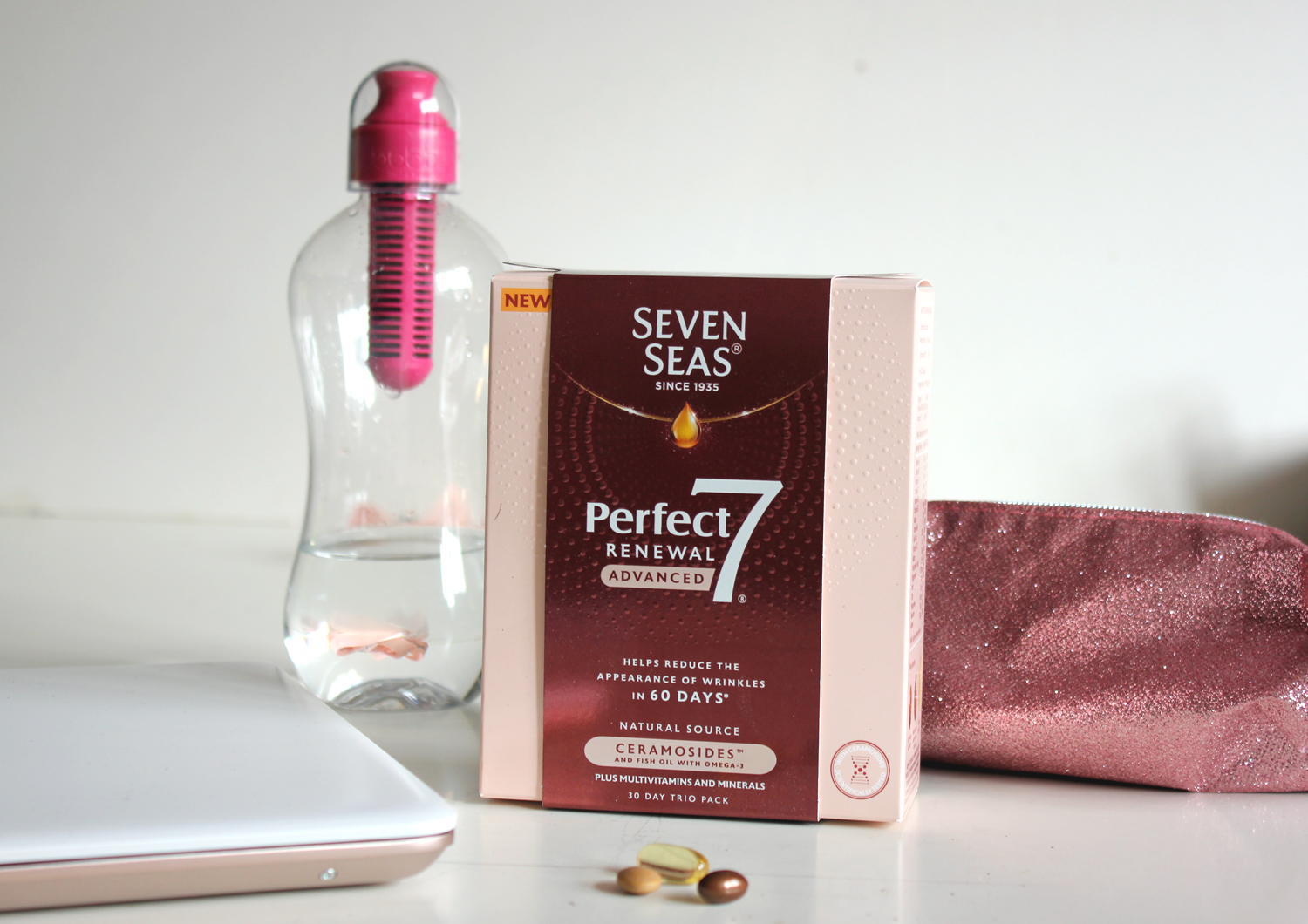 In about a month, once I've finished my trial, I will be back to tell you whether I actually noticed any difference taking the tablets, and with some more top tips for your skin from the experts.
Where to Find Perfect 7
If you fancy trying it out for yourself first, then Perfect 7 Renewal was released on the 20th August and is available in Boots stores nationwide and Boots.com. It comes in a 30-day duo pack containing the Ceramosides and an Omega-3 capsule for £34.99, or the trio pack that I've been trialling that also includes a the Multivitamin and Mineral tablet for £39.99. Both are currently on a 3 for 2 offer.
You can find out more on the Seven Seas website.
This post was produced in collaboration with Seven Seas who also provided me with the product free of charge for review. All opinions are my own.
Wrinkle Reduction: Skin Photography before and after 60 days. Each pack contains a 30-day supply
Zinc supports normal healthy nails. Biotin supports normal healthy hair. Vitamin C supports collagen formation for normal skin function.
DHA contributes to the maintenance of normal vision, DHA contributes to normal brain function. 
Food supplements do not substitute a balanced diet and healthy lifestyle.
Related