One of the advantages of having dogs, even two incredibly lazy dogs like our pugs, is that it forces you to keep more active. Since we've had the pugs there is rarely a day where I don't hit my 10,000 steps as they get a half-hour walk at least in the morning and the evening.
In the summer that's not a chore. There are sunny morning walks through grassy fields and light evening trips with stops at the pub. In the winter it can be more of a challenge. Dark evenings and cold mornings make walkies less appealing, but the pugs need their exercise and so I can't avoid it. No matter how unappealing it might sometimes be to get out in the wet weather, there is no denying that the extra fresh air and getting out in the daylight is excellent for my wellness, both physical and mental.
Finding the most comfortable women's wellies
Having warm, weather-appropriate, clothing and footwear for wet weather walkies is essential. Therefore, I was very excited to try FitFlop's new pair of comfortable wellies from the WonderWelly range. In the early days, I spent many a winter morning with wet feet in soggy trainers. I have some lovely fleecy boots that are comfortable, but for splashing through muddy puddles it's a shame to ruin them. I have some classic green women's wellies, but they're not exactly comfortable, or stylish for those days when you want to stop off in the pub or go for breakfast.
No, I never thought I was the sort of person who would get excited about wellies either, but the WonderWelly is genuinely quite exciting. The design pays attention to pressure points, walking positions, and mirrors the natural shape of the foot. The WonderWelly has been developed to distribute your body weight evenly when you walk. They have micro "springboards" in the forefoot and a honeycomb design in the hollowed-out heel that makes them super comfortable for long walks. The women's wellies come in 2 heights and 6 colours. I ummed and ahhed before finally picking the tall WonderWelly in sensible, go-everywhere, black.
The upshot of all this technology is a wellington boot that made me say "Oooh, Springy!" when I put it on. These are comfortable wellies.
The best shoes to wear on coastal dog walks
The WonderWelly had its first test this week when we went for an afternoon walk along the North Norfolk coast. In the winter we try and get out for longer walks in the afternoons when it's still daylight. There are some lovely nature walks near me and we have several circular walking routes but sometimes it's nice to head out to some of the more scenic places in the UK for walkies.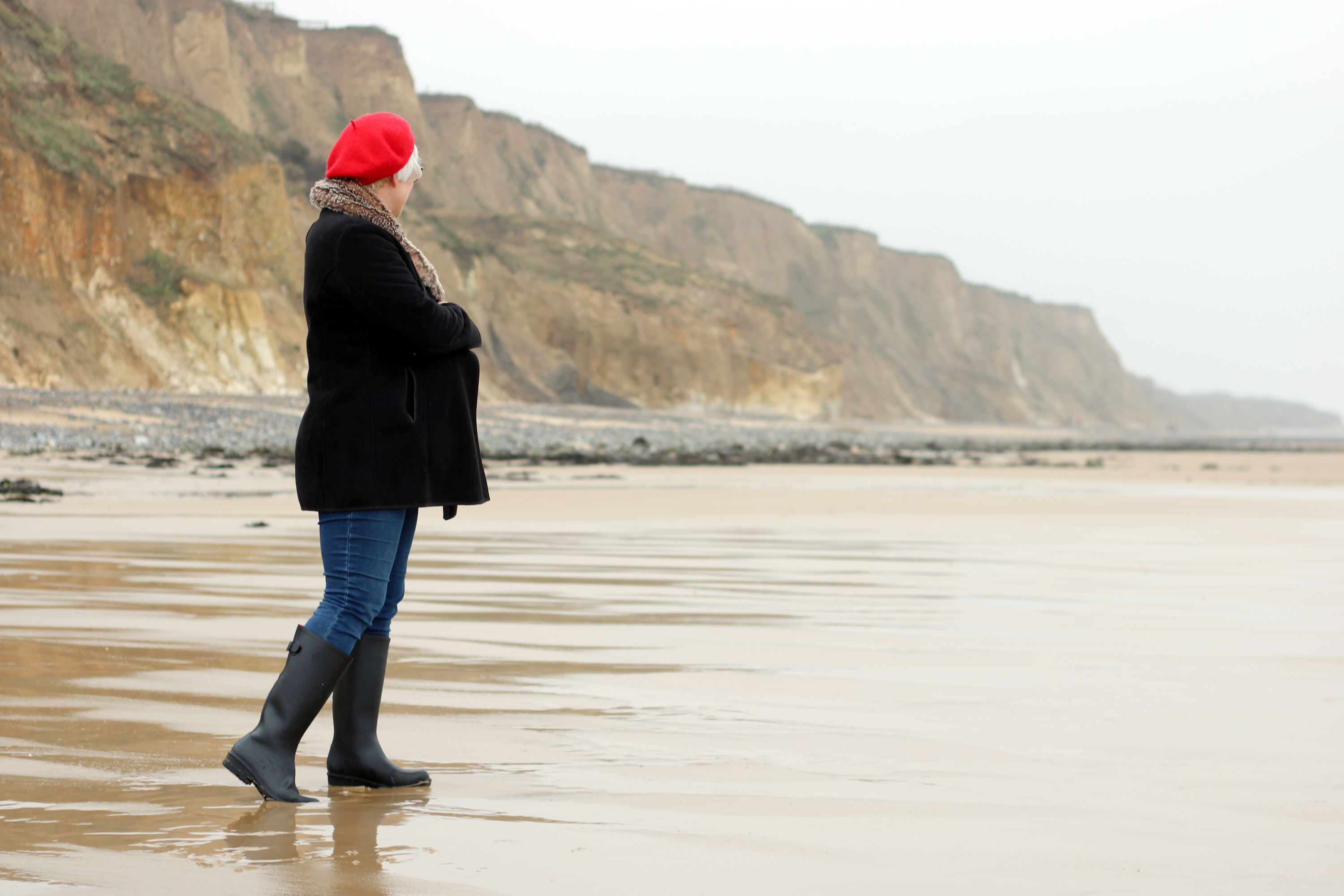 This particular scenic trip was to East Runton beach. It's a beautiful wide, sandy beach that is dog-friendly. It's edged with glorious cliffs and has rocky sections that create little pools of water to splash about in. It's perfect for chasing seagulls (pugs, not me!).
For a coastal walk, I wore the wellies with jeans tucked in, a black roll neck and my trusty warm and furry winter coat. I also added a red beret for two reasons:
Reason one was the practical reason that a beret is handy on blustery beach trips for stopping your hair blowing around,
Reason two is that the black WonderWelly has a super snazzy red lining and I couldn't resist the opportunity to coordinate my hat with the lining of my boots.
Comfortable wellies for wet weather walks
The wellies remained "springy" and super comfortable for our long beach walk. There were no "welly sock" incidents and I was most impressed with the grip on the soles. In the past, I've found wellies to be great at being waterproof, but have filled me with terror when trying to walk on slippery ground as the grip isn't really that great, and they often have a slightly "floppy" fit. In the WonderWelly I was able to scramble over slippery rocks with very little in the way of terror that I was about to fall over and the fit was perfect. Easy to take on and off, but nicely fitted to the leg and foot.
Initially, we had planned to stop off in the "Doggy Diner" in Cromer and I knew the WonderWelly, whilst still obviously a pair of wellies, were presentable enough for a trip into town as well as country walks. Unfortunately, we arrived a bit late in the day and had to make do with coffee and a biscuit in the picnic area instead of a "Doggy Diner" trip. Maybe another time!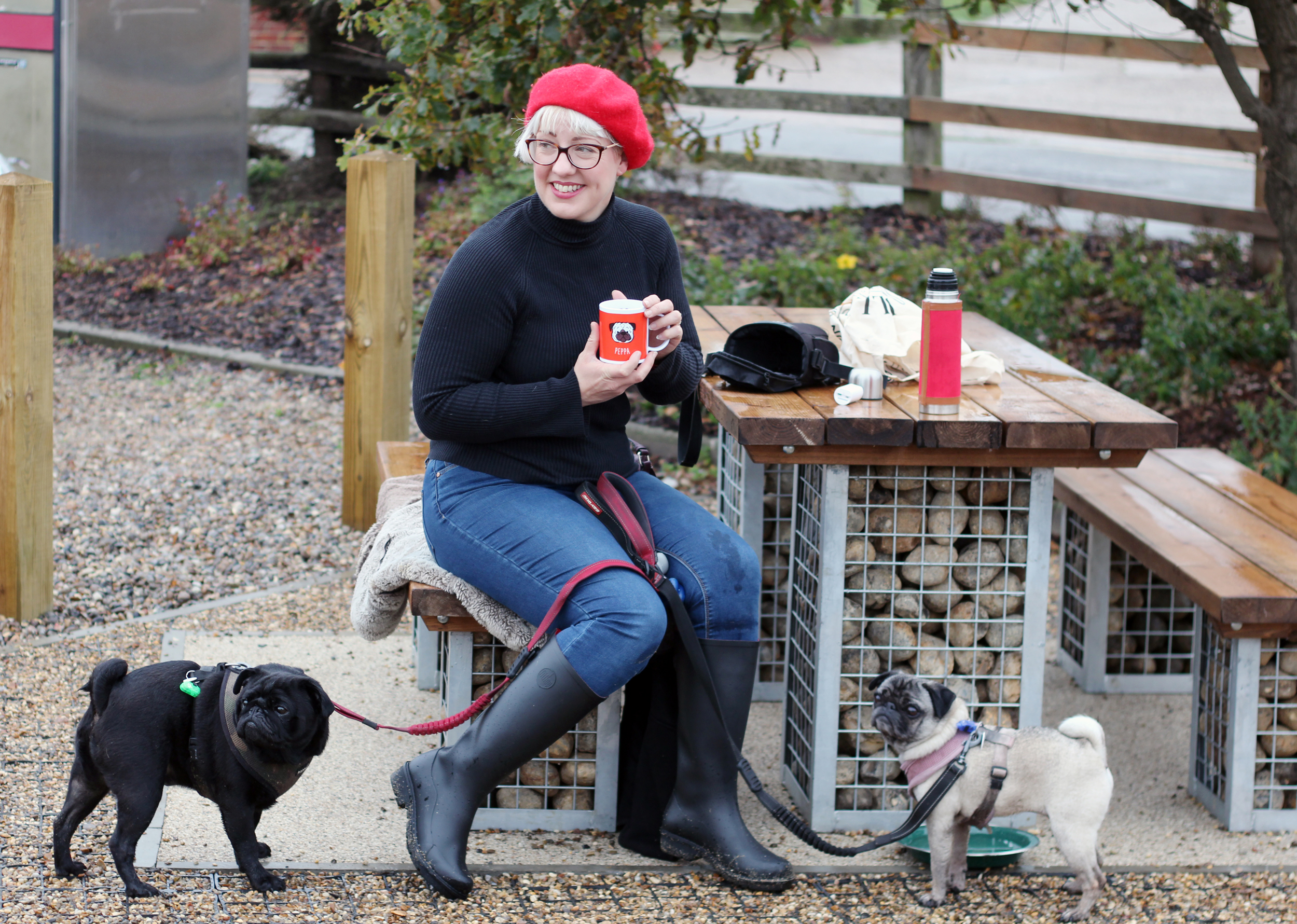 Even if you don't have dogs as an excuse to get out into nature this winter, I would encourage you to try some winter walks in nature. Whether it's a local park, the beach or some woodland, it makes dark evenings much more bearable when you stay active and get moving.
If you can, getting out in the daylight during the winter can help your body produce more vitamin D (though in the Northern Hemisphere I'd still recommend taking a supplement over the winter). Not only does it improve your mood and keep you healthy,
This post was produced in association with FitFlop. All opinions are, as ever, my own.