Hi, how are you? Sunday is basically almost over now and we're all getting back into "work" mode, but I'm only just publishing this weeks diary update because I decided to put it off by going for a run, then going out for lunch and accidentally coming home with a huge and classy faux fur throw with a picture of a pug on it. (This one, though in looking for this online I have found many more pug things I now want to own. Bad times.)
Still, better late than never. So before I head off to spend the afternoon by the fire tucked up under my pug throw.
This week I……
Started Training for a Half Marathon
Last week I told you I'd somewhat impulsively signed up to run Tunbridge Wells lovely, hilly, "challenging" half marathon in February.
This week I have started training for it. That sounds terribly grand, but what it basically means is that I went for a run. Except this run was different because I'd written it on a spreadsheet and it had a target pace and everything.
I'm also having a go at bullet journaling my training for this one because Runner's World suggested it. I am not arty or creative so it looks like crap, but I have very much enjoyed buying washi tape and coloured pens anyway.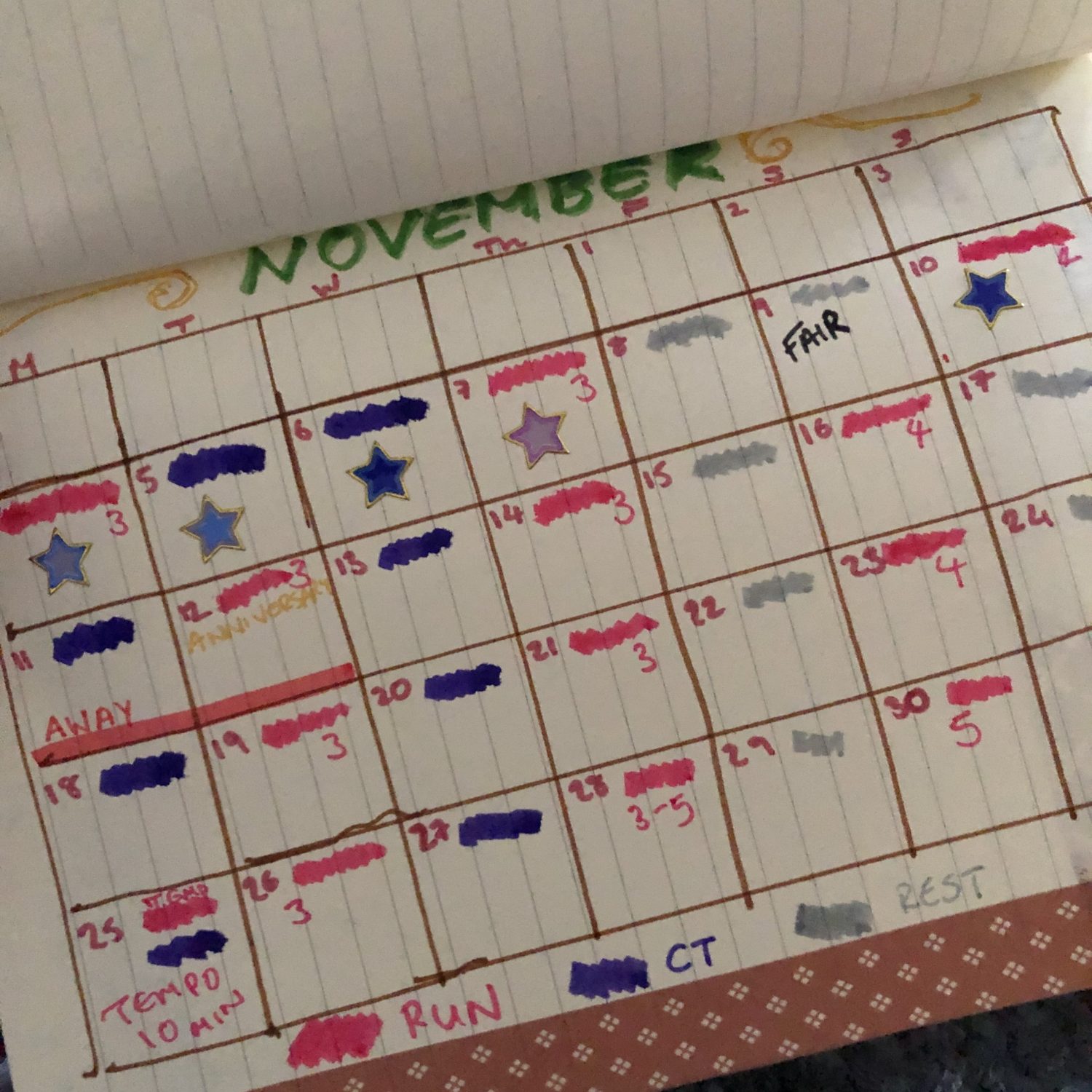 Lost an Eyebrow
On Tuesday I offered to take some photos of some of Mr LLL stock for his shop. This involved a step ladder, soft boxes and an £8 bunch of flowers.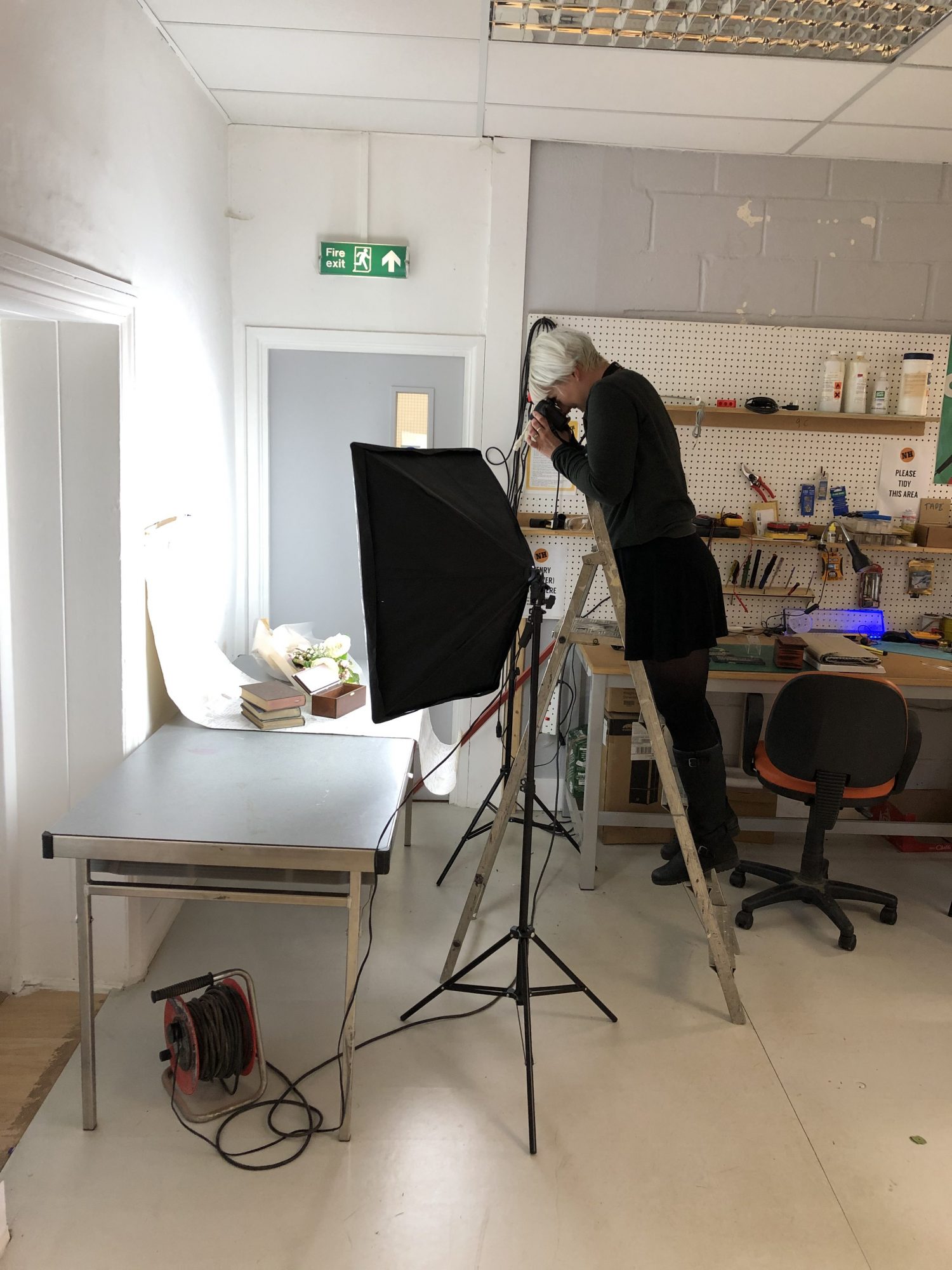 After 3 hours taking photos, I was ready to go, only to look in the mirror and remember the lovely side effect that using a DSLR has on eyebrow pencil.
I had to walk home like this.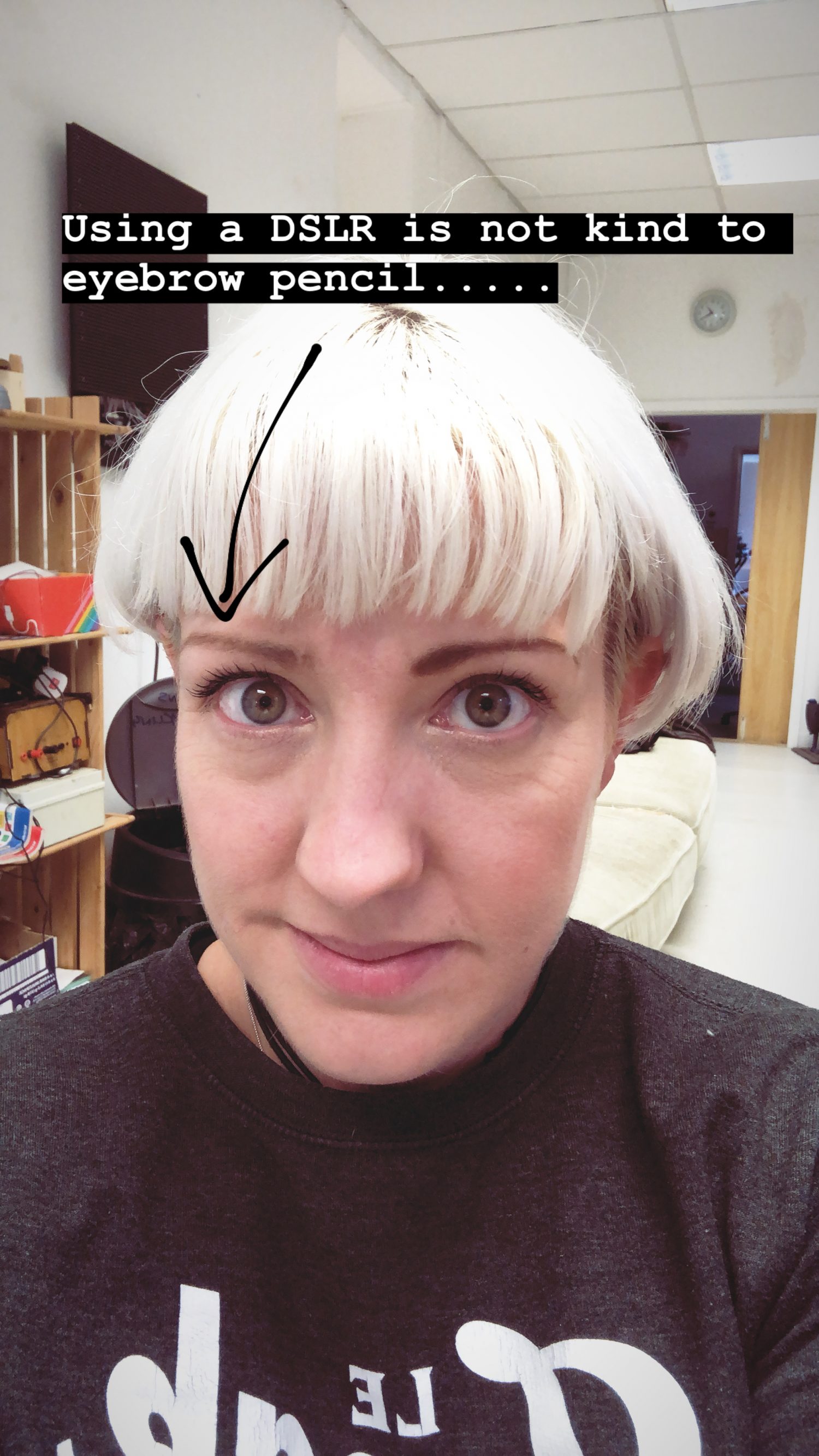 Tried to Fix the Dishwasher
Because I know you're all waiting with baited breath to find out what happened after we dismantled it last week. The new flow through heater arrived. We put it back together (Mantled it? How come you dismantle something but you don't remantle it?)
And………. The dishwasher is now fixed. The plates are now clean and I have surfaces in the kitchen again. Hurrah!
Nearly got trapped under the bar
So. On Wednesday I had a haircut, and I also wanted to go to the gym. I had a day pass for a gym close to me that I normally go to just to use the sauna and steam room, but as it was nearly expired I decided to pop in and use the weights room too while I was there.
New gyms are weird. Since I injured my shoulder a few months back I have been building up my chest press weights again. I'd got back up to 37.5kg, but in the weird new gym I couldn't find any 5kg weights, so I put 40kg on. The first 2 sets were fine, but halfway through the third I felt like I was struggling a bit.
So instead of doing 4 sets of 6, I did 2 sets and 3 reps and styled it out and pretended that's totally what I meant to do to the new gym bros.
I include this story to demonstrate that even after 5 years and a personal training qualification I still feel like an idiot in the gym. It's not just you….
Look this is me and my new haircut in the changing room.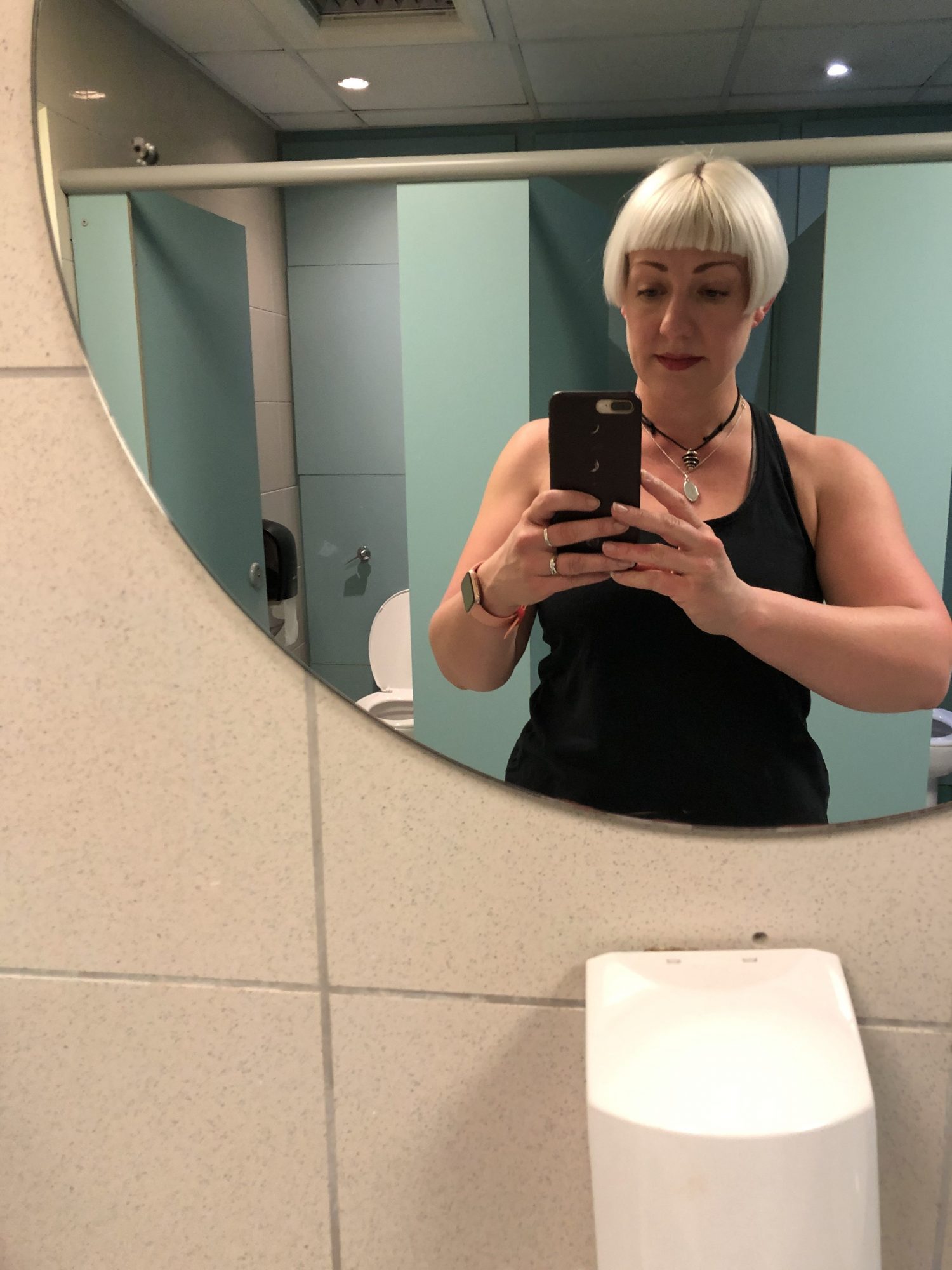 Got some very exciting mail
I might not be ready for Christmas yet, but I am ready for the 1st of December!
For years I have been writing an advent calendar round-up in November full of amazing advent calendars, and then for years I have spent December documenting my own advent calendar opening each day, which is invariably a cheap one from the Pound Shop.
This year, however, this will not be the case, as Drinks by the Dram have gifted me the amazing Whisky Explorer advent calendar and I don't think it's possible for me to be much more excited about it. I am envisioning spending each night in December sat by the fire trying a new whisky every day.
The calendars also come in gin, vodka and rum varieties, but personally I don't think you can beat a dram of whisky on a cold winter night.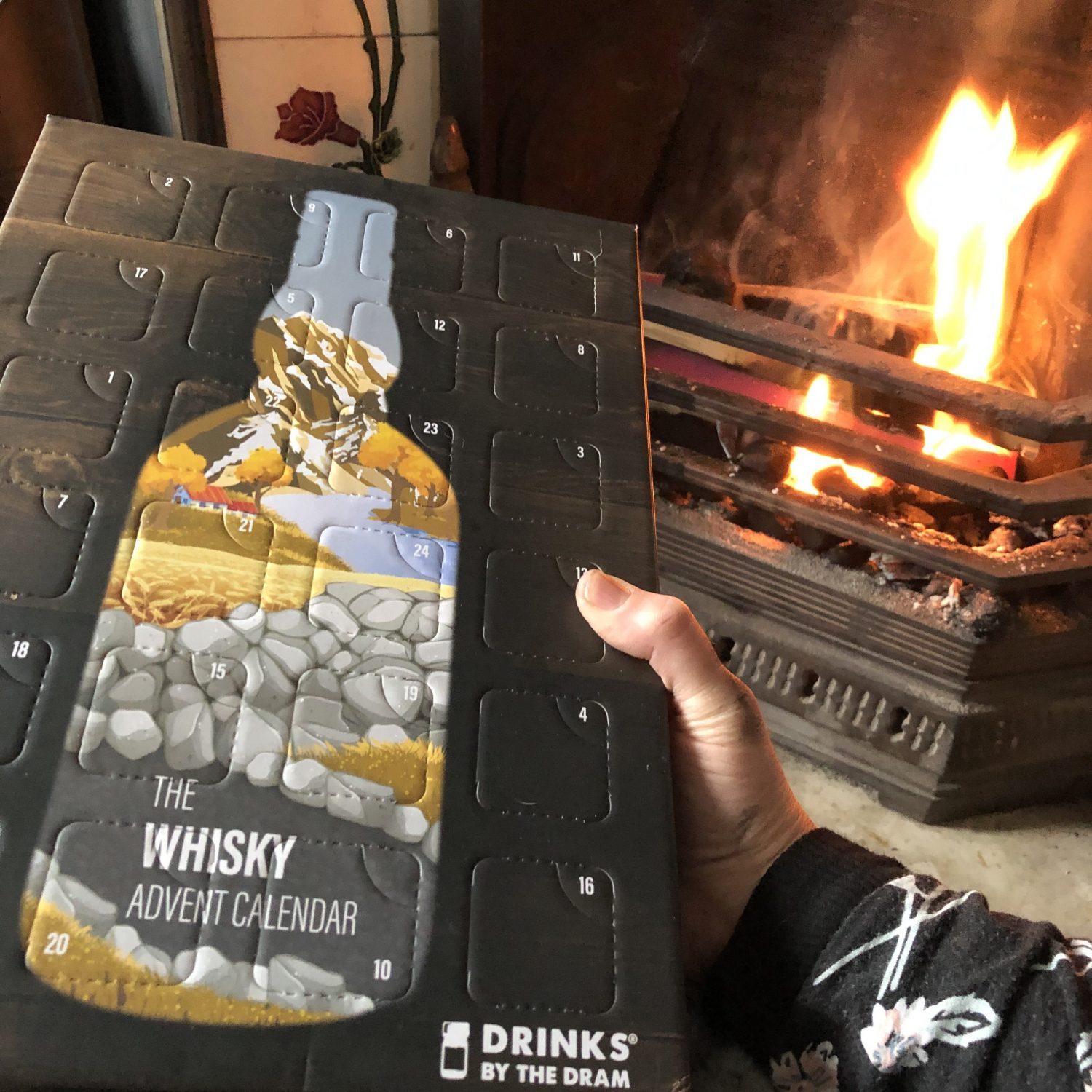 Watched Withnail and I – Sober
I think I first watched the film Withnail and I circa 1995, and I have watched it many, many, many times since. It was a cult film that was hugely popular among my friends when I was growing up and well into my 20s.
This week Norwich Film Festival launched the event with a free screening of digitally remastered version of the film, for which I was lucky enough to grab tickets before they sold out.
The venue for the film was in the basement of the Forum in Norwich. It did not have a bar, I did not go to a bar first, and it occurred to me, as I watched, that this may well be the first time I had ever watched Withnail and I sober. It was a film that often ended up being stuck on after nights at the pub, and even turned into a drinking game of its very own as we made up rules that meant you had to have a drink every time someone drank on screen. We never went as far as matching their drinks (say no to lighter fluid guys!), but it was definitely a post-pub film.
I think I liked it even better sober and it was great to see it on a big screen.
Oh, and always drink responsibly…..
Said Goodbye to the cat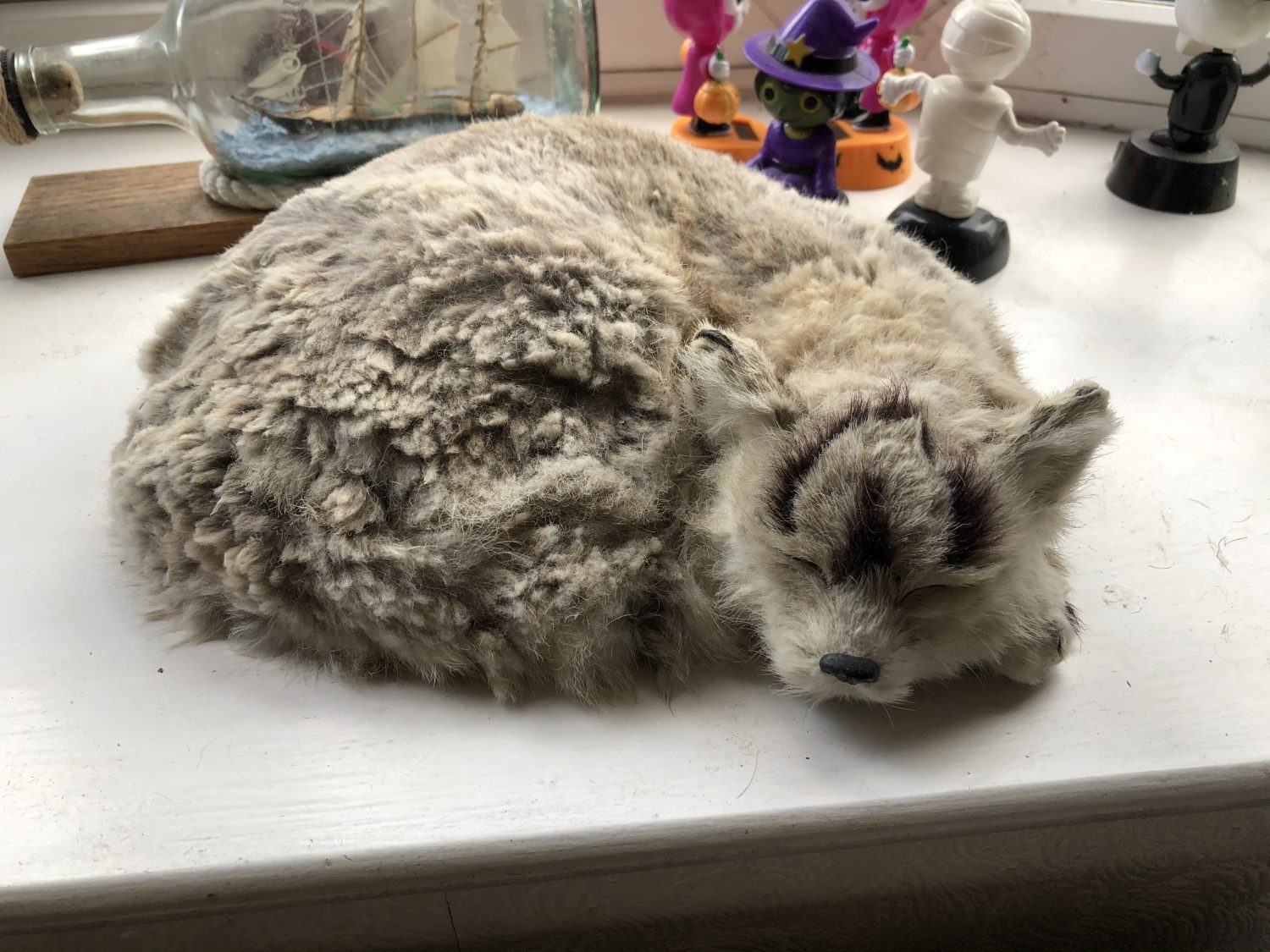 It was a very old cat, and before you all get too sad, it is also not a *real* cat. I am allergic to real cats.
This particular fake cat is a historical cat, a reproduction of "Mrs Chippy" who was the ships cat on Ernest Shackleton's ill-fated Antarctic expedition. It belongs to Mr LLL and has done for longer than he has known me, meaning the cat is now something like 30 years old.
The cat has been living on our window sill for sometime scaring delivery people who think it's real, but this week we noticed it was starting to shed bits of sawdust and is looking decidedly motheaten, so it was time for Mrs Chippy to say goodbye. She had a lovely burial in a carrier bag in the dustbin and will be mourned for years to come.
And that was another exciting week in my life.
How was your week?
Related