Monday morning meets us with a blanket of snow over Norwich.
The snow started with a vengeance on Friday last week, which was typical as it was the evening of the Vintage Hair event at Flint Salon and last years event in December was beset by the same weather based traumas.
Despite the dodgy weather there was an excellent turn out for the event and it was great to meet Jet from Feeling Stylish and Twitter pal Lollipopvintage. We had yummy nibbles provided by Wholesome Grocer, amaretto coffees from Window Coffee and plenty of fizzy wine to keep everyone warm from the chilly weather.
The demonstration was a great success and there are plans afoot for more in the future, possibly with an added vintage clothing element and a change of venue, we shall see, lets get Christmas out of the way first! You can always keep your eye on my events page and sign up for email notifications to make sure you get advance notice!
A few pictures for you (taken on my iPhone as I forgot my camera, tut!)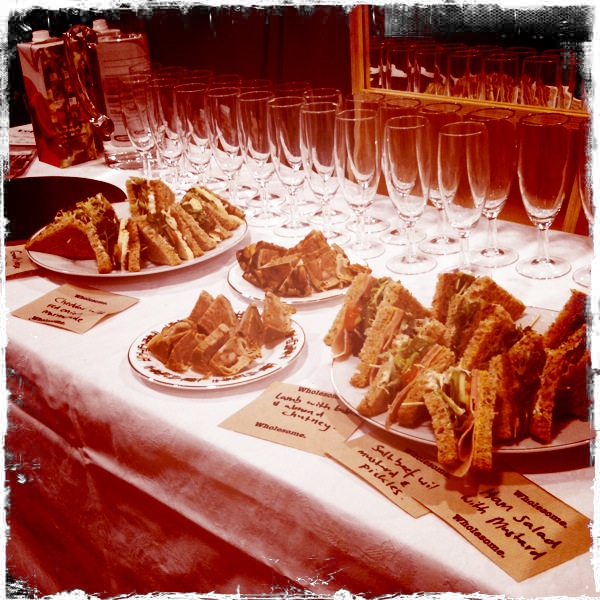 For those of you that were hoping for tips afterwards, I can say that the best tip I picked up is using a crimper to add volume to the hair if you fancy having a go at a beehive! Flamingo Amy is available for one to one tutorials if you fancy some one on one help, or you could always give the very reasonably priced book Style Me Vintage a go, which has been reduced on Amazon to about £5.
On Saturday we braved the frozen Norfolk roads to head down to Kent for an evening out with my old school friends. Kent was completely untouched by even a single flake of snow. It was bloomin' cold though. Considering I still had my lovely 50s set from Friday night I decided it was the perfect opportunity to top it off with the nice warm 1950s faux fur hat I bought at the Little Vintage Lover Fair for just £8.
Sorry about the picture, the flash always makes me look a bit "rabbit in headlights" but dark evenings aren't ideal for outfit photos!
❤ Hat - Vintage ❤ Top - SPUN ❤ Pencil Skirt - Lady K Loves ❤
❤ Shoes - Bertie via eBay ❤ Belt & Pearls - Vintage ❤
The evening was an enjoyable trip down memory lane and much beer was drunk, making Sundays long drive home in the dark through freezing fog even more unpleasant.
Sunday night, however, ended in the best possible way. Pyjamas, Poirot, Antiques Roadshow, mulled wine, and a roaring fire.
How was your weekend?
Related