Still searching for the perfect red lipstick.
The Besame Lipstick giveaway winners have been announced, and today I will be reviewing a red lipstick that's on the affordable everyday lipstick end of the scale.
Prestige Colour Treat Lipstick in Romantic Red at £6.49 each.
The Blurb
Prestige isn't a brand I was familiar with before I got the sample, though it is available in Boots. The press release I received claims that the lipstick will plump up your pout using a "Ceramide/Peptide blend which uses collagen stimulation to both smooth and firm lips – even once the colour is removed."
It is paraben free, an ingredient that many people are allergic to and contains Hyaloronic Acid an ingredient claimed to have anti aging properties. Also in there are "Vitamins A and E (to) help strengthen and protect, and the essential ingredient Castor Seed repairs and hydrates for that added 'wow' factor."
The shade I was sent, Romantic Red apparently "incorporates warm pink and orange tones  making it suitable for both pale and darker skin."
The Pros
The lipstick is quite sheer and moisturising, making it a pleasant every day lipstick. You can build the colour up more by applying thick layers, or add a quick slick for a dash of red. The finish isn't too shiny, but I wouldn't call it semi matte either, there's definitely a slightly glossy finish which is flattering and easy to wear.
The tip shape makes it easy to apply, though you might notice in that picture I did have a little wibble on my upper lip! I didn't experience any problems with bleeding at all while wearing this, but that might be because it wore off and was reapplied instead of staying where it was put and creeping into lines like some of my longer lasting lipsticks do.
Priced at £6.49 this isn't the worlds cheapest lipstick, but it's certainly on the lower end of the scale.
The Cons
The biggest con to me was the packaging, which I thought was really pretty ugly and cheap looking. It's a dark grey plastic, with a clear panel in the lid and prestige printed in pink on the lid. On the plus side it did seem fairly sturdy though, no breakages in my bag.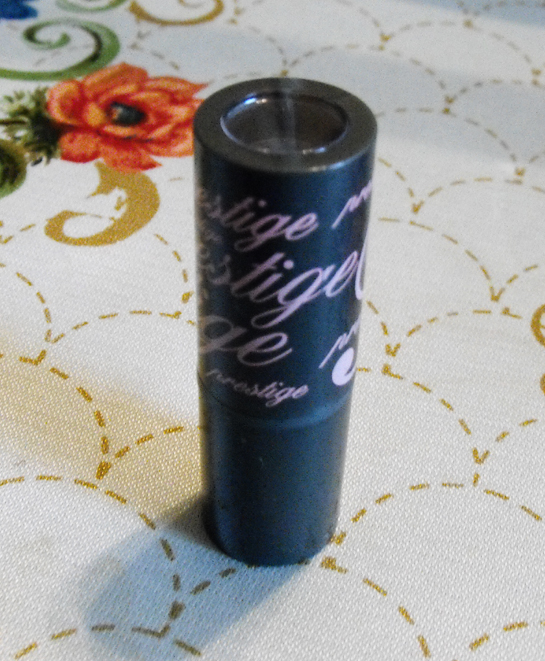 Whilst not necessarily a minus I can't say that I experienced any of the advertised smoothing and firming benefits, but I did find it moisturising in wear. Unfortunately that moisturising formula also meant that I found it wore off quite quickly and had to be reapplied every couple of hours, at £6.49 a tube that's not a huge trauma, and the lipstick did at least wear off evenly without leaving a red line around the outside of my lips.
For me the shade was a bit too pinky orange. I know that's part of the benefits cited in the blurb but against my pale pinky English Rose skin I felt it was a little too garish, even with the sheer formulation. If you have a more yellow based skin you may find it absolutely perfect! It wasn't awful, just not as flattering as the deeper blue reds I normally wear.
This time I apologise for my hair, there's pin curls under that hat!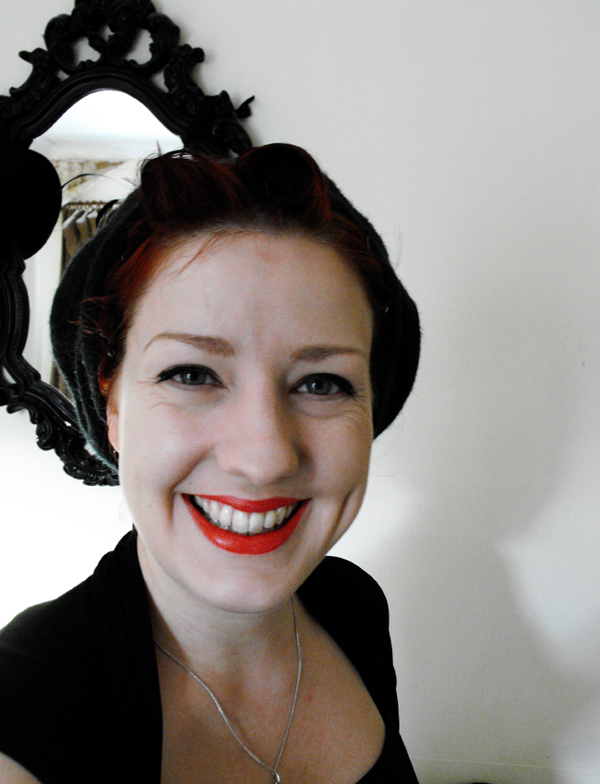 The Verdict
Personally, I wouldn't buy it again. However, that's mostly because of the shade. I might be tempted to try one of their other shades, there's a rich ruby in there that might be a better colour for me. I do think it's a good every day lipstick, for when you don't mind topping it up every few hours and don't want dry flaky lips. It's a little like a bright red lip balm!
Ultimately I'm ashamed to admit that it's the packaging that might stop me giving a different shade a try. There are prettier lipsticks out there in that price range, and if you're going to need to reapply in public it feels nice to use something in a nice tube. If you are less superficial than me then give it a go and let me know what you think!
Prestige Colour Treat Lipstick is available from Boots Stores Nationwide and 

Boots online 


or Gordon's Northern Ireland

Related