So, my sister is a rep for the new cult beauty brand that is Younique.
You must have heard of Younique? I'm fairly sure at this point in time every woman in the Western world has at least one friend who is selling Younique or trying to get them to sign up as a Younique rep.
Just for the record I will not be signing up as a Younique rep as I am the worlds worst sales person. In my former life I worked very briefly for a company that was attempting to get people to sign up to get their Electricity from a large Gas company. I lasted about a week and a half before I left, in the middle of the day, I just went home and never went back.
I also used to sell car insurance. Well, I say sell car insurance, what I actually did was have a nice chat with people, let them know how much their car insurance would be if they took it with us, and then they'd go away, get lots of other quotes and come back and buy it off us if we were cheaper. This earnt me what they called "call back" commission, which was a lot less than the "straight through sale" commission that all the other people with their chunky ties and highlighted hair were earning. It also made all those other people hate me because they were wasting time on the phone earning me money instead of earning themselves money to spend on highlights and chunky ties. I'm fairly sure that at least a few of the people called back to buy their car insurance because even though we were £5 more expensive they thought I sounded like a nice girl and they felt sorry for me. Pity. That is my only sales technique, and I'm not sure it works with lipstick.
Anyway, I digress. Younique are the latest make up buzz brand, with some innovative products, funky branding and a company ethos of female empowerment. With a Younique rep as a Sister you'd think I'd be swimming in free make up, but I'm not. No, she is a good salesperson because she makes people pay for their make up. This is why one day she will be rich and I will not. I have, however, got a few of their products via my Mum. At Christmas she bought me the 3D Fibre lash, one of their key products, and when she came to visit last week she gave me a tube of their Stiff Upper Lip lip stain, in shade Saucy, because it wasn't really her colour.
So, I decided it was time to review it.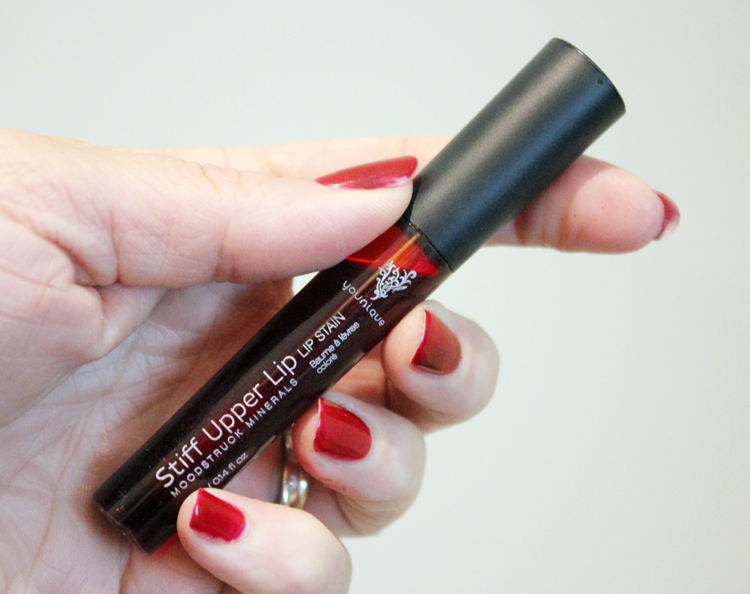 The Blurb
Smudge-proof. Smooch-proof. Worry- free. Stiff Upper Lip Lip Stain provides stubborn lip color that won't budge while delivering perfectly tinted, long-lasting color with a smooth matte finish.
The Pros
First off I think Younique are missing a trick marketing this as just a lip stain. I've long been a fan of Benefit Benetint. I use it mostly as a cheek tint, it gives a lovely flush that lasts for ages and will even last through 4 hours of Roller Derby training. For the last week I have been using the Stiff Upper Lip as a cheek tint, as well as a lip tint, and I think it's brilliant. You need the tiniest amount for a great long-lasting flush.
As a lip tint it I found it took me a while to get used to as it's not like a lipstick as such and you have to use it slightly differently. You can layer it up thick for a lot of colour, or just use a light touch. I found a lighter touch created a smoother, longer lasting, result. The applicator is easy to use and control and as promised the colour does not smudge, or come off when you "smooch", or even drink from a glass.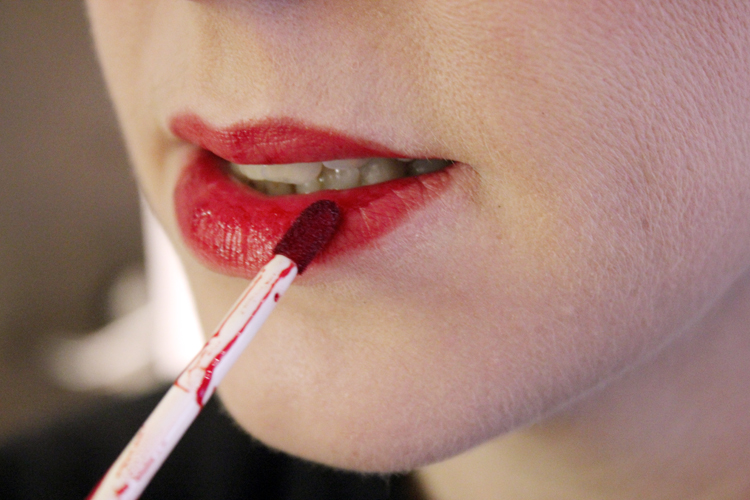 The shade "saucy" is a nice deep red colour, but it also comes in 6 other shades, ranging from some pinks and reds that could also be used on your cheeks, through to an amazing purple that you might want to stick with as a lip stain!
I have to say I do also like the Younique packaging and product design. The matte black packaging is sleek, sophisticated and good quality, and I like the swirly logo.
The Cons
As a cheek tint the only con is that same as with any other cheek tint I have tried, and that's that you better use a light touch and get blending quick if you don't want to look like Aunt Sally.
As a lip stain I found that although it was smudge and smooch proof, it wasn't dinner proof and as soon as I ate something the colour would wear off in the centre of my lips and leave a bit of a line around the outside. I also found it drying. It would cling to any dry bits on my lips and the colour would look patchy quite quickly, especially if I'd put too much on!
After some experimenting I did find that both of these issues were easily dealt with by adding a light touch of lip balm or vaseline. It gives a lightly glossy look to the stain and after eating would even out the patchy colour and stop it clinging to any dry bits.
The Verdict
This lip stain has actually fairly rapidly become a bit of a make up bag staple. I started off mostly using it on my cheeks. At first I wasn't sure about it on my lips, but I soon found myself using it all the time, just a light touch with a top of lip balm. It's great for a light "every day" sort of red lipstick look for days when you just basically can't be faffed putting your lipstick on properly. As a multi purpose lip and cheek product it also means I love to throw it in my handbag for during the day touch ups to add a little bit of colour to my face. Here I am wearing it on my cheeks and lips.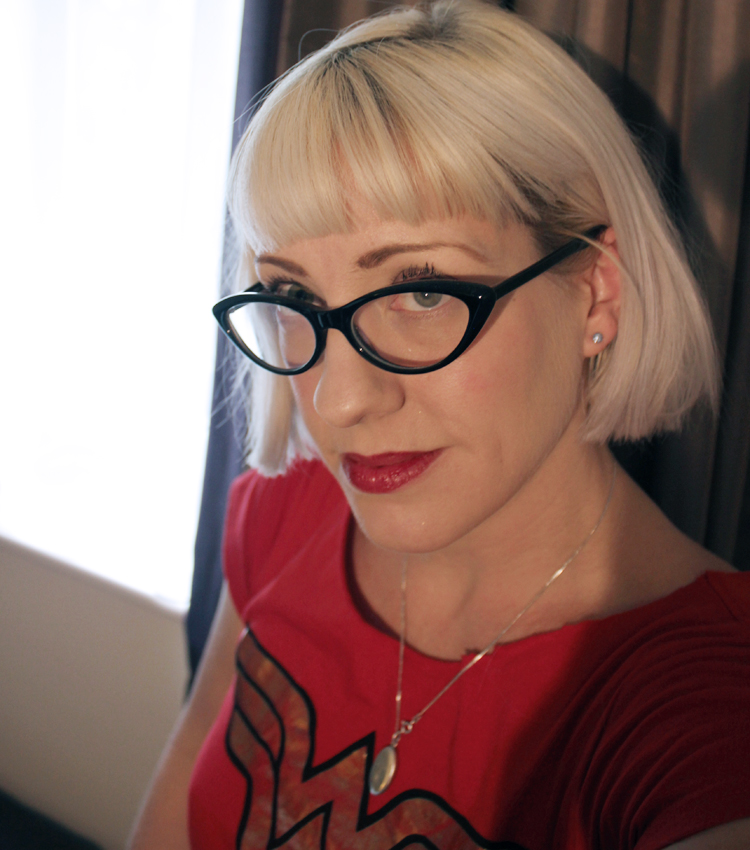 The Stiff Upper Lip Lip Stain really grew on me and it's a product I think I will have to replace when I use this one up, which will make my little Sister very happy! However, as you have to use so little for a flush of colour I forsee the tube lasting a very long time, which makes me very happy indeed.
Younique Stiff Upper Lip Lip Stain costs £18 and is available online here , from my sister, or from your local Younique cult leader rep.