Well I have, back in 2011/2 sort of time I went crazy trying to find the perfect red lipstick and I even created league tables for under and over £10 lipsticks that I'd tried.
Then I stopped, because once you're tried 15 red lipsticks and discovered that you still just really love the first one you reviewed, which was Besame, then you just keep using that. My little stock of Besame lipsticks in Cherry Red and Red Velvet has basically covered all my lipstick needs for the last 3 years and most of the others I reviewed ended up in the bin. The only other one that stayed in regular rotation, for those of you interested, were the No 7 Poppy King History for an easy wearing Summer red. Though I also wear Dusty Rose Besame and Soap & Glory Red My Lips (which is not red), and is running out and I am suddenly really worried about being able to replace as I can't see it on the Boots website, Argh!.
Anyway, all that wibbling about lipstick is leading up to the fact that I am reviewing another one today after a 2 year lipstick review hiatus. This one came into my possession via some weird thing on Facebook called SoPost which a friend tagged me in and meant I got a Max Factor Colour Elixir Lipstick in shade 715 Ruby Tuesday drop through my door for free.
The Blurb
The secret is in the 60% 'Elixir' treatment, which includes ingredients such as shea, avocado and aloe butters, as well as anti-oxidant white tea. This lipstick's Elixir formula actively improves lip moisture to achieve a smoother surface in just one week.

The result is high pigment lip colour that glides on effortlessly for an even finish and improved vibrancy, for true lip glamour perfection.
The Max Factor Elixir Lipstick costs £7.99 at Boots, so it's an average priced sort of a lipstick.
The Pros
As promised it is both super moisturising and highly pigmented, giving an intense and creamy colour with just one sweep and it feels lovely on your lips. The colour itself felt slightly more orangey than I would normally wear, but I wouldn't say it was an "orange red" it definitely feels like a true red shade.
I also found it lasted pretty well, staying on my lips through the eating of a Chicken and lentil salad thing with no worries at all, even though I forgot I had lipstick on and was therefore chomping away without care or regard for my red lips. When it did start to wear off the appearance disappeared pretty evenly, no leaving a line around the outside and it left a bit of a stain on my lips so I still had some colour.
I also kind of like the packaging, although it's cheap plastic the coloured bottom makes it easy to locate the right shade in your make up bag and the deep lid is nice and secure.
The Cons
I found the creamy formulation started to feel a little heavy and cloying after a couple of hours wear and it felt like it was clogging up, although when I looked in the mirror it still looked fine.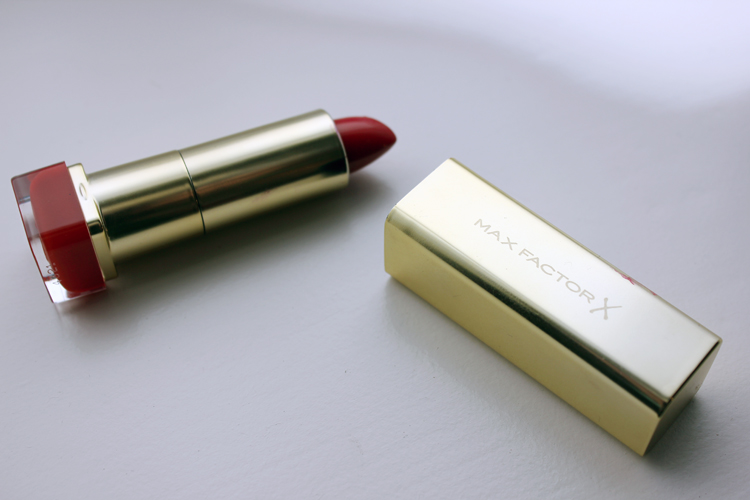 As it wore off, although it looked ok the feeling on my lips was unpleasantly dry and I ended up using my fingernail to scrap it off the inside of my lips as it felt heavy, sticky and clogged up.
The plastic packaging also feels quite lightweight, so I'm not sure how well it would stand up to too much kicking around in the bottom of a handbag.
The Verdict
I probably won't buy this lipstick again, unless I suddenly lose every other red lipstick I own and need something I can buy in a chemist quick smart. If you are an occasional red lipstick wearer and want something super bright and moisturising to wear for evenings out then I think it's a good choice.
And if you want to know how it looks on my mug, with very badly dried hair as I was in a hotel room and the hair dryer was a bit weedy, then here you go!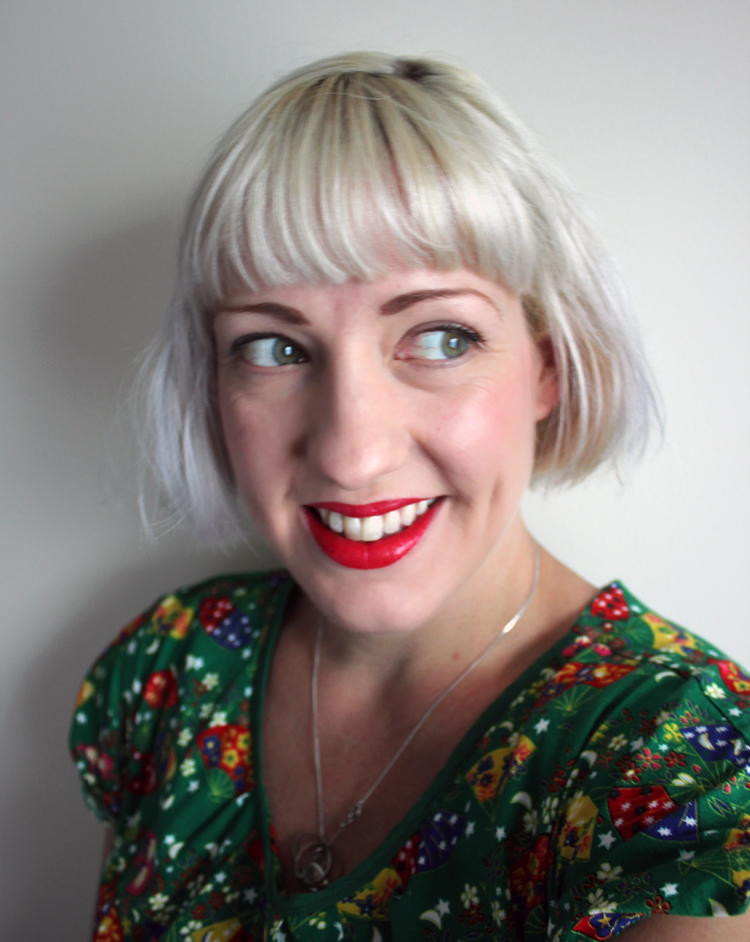 Max Factor Colour Elixir Lipstick is available at Boots for £7.99