As I've mentioned before, the occasional free frock is a perk of writing this blog.
I have a bit of a funny relationship with freebies. No one gives you something for nothing and the reason they give me things is they want me to say nice stuff about it in public in the hope that someone else pays attention to me. This doesn't bother me directly, I'm happy to slag off free stuff if I think it's crap (I turned down the free UGGS straight off), or just send it back, who wants rubbish? But I do worry that other people might think I won't. They might think I'm nice about things in order to get free stuff or that I don't deserve it.
This blog is part of my full time job, and it's about fashion, vintage style and frocks. However, I earn about a third of what I used to earn in a full time job and you'd soon be sick to the back teeth of seeing me wear the same black jersey frock over, and over, and over again until it fell apart. The odd free frock keeps it interesting for you, and helps stop me having to stay home because my dress fell apart and I'm nekkid.
But that's all irrelevant as technically this particular free frock wasn't free at all.
❤ Dress - 

Stop Staring

 ❤ Shoes - eBay ❤ Gloves - Charity Shop ❤

It's a Stop Staring Raileen dress. They contacted me and asked me if I'd like a free dress to review. I said yes.
I think Stop Staring dresses look wonderful on the uber skinny models they use in their photography, but I've never had chance to try them on and I remained unconvinced they'd look quite so stunning on me. They're not cheap, and £100+ is a lot to spend on a dress you haven't tried on.
I sent off my measurements and picked a few favourites from the website, then sat back and eagerly awaited it's arrival. What I got instead was a bill.
Grumble.
It was, of course from Customs and Excise who wanted me to pay a ransom of £32 to get my pretty frock back. So I did, because I had to. So now I'm paying for a dress I haven't even SEEN, let alone tried on.
Luckily it was bloomin' lovely. I thought it would pull across my hips, and it is certainly figure hugging, but the thick stretch fabric means it actually fits like a dream and is really flattering at smoothing out bumps.
I immediately decided it needed cream T bar shoes, so I bought these off eBay, then I saw these gloves in a Charity Shop and they were a perfect match.
Total cost of free frock = £38.11
Anyway, it's a gorgeous frock. For me over £100 is still a lot to pay for a day dress, but that's not to say I don't think it's worth it. It is. It's well made, flattering, and good quality.
If I were bringing in a wage like I was in the bad old days I'd far rather have this than something from a designer diffusion range at a chain store that would easily come in around the same price.
One last thing I will show you is a close up of the collar detail. In the pictures on the website, and on here, it doesn't look like much. But it's a lovely cream lace, almost like crochet, and the sleeves, collar and attached belt have a little covered button detail that's so pretty.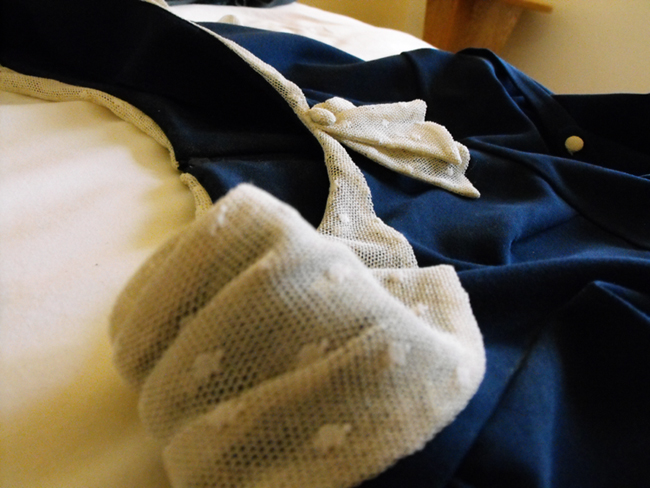 There are plenty of UK stockists of Stop Staring too, so you can avoid the terrifying customs charges. 20th Century Foxy and Dollydagger among them.
I'm thinking I'll actually get a lot of wear out of this as well over Spring and Summer as it's perfect for smart day time events. I think it might need a nice 1930s tilt hat as well, and maybe a navy handbag.
This might be the most expensive dress I own!
One last thing (as Columbo would say) yesterday I wrote a post on Vintage Norwich about a local photographer who has been putting together Blitz Ghosts of local landmarks that were bombed during World War 2. I want to avoid too much duplication, but it might interest some of you here who like WWII history, so I thought I'd let you know in case you want to pop over and see it! It's HERE
Related