Despite the doom bringers promising more cold weather to come, I'm relieved to feel a touch of spring in the air.
It promises fresh, line dried clothes, afternoon picnics by the river and, most importantly, lovely summer frocks.
During the summer I don't necessarily always fancy florals, but there's something about the arrival of spring that immediately makes me want to wear flowers, specifically big floral 50s frocks with skirts that swish.
So, today I've indulged in a bit of fantasy shopping and found the best, vintage, vintage repro and vintage inspired floral frocks for Spring.
Fifties Frock

– Tara Starlet – £85

This is a new addition to Tara Starlet, fully lined in a lovely floral blue embroidered cotton.
Ends 30th March 23:04.
You're lucky I showed you this. If it wasn't for the fact I'd have to amputate important bits to ever have a waist that small I'd be bidding like crazy. Just the perfect 50s floral dress.

Archive Pink Posy Print Cotton Dress

– Laura Ashley – £125

Frankly if you can't rely on Laura Ashley for a good floral print then what on earth are they for?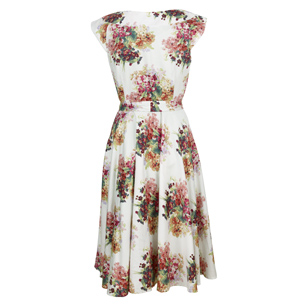 Look, a dress on ASOS that's knee length on a 5′ 9″ model. With any luck that means a respectable length on average height ladies too. I like the contrast straps on this, a bit of a twist on a classic girly style.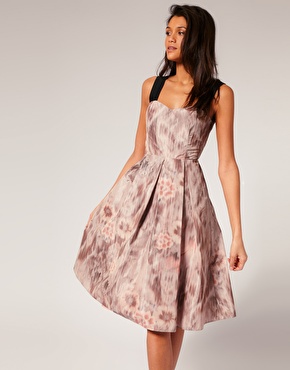 Here's hoping the nice weather sticks around so we get to wear some….