Following on from a conversation with Landgirl1980 on twitter I decided it was time for a hair post.
The most frequent questions I get asked are about my hair. The answer to the MOST frequently asked question is "Live Colour XXL in Red Passion". Hopefully this post should answer some others, as well as provided hair curling novices with some reassuring photos of my hair looking like I stuck my fingers in the socket.
I set my hair on Sunday night this week, and you're about to see some terrifying photos of me with no make up on, so it's probably best to have a stiff drink and a bit of a sit down before proceeding any further.
Straight from the shower, make up free. Arrgh! Where are my eyebrows?!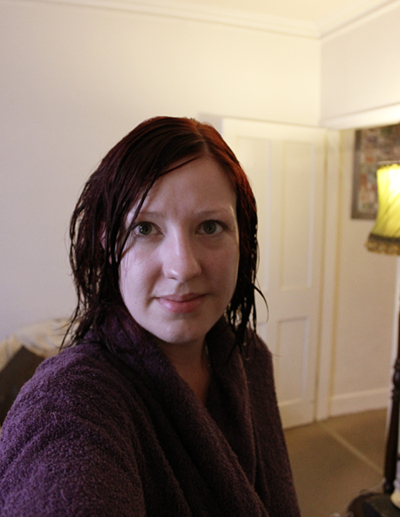 To curl my hair I use setting lotion in a small spray bottle, sponge rollers and sometimes perm rods, and a sectioning comb. I've just started trying perm rods, only at the back of hair. Whilst I find using the large and medium ones maybe fractionally reduces frizz I also find them a right faff to put in properly and always end up with sticky out bits. I also frequently find the other end of the elastic pings off when I'm putting them in which is very vexing.
I roll the front of my hair towards my face, pulling strands of hair maybe and inch and a half square directly upwards from my scalp. This may sound like I'm quite precise about it, I'm really not. I pop 3 rollers facing forwards at the top of the larger side of my parting, then 2 on the next row down, then one just above my ear. On the smaller side I normally get 2 rows of 2. Then the back I roll under, up towards the hair-line. Normally I get 2 rows of 3 curlers and a couple of small ones at my hair-line to catch stragglers!
Hopefully this makes all that wibble a little clearer!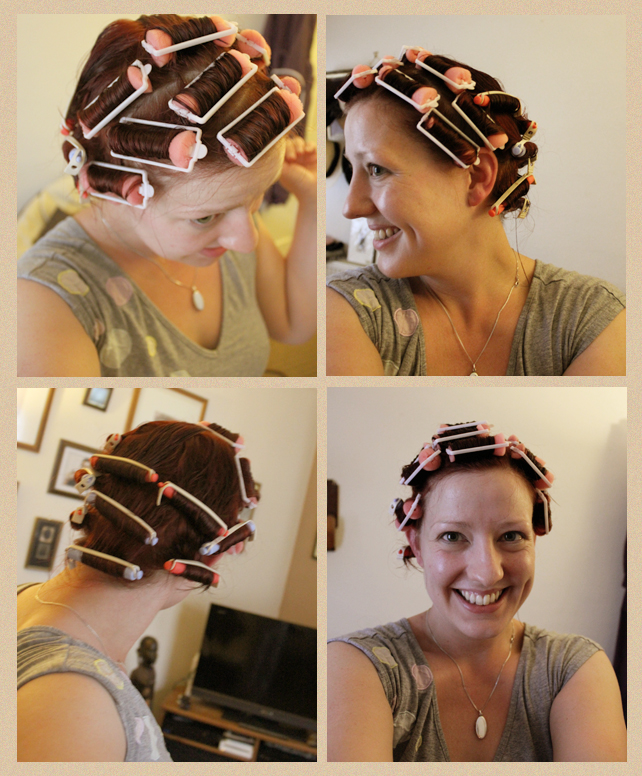 Ok, that's quite enough photos of me with no make up on. That takes me anywhere between 10 minutes and half an hour to do, depending on how cack handed I'm feeling and whether there is something distracting on the telly.
Then I pop on a hair net and go to bed looking like the goddess I really am.
In the morning I take out the rollers. Just because I'm wearing some make up (THERE ARE MY EYEBROWS!) doesn't make the photos any less terrifying.
Looks terrifying, no? This, I suspect, is the point that scares a lot of people on their first attempt. So I brush it with a bristle brush. It is this brush from Kent I use, though it appears to be currently out of stock.
This is the next point at which I think people probably panic. I feel like I have been brushing ages, yet my hair looks like this.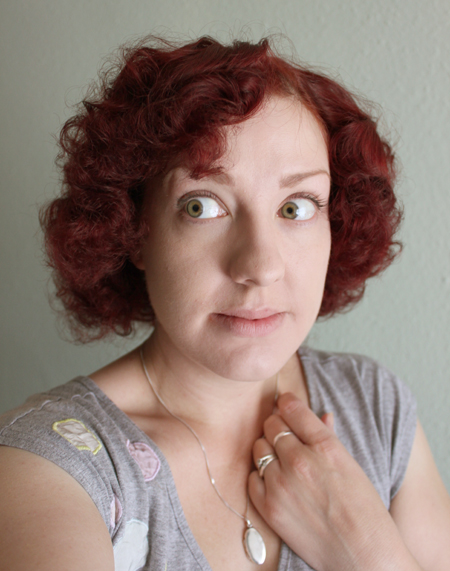 Never fear, however, as patience is your reward. A lot more brushing and a few hair pins will calm it down. I brush hair over my hand, sometimes smoothing the hair with my hand as I turn it under with the brush and sometimes actually brushing across my hand to turn it under at the sides. If I was patient I could probably kill all frizz on day one, but I'm not. Sometimes I get fed up before this point, pin it flat and wear a beret. Depends on how much time I have.
So here is:
DAY ONE (Monday)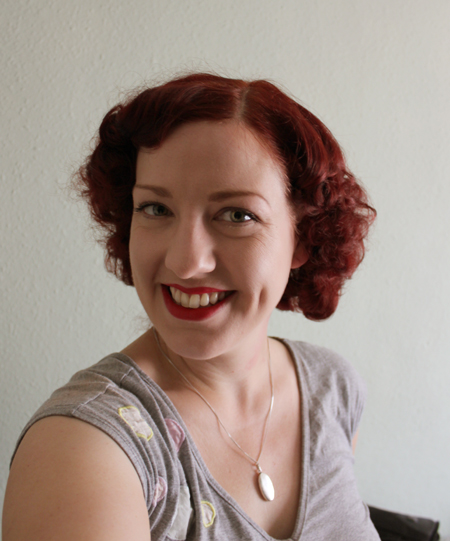 Now, if you're not quite bored to tears yet, this is the bit I was discussing twitter with Landgirl1980. It's how I make my "reluctant to hold a curl" hair last up to a week between sets, depending on the weather and my dedication to the curl.
It involves a tub of Boots Essentials Curl Creme (which isn't on their website. Please don't discontinue it Mr Boots!) my grubby pink sectioning comb (I do wash it, it's permanently like that!) and a bag of hair grips.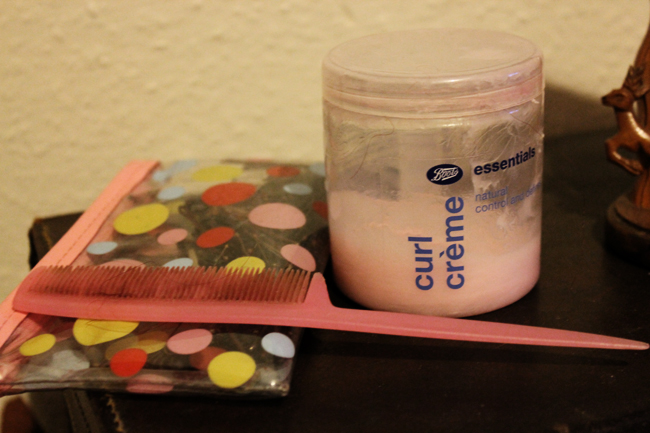 I dab my finger in the curl creme and then rub them together, then I take sections of my hair, roughly equivalent to where I put the curlers, and roll them into stand up pin curls and secure with a grip. I don't work the product through my hair as I find it too heavy for my fine locks. I just literally have it on my fingers while I roll each curl. If it's been a particularly damp/blowy/humid day, then I might also spritz setting lotion lightly all over the lot once I've finished rolling.
Then I look like this. Stick on my sechsy hair net and go to beddy byes.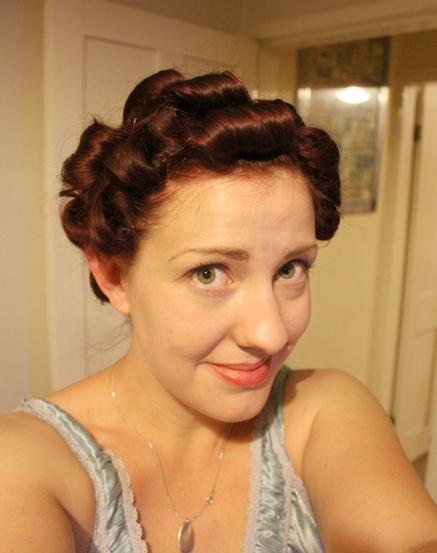 DAY TWO (Tuesday)
Next day my curls are smooth and very springy.
Once brushed I can easily style it one of 2 ways. Brushed back I get a bit of a 50s quiffy look, brushed forward and pinned I get the faux 30s waves that I like wearing most of the time.
Today I also went with a beret as it was tipping it down outside.
From here on my hair routine varies depending on how lazy I am and how long I want to stretch out my set. On Tuesday night I had nothing special to do, so I stuck my pin curls back in while I was watching TV.
DAY THREE (Wednesday)
Today I pulled the sides back for a bit of a 40s vibe. Then I was too lazy to put it back in pin curls so I just stuck in a hair net and slept on it. It's worth noting that what I actually use to sleep in is called a Slumber Net. It's very heavy duty, much heavier than a regular hair net.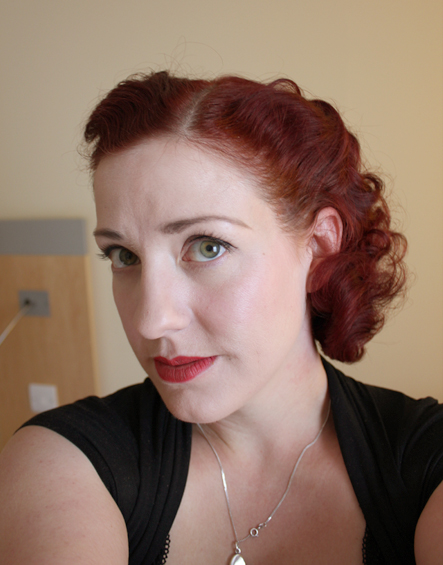 DAY FOUR (Thursday)
As you can see the curls are much softer this morning. I went with a bit of a quiffy look!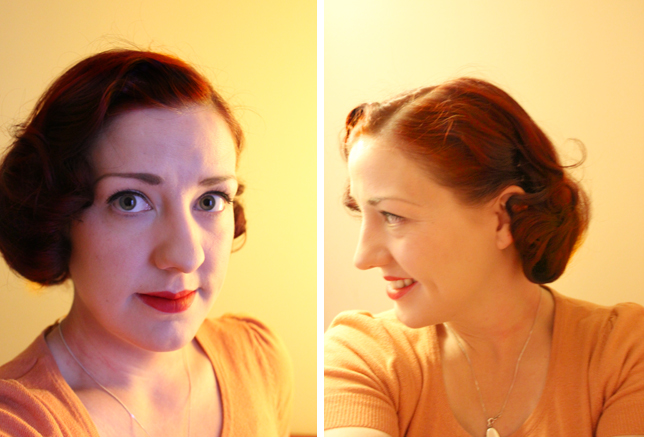 If I were planning something exciting at the weekend today is the day I might set my hair again in the evening. Or I might not. I can normally drag it round to Saturday or Sunday with the expedient use of Batiste Dry Shampoo and a cunning up do. This week I didn't set it, neither did I pin curl it to extend the curls, I just stuck on my slumber net again.
DAY FIVE (Friday, that's today!)
As you can see I've got fairly soft waves today. I like it like this, however today I have a fairly hectic day planned (there will be tea and cake, don't worry) I will be outside a lot, and I will probably go with an up do so I don't have to spend all day thinking about my hair and wondering whether it's gone all Farrah Fawcett in the wind.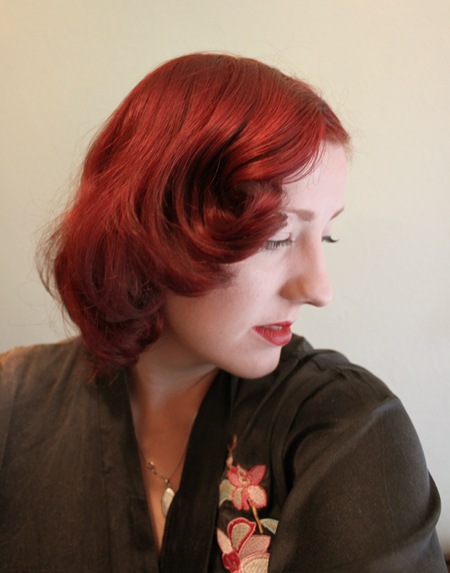 So there you go, that's a week in the life of my hair! Honestly, I'll probably stretch this weeks set out to Sunday night now out of sheer laziness.
I hope there's something that someone might find useful in there. If not, then I apologise for making you look at so many photographs of my hair!