I'm pretty sure we all know how I feel about cocktails.
HINT: I like them a lot.
I'm a big fan of cocktails that taste like the spirits used to make them. I love a well made Manhattan, or an ice cold Martini. These kind of drinks need to be made with good ingredients as a cheap spirit will be really noticeable.
Anyway, where all this is leading up to is that a few weeks ago I was contacted by a company called Alexander & James to try out one of their cocktail sets.
Alexander & James sell premium spirits and luxury sets that make the most beautiful gifts. If you know someone with a love for unusual and fine spirits, this is definitely the place to look for a special present.
A&J asked me to pick something from their website, and I made a beeline right for the Whisky section. This disappointed Mr Chick who was hoping I would pick some gin. However, I say TOUGH to Mr Chick as Whisky is my favourite spirit, and I really wanted to make a summery cocktail out of something that is considered a wintery spirit.
There was a great selection to chose from, and eventually I picked out the Johnnie Walker Gold Label Reserve Gift Set. It comes with 2 Highball glasses decorated in real gold, which are absolutely gorgeous. When the gift set arrived I did a proper "WOW". The packaging just screams luxury.
Seeing as there were fancy highball glasses included in the gift set, it was a perfect set to make a long, refreshing, summery drink.
This is a variation on a Tom Collins. The Tom Collins is a classic cocktail, dating from the 1870s, made with gin, lemon, sugar and carbonated water. This version uses whisky and soda water to make a whisky collins cocktail. Whisky is a great warming spirit to drink neat, but if you want something more refreshing the intense whisky flavour is delicious in this really simple cocktail.
Whisky Collins Cocktail
50ml Johnny Walker Gold Reserve Blended Whisky
25ml lemon juice
10ml Sugar Syrup
Fill a tall glass with ice.
Add the ingredients and stir well to combine
Top up with soda water and garnish with a slice of lemon to serve.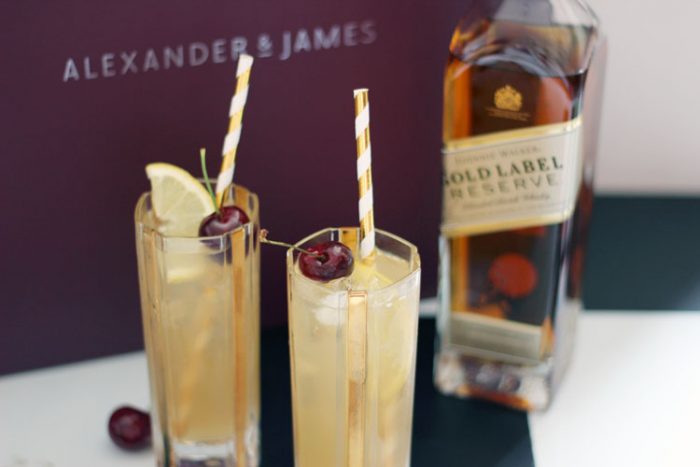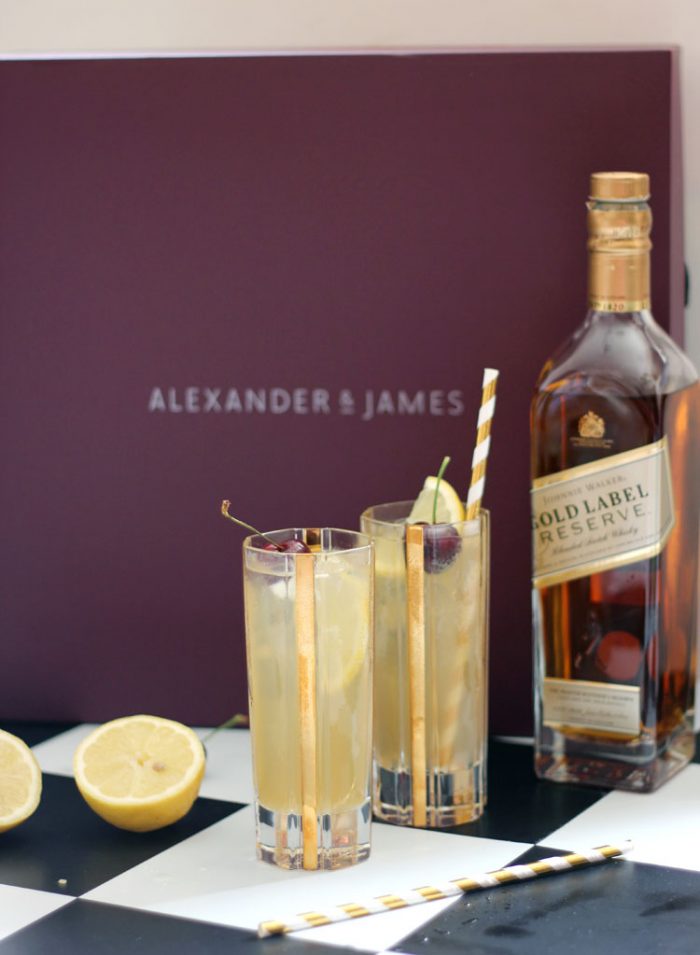 This post was supported by Alexander & James and I received a free product for the review. As ever, all opinions on fancy whiskies are my own!