I love getting dressed up.
I don't know if you've noticed? I mean I've written a blog for 8 years largely based around the concept of getting dressed up.
But sometimes there are those days when putting on clothes just makes you go "UGH!". This Saturday night was one of those overcast, muggy, sticky nights. Which is why I'm going to tell you a secret about this outfit.
*shhh* get closer so no one can hear.
One of the items in this outfit post is actually pyjamas.
Can you guess which one?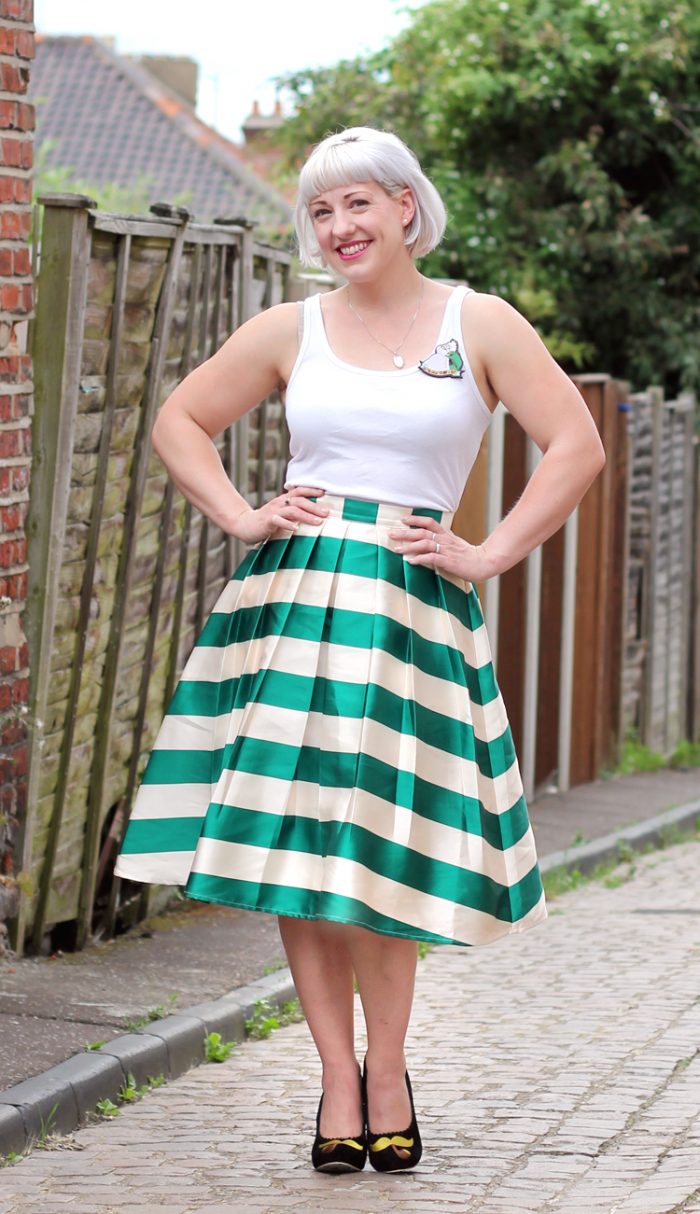 I'm hoping you can. I know it's not beyond the realm of possibility that I would wear a green and cream striped satin pleated midi skirt as pyjamas, but that vest top is obviously a safer bet.
It's a DKNY pyjama top, but it's still a pyjama top. It's also at least 12 years old.
I don't normally leave the house in my pyjamas (well, apart from that one pair of pyjama bottoms that got promoted to track suit bottoms for wearing to practice). It was just SO HOT and I couldn't face anything with sleeves, and I couldn't find any vest tops that might be considered real clothes, so I'm afraid I went to the pub in my pyjama top.
I think I just about managed to pull it off with by adding this cute Ursula from The Little Mermaid brooch.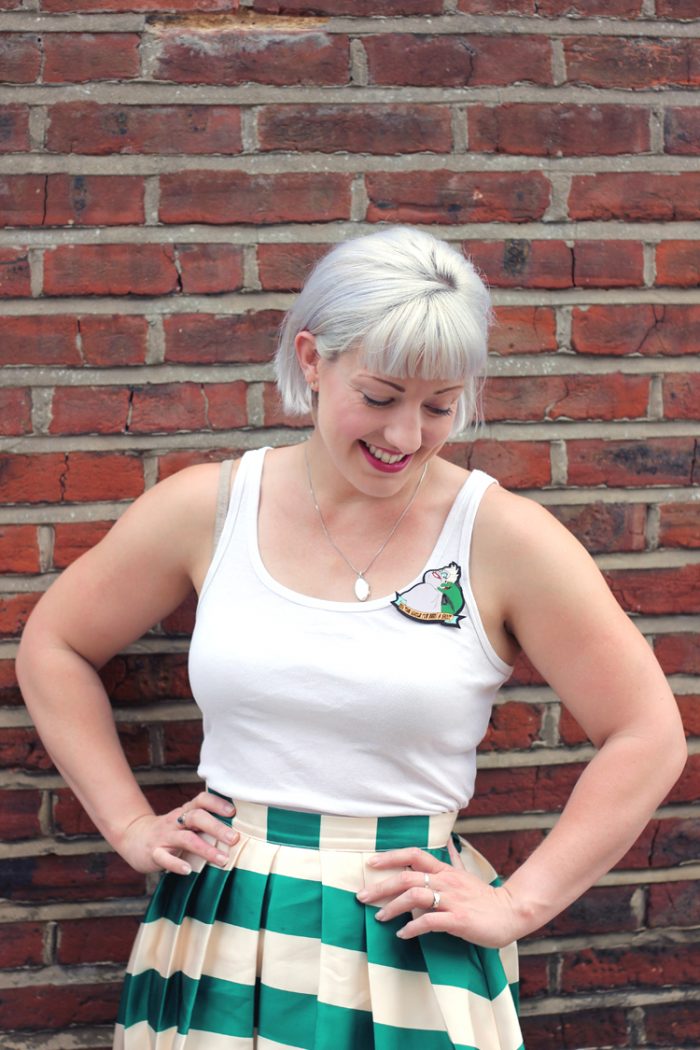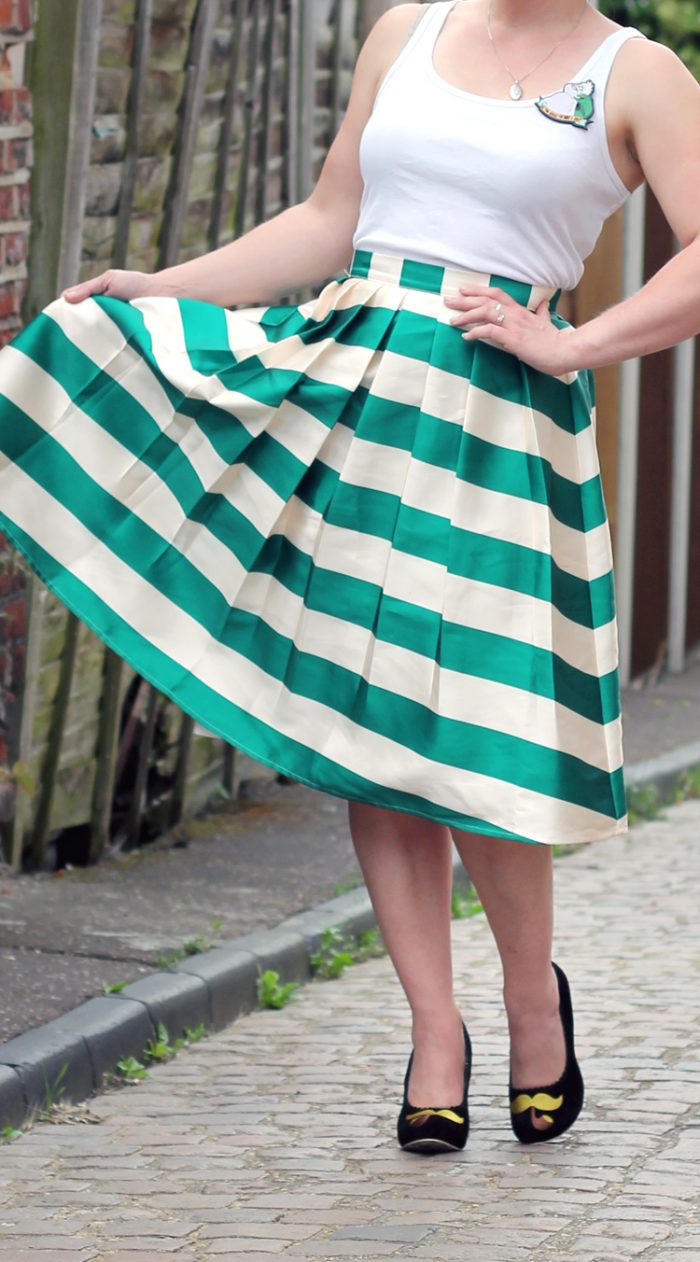 The Little Mermaid brooch is hand painted wood and comes from The Ambrosia Bowl, who sent it to me a couple of weeks ago. You can't quite read it in the picture, but the caption is "On the whole I've been a Saint". Which is totally true. On the whole.
The shoes  are Irregular Choice, they're a couple of seasons old, but I just noticed you can still get them here, in very limited sizes! They're super high, but they have gorgeous glitter heels. Seeing as Saturdays #GlamorousJuly was to wear something sparkly, well, they just had to happen.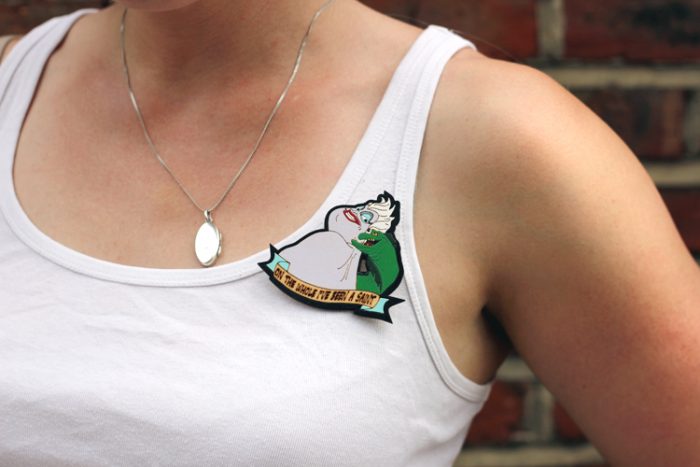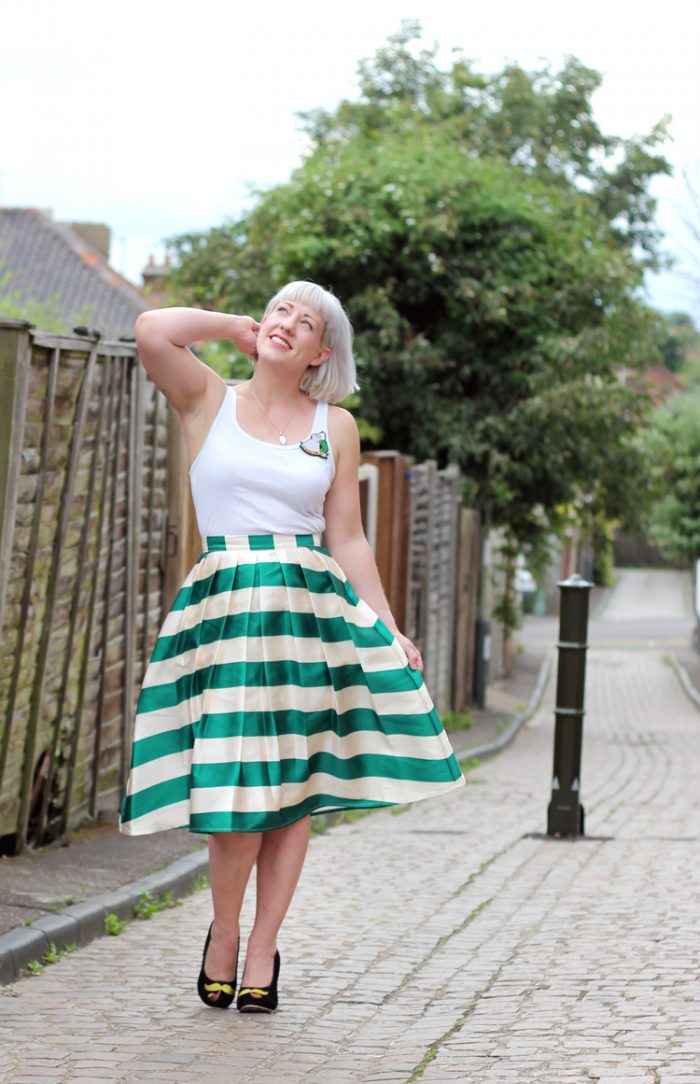 The eagle-eyed among you might also recognise the skirt as my Christmas Day skirt from last year. I bought it from Chicwish (it's still available!) and I absolutely love it. It's such a gorgeous material and a perfect fit. It's also available in pink and navy and I have my eye on both!
Of course, when we got to the pub it turned out to be the best idea ever. But I wittered on for some time about the free burgers and 50p beer yesterday, so I won't do it again today.
It also bucketed down with rain while we were in the pub. It was a short shower, and completely failed to cool the weather down in the slightest, instead acting a little like water on the coals of a sauna. Still, I wasn't too warm, because I'd gone out in my pyjama top. Hurray!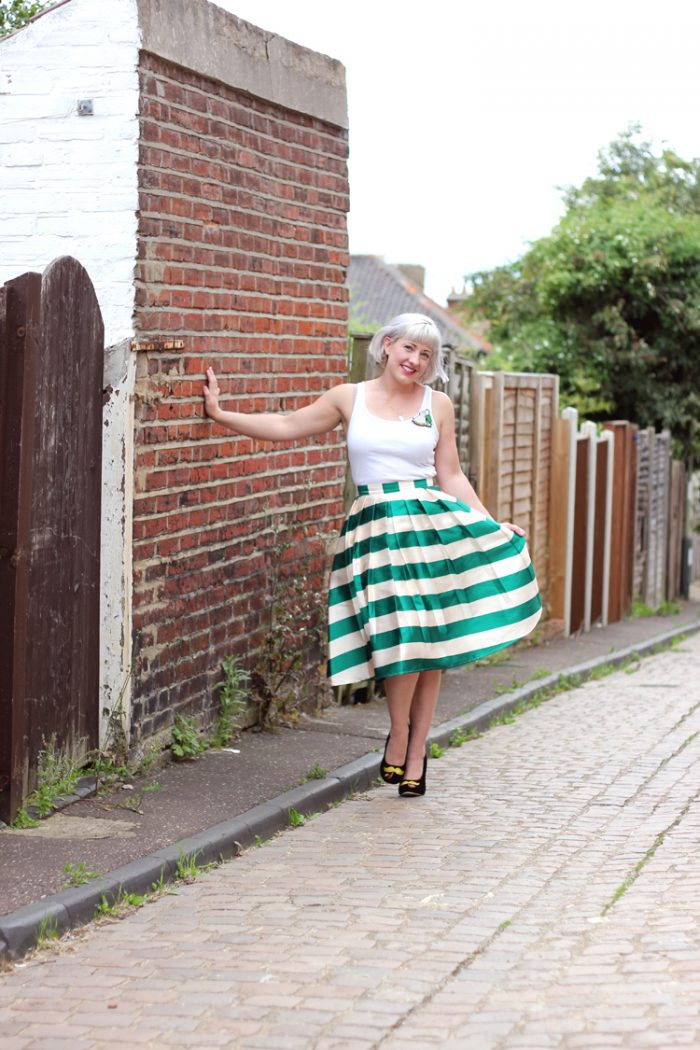 ♥ Vest Top – DKNY (loungewear) ♥ Green Striped Midi Skirt – Chicwish ♥
♥Ursula Little Mermaid Brooch c/o The Ambrosia Bowl ♥ Moustache Shoes – Irregular Choice* ♥
Related