Well, today I was going to post about the Sheringham 1940s Weekend.
But instead I have far more exciting news….
However, I will start off with a picture from the weekend. Myself, Mr Chick and Mai from Darhling spent Saturday riding around on Steam Trains at the Sheringham 1940s weekend. We were joined late in the afternoon by Mr Darhling, otherwise known as the Bygone Gardener.
We appear to have been snapped by photographer Antony Kelly (and a million others that I HAVEN'T yet seen!) whilst waiting for a train at Weybourne.
Anyway, enough of that, it's suddenly really uninteresting (though I am wearing a very nice 40s hat that I shall show you a closer view of at some point)
My exciting news is that I appear to have made the short list for the Cosmo Blog Awards! The short list was chosen from the nominations made by the Cosmo team. So thank you for giving me enough nominations to be noticed!
I am in the Established Fashion Blog category, which is slightly scary as it's a big category and I'm up against several huge trendy blogs with thousands of followers who know about things like trends and get front row seats at Catwalk shows.
Therefore I NEED YOUR VOTES! I don't expect to win in such a terrifying category, but it would be nice to at least hold my own against them.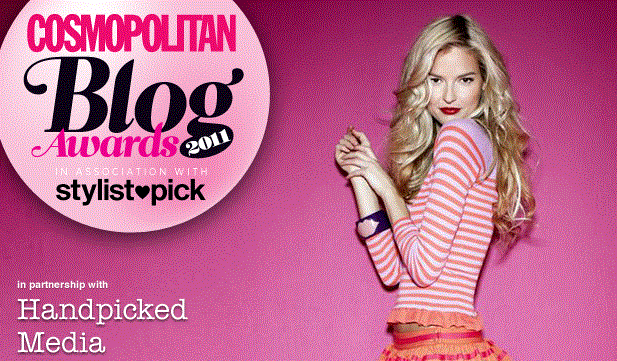 But what if I did win? What a victory for a short, chubby girl with a penchant for history and pretty frocks! Maybe they'd make it into a film? I could be played by Drew Barrymore or Jen from the IT Crowd? Maybe I'm getting a little carried away. But you should still go vote for me, you know, if you want to. Actually, sod it, even if you don't want to and think I'm rubbish you should do it anyway, it doesn't take long. Promise!
I am the least cool person in the world unfortunately, so I'm not even going to pretend that I'm not excited about it. Yesterday my local paper sent a photographer round to my house so the day panned out a little differently than I had really planned and I had to actually change out of my pyjamas before I was planning to leave the house.
Weirdly, yesterday I also found out that I am number 4 in Cision's top 10 UK Vintage Fashion Blogs and NUMBER 1 in their list of the top Vintage Blogs on Twitter. I suspect that last one just means I talk waaay too much, but still, number one huh?!
All that means that today has a lot to live up to, but I did get a chocolate croissant for breakfast so it's not doing too bad so far.
Anyway, I don't know if I mentioned it already? But you can vote for me in the Cosmo Blog Awards here. You might as well go and do it now and then you can relax, guilt free, while I continue to harass people in an utterly shameless manner till voting closes.