It's time for a bit of glamour…
Monday night was the Vintage Norwich Awards ceremony, and the culmination of 2 months of nominations and voting to finally reveal the winners.
Thankfully the lovely Blue Skies Vintage Events stepped in to organise the party and arranged us a red carpet and a photographer to pap our guests on arrival and  fabulous jazz band. This meant that all we had to do was organise the actual awards element of the evening. Which was work enough! We had around 800 votes, all of which I laboriously counted by hand as I am too cheap to pay for a high response survey package like Survey Monkey. With 9 categories each vote that was over 7000 individual entries onto my spreadsheet. I might have to cough up the cash next year….
Then of course there were the actual awards to get ordered and made, speeches to write and, at the last minute I suddenly realised, outfits to be worn.
Other people had spent weeks chatting on twitter about new dresses and fancy outfits. I completely forgot. I had nothing I hadn't worn a million times already, so a last minute panic meant I spent much more money on a new frock than I would normally. The dress is absolutely gorgeous though, so worth every penny in my opinion!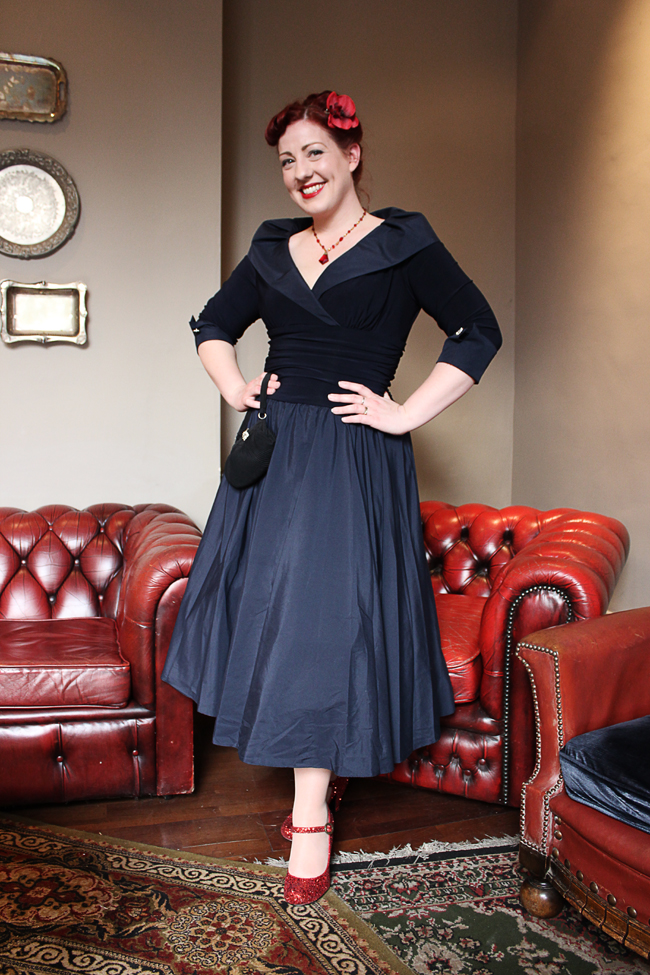 ❤ Dress - Eliza J from House of Fraser ❤ Shoes - Red or Dead from Schuh ❤
❤  Handbag - Vintage 1950s ❤ Necklace - Vintage 1930s ❤
The dress came with an attached layer of net underneath, but I added a small 50s petticoat to pouf it out a bit more. If you fancy getting one yourself for a special event I will helpfully advise that the sizing is very generous and the dress has a lot of stretch in it, so pick the smaller size if you're not sure! I chose Navy, as it was a bit different, but the dress also comes in black. I love that neckline, the collar, and those little diamante details on the sleeves
The necklace was bought for me by Mr Chick at the Little Vintage Lover Fair this weekend and is 1930s Art Deco. I fell in love with it on a stall, and he bought it for me while I was off (wo)manning the Historical Sauces Pop Up Reading Room.
But, onto the shoes. I caused a minor storm on Twitter and Facebook by posting this picture of the shoes, taken in the shop.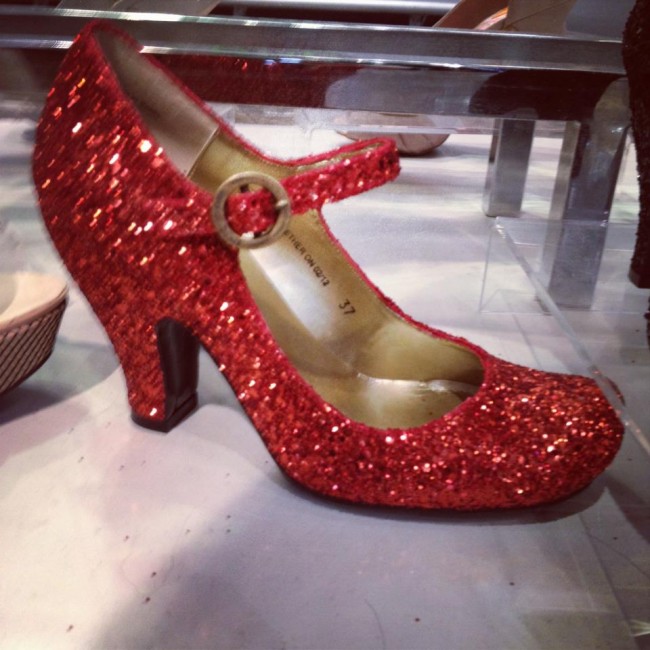 They are Red or Dead from Schuh and they also come in black, silver and blue. Yesterday I swear they also had green on the website (be still my beating heart!) but today they are gone, boo.
I think they are the best shoes ever, and it was a real struggle not to put them on again just to walk to the shops this morning. They're not so high that you're crippled and, hell, they're RED GLITTERY SHOES!
They're an investment as I'll save a fortune on cabs by just clicking my heels together and whispering "There's no place like home"
You can see a full list of all the winners over on the Vintage Norwich site. But after the ceremony, in which I attempted to hide my nervous shaky voice, we had one of those herding cats moments where we tried to get the winners in 7 categories (2 couldn't make it) to all look at the same camera at the same time. This was the best we managed!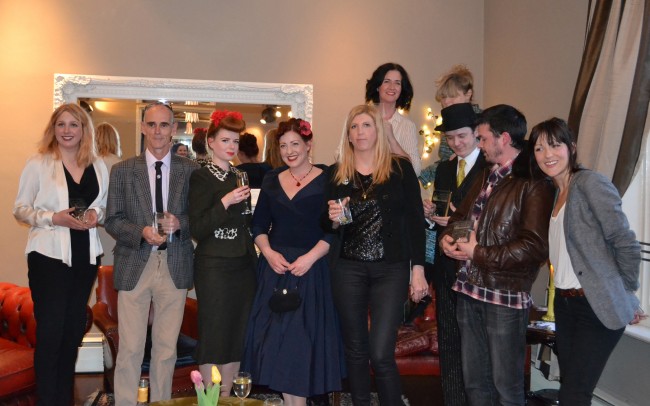 After *that* I mostly drank this. I wanted to celebrate, I'm really proud of Vintage Norwich, and so excited this year to be working with similar sites in London, Brighton and Manchester on the Vintage City Network.
So to celebrate all that hard work we partied till, well, 10:30pm, but it was a school night and it DID start at 6:30. Then I had a curry, because I am a truly elegant and sophisticated person who was really hungry and nowhere else in Norwich will feed you at 10:45 on a Monday.
I shall leave you today with a few more of the pictures from the evening. Some are mine, others are by Missy Vintage. You can probably tell which ones as we have very different styles! You can see all of the pictures over on the Vintage Norwich Facebook Page