In the second of two immensely ill-timed pre planned breaks I spent last weekend on the remote Scottish Island of Jura.
How I ended up there is a long story that can probably be reduced to "I won a competition", there's more to it than that, but frankly it's not very interesting.
Jura isn't somewhere you just decide to pop over and visit. It's a hell of a trek. An overnight in Glasgow (already a bit of a trek from Norwich!) is followed by a 2 1/2 hour drive through the mountains and past Loch Lomond and a nice stop for cake and an inane grin at the camera. This nice relaxed face was taken about 5 minutes before I double checked the ferry booking, realised that we'd been booked to come back the wrong day and spent a panicked hour trying to sort it out in a place with no phone signal using the hot spot at the ferry terminal.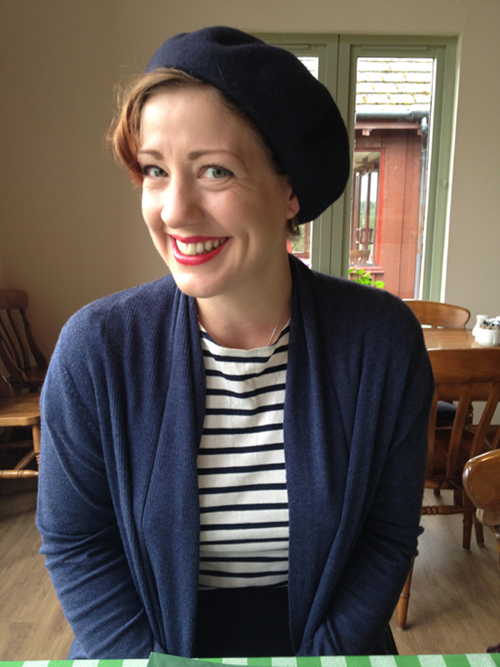 On arrival at Port Askaig, an inevitably late running ferry takes 2 hours to transfer you to Islay and you then hop on another ferry for the 5 minute crossing to Jura. Once on Jura you follow the single road for about 20 minutes to reach the Islands town, Craighouse.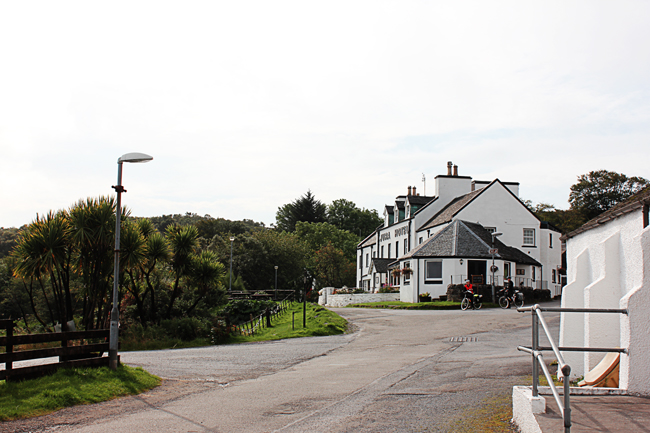 I was the guest of Jura Whisky for the weekend, and was spending 3 nights in Jura Lodge, part of the distillery. The lodge was designed by Bambi Sloan, a French interior designer, and manages to be both quintessentially Scottish and full of French touches. The interior is all soft wool tartan blankets, squishy leather sofas, Deer antlers on the walls (Deer outnumber people 40-1 on Jura) and vintage furniture, but the old Typewriter was French and there were endless vintage copies of The Paris Review dotted around that betrayed the French origins of the designer.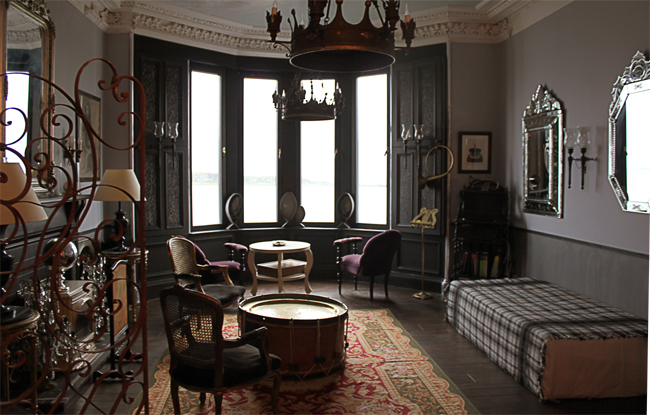 We arrived just after 4pm and were shown around by the housekeeper while we attempted valiantly to stop ourselves going "squueeeeeeeeeeeeeeeee" and running around and jumping on all the sofas. The Lodge, frankly, is gorgeous. The furniture a quirky mix of vintage and modern with drums for tables and cupboards stocked with vintage china and glass. Not only that but our "welcome pack" consisted not only of the expected bacon, eggs and bread for breakfast, but also wine, beer, cheese, ham, croissants, soft drinks and 2 bottles of whisky. These people take hospitality very seriously.
Once we'd finished going "squeeeeee" there's not an awful lot to do. There's no TV in the Lodge, no broadband or Wi Fi and the mobile phone reception on the Island was down that weekend. I felt a little apprehensive about being so out of touch, but it was utterly fabulous. I did find a BT Openzone that I could access, as long as I didn't mind standing by a waterfall and swatting midges with one hand while operating my phone with the other. Once a day was enough to bore my twitter stream with photos of dramatic views and soothe my mind that the mainland hadn't been taken over by some terrible Zombie plague while I was out of touch.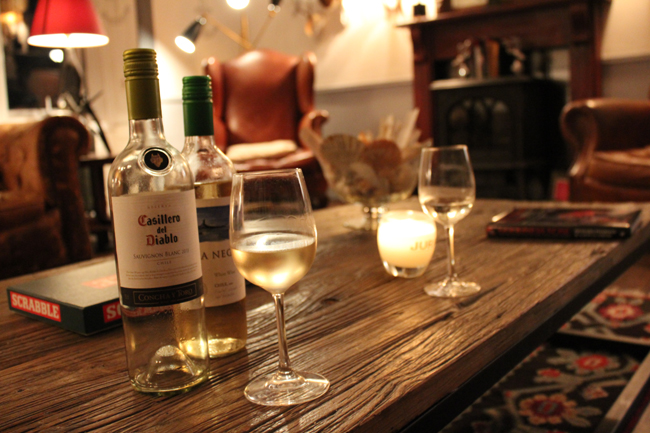 The Lodge was amply stocked with books, and whisky, and huge baths next to astonishing views of the sea, so largely that's how we occupied our time. Many of the books were reminiscences about the history of the Island by elderly people, most of them now long gone. Stories of illicit whisky stills, cutting peat to keep 2 room thatched cottages warm all winter and salting and drying fish to keep them fed when they were cut off from the mainland were a common theme. It's amazing to be able to look out of the window and still pick out landmarks from the stories like the shop and pub.
Jura only has one road, and for a long time it didn't even have that. The road is about 30 miles long, and on the Saturday morning we set off to explore some of the locations in the books we'd been reading. The day was gorgeous and sunny and we walked up to Kiels, an old crofting village now largely empty, explored the graveyard, recognising many of the names on the stones from our reading, and admired streams and waterfalls so impossibly picturesque that I'm entirely sure some of those stones were made of polystyrene and there was a camera crew just over the hill that created it all as a set. We walked along wide sandy beaches and drove over mountains shrouded in clouds.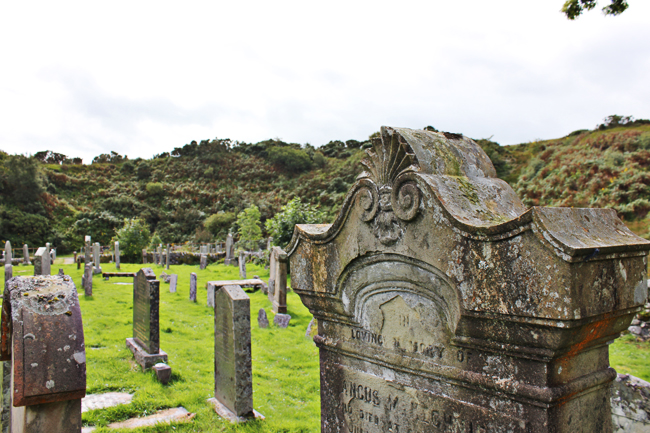 Then it started to rain.
Just a bit. Then a lot.
We carried on, though I was a little terrified the road would collapse and send us skidding into valleys full of craggy rocks that look so picturesque, from a distance. It didn't, of course. It was just rainy and I'm a wuss used to nice wide paved roads on which cars can drive past each other in opposite directions without having to stop and and wait.
Cars weren't the only things we had to stop and wait for, among the other things we met on the road in Jura were cows (who left us in no doubt who was boss.), deer, pheasants, grouse and one seriously pathetic cat that followed us around making mewing sounds till we gave it a piece of ham and it got bored and went to harass someone else.
Here follows a collection of badly taken blurry photos I like to call "Things I met on the Road" one day there'll be an exhibition.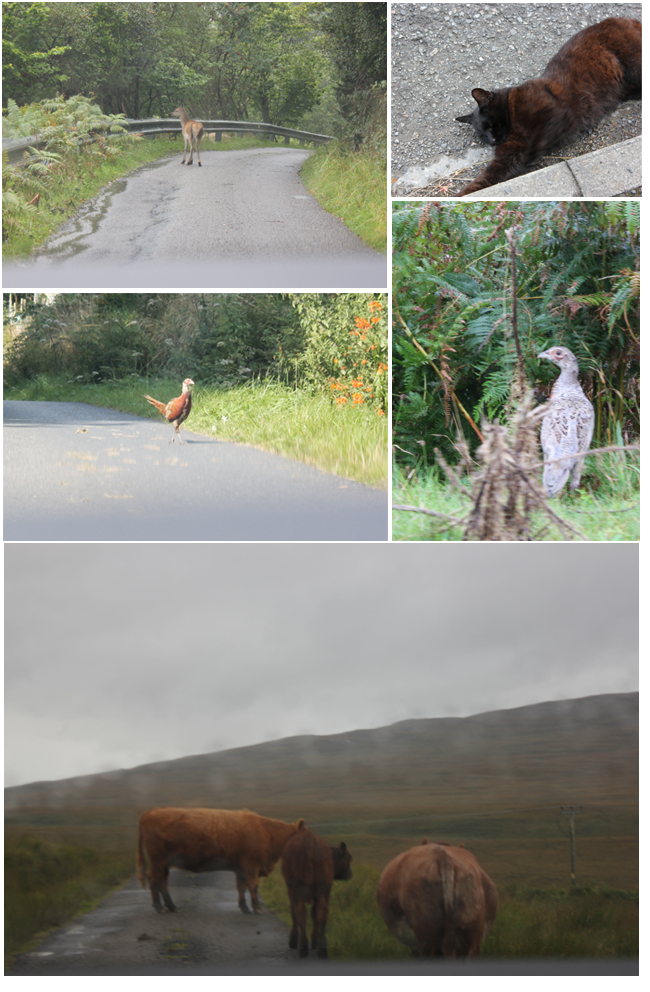 There was also a diversion.
This is what a diversion looks like on a single track road. Seriously.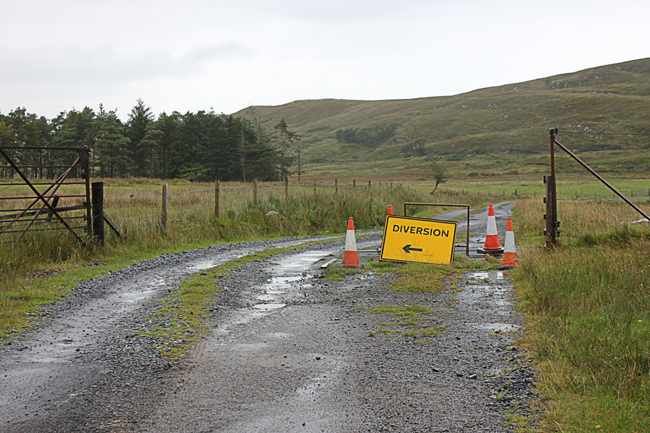 The main things to see on Jura are the three Paps mountain range. Before my arrival I was utterly convinced that Paps must mean boobs. They always name mountains after boobs. So I was gratified to find an information board confirming that Paps was indeed an old word meaning nipple. Told you so.
Do they look like boobs to you?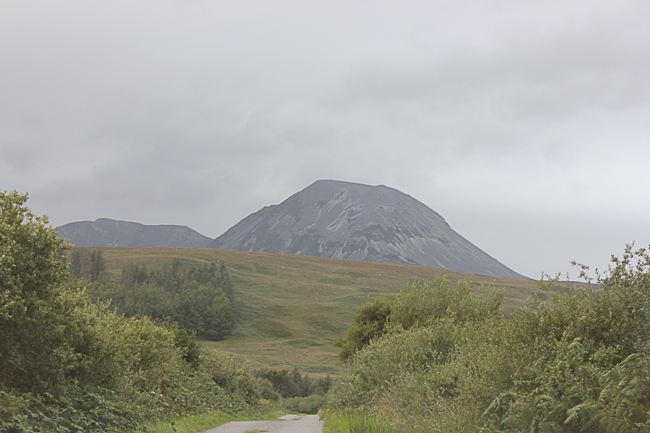 The last thing to do on the Island is take a tour of the distillery that had so kindly invited me to stay. The distillery was originally made "official" in 1810, and then abandoned in the early 1900s before finally being reestablished in the 1960s. The huge copper stills date from then and we spent an enjoyable half hour sniffing old whisky barrels to see where the flavours come from and getting my heels stuck in metal grated floors that are there to make sure the building doesn't fill with Carbon Dioxide and suffocate everyone (really). The tour is free AND you get a free dram of whisky at the end and the chance to buy more whisky, as well as things containing whisky like soap, candles and bath oils and things with whisky written on them like glasses, hats, hoodies, pens and placemats.
I wouldn't recommend going to Jura JUST for a free dram of whisky at the distillery. It's a little remote to get to for that. But if you want a real break from the hustle and bustle of modern life then I can't think of anywhere better. Even neighbouring Islay seemed astonishingly busy and full of people on our return.
We spent 3 glorious days without a tv, phone or broadband connection and missed none of it. We read books, played scrabble, drank copious amounts of wine and whisky, dined in the local pub on venison and mussels, sat in the dark and looked out at a distant lighthouse and took long, hot baths looking out over mountains and sea.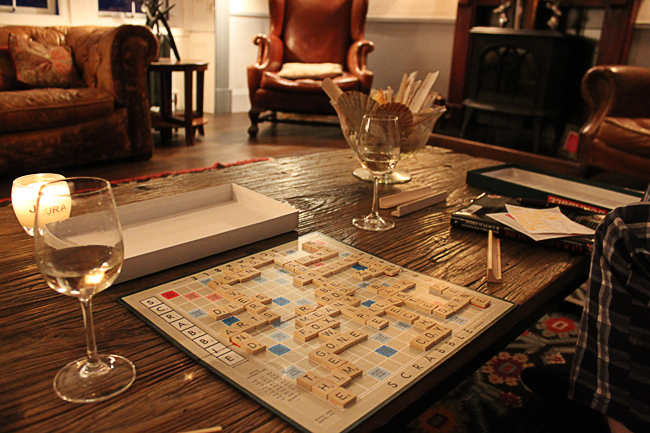 I don't think I've been more sad to leave a holiday since I was 8 and fell in love with one of the Green Coats on a Holiday Camp. There were very nearly tears.
Saying goodbye to the Island, and nearly taking off (Palazzo pants, comfortable for travel, useless for windy mountain tops)
If you can face the trip (and it IS worth it!) then Jura Lodge is available for exclusive hire on selected dates for £2,500 a night. Alternative (and cheaper) accommodation can be found at the Jura Hotel or, for the more adventurous, on the Ardlussa Estate at the far end of the Island. There are also numerous self catering holiday cottages dotted around, many of which used to be crofters cottages.
If a trip is beyond you then treat yourself to a bottle of Jura Whisky and a whisky soap.
Related