I often get press releases and things from hair brands.
They like to pitch products at me that are designed to make my hair sleek, straight, shiny and swingy, blatantly revealing that they haven't been following my efforts over the years to make my hair big and curly, but maybe still shiny. I got one such pitch a couple of weeks ago offering me a GHD hair straightener to review. At first I thought "tch" and rolled my eyes. Then I thought about all those hair tutorials that claim you can curl your hair with straighteners and I thought "hmmm" and put my finger to my lips in a thoughtful way instead. Can you use straighteners to create a vintage hair look?
I would very much like to have something in my kit that is portable and can create a bit of bounce and volume in hair that I haven't had time to wet set. Exercising more means mean washing my hair more often, and I can't always get around to wet setting it before bed. I have Hot sticks, but they can sometimes be a little heavy for my fine hair and fall out, plus they're a little bulky for travel, and putting them in, taking them out and waiting for them to heat up can be just as time consuming and fiddly as a wet set.
I do own a pair of straighteners. They cost about a tenner as I am a cheap skate. They take about a day and a half to warm up and are about as useful as a chocolate tea pot. The ones GHD sent me are not like this, oh no, they cost £129 for one thing. They are limited edition "cherry blossom" straighteners and £10 from the purchase goes to Breakthrough Breast Cancer. They come in a sexy box and have their own sexy embroidered carry case and they are, frankly, pretty sexy, right down to the little glowing pink "on" light.
The day I picked these up my hair was uncurled and hadn't been washed for about 3 days. At about 8:30 I plugged them in, knowing dinner was booked for 9pm, and was immediately impressed with how quickly they heated up. Literally in seconds.
Then I attempted to create curls and a bit of volume by putting the straighteners on sections and pulling up and twisting forward toward my face. I had some success, with the addition of some tresemme freeze hold.
Sort of vintagey, not as good as rollers, but I wasn't expecting it to be. It also only took about 20 minutes, then I headed off to dinner for about an hour. I didn't go outside at all.
When I came back it had definitely dropped, but there was still a bit of bounce.
I then brushed it. Result. Pretty much completely straight hair, as per my expectations.
The next morning I decided maybe it would fare better with a style that was pinned in place. So I attempted to create a bit of a marcel wave feel. I didn't have time to do my whole head, so just focused on the section around my face. I tried creating a ridge with the straighteners, spritzing with spray and pinning in place to cool.
Once it had cooled I just moved it into place with fingers and a few pins before shooting out the door. The results weren't bad for a first try, so I'll definitely be giving this one a go again!
Finally I gave it a go on freshly washed hair that had dried naturally. It certainly gave a bit of "bend" to the ends, but I had difficulty getting it to add any real volume at the roots.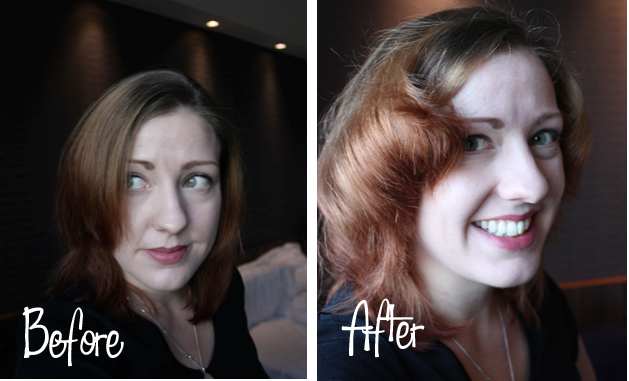 The Verdict
It's really handy for adding some curl to the ends of the hair, particularly when it's unwashed. I also think that the finger waves style could be good with a bit of practice. Would I spend £129 on it, well, no, on the basis that I wouldn't spend £129 on very many things to be honest. I don't have £129. But if I was after a pair of straighteners I would spend £129 on these rather than buy a cheap pair that would be completely useless.
Am I glad I have them now? Yes. I think they will actually be a good, portable, quick hair styling tool. They are probably better for creating styles that are pinned into place than adding actual curl, and I certainly wouldn't expect it to last longer than an evening, but I can see these getting quite a lot of use in future. I think they would be even better when I finally get around to getting another hair cut and my hair is slightly shorter.
Big thanks to GHD for finally giving me the chance to test out the straightener hype with a decent pair of straighteners.