Well, that's my first ever 10k race over and done with, and I had no need to be nervous at all!
I carefully laid everything out the night before. I have some new capris from Thoosa, but thought it best to stick with what I know on the day. I shall try out the new capris soon!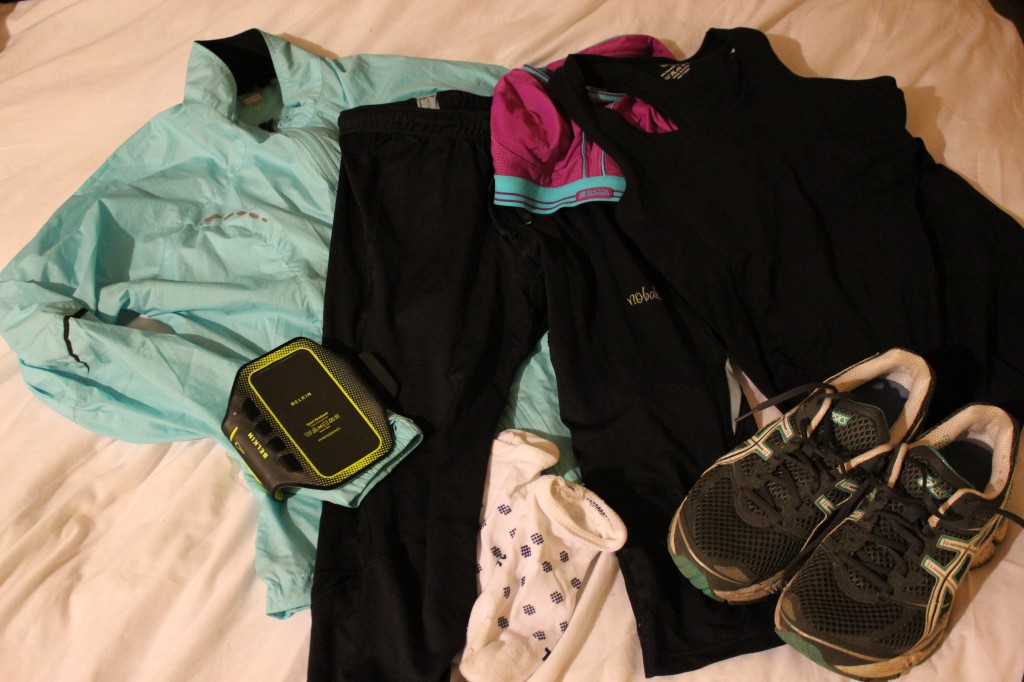 * Ronhill Aspiration Windlite Jacket * Shock Absorber Run Bra * Pro Fit Vest * No Balls Capris * Karrimor Socks *
* Belkin Easefit Armband * Asics Gel 13 trainers *
Because the Marriotts Way 10k is a point to point race we decided to park at the start and get the mini bus back at the end. This meant quite a lot of hanging around in the cold at the beginning outside the Bure Valley Railway. I decided to wear my windlite jacket and tie it round my waist to run, but when you're standing around for 45 minutes it's still very nippy!
The run was along the Marriotts Way path, which is all unpaved trail and quite narrow. There were about 200 runners there, and they all looked very serious. So I steeled myself even more for an embarrasing last place.
I was tragically excited to get my timing chip, as I've never seen one before and was intrigued. It turned out to be a big flat piece of plastic that I tied through my shoe lace at the top and used a plastic tie that was provided to keep it secure at the bottom.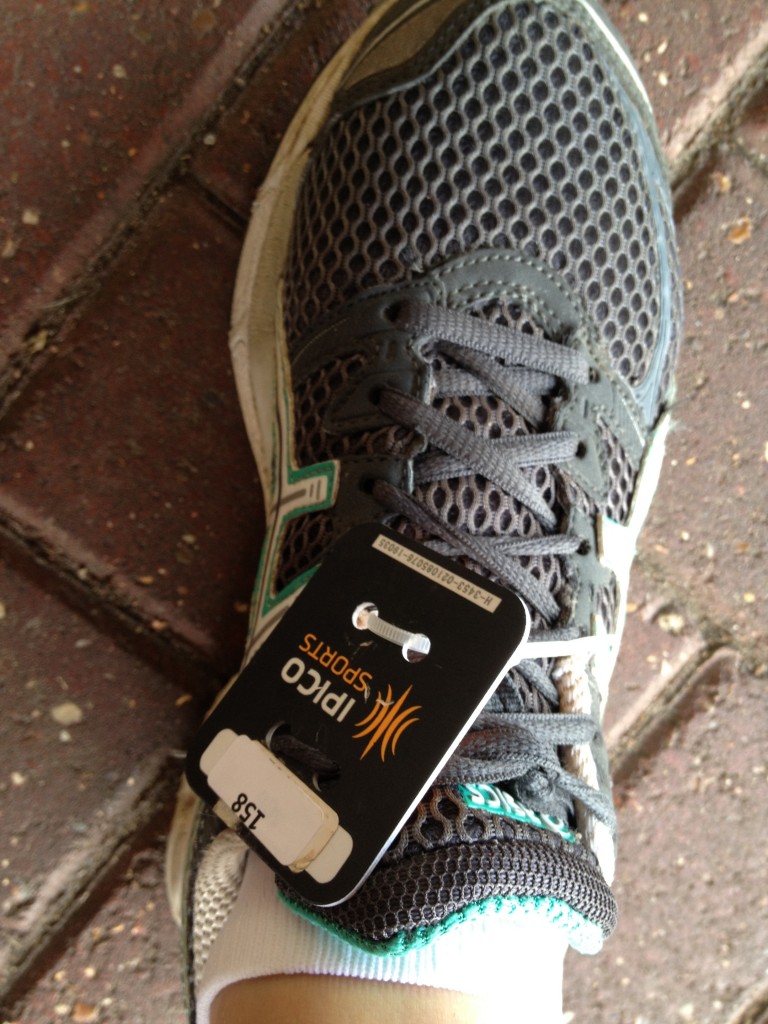 The race started quite promptly at 11am, and I was determined not to head out too fast, so I just focused on keeping a steady pace. For a bit between kilometres 1 and 2 I ran with a lovely lady called Heather who was aiming to do it in under an hour the same as me, I was a little speedier in the end though and decided to pull ahead.
The track was a little narrow in places, so overtaking was a bit difficult, but I just loved running along, enjoying the scenery. I knew by the 5k mark that I was going just a little too slow to make under an hour, but not knowing what was ahead on the course I decided not to push to make up the time, this meant I even had enough energy left to put on a bit of a sprint at the end as the race left the trail and headed to the finish line in Reepham. I even managed to overtake a couple of people I'd been running behind for about the previous 15 minutes.
Mr Chick was waiting for me at the end as he made a super speedy time of around 52 minutes, which meant he managed to get a great action shot of me heading for the finish!
As I headed over the line the clock read about 1:03:09, it took me a few seconds to turn off my nike +, but that says 1:03:13, and I know it took me 11 seconds to get over the start. So in reality I think I managed the 10k in just under 1:03.
The chip timing only had mats at the finish, so I think they go from clock time at start, which will make me a little slower when the official times are finally released, but at the moment I'm just pleased I wasn't last!
The goodie bag at the end was a little rucksack containing a medal, water bottle and an Oatso Simple "Morning bar", along with a stack of leaflets. If I keep entering races it is very likely I will be able to build a small house out of water bottles. We also got a free banana, not quite as good as the free cake at the Braydeston 5k, but probably a lot better for me I'm sure.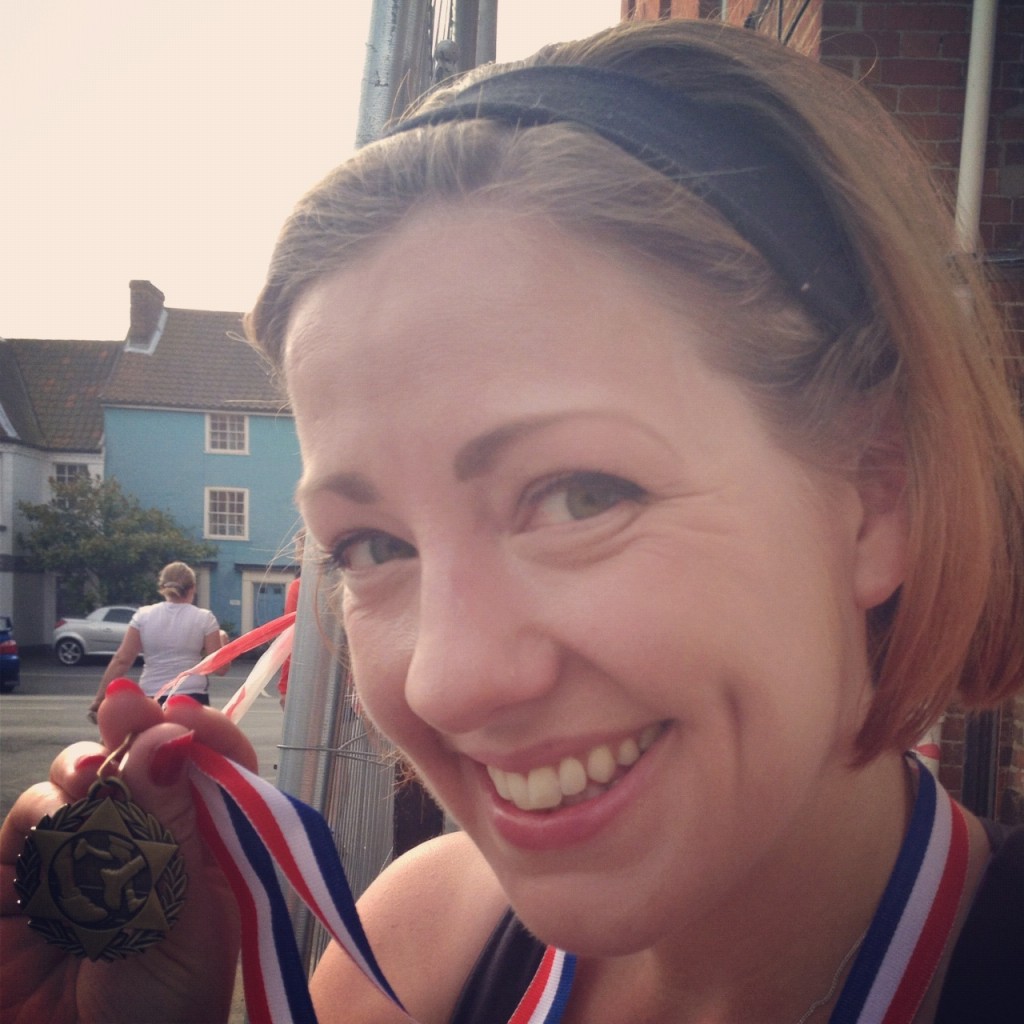 I had no problems with that little negative voice in my head while I was running and I actually enjoyed every second from beginning to end. The weather was beautiful, the scenery was beautiful, and the marshalls cheered us on at every crossing. Overall, I'm feeling pretty good about the Marriotts Way 10k.