Last year, in pursuit of a good running bra, I bought the Shock Absorber Run Bra. Shock Absorber have just released a new design and sent me one to try out.
The new design is called the Gym Bra. In shape it is much the same as the Run Bra, with it's "leave the clip done up and put it over your head" back, padded straps, and seam free technical fabric, but it apparently also has multi dimensional support. I'm not entirely sure what multi dimensional support is, though it sounds good, so I'll leave that to one side and we'll just talk about whether it actually stops me giving myself and passers by black eyes.
This bra is designed specifically with gym users in mind, but that doesn't mean it's only useful for the gym, I found it just as good as my Run Bra for running in. The key difference, multi dimensional support aside, is in the styling. The bra has a cross over top layer at the front, that not only creates a handy pocket you could keep a door key or credit card in (just in case!), but also means that it looks less like a bra and more like a crop top. I'd feel far more comfortable wearing it on it's own to run in the Summer.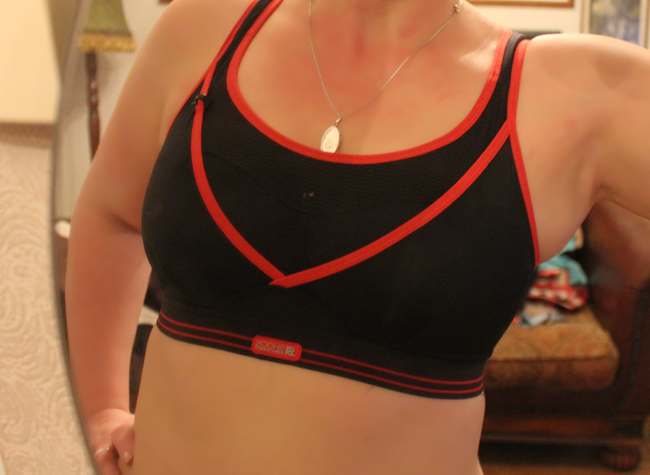 Shock Absorber are keen to stress another feature, which is a tiny clip that you can just see in the above photo. It's designed for cable control to clip your earphones in place. There is plenty of research to indicate that listening to music of the right BPM makes perceived effort while exercising far less. If you're a runner then a good music selection can help you keep a good pace as well.
Shock Absorber sent me over a CD of top 10 workout tracks compiled by Dr Costas Karageorghis, but I think I can safely say that me and Dr Costas Karageorghis do not share a taste in music so I stuck with my own to test out their little clip.
When I tried it it was snowing and about -5 degrees outside. If you wear your iPod clipped to your waist band and run the headphones up inside a top then it would be great, but I wear mine in an armband, so there was no way to get headphones under my top for the clip to be of any use. Instead I used it to hold my spare ear phone, as I only ever wear one while running on the streets, normally I tuck it under the strap of my bra, which can dig in and get a little uncomfortable, so the clip was actually genuinely a useful feature, if not entirely for it's intended purpose.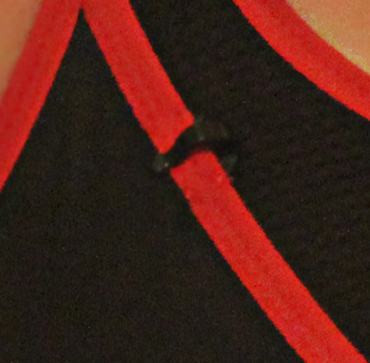 I know a lot of people mentioned to me when I reviewed the Run Bra that they couldn't get it in their size. The sizing on the Gym Bra goes up to an H cup rather than an F, so you're more likely to find your size here. It's worth remembering it does come up small though, I am a 36D again rather than a 32DD or E cup like I usually am, so if you've been measured somewhere like Bravissimo as an H cup, you might find yourself going up in back sizes and correspondingly down in cup size.
You can buy the Shock Absorber Gym Bra from £30 at BoobyDoo, Debenhams,Sweat Shop, and Wiggle.
Both BoobyDoo and Sweat Shop go all the way up to a size 38H