On Wednesday I mentioned I was going to the opening of a new Dr Martens store in Norwich.
It's the largest Dr Martens store in the UK apparently, and the launch was all sausage and mash in tiny wooden dishes and free Norfolk Ales, which is my kind of party!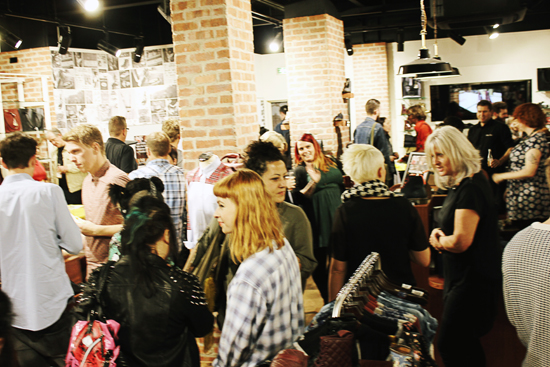 But todays post isn't really about the party, it's about the realisation, after 20 years, of a teenage dream. (Though if you're interested there area few photos of the party here)
I mentioned on Wednesday that I'd wanted purple DM boots as a teenager. My Dad ran round half of London and couldn't find a pair, so bought a green pair instead. Now, I love green. But when, on Christmas Day, I got a Dr Martens box and opened it with no warning, expecting to see the coveted purple, I couldn't keep the look of disappointment off my face. It's haunted me ever since that my Mum and Dad thought I was disappointed with a lovely present, and I'm pretty sure they were just sad they couldn't find purple ones for me!
Now, if you've dried your tears after that sad story of loss and disappointment we'll fast forward a little.
Firstly, 14 year old me thinks 34 year old me is just SO COOL for being at the launch of a Dr Martens store. But 34 year old me has a slightly different style to 14 year old me. With heavily discounted prices at the launch party I had decided I would take some money from my currently very limited funds and invest in a pair of sensible winter shoes. After much wrangling I decided on a pair of the ballet pump style, and got purple, to satisfy teenage me.
But it didn't really.
Then someone got me the purple 8 hole DM Boots to try on. I tried on metallic ones first.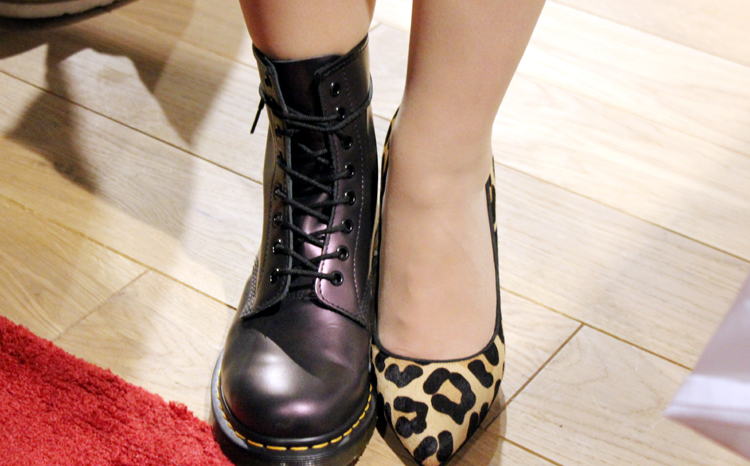 But they weren't really cutting it.
Then the original proper, purple DM's I had been after since I was a teenager were there, on a shelf, in a 6.
So I tried one on.
Then I accidentally asked for the other one to try. Then I got a bit sad as I really couldn't afford boots, not even discounted boots. A girl has to eat, and she can't eat boots. Though I might have tried (Photo courtesy of Missy Vintage, bunny ears courtesy of Andy Sapey)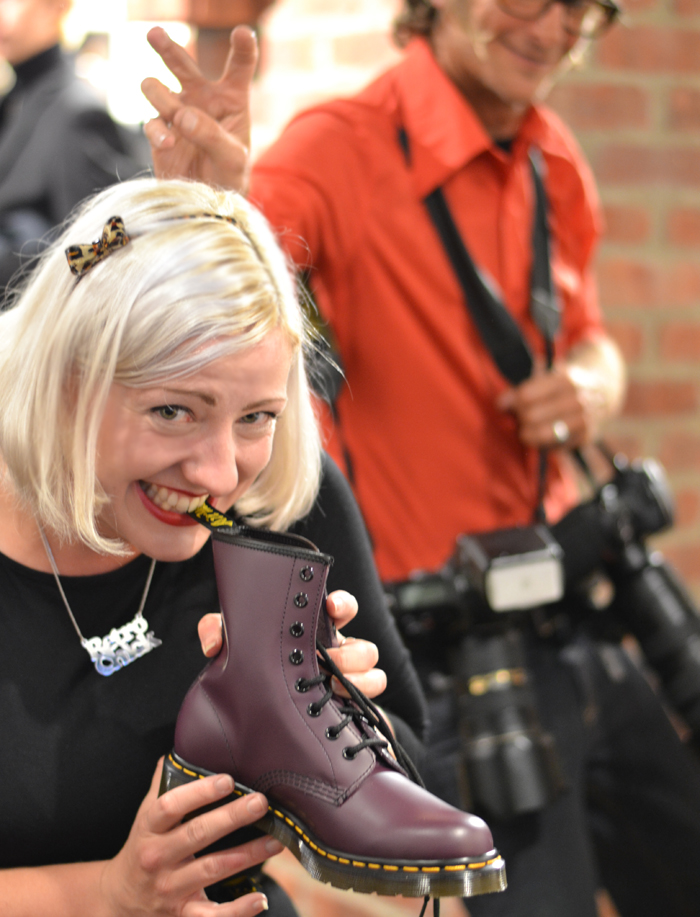 So I sent my Dad a text message, suggesting now was the chance to buy me purple DMs, like the cheeky cow I am. And he text back and told me to buy them. So now, 20 years later, my Dad finally bought me that pair of purple DM's. Thanks Dad!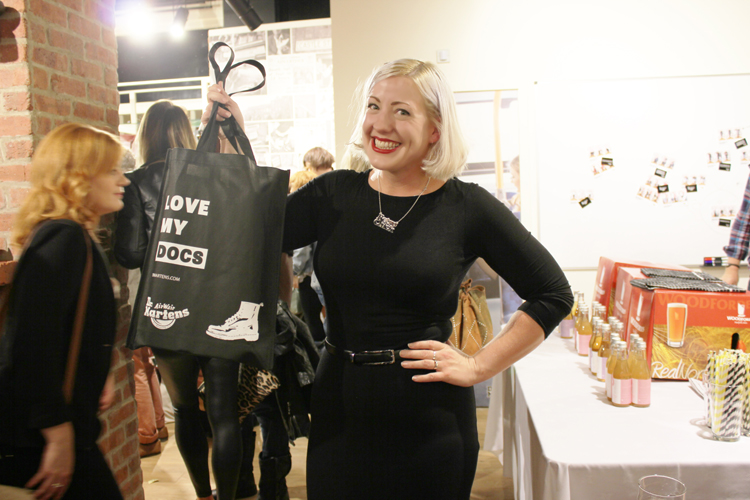 So today I woke up, and wanted to wear them out. Just for a short jaunt into town, you don't mess with new Dr Martens till that leather has softened up!
I'm not a jeans kind of gal, so I decided to take a trip back to 90s me and wear them with opaque tights and an above the knee skirt.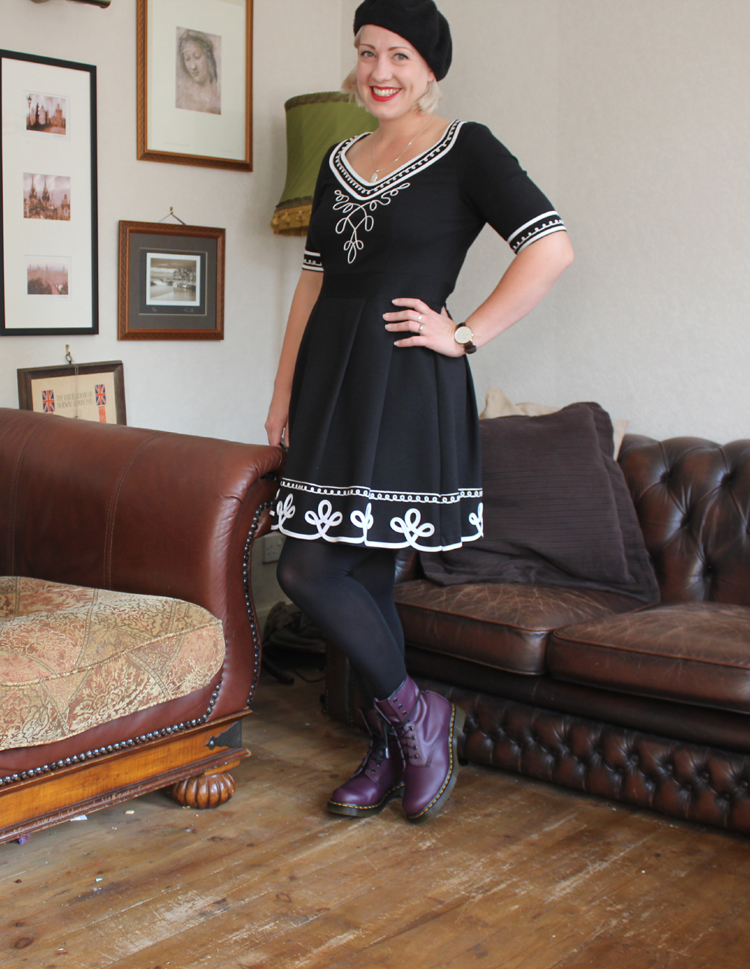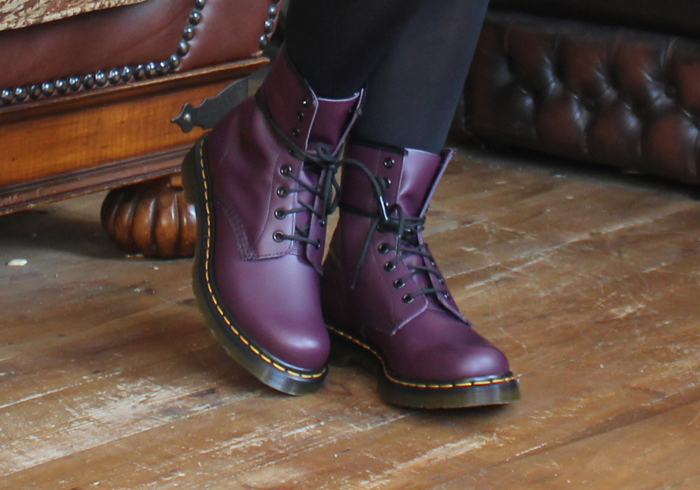 So I stomped into town and back and I loved wearing them. A little different from my normal look, but icy pavements and snowdrifts will be no match for me in my snazzy purple DM's come winter!
Did you used to wear Dr Martens? Do you still wear them now?