I hoped to get chance to write this before I left.
But obviously I didn't, so here it is! I'm back on English soil now, still very tired but over the jet lag and a trip to Las Vegas all seems like a bit of a dream.
On the second day I'd be given the option of having the day to myself to go shopping, or to take an organised trip to see the Grand Canyon. General consensus seemed to be "Grand Canyon, wow!", but I opted for shopping on the basis that I've never seen Las Vegas OR the Grand Canyon, and it would be a shame to leave the city without ever having seen even the strip properly. The extra bonus of this was that while everyone else was getting up at 6am for the trip, I got to stay in bed till nearly 9am. My pesky body clock meant that from 4am onward I only got patchy sleep, but still way better than getting up!
Today. I had a plan. First up. Breakfast. This morning I wanted to get out of the hotel and find a Denny's for breakfast, so I grabbed a coffee from the hotel Starbucks (and not like a Starbucks coffee machine like you get in UK hotels, a full on branch of Starbucks, oh yes) and then headed out onto the strip, stopping only to take photos of the waterfall outside the back door. Oh yeah, the hotel has dolphins, an aquarium, a zoo and a volcano as well. Las Vegas strip hotels are mental.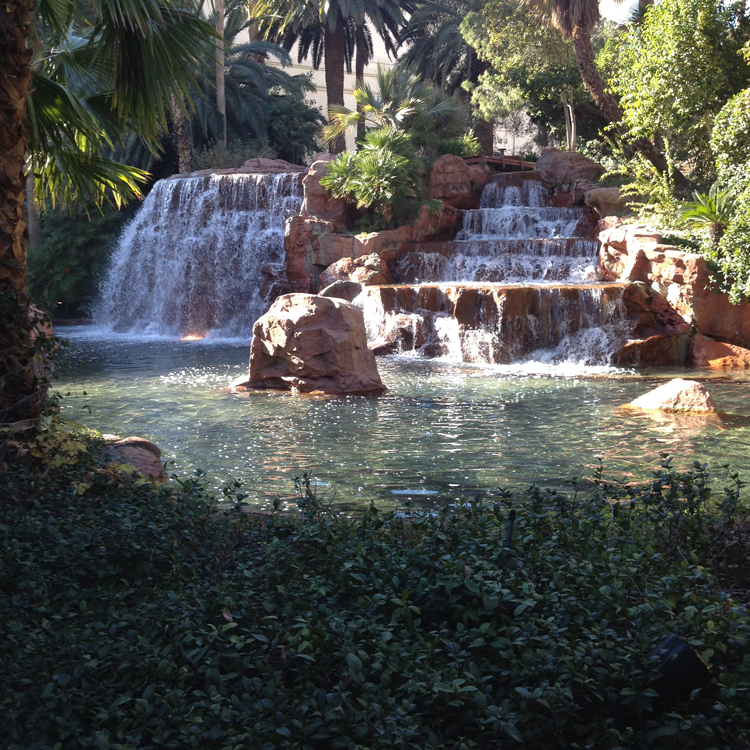 As I left the hotel I immediately got pestered by a group of blokes, they were fairly good natured and probably just over excited to be in Vegas, but seeing as I was completely alone I confess it put me immediately on edge.
Denny's was about a mile away according to google maps, but it took me about an hour to walk there because in Las Vegas one can't just saunter down a sidewalk and cross the road when one feels like it. Oh no, there 8 ridiculous lanes of traffic between you and anywhere you want to go, so the walk involved escalators, stairs, overpasses and detours through shopping centres and hotel lobbies.
When I finally made it to Denny's it was worth it. In the UK, I often feel a little out of place eating alone, but I didn't at all here. I expected to find the service insincere and irritating, but it wasn't. Everyone I dealt with from waiting to hotel staff was polite, helpful and genuine. I think all UK service industry staff should go to the US for training, though I do have a secret soft spot for our ability to show total indifference to people we're supposed to help while still managing to be unfailingly polite!
I had a pretty blissful 45 minutes in Denny's with an All American Slam breakfast (with fajita topping on my hash browns as recommended by my waitress) free coffee refills I didn't have to ask for and free wi fi. I could have stayed all day, but I had things to see!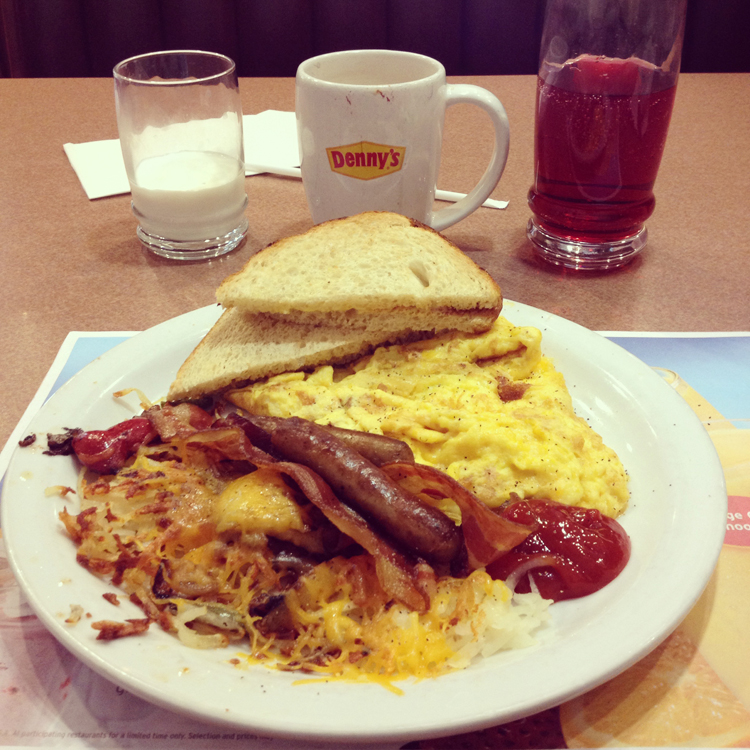 The obvious thing to do after a huge breakfast, is go on a roller coaster, right? New York, New York was my first stop, where I was determined to ride the roller coaster, no matter how scary it is on your own! I wandered across the road, immediately lost $10 in a slot machine, so decided to scrap that idea, then climbed to the top of the hotel where the rollercoaster was located. The view from the roller coaster was pretty amazing, but I confess I spent the entire short ride thinking I was going to die. It's not even that long a ride but I had the newspaper headlines written and everything.
As you may have realised, I survived long enough to buy a photo of myself on a roller coaster, before it took off, looking slightly apprehensive.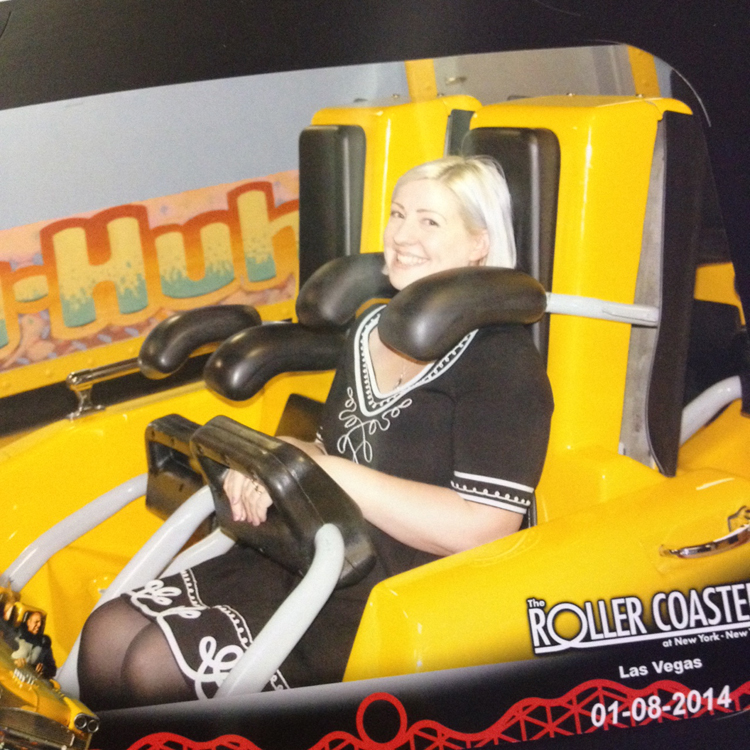 Adventure time completed, the rest of the day was devoted to visiting huge hotel lobbies, shopping in Walgreens and Sephora (mostly for blister plasters and lip balm!) and wandering gob smacked round casinos. At 3pm I watched the dancing fountains outside the Bellagio, where I also made time for an obligatory Vegas selfie.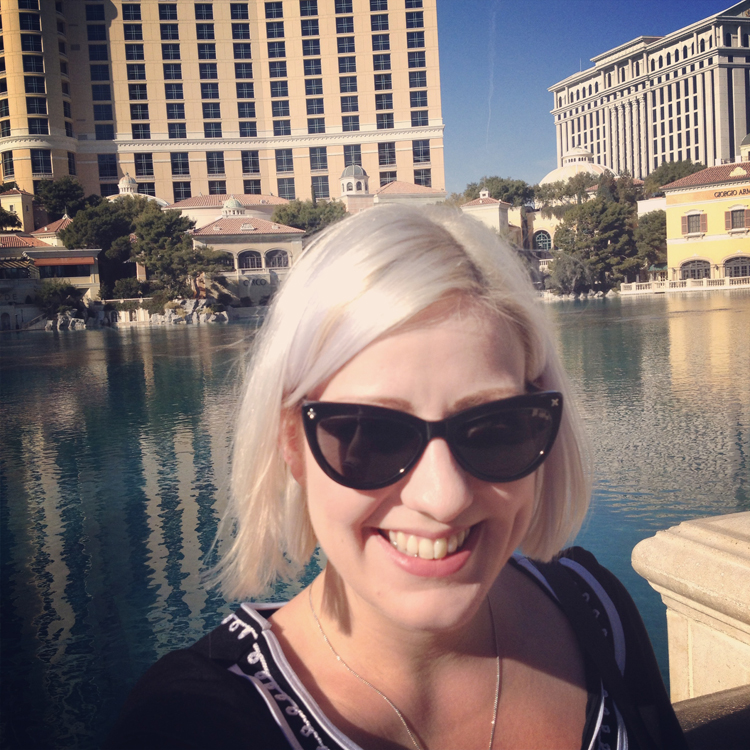 I really enjoyed Wednesday, I've never been to America before and I loved just wandering round and taking in the differences. Vegas is also such a crazy city, everything is so huge and it's almost like a theme park. You never know what you'll find, from a ceiling covered in glass flowers and a sparkly horse in the Bellagio, to a full covered shopping centre with a ceiling painted like the sky complete with greek statues in Caesars Palace, or even just Iron Man, Darth Vader and a Stormtrooper wandering round the streets.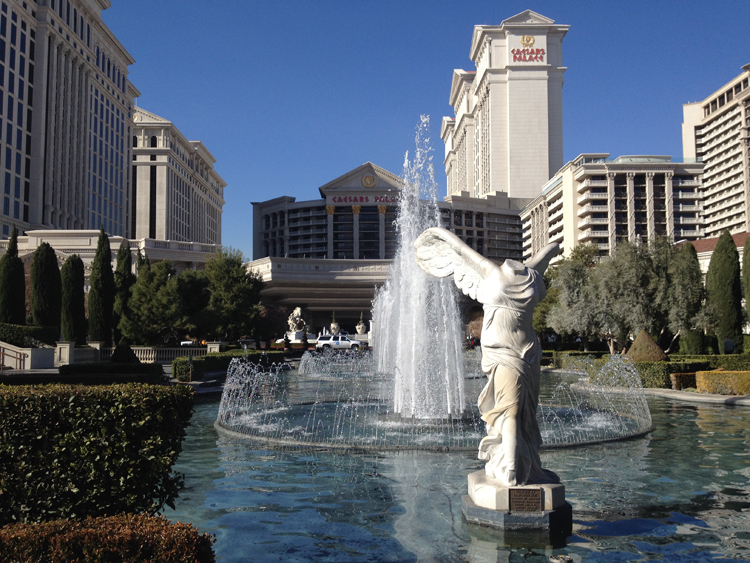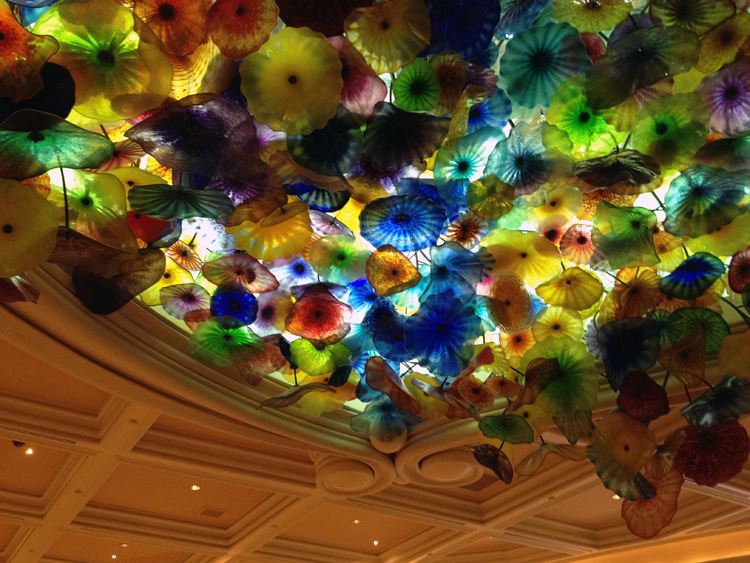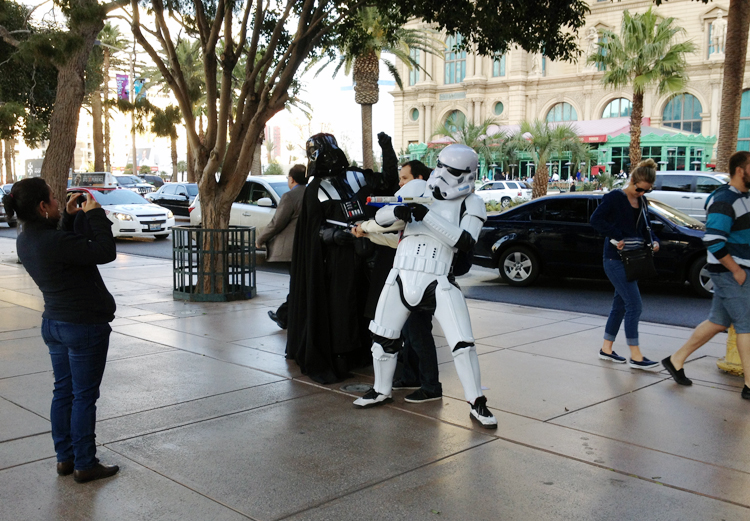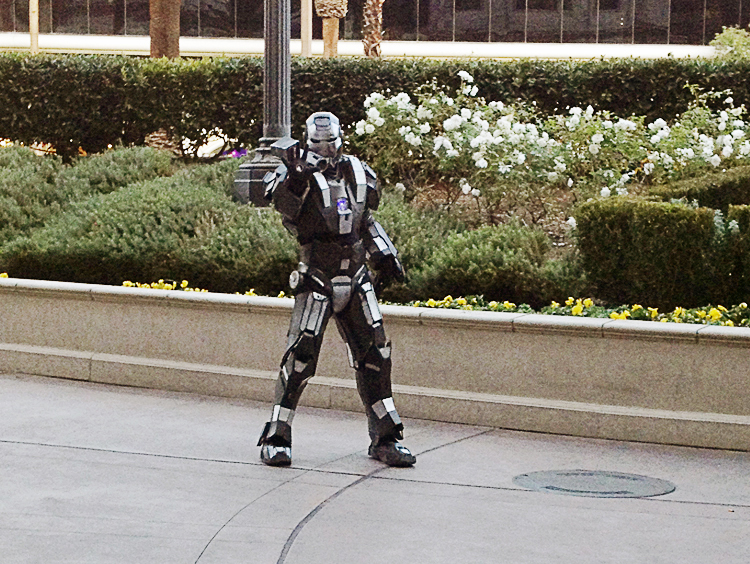 Last on my list was a trip to the Bettie Page store, of which there are 2 in Las Vegas, to look at frocks! In the Caesars Palace store I tried on several dresses with the help of some friendly shop assistants before deciding on the Lime Drop, which needs proper underwear underneath, so here it is in a bad changing room selfie, expect to see a better outfit post soon!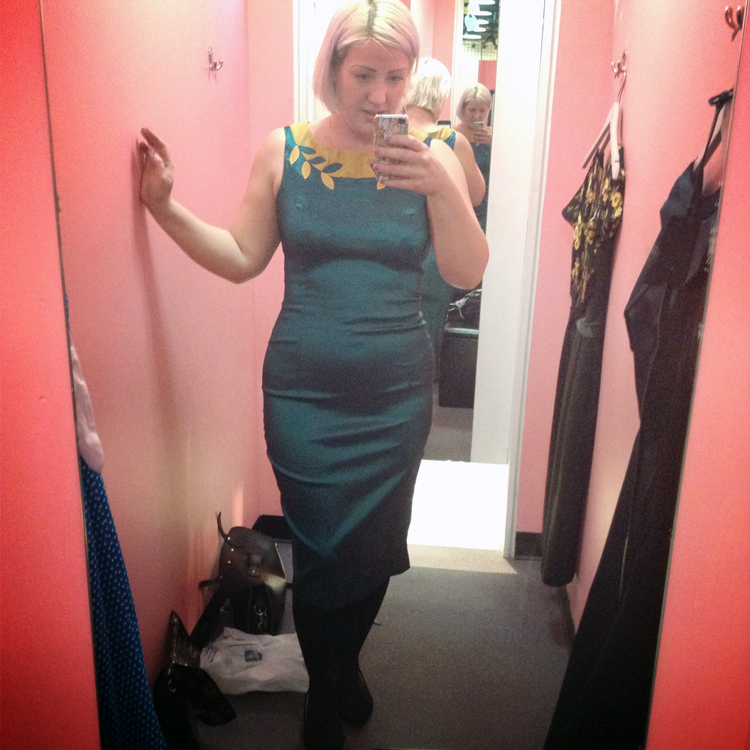 After a brief recuperation in my hotel to watch the sun go down over Vegas from my hotel window, it was time to get ready for Wednesday nights entertainment, which was dinner and cocktails with Intel and Lenovo.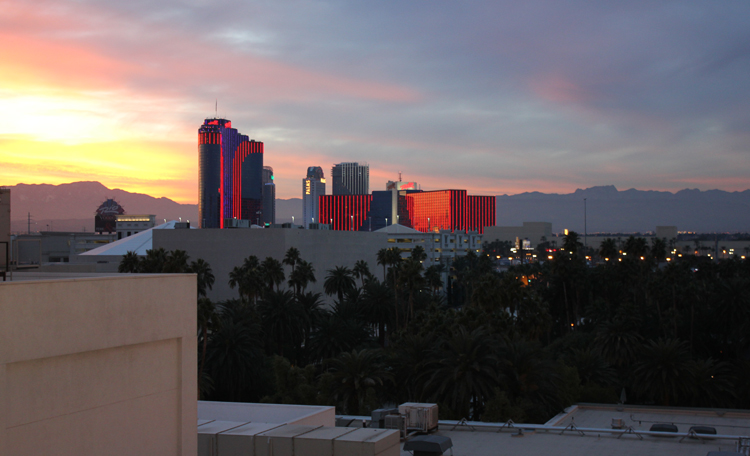 Actually had a totally hideous cold for this entire trip that left me very drained, but this was my only chance to see Vegas, so I battled on through it, it's amazing how a few drinks can at least temporarily take you mind off how ill you are!
Entertainment that night was provided by Kelly Rowland, which I'll confess isn't really my thing, but she did a few Destinys Child bits which took me back to the 90s, when Destinys Child still weren't really my thing, but I still felt a pang of nostalgia! After that it all gets a bit blurry. There were tequila shots and far more Manhattans than is strictly advisable. Still, before it all went fuzzy I did stop to take yet another selfie in the restrooms in the Venetian. Way classier than a Wetherspoons, right?
My dress is from Pin Up Parade (now only £50!)and the hair flower from Betsy Hatter.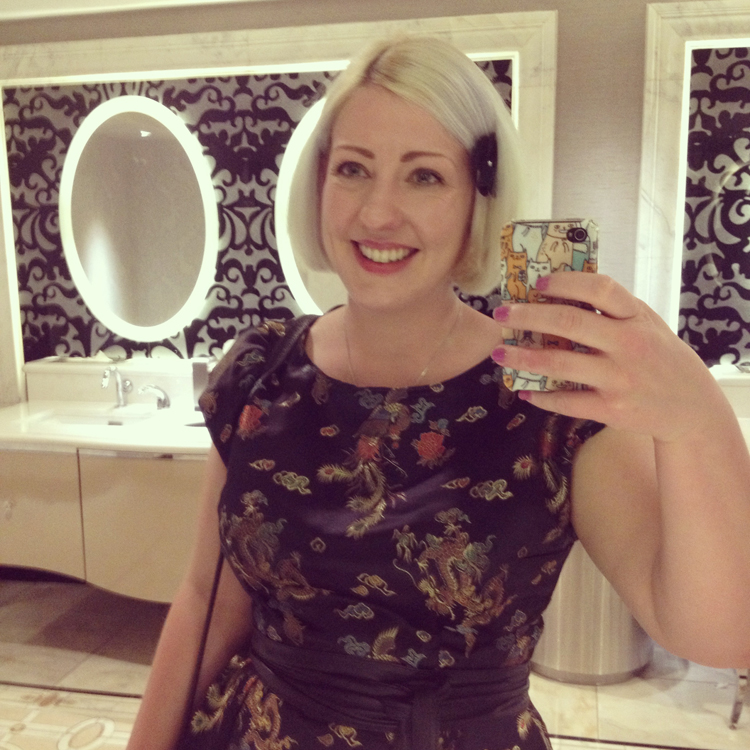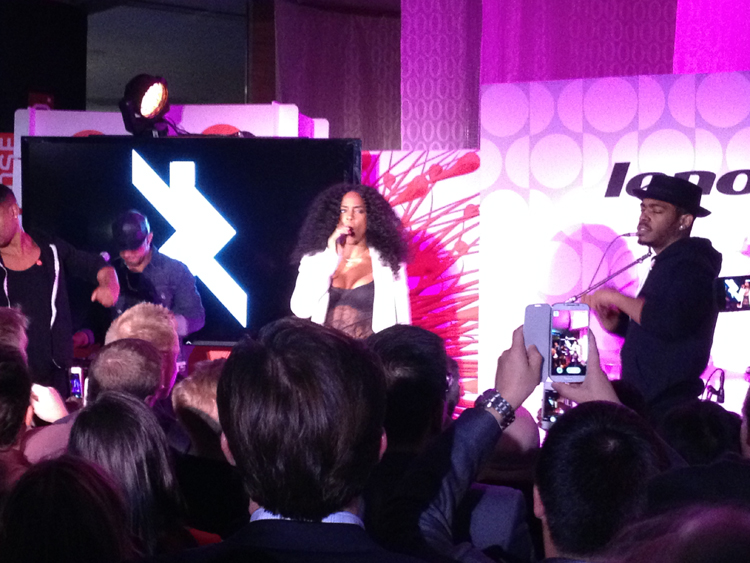 Thus ends Day Two. In obligatory Vegas style. Falling asleep in my hotel room with all the curtains open and my make up still on……