Yeah, yeah, so a January blues, blue frocks post in January isn't exactly original.
But I have a cold and I lack inspiration to write anything more original. Besides, these are some lovely, blue, vintage inspired frocks, and best of all, they're all in the sale, which is even better for cheering you up. Woo!
I've even helpfully split them into price bands depending on your sale shopping budget.
I Can't Afford to Eat Till January
If you've got under £20 to spend, and even then it's a choice between food and a frock, then the sales are your friend.
*Note, if the choice really IS between food and frocks, please choose food. It's important.
LEFT TO RIGHT:
Warehouse Blue Bodycon Dress £45 £12
I love bodycon midi dresses, they're an excellent, easy to wear modern alternative to a 50s wiggle dress, requiring only good, smoothing underwear, curls and red lipstick. This one has a lovely textured fabric and a sccop back detail, plus an excellent discount!
Warehouse Organza Insert Dress £55 £20
One for lovers of the 60s, this is a shorter dress with a great 60s feel with the square neckline and organza insert detail, and another excellent discount from Warehouse.
Brocade Floral Prom Dress £40 £20
You can't beat a classic prom dress. Already on the cheaper end of the scale, and now with a 50% discount, yes please!
I Just Love a Bargain
So you're all sensible with your money and have a reasonable amount still to spend mid way through January (or you have a credit card you haven't maxed out yet) Well good for you, you can gegt some good quality sale bargains for under £50.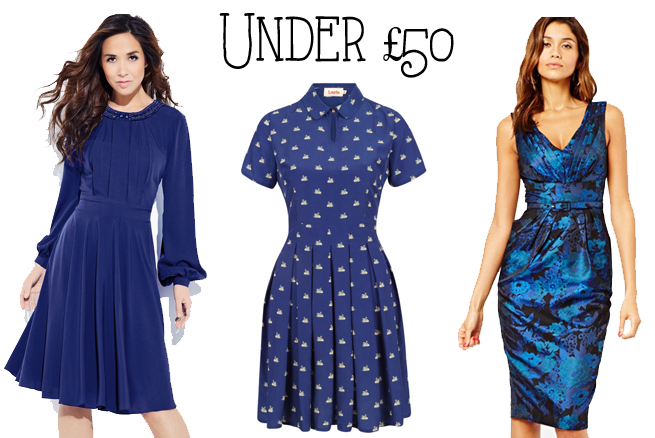 LEFT TO RIGHT:
Myleene Klass Embellished Collar Dress £55 £41
Not the hugest discount, but I've had my eye on this dress for a while. With its flowing style and full sleeves it's got a nice 70s vibe and the embellished collar works for day time sparkle or understated night time glam.
Louche Ilsa Swan Shirt Dress £55 £30It's hard to gauge the length of this one, but I suspect it's a short one. Still if you're ok with showing a little bit of leg this is so cute, and has swans on it!
ASOS Pencil Jacquard Dress £85 £34
Proper grown up glamour in a 50s style wiggle dress, and at less than half price taking it from "lovely, but I'll need to save up" to "ooohh, bargain!". Squint a bit and imagine it with a cocktail hat, gloves and seamed tights and you'll see what I mean.
I want More Bang for my Buck
Lucky you, you've still got cash to flash in January, the advantage of the January sales is that you can get higher end, more expensive frocks for less. So those dresses that were in the over £100 category before Christmas are suddenly under £100.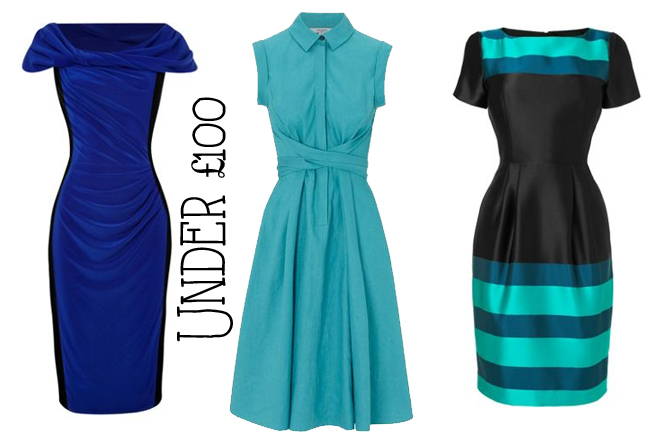 LEFT TO RIGHT:
Pied a Terre Slinky Knot Dress £149 £89.40A slinky yet structured dress, with flattering colour block sides. Will look like a perfect 50s wiggle dress with the right accessories
Hobbs Blue Gables Dress £119 £70
Possibly one to plan ahead for spring/summer, though could be worn in colder days with a cardigan and tights. Love the wrap detail on the waist.
L.K.Bennett Accalia Dress £245 £95
Again, I'm not sure of the length of this one. I suspect it's shorter, but could still have a great 60s vibe if it is, and anyway, I love those coloured stripes and the huge discount so much that I had to include it.
Have you bought any sale bargains in January?