So, yeah, it's July already.
But you might have just lost your sunglasses, or be thinking about replacing last years, or just fancy a new pair.
I used to be a devotee of the huge 70s inspired shades. Then I found myself somehow becoming an addict of oversized cats eye shades, and I now own 3 pairs. Plus assorted other cheaper pairs for occasional wear. Today I'm taking a look at classic sunglasses styles across the decades, and where you can find some good modern look-a-likes, with all the addition eye protection they conveniently afford!
1930s and 1940s – The Round Ones
Round frames were popular in the 1930s and 1940s, looking uncannily similar to 60s hippy shades. It's all in the styling. A few ladies in the originals for you!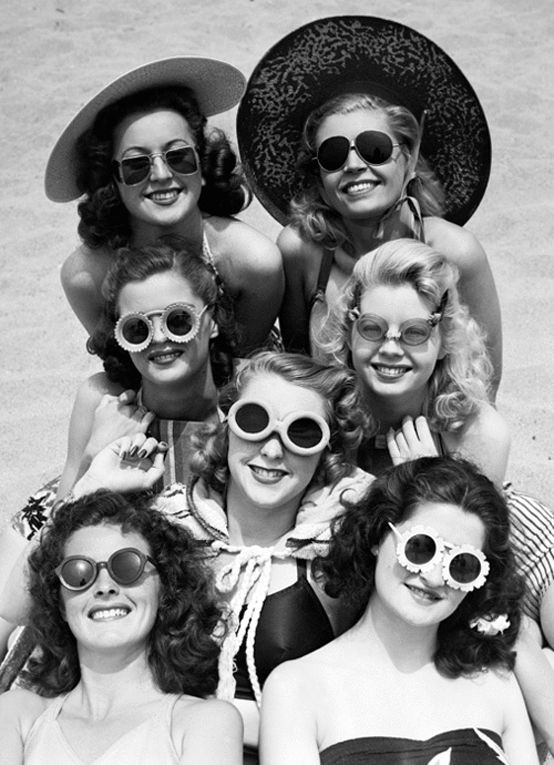 I don't think this style suits me well, but I do have a pair I picked up at a vintage fair, as seen at last years Chap Olympiad.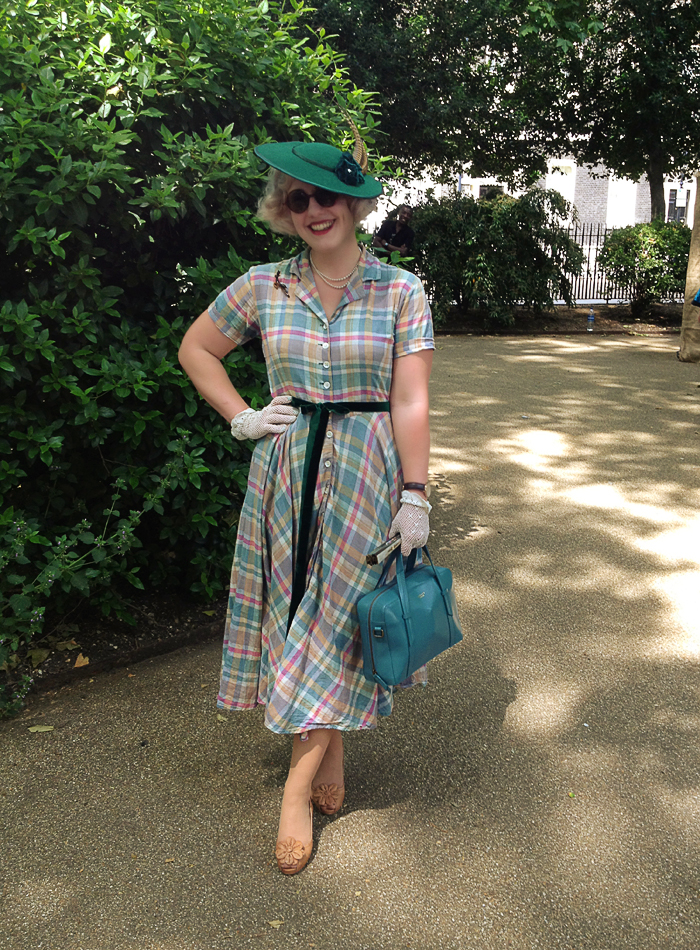 If you're looking for modern look a likes, they're not hard to find! A few of my favourites…..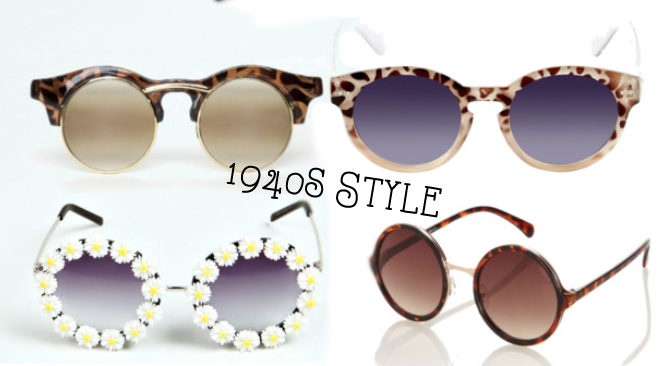 Clockwise from top left:

Lakenya Tortoiseshell sunglasses – £4.99 ♣ Leopard Print Round Frames £4.99 ♣ Lorna Round Sunglasses £14 ♣ Rachel Round Floral Sunglasses £12
1950s – Cats Eyes
Cats eye frames are a 1950s classic, and the style I wear most often at the moment. Here's a Audrey and Marilyn in the originals!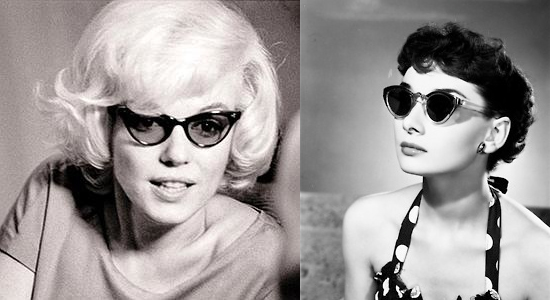 The original 1950s cats eyes are often rather small, but I prefer a slightly more over sized interpretation, which gives the same effect, like these, which are prescription lenses.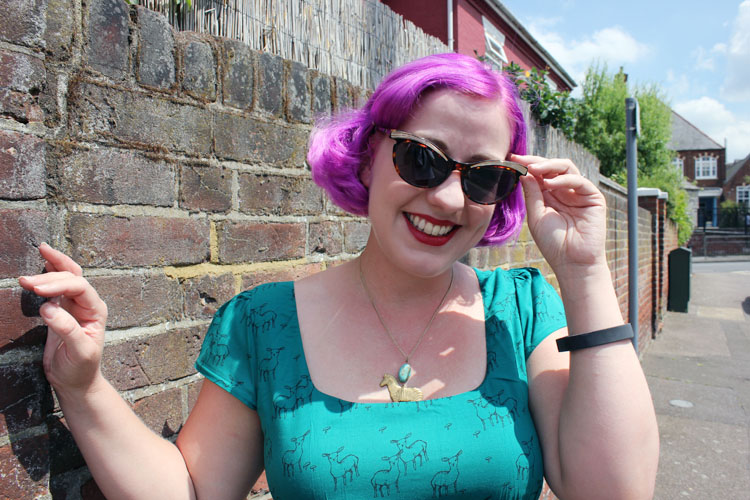 And some of my other favourite modern look a likes……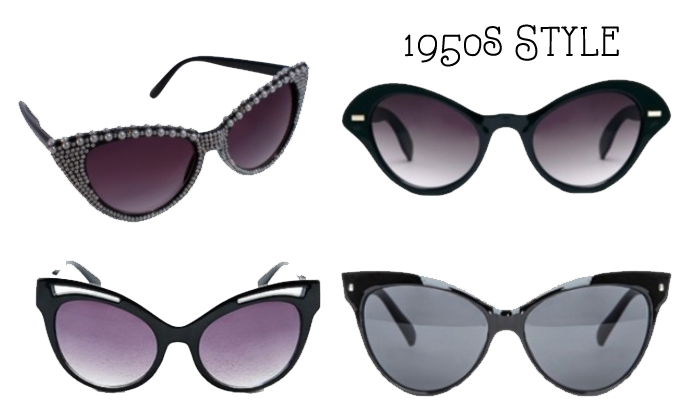 Clockwise from top left
Faux Pearl Cat Eye Frame £18 ♥ Vintage Look Cat Eye Sunglasses £12 £6 ♥ Ozira Cat Eye Sunglasses £5.99 ♥ Cut Out Cat Eye Sunglasses £16
1960s & 1970s – Bug Eyes
Heading out into the 1960s, bug eye sunglasses were the perfect accompaniment to mini skirts and gogo boots. As we headed into the 1970s bug eyes hung around as oversized glasses. Frames got thinner, and lenses got bigger. I prefer a 1970s Bug Eye myself, but there's a couple of each style here for you!
This is me working an original pair of 1970s shades, back in 2010.
Here are some original 60s and 70s ladies rocking the look.


And some modern look-a-likes for 60s and 70s lovers….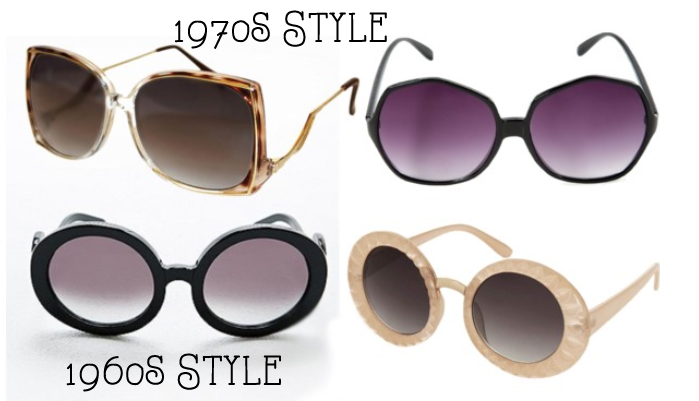 clockwise from top left
Diana Tort Sunglasses £18 ♦ Black Hexagon Frame Sunglasses £4.99 ♦  Vintage Lola Sunglasses £18 ♦ Wildfox Bianc Sunglasses £165 £80