As I sit here writing I have my curtains half drawn to stop the sun hitting my eyes, what a dramatic difference from yesterday!
Last years Norwich Half Marathon was my first one. I trained hard for 3 months, ran to raise money for Parkinsons UK and raised over £740. Once I was done I signed up for the 2014 half, with the intention that with a whole year to train I would improve on my time of 2hours 18 minutes, even if only by a little.
Then of course, 2014 happened and I revised my hopes for this year down to just making it round at all and trained as much as I could with just 6 weeks to do it! As I watched the weather forecast degenerate in the days leading up to the race, I became increasingly nervous, until Sunday dawned in torrential downpours and my heart sank.
Still, I had no intention of letting a "little" rain stop me, and off to the Showground we headed. Honestly, when I arrived at 10am I wasn't sure if I could even face getting out of the car, let alone running for 2 1/2 hours in the rain, till we located some disposable plastic raincoats we'd forgotten all about in the back of the car.
It might not be a good look, but it at least meant I STARTED running with dry clothes. Just getting into the start pens was a bit of a nightmare, the ground was saturated and full of what I would call puddles, but seeing as they were ankle deep maybe that's not the right word! People trying to avoid them meant it was a bit hard to navigate, but when the whistle went and Chariots of fire started playing, everyone just started shuffling forward, where ever they happened to be!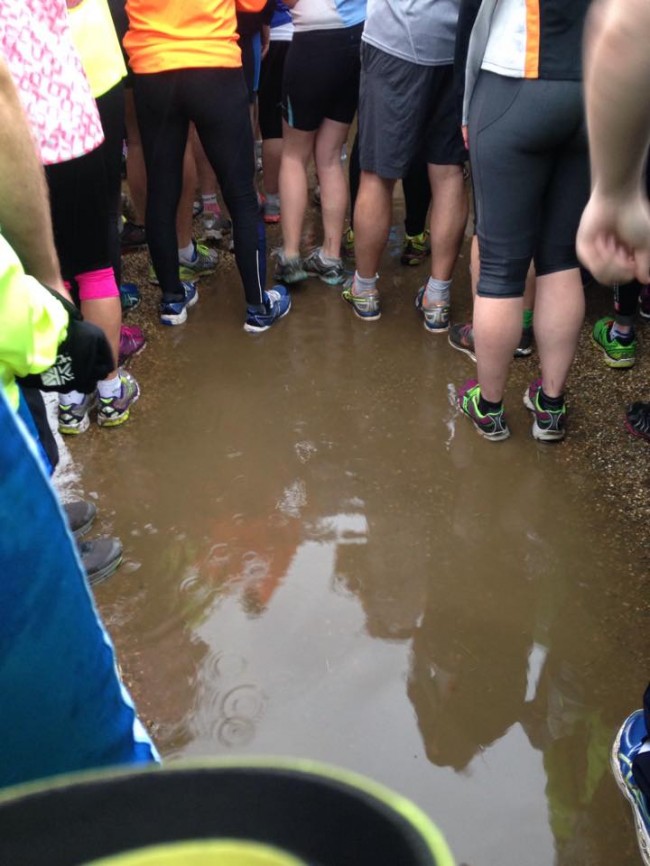 Honestly, for the next 2 and a half hours, I can't tell you much about what happened as it's all a blur. I put my hood up to keep the rain off my face and after 4 miles it was just a soaking piece of fabric constantly flapping against my ears making a "woosh, woosh" sound, so I took it down, and rapidly realised being drummed in the ears by torrential rain was even worse and put it back up. (My hoodie is this one from Boden Activewear, it managed pretty well, despite the weather, no chafing, zip up pockets and handy little thumb loops to keep my hands warm!)
I walked up a killer hill at 5.5 miles, taking big strides meant I overtook some people who were trying to run up it with small steps, and at half way I apparently looked like this, according to my official photo from Epic Action Imagery.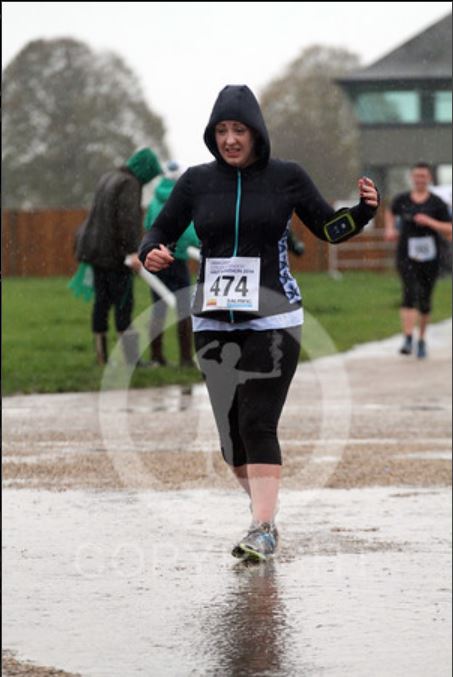 I timed my third gel of the race with the second climb of that awful hill, but other than that it was just running, and rain, and cold, oh so very, very cold. Time basically had no meaning, my shoe laces undid themselves 3 times, which has never happened before and was a little annoying, but I just kept running, steadily, knowing that all I had to do was put one foot in front of the other and soon medals and goodie bags and nice warm cars would be beckoning!
As we came back into the Showground for the last mile, I took my hood down so I could hear what was going on around me, which turned out to be rain! I could see from my watch that I was on target to make it in under 2 1/2 hours, which surprised and pleased me considering the weather and gave me a little burst of energy to keep going.
Now, in my head, I'm pretty sure that when I heard them call my name as I approached the finish line I smiled. I definitely felt like I was smiling, I was happy, I was about to be able to stop running and go somewhere where rain wouldn't constantly pelt me on the head. Apparently though, I actually looked like this. Not smiling at all!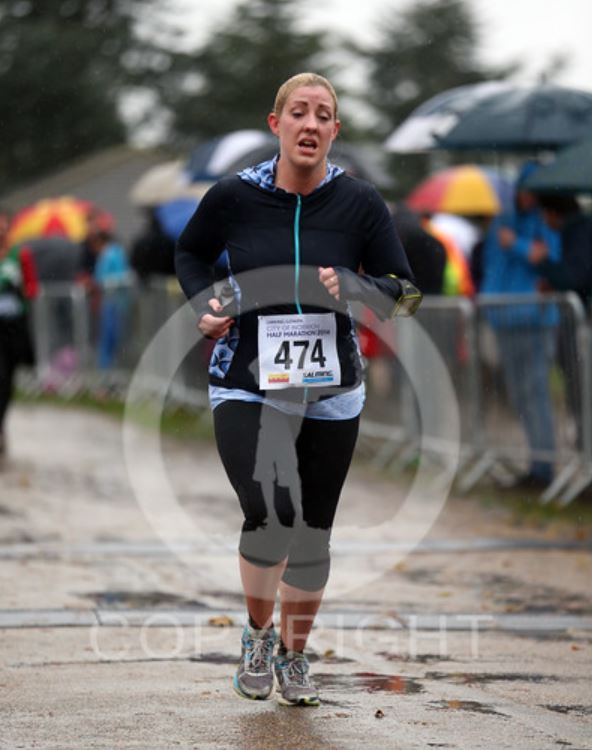 I have to say, that despite the pretty hideous weather the atmosphere and organisation at the Norwich Half Marathon was amazing. People were still laughing at the craziness of heading out to run 13.1 miles in torrential rain, the marshalls were friendly, shouting encouragement despite being stood outside in the rain themselves and there was room for people to get inside the sheds and out of the rain at the beginning and end and no insane toilet queues!
In the end I managed to come in with an official chip time of 2 hours 28 minutes 57 seconds. Which suits me fine right now! It was seriously tough, and today my quads, hips and lower back are killing me and I'm not entirely sure I'm actually properly warmed up yet! I'd still totally go back and do it all again next year because the sense of achievement and the atmosphere are absolutely worth the pain and the cold, and the fact that the seats in the car are still dripping with water!
Plus, medals and bananas are basically what I live for.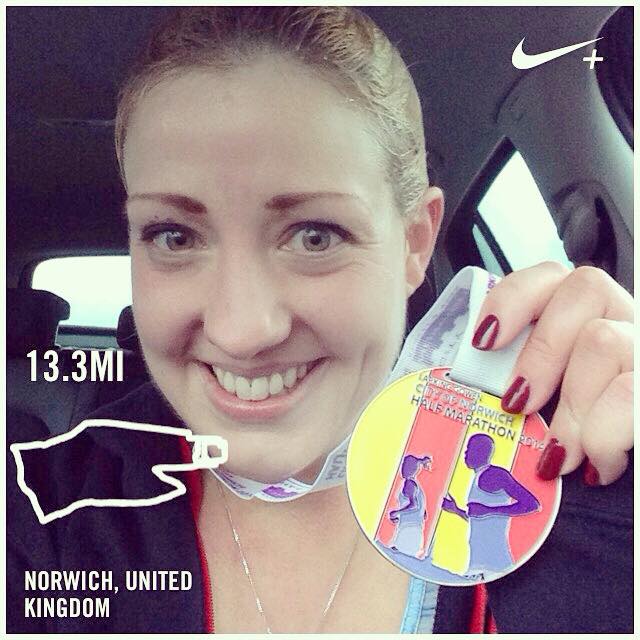 Related