So at the moment I'm mostly pretending I'm on holiday.
The sun is shining, and I totally plan to make the most of it while it lasts. Yesterday we planned a lovely afternoon going for a run in the country, stopping for a picnic lunch and then walking back to the car. The weather obviously started off glorious, but by the time we'd finished lunch the sky had clouded over and it was that horrible Spring chill that leaves you shivering in inappropriate clothing.
Still, the sun is back today, and so is the inappropriate clothing! ASOS have a sale on, so I've been shopping. I couldn't really afford it, but, well, I was SAVING money buying a half price dress, it would be completely ridiculous not to buy it. My order was actually delivered yesterday, on a Sunday. Hows that for service? I was both impressed and incredibly surprised, but it means I am starting a nice sunny week with a new frock and 2 new tops, which means it's very likely to start raining tomorrow and not stop till August.
Today I am wearing the Bardot midi dress which comes in 3 colours and is now just £12.50. Bargain!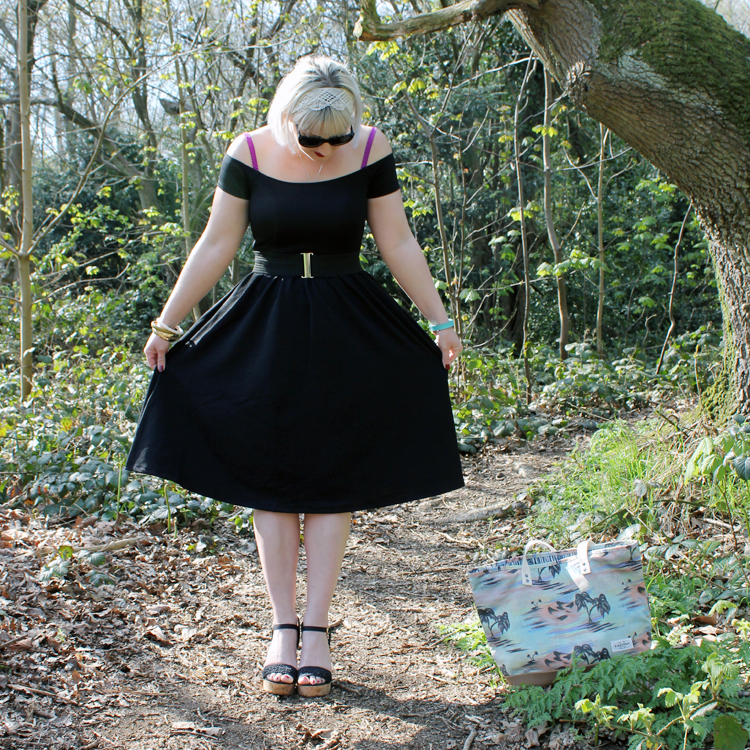 I have quite a long body, and I found the waistband on the dress sat just a little bit high. It's a problem I get a lot and it makes me look like I'm wearing a kids party frock. This is why I have a selection of belts that are at least an inch wide, normally that's enough to just make the dress sit on my natural waistband and looks far better. So consider that your top tip for the day on the off chance you too have a freakishly long body accompanied by teeny tiny little legs!
I've also been lugging my stuff around this tropical novelty print bag, because it's perfect for flinging all the extra stuff you suddenly need when the sun is out into. Sunglasses case, somewhere to stash a cardigan in case it suddenly gets cold, a fan if it's really hot, sun lotion if you're outdoors all day, a bottle of water. Sunshine really ups your luggage requirements!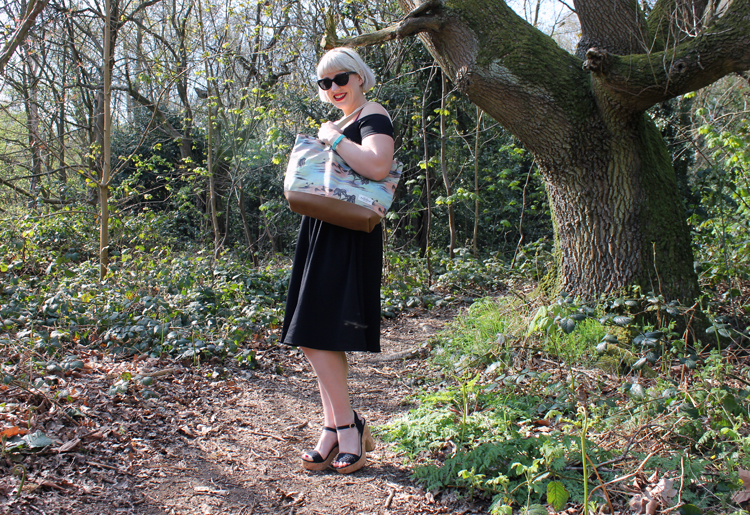 A friend of mine who used to work for a digital agency in Norwich emailed me about a month ago about Eastpak. He was now working for the PR company that represent them and thought I might be interested because they're a heritage brand going all the way back to the 1950s. In the 1950s they made Army Duffel bags, which I suspect didn't have such a cool palm tree print, but it does mean the bag can cope with the amount of stuff I fling in it without falling apart.
I also discovered aforementioned friend now lives in Belgium, and I didn't even know. I kept seeing his instagram photos and just assumed he was on holiday. I'm kind of jealous. The idea of upping sticks and moving to another country sounds terribly glamorous. Though in reality I couldn't quite cope with not being able to read the menus because my Dutch, French and German is all virtually non existent. I say virtually. My Dutch is completely non existent, I can tell everyone I'm a cat in German (I don't know why either) and my French is faltering GCSE level.
And yes, I did look "languages of Belgium" up on Wikipedia to check what I would need to speak if I were going to jet off to Europe.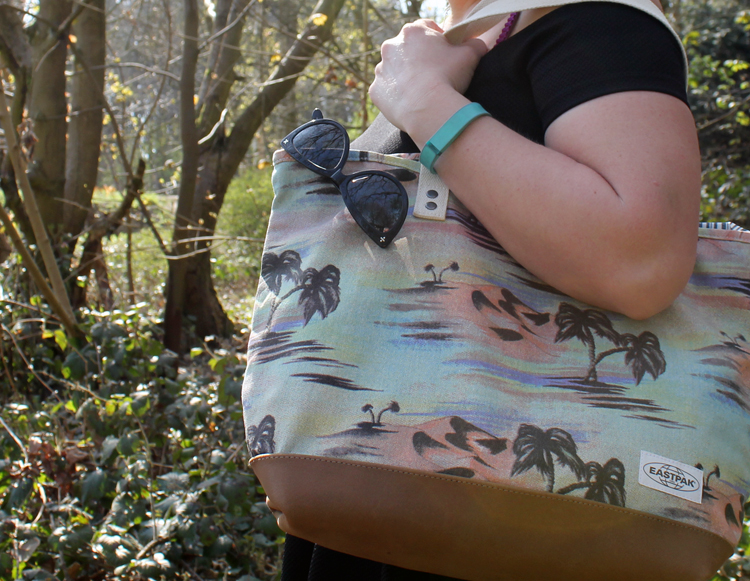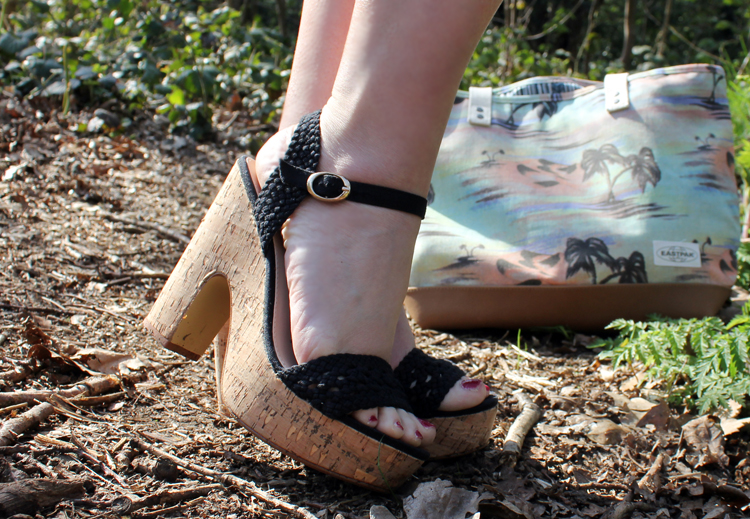 Still, who needs glamorous European destinations when Norwich is so darn gorgeous right now?
I even cracked these cork wedges that I bought last Summer out of the box for the very first time. I ordered them, sprained my ankle, and was then confined to flats until it was far too cold for cork wedges. I have to say, I still feel a little nervous on them. My ankle is still weak, and hurts if I over do it, so I think my beloved platforms are still an occasional treat for short term sitting down (and not drinking) attire.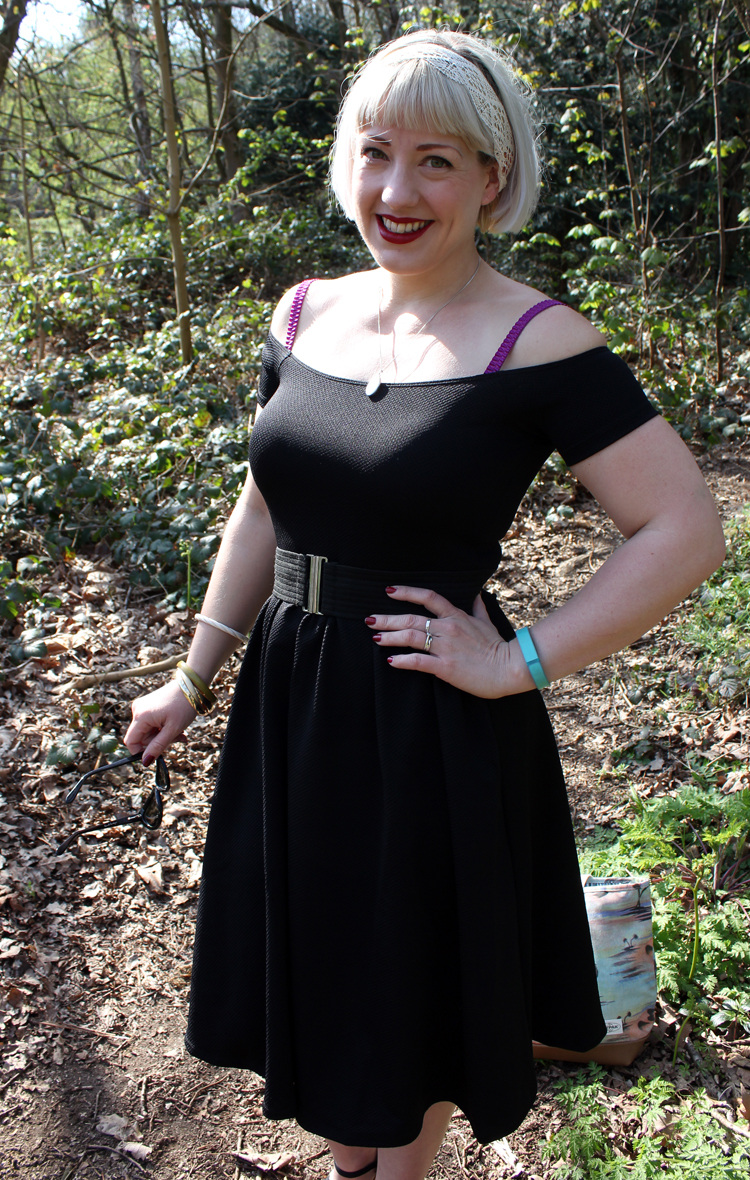 I hope you're all enjoying the sunshine?
♥ Bardot Midi Dress – ASOS ♥ Palm Tree print Shoulder Bag c/o Eastpak ♥
♥ Elastic Belt – Viva La Rosa ♥ Shoes – Debenhams* ♥
♥ Bracelets – Vintage ♥ Hair band – Vintage Lace ♥