Well, I promised myself this year that I would try and take on some races that were just plain fun, and last weekend I completed my first ever obstacle course at Rough Runner in Oxfordshire.
I was feeling kind of nervous when I turned up in the morning, I didn't really know what to expect, and though we'd only signed up for the 5k route I didn't know how tough those obstacles were going to be. Because I knew that there would be lots of getting wet I was completely without watches, phones or cameras, which felt a bit weird, and means there are no pre race photos to entertain you with! Gasp!
The atmosphere at the beginning was good, but the organisation at the registration tent took a bit to be desired. The desk were sorted alphabetically, but while I rocked up to the queue for 'S' surnames and registered in about 5 minutes the queues for names earlier in the alphabet left my husband queueing for about 20 minutes and I could hear people around complaining that they'd got to the front of the queue, been told they were in the wrong one and then sent to the back. I'm not really sure why race numbers couldn't have been sent out in advance.
We were also promised a pre race perfomance coffee from True Start Coffee, but sadly they had no hot water so we couldn't take advantage of it till after the race. When we did get to try it, it was really good though!
Waves took off every 10 minutes, and we were all bought together for a little warm up, mostly involving burpees to get us all hyped up before the race, and off we went!
I felt the course was well marked with white flags for the 5k being easy to follow. The obstacles at this race are more of the fun kind, there was plenty of mud, and the obstacles were challenging, climbing through tyres, swing across pits of water, but they were inflatable and based on game shows like Wipe Out, Takeshi's Castle and Ninja Warrior rather than taking the army assault course mud and misery route like many.
(I am going to buy the photos from the course, but funds currently don't allow!)
I have to say, I blooming loved the obstacles, they were great fun, and just the right amount of challenging physically without making you feel like a terrible failure.
The worst thing about it for me was the running between obstacles. The terrain was hilly and uneven and very slippy in places where it was wet. Since I sprained my ankle last year I get very nervous running on uneven ground and I was terrified of slipping or tripping over twigs and stones, so I ended up walking more of it than I'd planned.
At the end, we faced the Travellator! Having watched a few people fail first thing in the morning we'd established that the left hand side moved slower than the right, so convinced of our uselessness we went for that one. In the end it was fine and I got up it one go with no trouble, I really wished I tried the harder side now! I also wish I'd signed up for the 10k course instead to get ore obstacles in!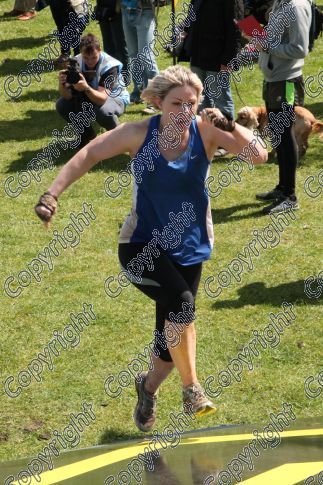 Having navigated the net on the other side covered in mud and bruises, we collected our medals, which double as handy bottle openers.
We were then approached by a company called Cellper Elite who were doing research on an Amino Acid drink. I'll tell you now, that what I tried tasted pretty hideous, but it's a small bottle and it must be good for you if it tastes that bad, right?
We then finally got to try our True Start Coffee and picked up our free bottle of Hooky Brewery beer to take home with us.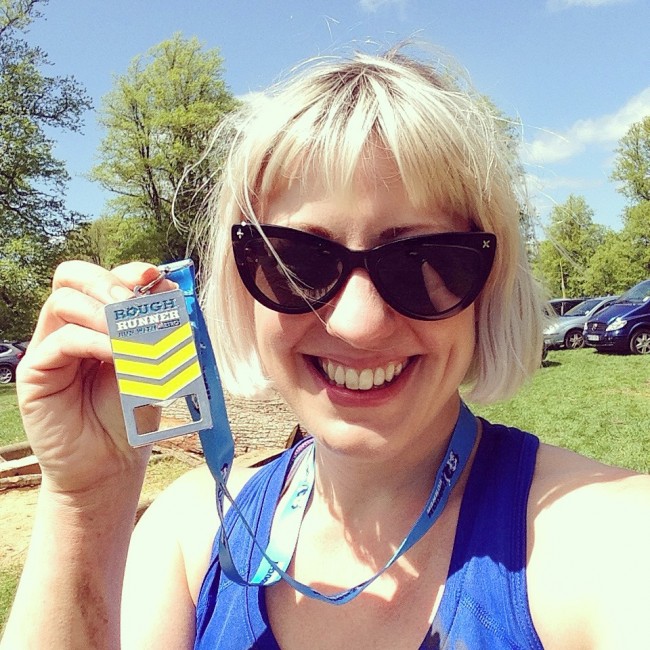 So, would I do another Obstacle Course Race? I've been thinking about this a lot. I would happily do another Rough Runner type event, and I'd do longer distances too. It was fun and challenging and the atmosphere was great.
I feel less inclined to do any of the mud and misery type races like Tough Mudder. Ones where the obstacles mostly feature crawling on your stomach through mud under something nasty and making you deliberately run up and down the same hill twice. I hated running on uneven ground and the couple of places where we had to leap over streams were ok, as they had to be done, but I would certainly be a grumpy cow if that was the main focus of the course!I can see myself throwing myself to the floor at the 4th huge wall and sulking because I've already climbed over 3, why do I need to do a 4th just to see if I can?
I don't want to be cold wet and miserable just to see if I can be cold wet and miserable, I already know exercise can be miserable, it's more of a challenge to make it fun!
So yes, I'd do another obstacle course race, but I'll be very picky about which one. I'd rather be chased by giant Pigeons and slide down a hill in washing up liquid and water than crawl on my stomach through mud under barbed wire!