Ah, I do love a late Summer sale.
Everyone's always way too ready to give up on Summer in late August and I often grab some great bargains that I get a few wears out of into September with cardigans and coloured tights. I have Wendy on my Facebook page to thank for this particular sale bargain. I've been swamped with Norwich Cocktail Week work, and neglecting my obsessive online window shopping, so it was much appreciated when she popped me a message to let me know that Boden were having one of their amazing 70% off sales. So I stopped work, went shopping, and bought the Sandra Sundress.
Then I promptly forgot I'd ordered it till I got home this lunch time after a busy morning of pretending to be a grown up at meetings and had a lovely big box delivered by a courier.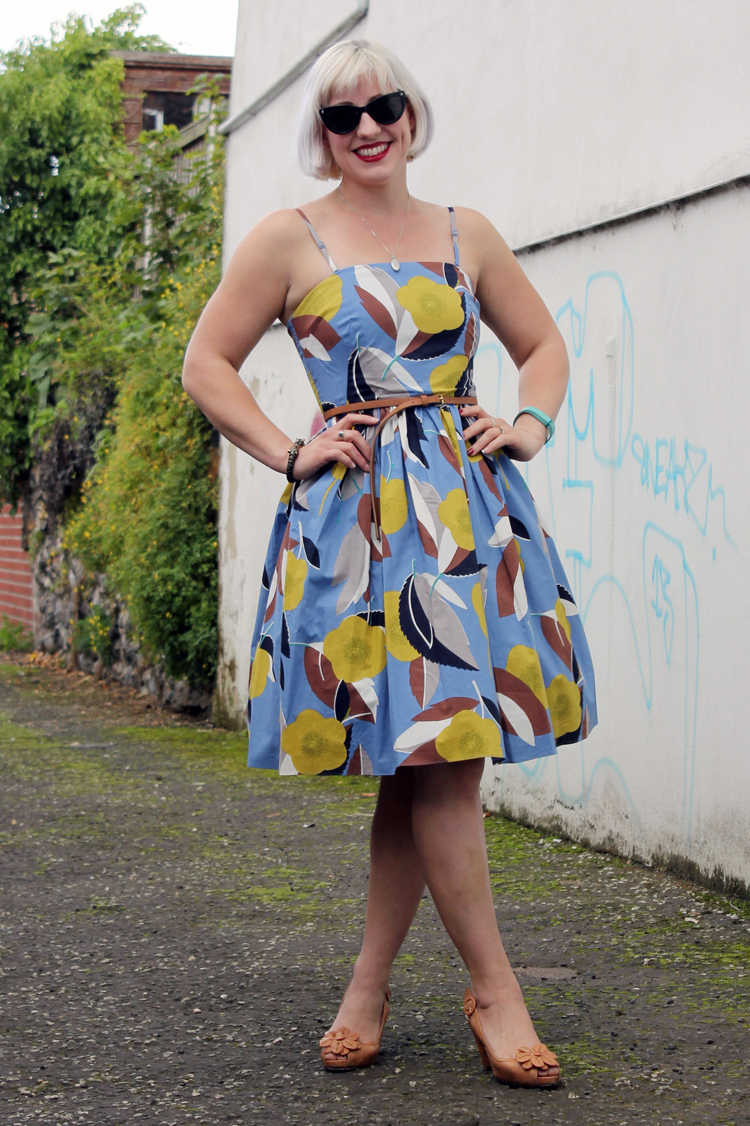 I wasn't sure about the dress when I ordered it and was fully prepared that it might need to go back. From the measurements I worried that the bust might be too small and I thought there was a possibility that the waist might sit too high, but in actual fact it's absolutely perfect.
It comes in coral and navy check, some funky stripes and this "resort floral", all of which are in the sale reduced from £89 to £21.36. The straps on this are removable so it can be worn strapless, which means the very top band of the dress IS very tight, but the bust fits fine, so don't be concerned if the measurements shown for your size are a little smaller than you usually wear!
I went for the long version, which falls just below the knee. I think regular may have been a bit too short for my taste!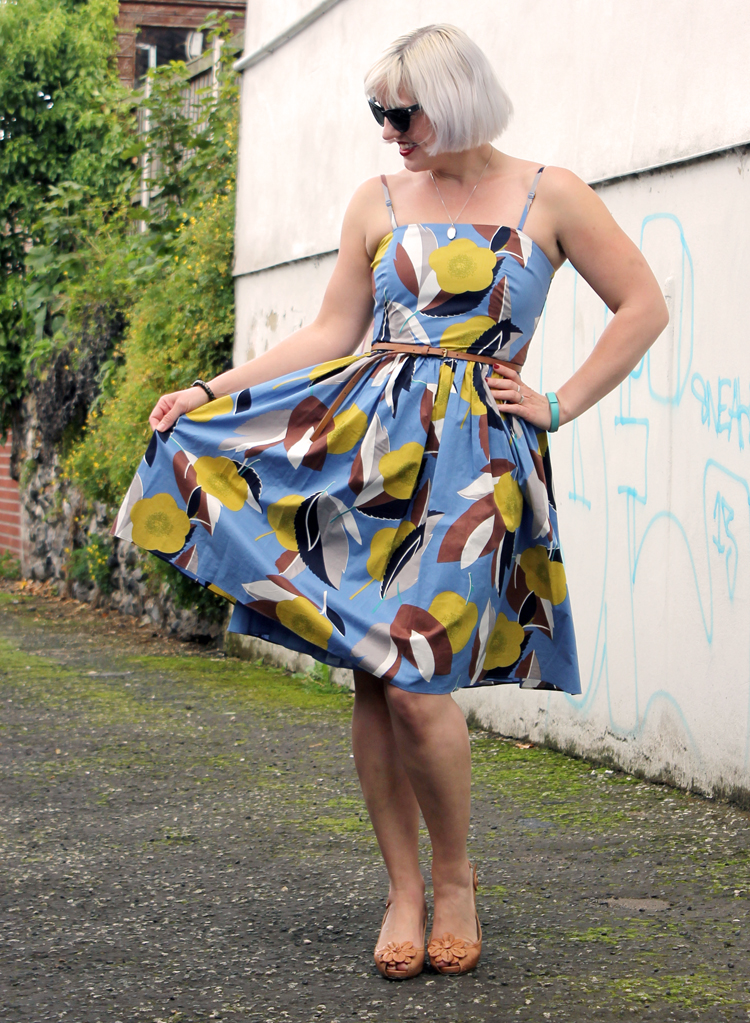 I chose the resort floral because I had a cunning plan that it's print would go amazingly well with a yellow cardigan I have, meaning that I can stretch out the wearing of the dress into Autumn. Oooh I'm so sharp I'll cut myself if I'm not careful!
So, now I have a delicious new sun dress to wear over the bank holiday weekend I am afraid that I can virtually guarantee you it's going to rain. Particularly as I am running the Norwich 10k on Sunday morning and will therefore be outside with no shelter for at least two hours, so don't plan anything outdoors or put your washing out between 8:30 and 10:30am on Sunday.
Before we move onto the pictures below I want to draw your attention to my amazing bracelet as well.It's panthers, or maybe tigers? Either way it was 99p and it's brilliant. I haven't found anything good in charity shops in a while, so it restored my faith a little!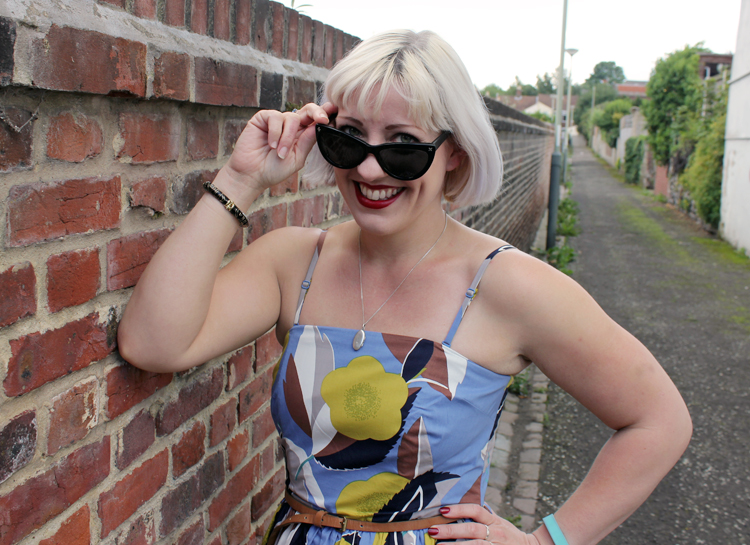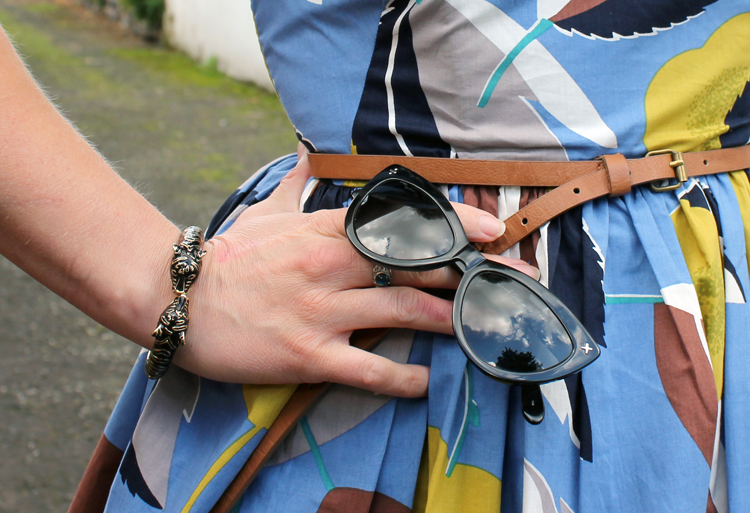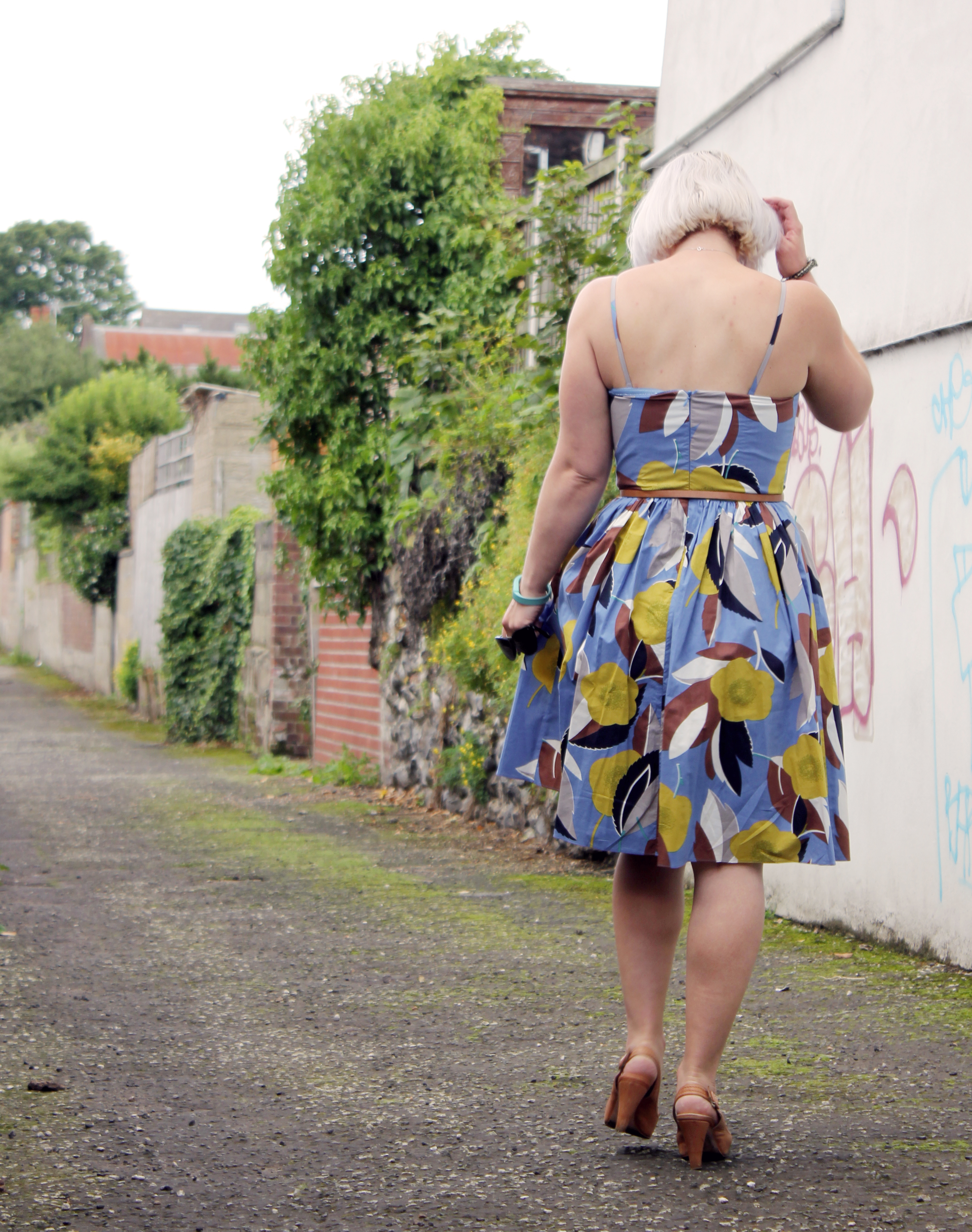 I'm quite chuffed with this particular dress because it's skirt is very similar to those gathered full skirts I claimed I was completely incapable of wearing on Wednesday. Fact is I can often get away with them on a dress when I can't on a skirt, I don't know why, maybe it's the continuation of the fabric with a smooth bodice or the lack of actual waistband, but this skirt is made from a lovely stiff cotton that stands out all on it's own with no petticoats, especially when the breeze catches it!
Can you believe I've managed to spend a Friday afternoon writing nearly 500 words about a dress? It's good to have skills.
Shortly me and my dress will be taking ourselves out for some Friday night cocktails, because Cocktail week is fast approaching so drinking Cocktails is now my job. I hope you all have a fabulous Bank Holiday Weekend!
♥ Sandra Sundress – Boden sale ♥ Belt – M&S ♥ Shoes – Unisa ♥
♥Panther bracelet – Charity shop ♥ Sunglasses –