I have never managed to find a decent strapless bra.
I used to have one, it was rubbish. I spent all evening pulling it up, and considering I rarely wore anything that actually strapless, just off the shoulder, I instead reverted to wearing bras in pretty colours so the straps just looked nice.
Still, I have never given up the hope of finding a good strapless bra, I have some asymmetric one shoulder tops that really need one. I tried that Wonderbra one that everyone raves about, the one with "hands" that hold up your boobs and thought it was the most uncomfortable and weirdly shaped bra I had ever tried on. Then Bras & Honey offered to send me something from their collection. They have a pretty extensive selection of lingerie on the site, so I was a little overwhelmed with choice, but then I spotted the Freya Deco Shape Strapless bra and decided to give it a try, best of all, it also came with some high-waisted briefs, not stupid thongs or boy shorts, which seems to be a rarity in the world of lingerie, so hurrah!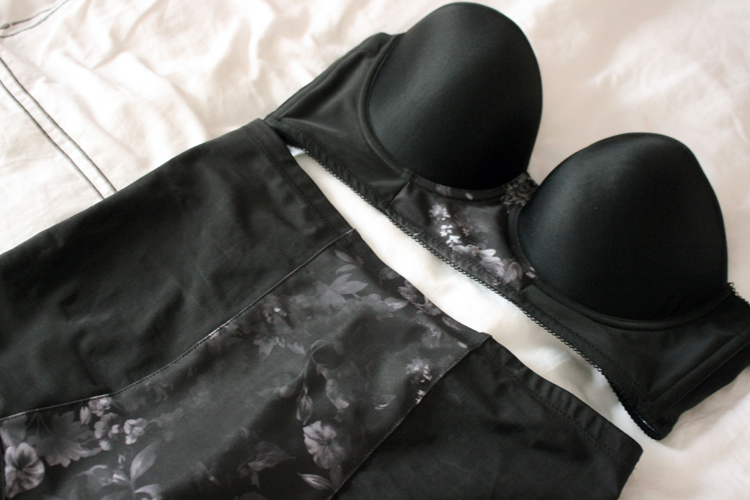 I'm always pretty nervous about buying bras online because sizing can be so varied, but I went with my normal 32DD, and it fits ok. I would say the band sizing is perfect, but the cup size is a little large. As it's a moulded cup it's not too much of a problem as there's no wrinkling, but it's not quite a perfect fit!
The bra does come with straps, so it can be worn as a regular bra as well, but as a strapless bra it's pretty fabulous and just what I've been after! It's a wide deep band with 4 hooks at the back, which means it's secure if you get the right size. I wore it for a whole evening without any slipping or having to pull it up. It does mean it's a bit of a faff to get into though! With a well-fitting back band, and silicone along the top it's impossible to put it on and twist it round, so you better make sure you've double jointed elbows and eyes in the back of your head to get those 4 hooks done up properly and the band sitting straight.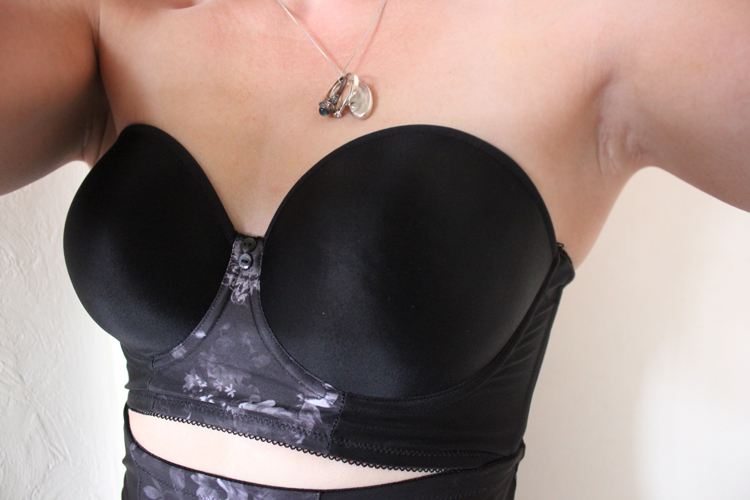 Sadly, I'm not able to be as positive about the high-waisted briefs. The set looked good worn together standing still in front of the mirror and I was hoping this would be my dream underwear set for wearing under a slinky body con bardot dress, but sadly the briefs never even made it out of the house before I had to change them!
The description says they have modest rear coverage. Good, I thought, because there's not much more irritating than spending all evening trying to stop your bottom eating your underwear. I ordered a M, which said it was a size 12 ish, and sadly found that they were too loose and wrinkly around my middle, but also far too small across the hips, so a smaller size would have been impossible. You can see that they are a little loose on my waist in this picture.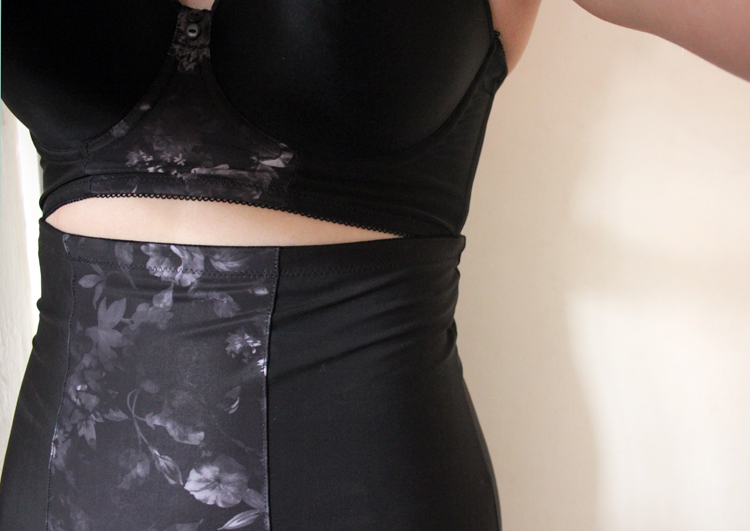 This may not have been a deal breaker though. They were only slightly loose, and the silicone band at the top meant they at least didn't slide down.  The rear coverage, irritating though it might have been, could have been put up with. I could maybe have only worn them if I didn't have to walk lots of places to cause my butt to munch them too much.
The deal breaker however, was this stupid design feature.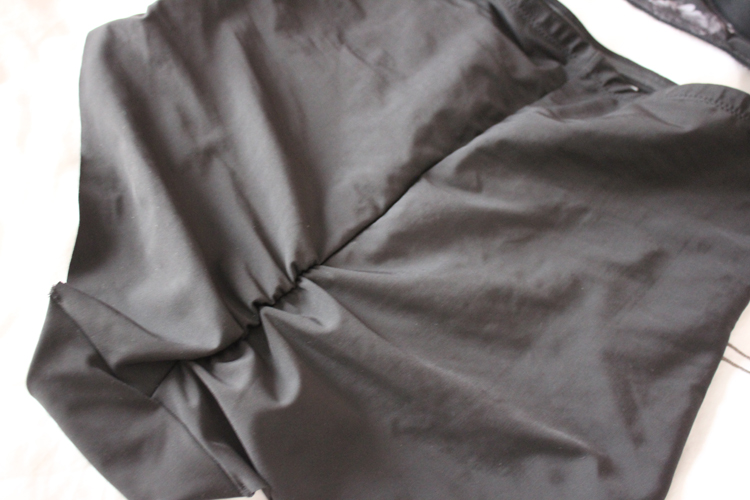 I suspect it is supposed to be a sexy little burlesque style ruching. It probably looks very pretty, I don't know because I can't really see my bum so it doesn't really register amongst my concerns that much. What it FEELS like, however, is like you have accidentally sat on pen that has got wedged between your bum cheeks, this, combined with the slightly insufficient rear coverage that meant I kept having to fidget with them made them the most uncomfortable pair of pants that wasn't a thong that I have ever worn.
This, of course, is only my opinion. If you have a less ample behind you may find them as comfortable, sexy and supportive as they look like they should be. I couldn't possibly say. They are out of stock on Bras & Honey at the moment, so maybe everyone else loves them and it's just me!
You can buy the Deco Freya Strapless Bra and High Waisted briefs on Bras & Honey. The range also includes a shaping slip, as well as the ubiquitous boy shorts and a matching thong.