There comes a time in the life of every Woman when she has to accept herself as she is.
That time for me, might be today.
I lay in bed this morning contemplating what todays Christmas Outfit should be. I thought maybe I should contrast yesterdays extreme Reindeer dress tackiness with something a little classy today. I considered all the clothing in my wardrobe, and in the end I came up with this.
Yes that's right, when I think of the words "classy" and "Christmas" in close proximity I think snowflake tights and pink suede stripper shoes.
To be fair I did team it with black, black is classy right? Even if the jumper is also slightly sparkly.
I have loved these shoes and tights together since the tights first arrived on my doorstep around Christmas 2009. At this point I think we should all stop and wonder at the fact that I have owned these tights for SIX YEARS and they are still unladdered and wearable.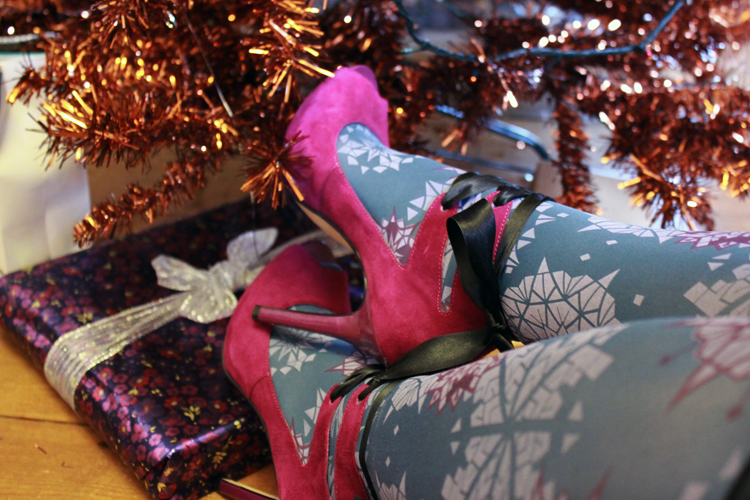 I own 2 pairs of Christmas tights, these are the classy ones, so just wait until the others show up in a Christmas outfit.
The other noteworthy item in this one is that leather Obi Belt. I bought it years ago, it was £20 and that seemed like a lot for a belt, but it's become a proper wardrobe staple and pulled together many an outfit, so it was an excellent investment. Other people must think so too, as amazingly ASOS are still selling it.
The primary Christmas outfit on my mind right now is for this Saturday, which will be Day 6. It's Norfolk Roller Derbys Christmas Party, so I need to pull something fabulously festive out of the bag that I HAVEN'T already worn as my Christmas Outfit earlier in the week. This Christmas Outfit lark requires A LOT of planning you know.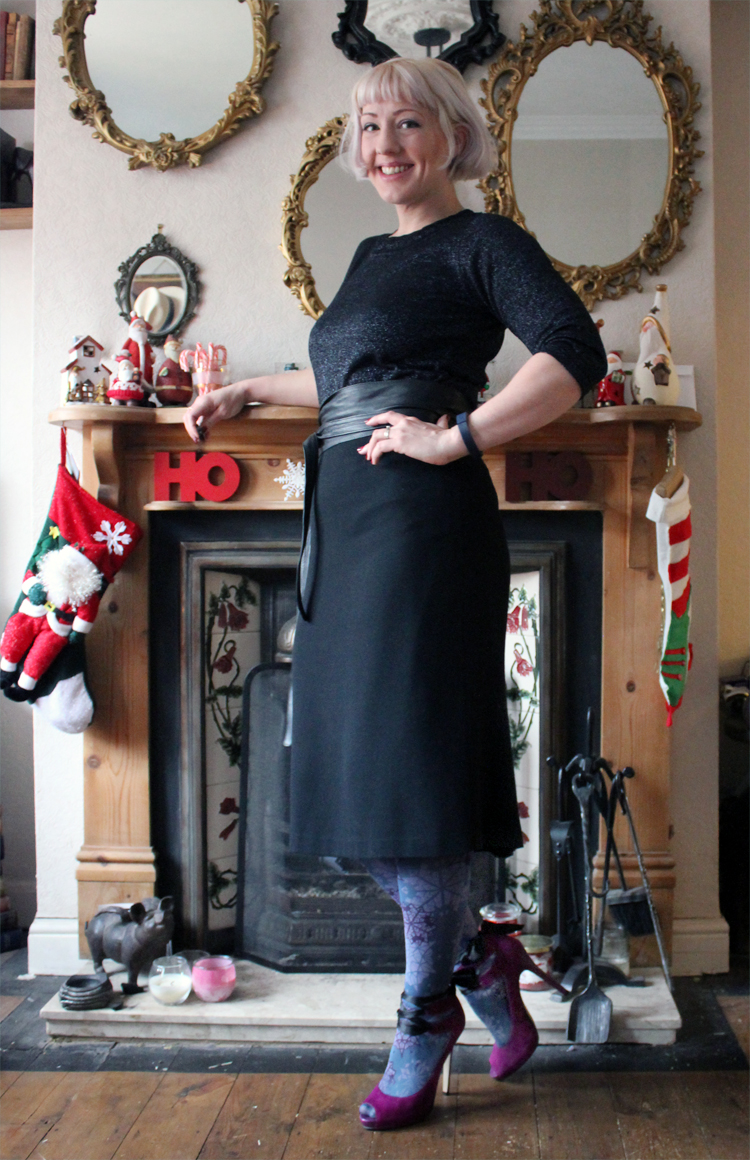 Anyway, while you're here, don't forget the Advent Giveaway, and don't panic, I do have SOME content planned that isn't outfits or giveaways before Christmas.
♥ Sparkly Jumper – Bon Marche (it was my Nanas) ♥ Pencil Skirt – Vintage ♥
♥ Leather Obi Belt – ASOS ♥ Snowflake Tights – Red or Dead* ♥
♥ Pink Suede Shoes – Faith ♥
Related