Compression leggings are something that I had my eye on for ages. I'd read loads about their ability to improve recovery times, decrease muscle damage during workouts and generally stop your legs feeling so darn tired on long runs and I wanted a pair so much. I bought some cheap compression socks that I wore during Half Marathon training recovery, and they definitely seemed to help, so compression leggings were on my watch list.
Problem is, that the really good ones are pretty expensive, around £100 generally, and that's not the sort of thing I'm prepared to fork out large amounts of cash on without knowing if they're comfortable, effective, and generally worth the money.
Fortunately one of the advantages of having a blog is that sometimes people send you stuff to review, and over the last year I've been lucky enough to have been sent 2 pairs of Compression leggings to assess whether in future I want might want to part with my own hard earned cash, and maybe help you decide whether you should too.
First Up: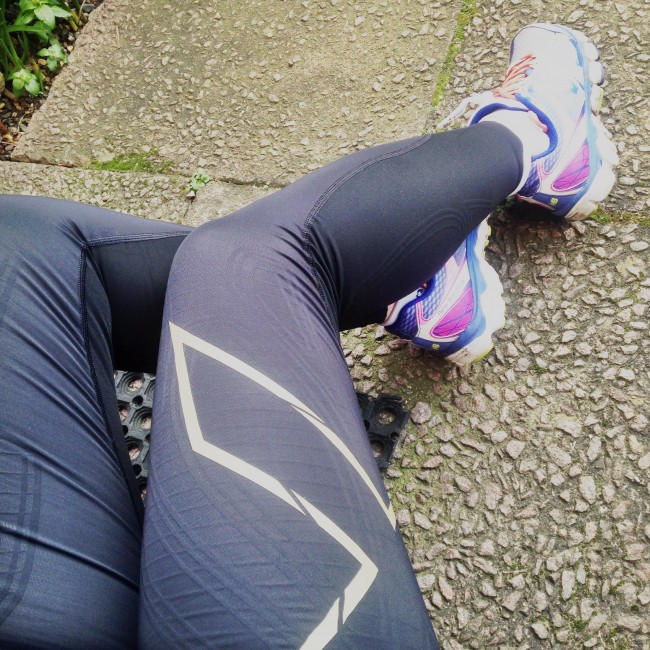 They say:
The next generation in 2XU Compression technology – MCS (Muscle Containment Stamping) for targeted compression. MCS is a revolutionary fabric support system traced over key muscle, tendon and fascia groups to focus greater compression power to wrap precise areas and reduce muscle oscillation and damage.

Front panels are engineered with powerful PWX FLEX (70D) fabric combined with MCS focused to the quads. Rear panels are engineered with powerful PWX WEIGHT (105D) fabric for support to the hamstrings and MCS focused to the calf.
I say:
I wanted these so much. That big X on the leg is the compression leggings I've seen some of my favourite athletes wear. They were sent to me actually early last year, and terribly it's taken me this long to write about them, though there are reasons.
I really wanted to love them, they arrived boxed, and looked excitingly hi-tech with the special panels tracing exciting lines around the quads and calves, which you can just about see showing through the fabric on the picture above.
To wear, they feel amazing on the legs, I can feel the compression, though they're not so tight as to cut off any blood! The reason they took me so long to review, however, is that I just hate the fit. Like really hate it, around the waist and hips they are the worst fitting leggings I have ever had. They have an elasticated waist band that had a draw string and they were so tight around my stomach they actually made me feel nauseous. I removed the drawstring which helped a little. The rise on the leggings isn't very high, so if I tried to pull them up to my waist to keep them off my stomach I got the dreaded camel toe, but worn lower they would dig in, and then start to slip down so they would get weird and loose around the crotch area.
These are the reasons I held off reviewing them, as I just wasn't sure what to say! Before you ask, yes, I am wearing the right size, in fact I fall on the border line between M and L, so I ordered a L, but their advice was that I could go with the M for more of a compression fit.
I do still wear these, if I have super tired legs they are great for weight lifting, and the tight waistband isn't as big an issue for that kind of thing as it is when running. If you're narrow hipped these will probably be great for you, the compression side is honestly great, but unfortunately with my wide hips these don't really work.
Next up: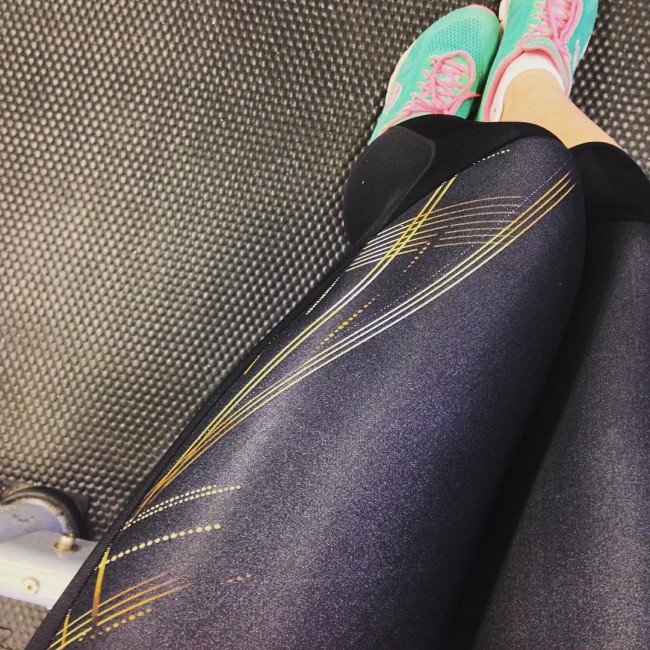 They say:
Look good, feel good and train even better! Our SKINS A400 Women's ¾ Tights have been designed with performance and comfort in mind so you can train harder and recover faster and look great while you're at it.

Our A400 Women's ¾ Tights include the new ADAPTIVE Technology to keep you cool when it's hot and feeling warm when it's cold. The new lower rise sits securely on your hips and the wider, shaped waistband with an easily accessible pocket lets you focus on your workout in maximum comfort.

Don't forget our Dynamic Gradient Compression which helps deliver more oxygen to your active muscles. What's that mean to you? It means you can train harder for longer and reduce the chance of delayed onset muscle soreness (DOMS).

For extra muscle support our Memory MX fabric has been added to various key areas including your ITB, TFL and knee to ensure maximum compression without restriction. This allows you to perfect your downward dog or run that little bit further while reducing the risk of injury.

And if that's not enough we've added 360-degree reflectivity so you can go for a run at night without thinking twice. Looks like you're all out of excuses!
I say:
I feel like a sleek otter in these!
They might lack that big iconic X, but the gold sparkly bit means they still look pretty swish. The compression, whilst maybe not quite as focused in some areas as the 2XU Elite, feels supportive all over the legs. Whilst I haven't been on any super long runs in them yet, that supported feeling is great when your legs are getting tired. Again, I wear these for sessions I know will be hard, or if my legs are still tired from a previous session.
The fabric on these is double layered and very sleek and expensive feeling, which I think is what gives me that sleek otter feeling! Best of all, the waist band on these is wide and flat, with no super restrictive elastic at the waist band, meaning I can wear them for running, and for long periods without being uncomfortable and having to keep fiddling with the waist band!
My only criticism of these, is that they are a little tight at the calves, I can't feel it while I wear them, but I can see them dig in a little, and they leave a mark for a while when I take them off. That aside, when I need to replace them, these are the ones I'll splash out my own cash on.
The Skins Compression tights work far better for my body shape, so the biggest lesson here is that even if we're talking stretchy lycra, what's right for one person, isn't right for everyone.
For the compression effects I would say both these pairs of leggings were worth the money. I found them supportive to tired legs, and whether it was partly psychological or not, I definitely felt like they improved my performance and recovery time. If you're a slim hipped whippet then the 2XU tights may fit you like a dream, for the curvier athlete, I would recommend the Skins.
Leggings can be purchased at Skins.net and 2XU
Both pairs of leggings were sent to me for review purposes, but all opinions are my own.