Yeah, that's right, I'm down with the kids.
I learnt a new hashtag on Instagram the other day #pinneditspinnedit though I think its been around for about 3 years, so as ever I am way behind the times. It looks like originally it was an outfit challenge group, but people seem to use it for their own interpretations of inspiration outfits they found on Pinterest.
I pin a lot of outfit ideas that never make it to reality, but this week it occurred to me that this outfit actually looked a lot like one I'd pinned as inspiration.
To be fair it wasn't much of a stretch as this Collectif pencil skirt, teamed with a variety of printed t-shirts (normally Roller Derby ones) is pretty much a wardrobe staple for me. So much so that the skirt is starting to come apart at the back seam and I might have to *gasp* do some sewing!
This particular printed t-shirt is one I bought when we went to see the Priscilla Queen of the Desert musical a few weeks back. The front print, which you can't really see is slightly sparkly, says "Life is an Adventure. Dress accordingly" which whilst acknowledging it's kinda twee, I still really liked.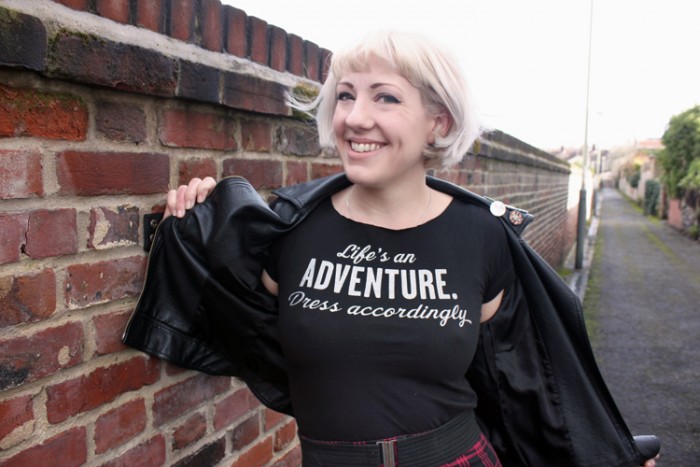 I also did 2 other different things in this outfit (I told you I was having a wardrobe crisis!) Firstly, instead of wearing red lipstick I went for darker eye make up and nude lips, it was a bit of a 60s inspired look, but it doesn't really come across very well in the photos. I think maybe at 36 my eyes are too crinkly to really pull off that wide eyed 60s ingenue look. I thought it looked good in the mirror, but we'll chalk that up to experience shall we?
Secondly, and maybe more successfully, I did a bit of clashing patterns by teaming animal print shoes with a checked skirt. I've always liked the clashing prints look on other people, but have been a bit reticent about trying it out. Printed shoes might be the wusses way to start, it's hardly a spotted top and a striped skirt with a check jacket, but hey, small steps.*
*Note, it is very unlikely you will see me in spots and checks and stripes, I already know I will look like a bag lady, lets stick with the shoes.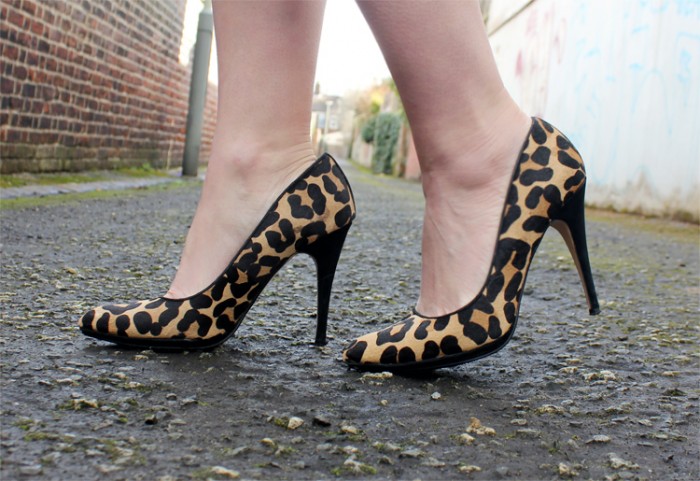 Similar