I've been after a leather pencil skirt or at least leather look for ages.
I used to have several, then I put on weight and none of them fit, so I sold them many years ago, and then I had none.
I'd been looking for the perfect one at the right price to no avail and then I spotted this gorgeous high waisted leather look pencil skirt on the Oasis website and snapped it up immediately. I had so many ways I wanted to wear this skirt that I did have planned a whole "5 ways to wear a leather pencil skirt" type post, similar to the black and white stripes one I did earlier this year, or I'd considered doing a "how to wear a leather pencil skirt for work, rest and play" and resurrecting a very old series from the early days of my blog.
In the end, though, it turned out I was too lazy to do any of those things and I was really keen to show off my new skirt, so you just get a regular outfit post. I'm not discarding those ideas entirely, and when I get chance to take photos I may well do a more interesting styling post. I bet you can't wait.
This outfit could be called "how to wear a leather pencil skirt to work", as with glasses, a roll neck and court shoes it looks almost professional.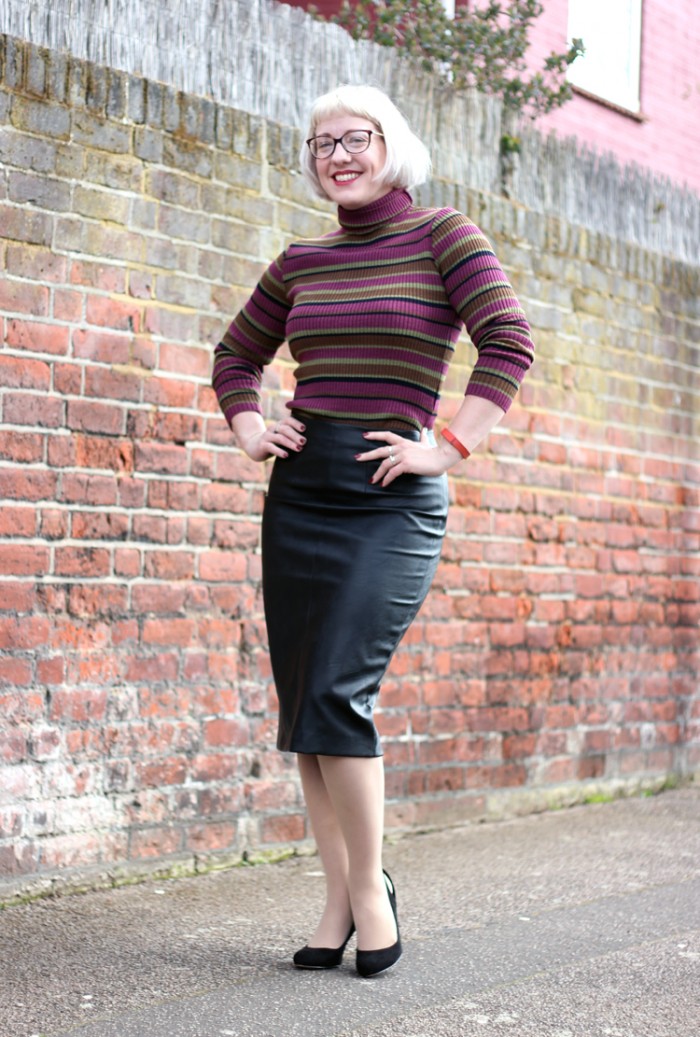 This particular leather pencil skirt look falls on the couple of days a month that I wear glasses. I normally wear the sort of contact lenses that you sleep in, but once a month I give my eyes a break and wear specs for a short while.
Recently I realised that I owned 4 pairs of prescription glasses and 3 of them were Cats Eye shaped. The fourth were an old prescription, so I was pleased when Specsavers got in touch and asked if I'd like to choose a pair of glasses from their range. I get my contact lenses from Specsavers anyway, so I get free eye tests from them. I actually also get to choose a free pair of glasses from their under £45 range as part of my contact lens package, but with a handy voucher I was able to choose something a little fancier.
Specsavers have some really gorgeous retro cats eye frames in at the moment, but I resisted the draw as I was looking for something still vintage looking, but maybe a bit more understated. In the end I settled on these frames from Max&Co, and I absolutely love them. They make me feel quite cool, without being too flashy!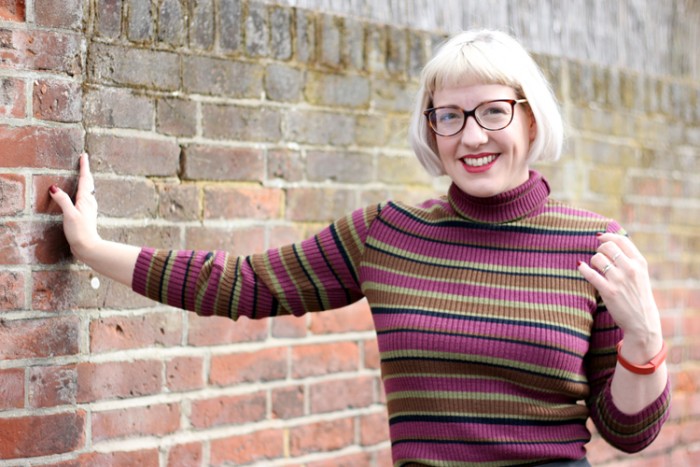 As you can see they are excellent for staring accusingly at that darn photobombing cat that invades all my photos here. The reflection on them also means it's harder for you to see that I managed to have my eyes shut in almost every photo Mr Chick took of this outfit. So I'm chalking that up as a win for the new glasses. Thanks Specsavers! Like I say, I've been an actual paying customer of Specsavers for years, and I was super impressed with their range of glasses, so well worth a look if you're looking for glasses with a retro feel.
Another thing I bought recently that I've been desperately wanting to show off in an outfit post is these fabulous tights. I do love a funky back seam.
A few years ago I had some Pretty Polly tights with a jigsaw backseam that I miss a lot. I headed to their website to see if they had anything similar, and managed to snap up these key detail backseams in the sale (I also bought some Christmas tights, but it's probably best if we don't mention that).
And yes, I know, it's annoying me that they are slightly wonky in that photo too, but I'm not going back out to take them again.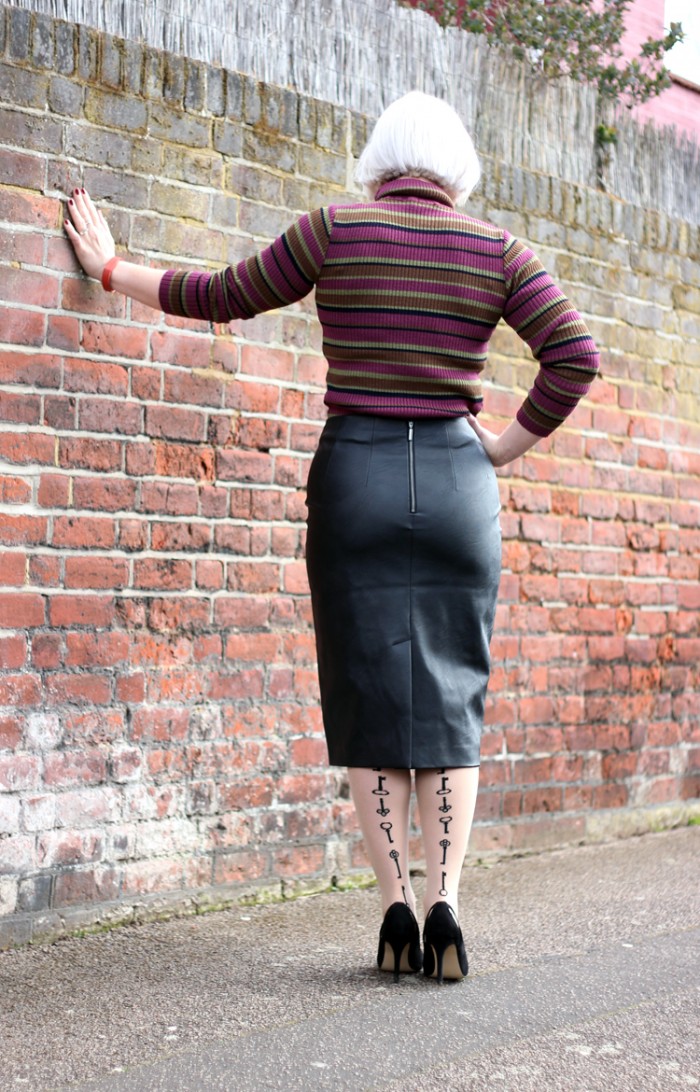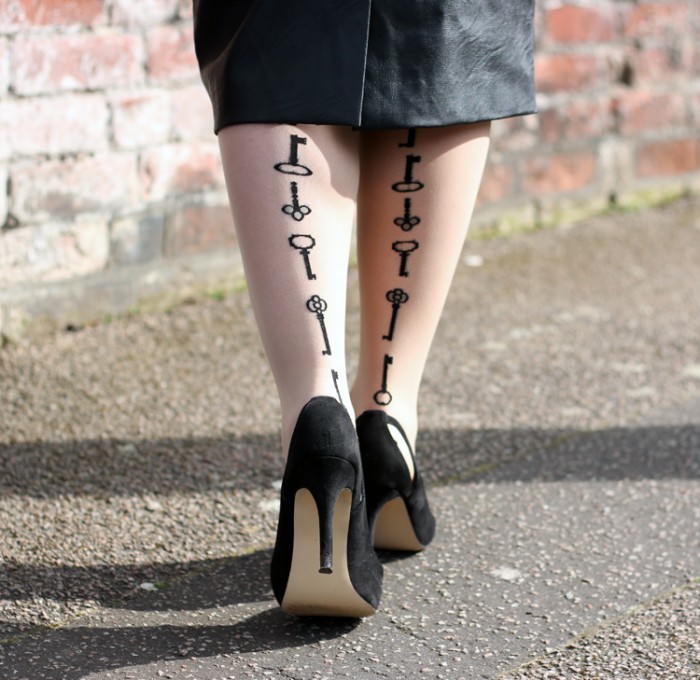 So there's a nice Monday morning outfit post for you, in a new skirt, new glasses, new shoes and new tights, I might have been on a bit of a shopping spree lately.
I think I have redeemed myself with the roll neck though as I've owned it since somewhere around 1997. Much longer and it'll be vintage and I'll have owned it from new, which is a little distressing.
♥ Leather Look Skirt – Oasis ♥ Roll Neck Jumper – Miss Selfridge, but veeery old ♥
♥ Glasses c/o Specsavers ♥ Shoes – Miss KG ♥ Tights – Pretty Polly ♥
Linking up with: Style Nudge ­More Pieces of Me Elegantly Fashionable Fizz & Frosting A Lovely Little Wardrobe Not Dressed as Lamb Posh Classy Mom