Ever since I started running I've been strapping my phone to my arm to track my runs and listen to music.
My husband has a sports watch, and I was always slightly jealous of it, but wasn't really sure about investing, especially since I do a lot of other activities as well as running. A couple of months ago Tom Tom got in touch and asked me if I would be interested in trying out their new watch. I was keen as it has a feature I've really wanted, a heart rate monitor built in, and also tracks lots of other sports, it's not purely a running watch.
The version I've been trialling is the Tom Tom Spark Cardio + Music GPS Fitness watch with bluetooth headphones, which is perhaps not the snappiest name for a watch but, certainly descriptive!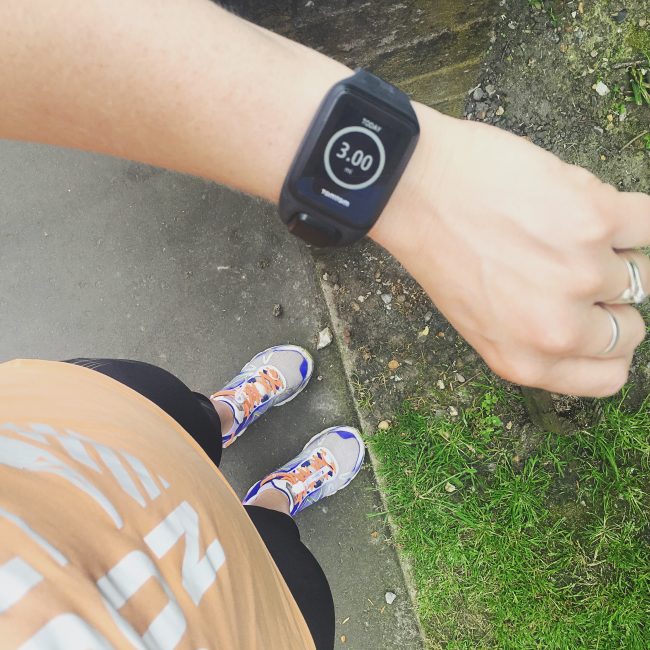 I'll start out by saying, I love this watch, I've suggested my husband buy one when his current watch finally gives up the ghost, but I think the easiest way to review it is to break it down.
So
The Look
Like most sports watches, it looks like a chunky digital watch. You can buy brightly coloured interchangeable straps, but this is not a watch that's going to blend unobtrusively in with your evening dress. As it comes with 24/7 activity tracking (more on that later!) that could be a problem. Being quite chunky it's also not that comfortable to sleep in if you want to use it to track sleep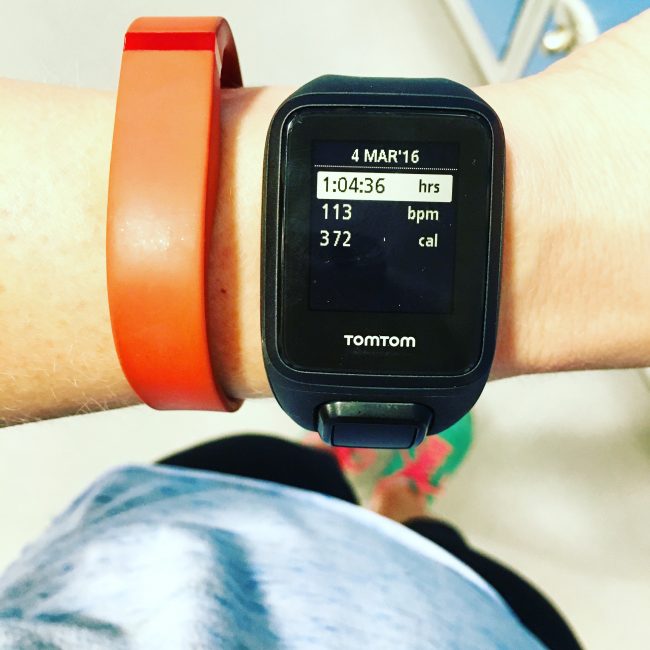 Ease of Set Up
The set up out of the box was no problem at all. Just plug it into your laptop, download the MySports Connect desktop app, set up an account with TomTom and off you go.
There's an app for your phone that was also easy to set up and sync with.
You can also connect your account with other apps, like Nike+ and MyFitnessPal. This I did have some trouble with. MyFitnessPal seemed to connect and sync no problem but the Nike+ connectivity was flaky, saying it was connected, but no runs would sync between the accounts. I tried it several times, and then one day it suddenly started working and has been fine since, syncing all run data, including GPS route maps and average pace. I'm afraid I can't be of any help in knowing whether this is a bug that is permanently fixed or something that will be flaky again in future!
Ease of Use
The watch has one big button, so it couldn't be much simpler to use. From the time screen you press up to connect the bluetooth headset, down to access menus and settings, left to see your daily totals and right to access the activity tracking functions.
The activity tracking functions themselves are fairly self explanatory. I've made use of the run, gym and freestyle functions, so can only really review those, but it also has settings for treadmill, indoor and outdoor cycling and swimming.
Run – The outdoor run setting uses GPS to track your route, and seems more accurate than the app I was previously using. The GPS has been quick to connect on all but one occasion, which is relief as there's nothing more annoying than hanging around waiting to start your run while a watch searches the sky for satellites! By pressing up from the run start screen you can access your log of past runs, and by pressing down you can set training goals such as distance, time or calories burned, or even set up intervals, laps or heart rate zones to stay in as goals.
The display while running is customisable so you can pick which metrics you want to display, and by pressing right during your run you can see your progress towards whichever goal you picked.
It was easy to use, accurate, and with a 3GB memory for music it could get you through pretty much any training run!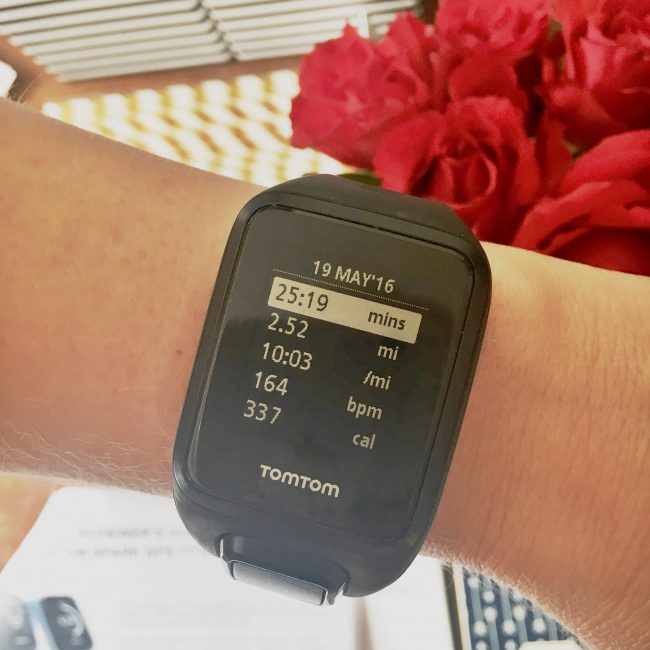 Gym – This setting focuses on heart rate as the main display metric, and you can customise the smaller bottom sections to show time, calories burned, duration or which heart rate zone you are in. It also has the function to set intervals and training goals.
Mostly I used this setting for weights at the gym.
Freestyle – This one is designed for any activity that isn't running cycling or swimming. It does show a speed or pace metric, so is perfect for long walks you want to measure, but keep your tallies for runs and cycles for purely that activity. I actually used this setting for HIIT workouts as I wanted to keep them separate from gym sessions. As I follow the Kayla Itsines BBG the watch was perfect for using the Interval function to track my 7 minutes and 1 minute rest in between.
The only issue I had with it was figuring out what metrics to set it up on to see what I wanted, plus occasionally I would forget what I had set it up on and wasn't sure what the mysterious numbers meant at the bottom of the screen, was it pace? Duration? Calories? I don't think we can really blame the watch for that though…..
After each workout you can press back to the "pause" screen and the watch will track your recovery heart rate and tell you how good your recovery is.
Data
The app is great for transferring data on the go, and it's really easy after a workout to access the important information. It gives you a graph of your heart rate for gym sessions that can be broken down into how long you spent in each heart rate zone. For runs it tracks your heart rate against your pace as well as giving a map of your run and your mile splits.
The online version provides the same data and allows you to set goals for specific activities.
24/7 Activity Tracking
This is where the Tom Tom Spark let me down. If you wear the watch all day then by pressing left from the home screen it gives you stats for distance, active time, steps walked and sleep for that day and this week. I wasn't entirely convinced by the step counts, which seemed higher than my other activity tracker, or the sleep time, which seemed a lot higher. Also, these stats don't seem to be recorded anywhere. I can't find on the desktop or mobile app anywhere that records the average number of steps walked in a day, lets you set goals for that, or lets you look into your sleep quality in more detail.
If you're looking for a 24/7 activity tracker to record steps and monitor your sleep. This isn't the one for you. As a sports watch, it's fabulous, so my preference is to wear a separate, and more unobtrusive, tracker all day and just put the watch on to track workouts.
Edit: Since writing this review I have found daily steps counted and tracked in the app and online. I'm still not convinced by how accurate the step count is and the sleep tracking is not very detailed and says I'm getting a lot more sleep than I am!
Summary
Would I spend money on this watch? Yes, in a heartbeat!
The bluetooth function is awesome for running with music wire free and without an iPod or phone strapped to you, the headphones were loud and good quality. The GPS and Bluetooth worked with no problems, and apart from the 24/7 activity tracking it did everything it promised and did it well.
It even syncs with all my other assorted fitness apps. I'm a data monkey and I do love to have constant record of everything I do and this watch is like a dream for keeping everything together and effortless.
The Tom Tom Spark Cardio + Music costs £189.99, currently there is an offer to get free bluetooth headphones with it in May, otherwise they cost extra.
Related