I've always tried to bring a little glamour into my every day life.
The older I get, the more important it feels to hang onto that glamour. To not get ground down by the stresses of every day life and slip too far into routine. Recently I've been musing on what exactly the quality of "glamour" actually is.
Glamour
noun 1. an attractive or exciting quality that makes certain people or things seem appealing.
Being glamorous isn't about fast cars, yachts, diamonds, and furs. It's about living life to the full. Trying to find the positives in every situation. Being totally yourself and not afraid to live your life the way you want. Not afraid to admit to your mistakes. Not afraid to change direction when you have to. Not afraid to say "no" but not afraid to say "yes" either.
Glamour is not about money.
Glamour is turning up to a red carpet event in Primark and wearing it like it was Chanel. It's eating fish and chips off of vintage china. Buying crystal glasses from a charity shop and drinking supermarket cava from them.
Glamour is never sensible, but never reckless.
Glamour is spending the last £10 in your bank account on a single cocktail in a fancy bar you always wanted to go to because you might never have the chance again. It's taking off your high heels for a midnight stroll on the beach and jumping into the hot tub in your underwear because you forgot your swimsuit.
Glamour is about finding the best in everything.
Glamour is drinking Champagne in a Travelodge. It's making a nest out of blankets when the boiler is broken or organising party games when the DJ doesn't show up.
Glamour is not about hard and fast rules.
Glamour isn't never leaving the house without red lipstick, or going to the shops in a ball gown, though it can be. Glamour is going to a party with no make up on at all and having the time of your life anyway.
Glamour isn't always easy.
People can be incredibly annoying. Things don't always go your way and things that you're really looking forward to can let you down at the last minute. Life is full of worries and woes, some serious and lasting, and others fleeting and soon forgotten. There are obligations in life that you can't avoid and stresses that you can't escape.
Glamour is loving yourself.
As Ru Paul repeatedly said. "If you can't love yourself, how in the hell you gonna love somebody else?". Glamorous people know when its time to say no to the party and stay home with a bubble bath and a good book. Glamour is not beating yourself up for failing and having faith in your own abilities.
Glamour is a conscious choice.
Some people are naturally glamorous. They're the life and soul of the party and they make you feel amazing. Some of us have to work at it. Remind ourselves every day not to be a grumpy pants and make an active effort to look at the brighter side.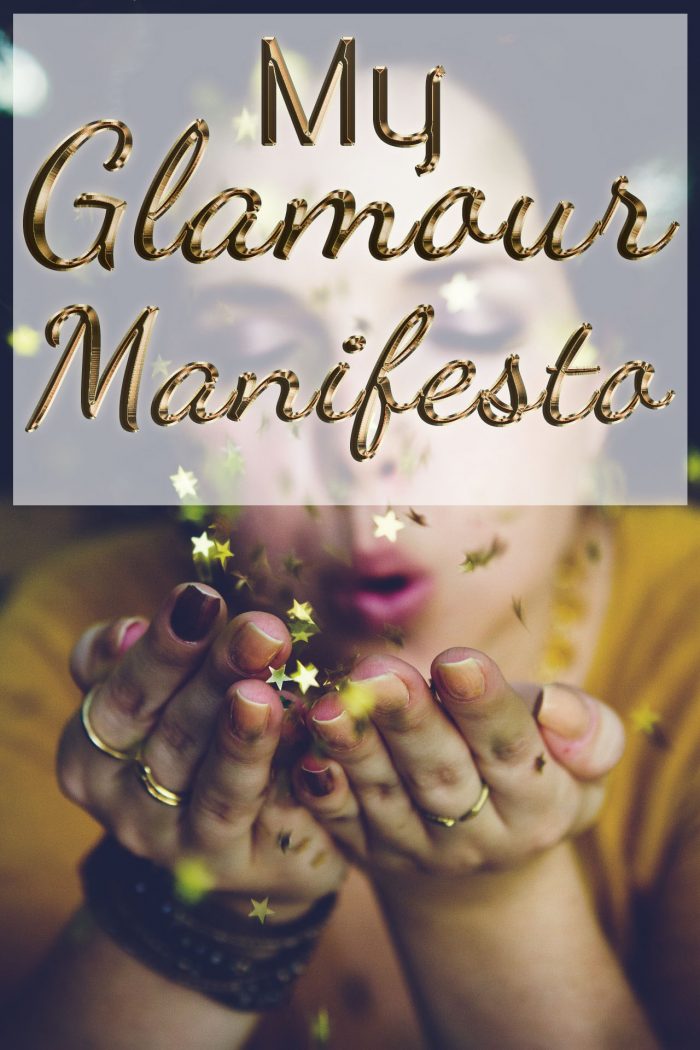 I'm not too proud to be a little cheesy occasionally, and sometimes I have to renew my commitment to bringing that little bit of glamour to my life. If it takes inspirational coasters and notebooks, then so be it.
I know that when I look back on my life, the kind of person I want to be isn't the kind of person who said no to an amazing opportunity because she was too scared, or who made other people at a party feel awkward by complaining about the awful food.
So I promise myself I will make the effort. When I'm feeling blue I put on the cashmere jumper that I got at a clothes swap instead of a fleece, and I drink my morning coffee from vintage china or a mug with a cheesy inspirational slogan. I put on red lipstick to go to the shop. I go to the party when what I really want to do is curl up in front of the TV, and 9 times out of 10 I have an awesome time. That 9th time I just come home after an hour and have that bubble bath instead.
In July I'm planning to set myself a little challenge every day. I'll set myself a task each day to help me keep a positive mindset and sprinkle a little more glamour into my life and the lives of those around me.
That doesn't involve forcing everyone I know to wear red lipstick and drink Champagne. It means that I'll be trying to do more things that make other people, and myself, feel good.
I'll be documenting my Glamorous July on Instagram and Twitter using the hashtag #glamorousjuly . You can also join in too if you like! I'll be posting a schedule of my daily plans next week.
You can also sign up to get news by email. I send a weekly round-up of my blog posts on a Friday afternoon, and during July I'll send another weekly round-up on a Monday with that weeks glamour goals.
This is all a bit of an experiment for me, so it would be great to have you play along!
(Note: It seems my form is playing up, you can also sign up here if you can't see a subscribe button!)