Overnight oats are a breakfast staple for me. My basic recipe stays the same – oats, chia seeds and protein powder. I do like to jazz it up using different flavoured protein, different milk and different toppings.
Sometime ago now (and I haven't written about it yet because I am rubbish!) I was sent some delicious fully organic protein powder from Motion Nutrition. The protein powder is made from whey from organic grass fed cows, and is gluten and soy free. I chose the Coconut flavour, and soon discovered that mixed with coconut milk it has a gorgeous summery coconut taste.
So, if you're looking for a refreshing cold summer breakfast that makes you feel like you're on holiday, these tropical overnight oats might be for you! It's also high in protein and healthy fats and carbohydrates, so it's a great breakfast to have on a game day, or when I have a heavy day of training!
I make my dry mix up in kilner jars, and then just add the milk the night before I want to eat it and put it in the fridge overnight, then add the toppings in the morning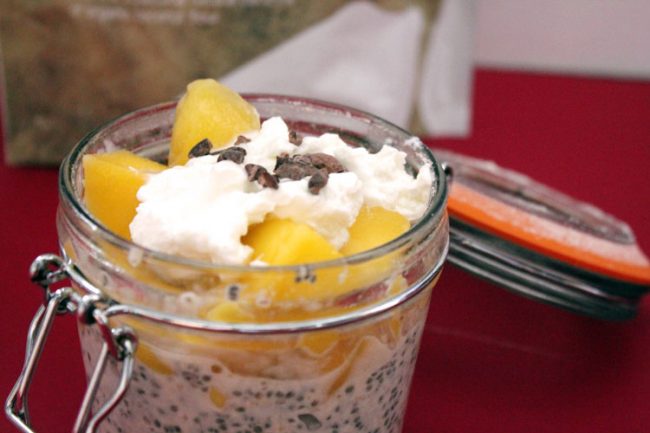 Ingredients: Serves 1
Approx nutrition, this will vary depending on your brand or variety of oats, milk etc.
413 Calories 31g Protein 12g Fat 41g Carbs
30g Porridge Oats
20g Chia Seeds
30g Motion Nutrition Organic Coconut Whey Protein
250ml Coconut Milk
80g Cubed Mango
Mix the dry ingredients in a jar or container with a lid. The dry ingredients will keep mixed together this way no problem, so I make it up in batches to store.
Add the Coconut milk and stir well. Replace the lid tightly and put in the fridge overnight.
Before eating add the cubed mango as a topping.
I also added some 0% fat greek yoghurt and a few cocoa nibs.
And that's it! A super easy summer breakfast that you can plan ahead!