This was the weekend that someone pressed the button marked "Autumn".
A week ago I was still picking my clothing based on what was least unbearable in the heat. On Saturday afternoon and evening it rained constantly, and on Sunday I woke up to Autumn. There's still a warmth in the air, but there's that soft and blustery early Autumn feel that means I'm digging out my cardigans to wear with summer dresses.
I was actually quite pleased with the weather change. On Sunday afternoon Mr Chick and I went to try the Gin Afternoon Tea at Sprowston Manor Hotel. Some people think of Afternoon Tea as a Summer activity, personally I like to save it for cooler weather. There's nothing worse than being hot, and stuffed with far too much food to the point where you think you might have to hire some Oompa Loompas to roll you home like Violet Beauregarde in Charlie and the Chocolate Factory.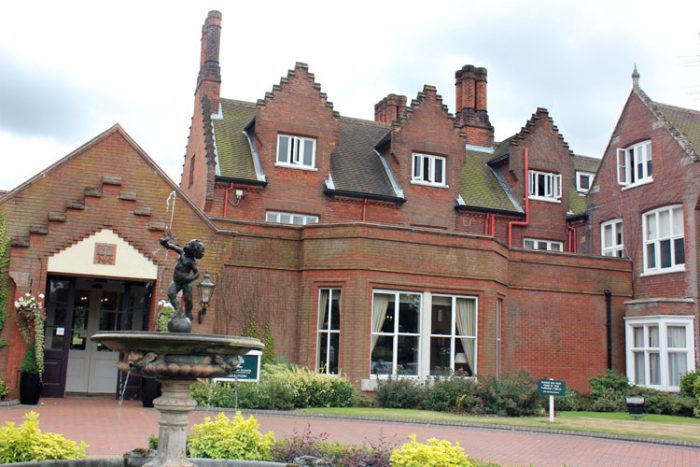 Sprowston Manor is a 4 star Country House hotel and golf course. It's about 5 minutes drive from the centre of Norwich. Seeing as there was gin involved we opted to get the bus.
I find buses terribly confusing. Since I discovered Google Maps has a public transport function I've found them far easier to navigate. I quite enjoy sitting on the bus following my progress on the map so I know I'm getting off at the right stop. I'm still horribly confused by the bell you're supposed to press to say you want to stop. I'm never sure if I'm supposed to press it every time, or if there are "request" stops. I have travelled several stops past my intended destination while I've waited for someone else to press the button out of fear of doing it wrong and being shouted at by a bus driver.
Thankfully this stop was fairly simple. The bus stops at a big Tesco, and then there's a short 10 minute walk to Sprowston Manor.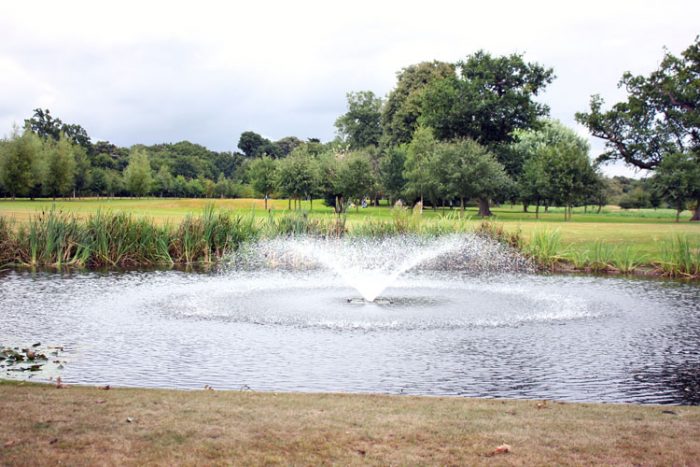 The current Sprowston Manor was mostly built between 1872 and 1876, but its history before that goes back to the 1500s. I know this because one of the ways we entertained ourselves whilst tucking into cakes and sandwiches was by reading their Wikipedia page. (Side note: Looking up every random interestingly named village you pass on a long car journey is another excellent use of Wikipedia to entertain yourself).
Since the 1970s it has been a Marriott Hotel. It has a golf club, and a spa, and lots of meeting and events rooms, which are the main reason I have been there before back in my corporate days.
This visit was far more fun.
We sat in a smart restaurant area over-looking the gardens and offered a choice of both tea and gin. I opted for Botany Gin and Egyptian Mint tea. Mr Chick chose Tanqueray and White Pear and Ginger.
The Botany Gin was delicious. Very mild without a really strong juniper taste, which suited my palette well.
We were each served the most humongous pot of loose leaf tea. It could have kept us going for days!
Also, the tea set was lovely. This sort of thing matters a lot.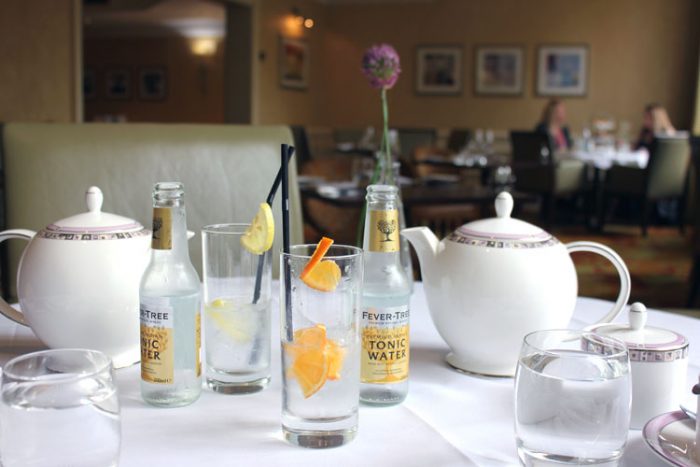 Then the important bit arrived. Afternoon tea.
Served on a tiered platter, it didn't look like such a lot. There were smoked salmon, cucumber, cheese and ham sandwiches in a pleasing little jenga style stack, a selection of mini cakes, macarons and mousses in shot glasses on the middle tier, and a couple of scones with clotted cream and jam on the top.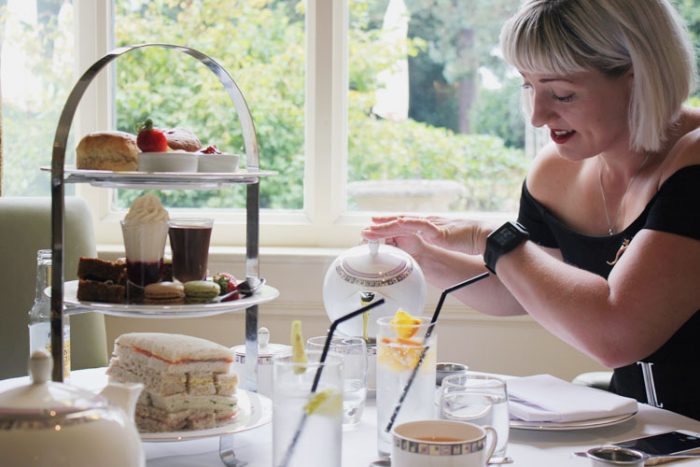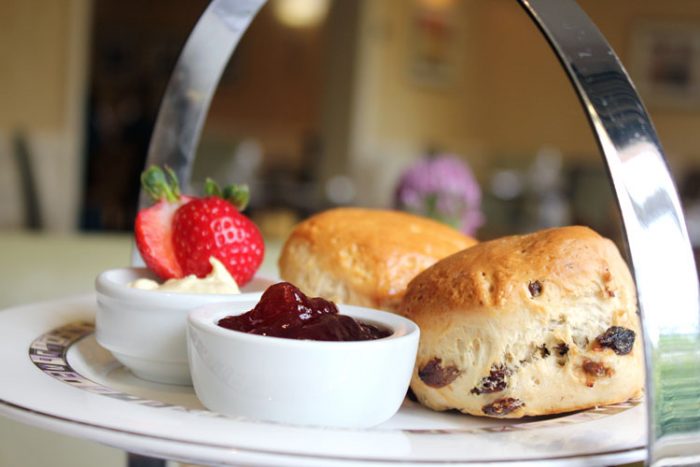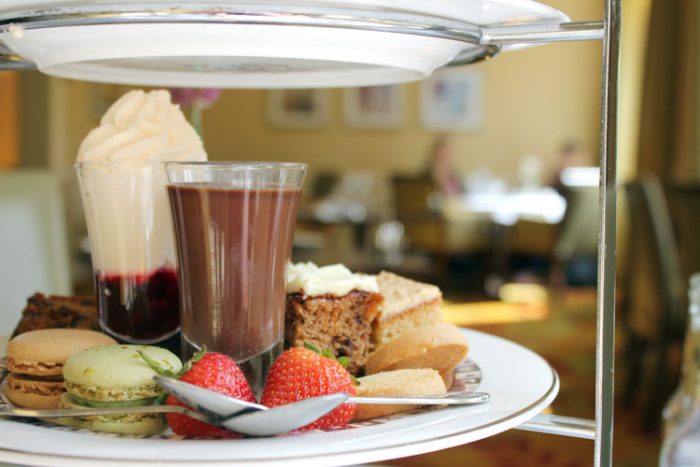 By the time we'd worked our way through the sandwiches and scones I was already very glad I'd worn a dress with an elasticated waist band.
Mr Chick gave up and left a piece of Carrot Cake and a small shortbread biscuit. I am made of sterner stuff and soldiered on and ate everything, including the strawberries. Which makes me the winner as far as I'm concerned.
The macaroons and Chocolate Mousse were particularly delicious.
Our plan was originally to work off some of the Afternoon Tea calories by walking the 3 miles back to our house. With potential stops at a couple of nice pubs along the way. As it happened Mr Chick was feeling a little delicate due to the fact that he "accidentally" drank 5 pints the night before (it wasn't an accident really). Instead we just had a nice wander back, admiring the architecture of the buildings along the way (which is code for "nosing at other people's houses").
Big thanks to Sprowston Manor for inviting us along to try the Gin Afternoon Tea. Afternoon Tea at Sprowston Manor starts at £15.59 for the "no Gin" option and you can then add a gin and tonic or a glass of Prosecco or Champagne for an extra charge.
Related