On Monday I promised you a leftover pumpkin recipe.
And today here it is. A Pumpkin pasta recipe to be precise.
Recipes are a bit of a new thing for me. I did start doing a few many years ago, but with Mr Chick working away a lot the meals I cooked just for myself weren't necessarily worthy of a recipe (though there are a few over on Lipstick, Lettuce & Lycra, mostly for breakfasts and lunches!). Now Mr Chick is home, we're cooking more often. I've always enjoyed cooking (but not baking, baking is rubbish) so thought I'd share some recipes. Do let me know if you enjoy them or if you'd prefer me to stick to wittering on about frocks!
If you didn't make pumpkin puree from the flesh scraped from the inside of your carving pumpkins, then never fear. With Halloween over pumpkin is suddenly mysteriously cheap. We bought 2 small locally grown pumpkins on Sunday from a local grocer for £2 each. When I went back on Wednesday they were £1.50 each.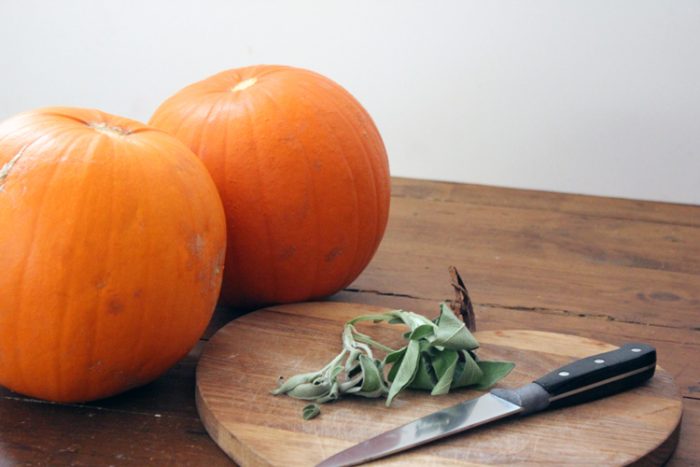 If you want to make your own pumpkin puree for this recipe then the smaller pumpkins taste better than the huge ones for carving. If you don't need to carve a face in it then the easiest method is to cut them in half, scoop out the seeds and stringy insides, then place them cut side down on a baking tray and roast (About 175 degrees c) for around 45 minutes. When the skin starts to wrinkle and the pumpkin is tender, take them out, leave to cool for a bit so you can handle them then scrape the insides out and puree with a stick blender until smooth.
If you're super thrifty you can pick out the seeds, rinse them clean, coat them in olive oil, salt and any other spices (I like chilli and paprika) and then spread them on a baking tray and roast them for about 10-15 minutes for a tasty snack.
If that sounds like too much effort then thankfully you can buy tinned pumpkin in some places. I got some from Sainsburys, though it's not in stock at the moment, and I have been told that Waitrose also sell it. If you're really desperate you can buy it on Amazon, though it is absurdly expensive, it was £1 a tin in Sainsburys!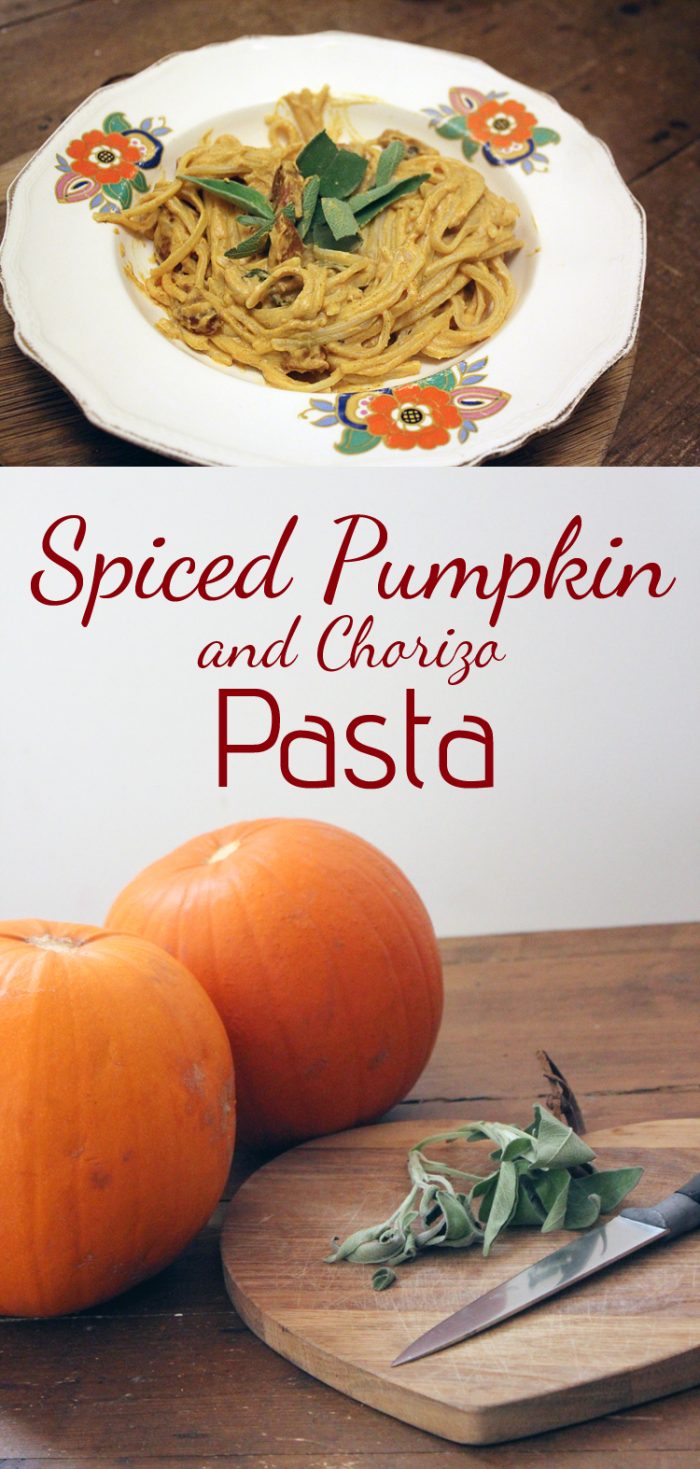 This pumpkin pasta recipe is super easy to make. You can freeze pumpkin puree for up to 3 months. If you freeze it in portions enough for 2 people then you just need to get it out of the freezer in the morning, and by evening it's ready to cook with.
I was a bit worried that the spiced pumpkin sauce would be a bit too dessert like. Adding the chorizo adds a smoky spiciness that really brings the whole thing together. If you wanted to make this suitable for vegetarians you could replace the chorizo with some fresh chilli, just to add a bit of savoury spice to it, or use a vegetarian chorizo substitute.
Spiced Pumpkin & Chorizo Pasta
200g Linguine (spaghetti will work just as well!)
1/2 Can Pumpkin puree (approx 200g if using fresh)
100g Cream Cheese
100g Chorizo,
Few leaves of fresh sage,
1/2 tsp ground cinnamon
fresh nutmeg, Bring a large pan of salted water to the boil and put the linguine in to cook.
Meanwhile add the pumpkin puree, cream cheese, cinnamon and a grating of fresh nutmeg to a bowl and blend together. You can use a blender (I used my nutribullet), a stick blender, or just a wooden spoon!
Cut the chorizo into chunky slices and fry in a non stick frying pan for approx 5 minutes.
Add the sage leaves to the chorizo and fry for a further minute till the leaves are crispy.
Drain the linguine and return to the pan over a very low heat.
Add the pumpkin puree mix and chorizo and sage to the pan and stir until warmed through.
Serve in bowls garnished with fresh sage leaves.